One of my dirty little secrets… I'm totally obsessed with kitchen tools and gadgets. Like an embarrassing amount of cookware and bakeware is hidden behind my kitchen cabinets.
Maybe I'm just a chip off the old block because my mom has a set of dishes for every occasion. Crab legs this weekend? Yeah, she has plates for that. St. Patrick's Day party? Yep, got those too. And sometimes around this time of year she has trouble deciding what set of dishes to use when holidays overlap… Mardi Gras or Valentine's Day? Tough decision. So yeah, now you can see where my obsession comes from, right?
Well if you share this little secret addiction with me, here's 30 gadgets and tools that you'll want to add to your kitchen.
So, which was was YOUR favorite?
I'm totally crushing on those Star Wars waffle maker!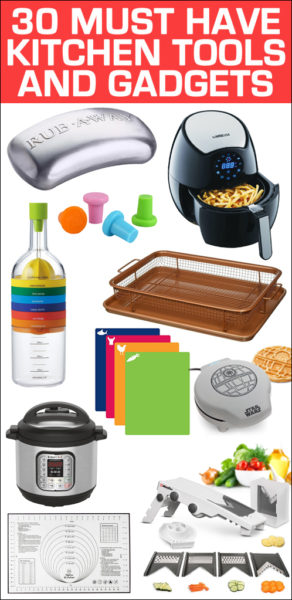 How to Nest for Less is a participant in the Amazon Services LLC Associates Program, an affiliate advertising program designed to provide a means for sites to earn advertising fees by advertising and linking to amazon.com.