Make sure you follow me on Instagram and Pinterest for a sneak peek into my recent projects!
A couple weeks ago a mom on Ellie's soccer team told me she wanted to make a baseball wreath since her boys just made the high school team. She flashed me a couple photos she liked on Pinterest, most of them with the same saying: "If We Don't Answer, We're at the Ball Field". Totally cute, right?
Well since I like to volunteer myself for every single thing in life, I opened my big mouth and offered to make it for her. I know… I'm the nicest person ever, right?
And after a couple weeks (or maybe a month) of sitting on this project,
I finally finished it over the weekend.
Hello beautiful baseball wreath!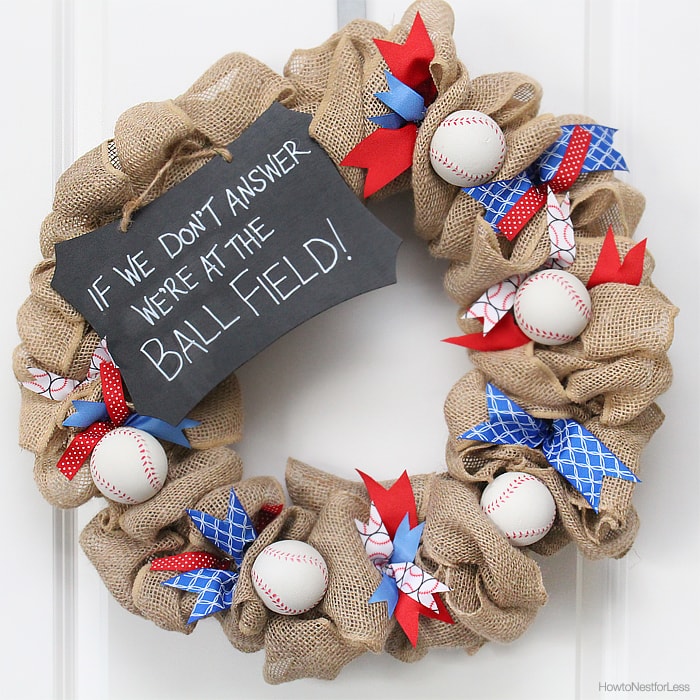 SUPPLIES:
straw wreath (still in plastic)
burlap
foam baseballs (I got from Party City)
chalkboard (from Michael's)
white paint pen
wooden skewers
greenery pins
green wire
various spools of ribbon
hot glue gun
pencil
scissors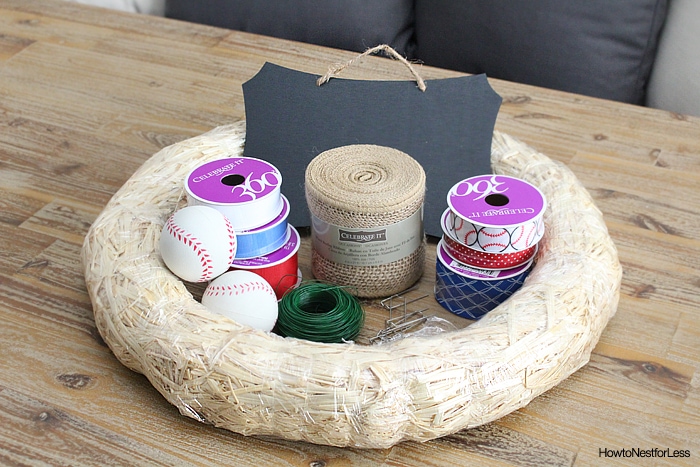 INSTRUCTIONS:
First thing I did was wrap the entire straw wreath in burlap and pin it into place with greenery pins.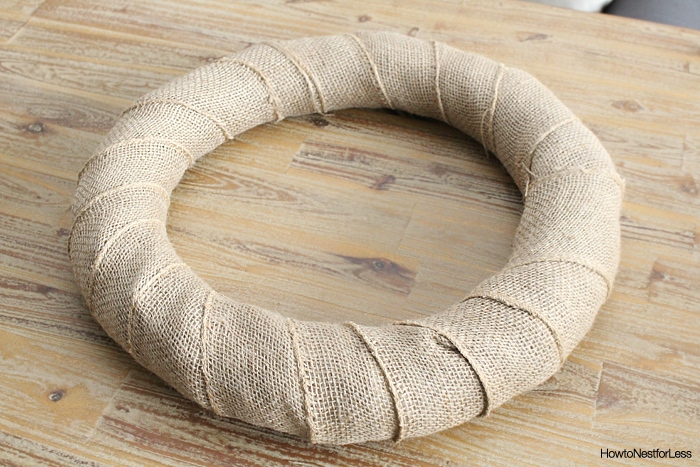 Next I used more burlap to create the ruffles, just making small loops and pinning into place with greenery pins. This part doesn't have to be perfect. A lot will be covered in baseballs, the chalkboard, and ribbon. Plus you can always go back and repin certain areas if they look off.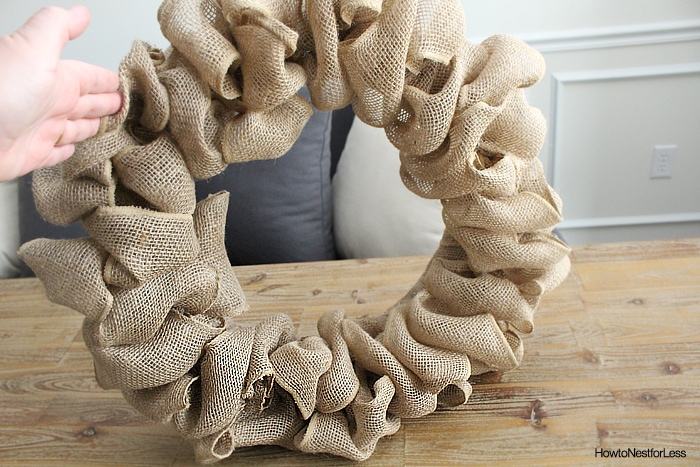 Then it was time to work on the chalkboard. I penciled in the lettering first, then went over it in white paint pen. To attach to the wreath I used the green wire. I wrapped the wire through the pre-drilled holes and then looped it around the back of the wreath a couple time to really secure it into place.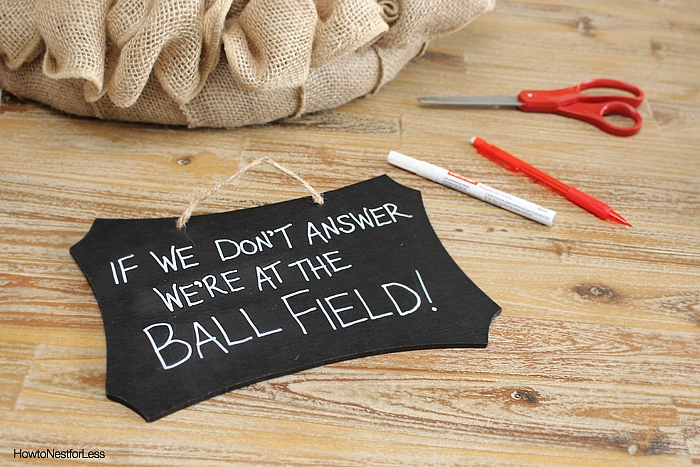 Then it was time to add the baseballs. Since the balls were made out of foam, I was able to insert the skewers about halfway into the balls, then pushed the other end into the straw wreath (push aside part of the burlap so it's easier to insert).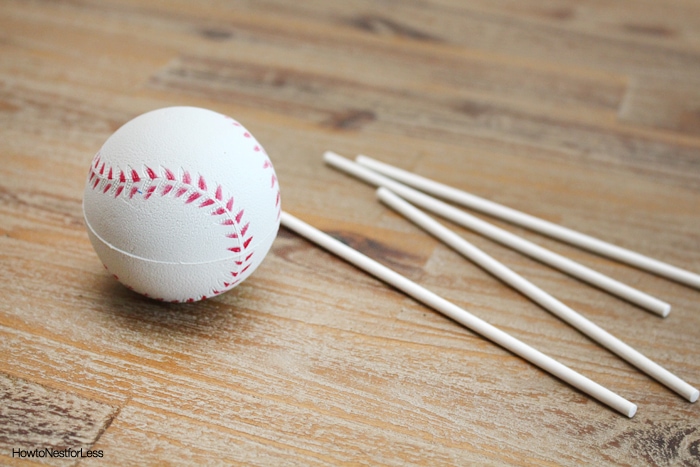 Then you're ready to add some colorful ribbon to match your favorite team!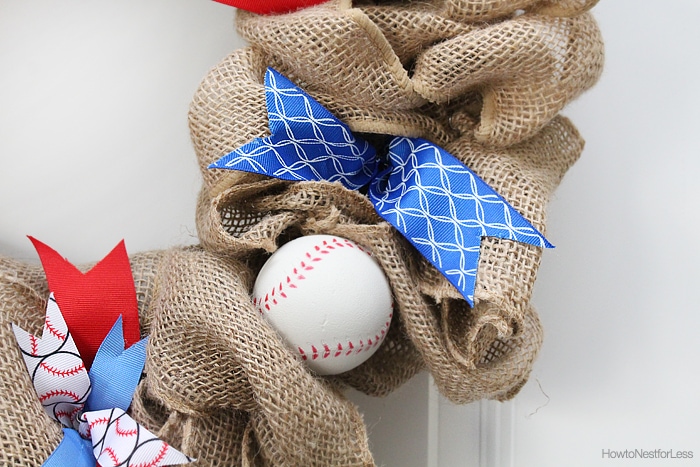 To make sure everything is secure and ready for high winds on your front porch, use some hot glue around the balls, ribbon, and chalkboard.
And there you have it!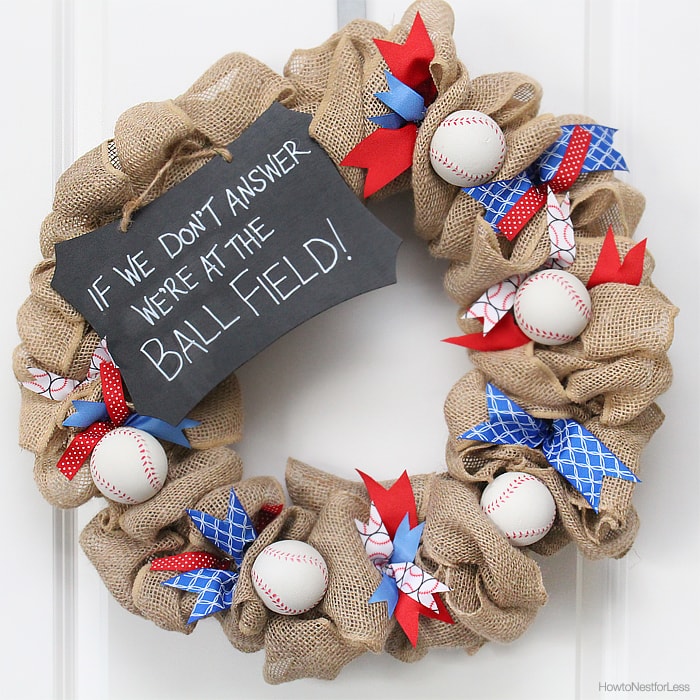 This was actually quite easy to complete and only took me about an hour or so to make.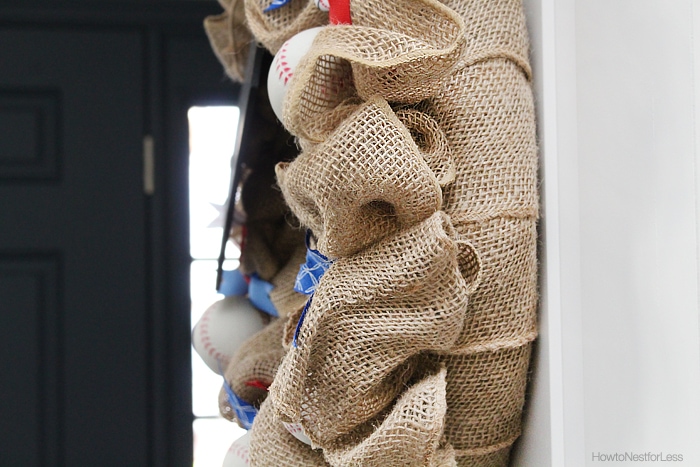 Oh, and see how it's much prettier if you wrap the entire straw wreath form in burlap first?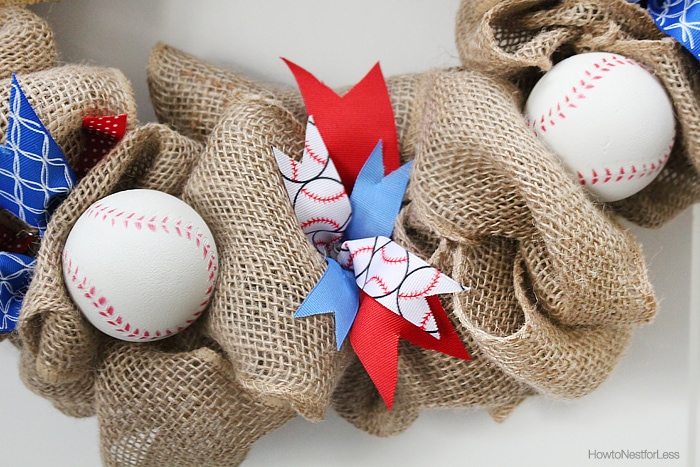 I think now I'm going to use this same concept to make a soccer wreath in Ellie's team colors for our front door. Now let's just hope the rest of her team doesn't ask for one, too!