Well I finally finished Ellie's "temporary" bedroom at my brother's house. It's actually been a lot of fun working on this space since I've been doing lots of DIY projects along the way. So get ready for photo overload and the tour of this blue and coral kid's room…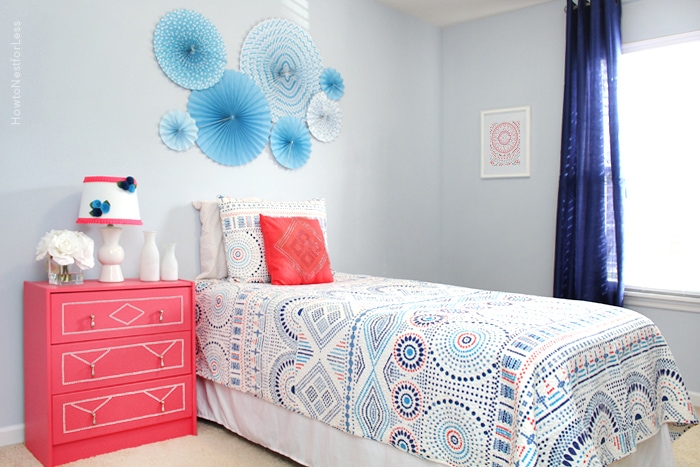 The first thing I found for this bedroom was the bedding at HomeGoods for $40. Total score and I love how it reverses to plain blue and white (if my brother can't stand the coral after we move out, hah).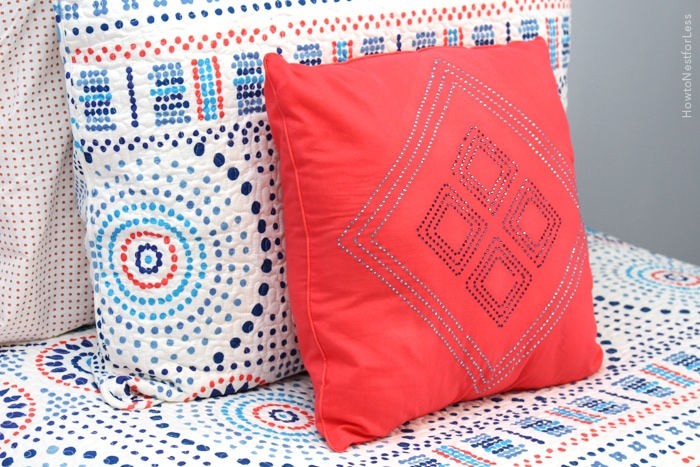 And the accent pillow that came with the bedding actually set the tone for the IKEA Rast dresser makeover I showed you guys a couple weeks ago.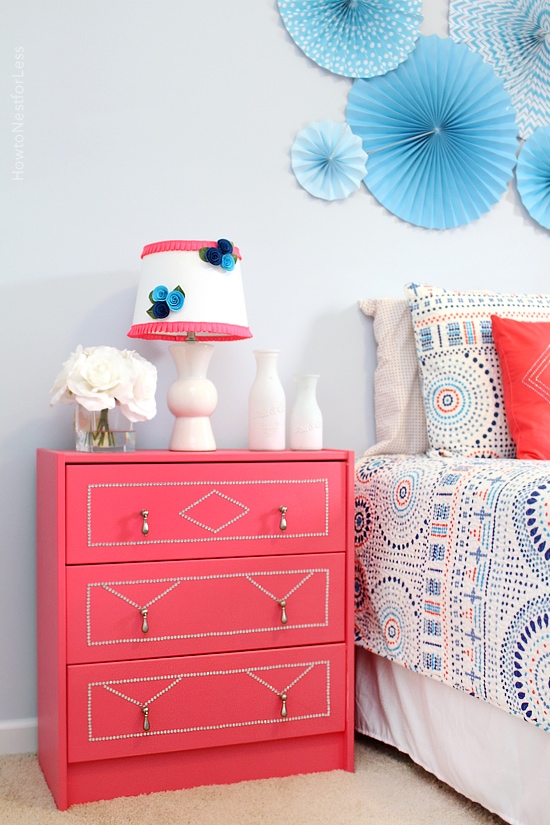 On top of the nightstand I gave Ellie's little white lamp shade a little makeover. I'm a big fan of adding some minor touches that really make a room come together.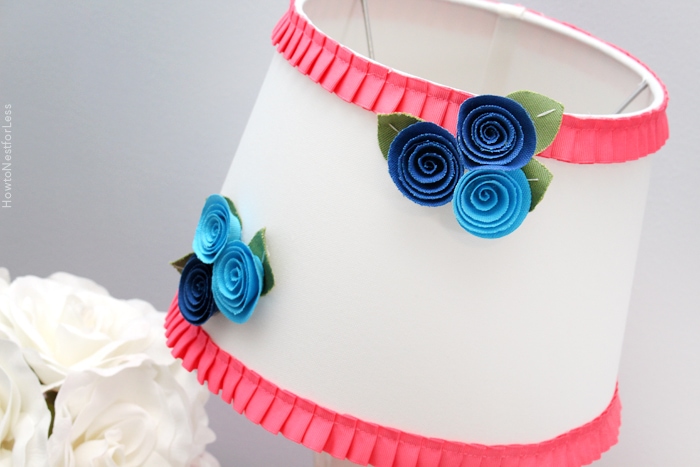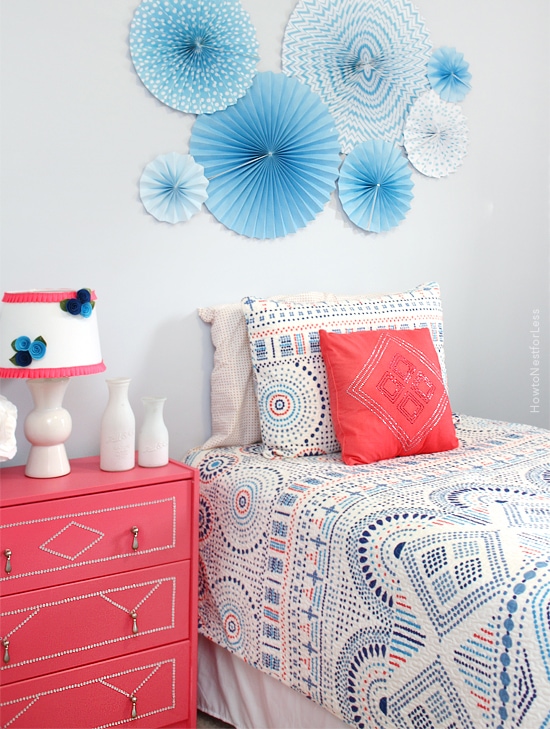 Above the bed I added some paper pinwheels that I picked up from Michael's for $10 (the pack of 7 was on sale for 50% off that week). I just nailed them to the wall in the center of each pinwheel. Love this because it takes up a huge chunk of the wall and was super affordable. Definitely using this idea again in the future!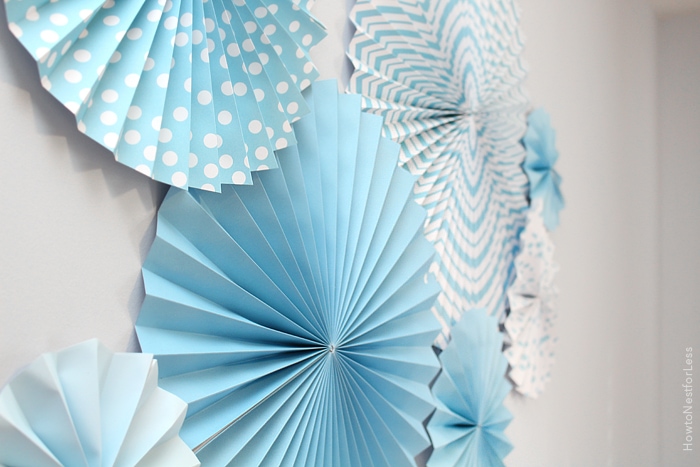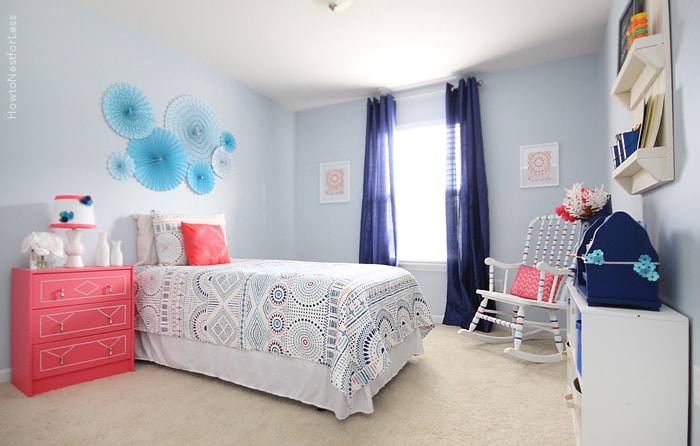 The room is pretty small (only about 10x11ft) so we couldn't fit a lot of furniture in here, but I wanted Ellie to have a space for her toys and art supplies.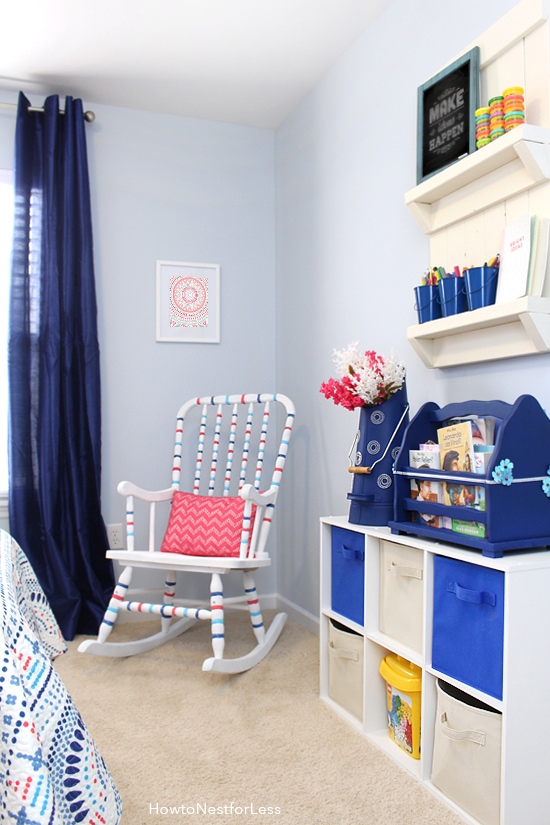 We brought this little 6-cube organizer from the old house and just purchased 2 new blue bins (we already had the tan ones from before).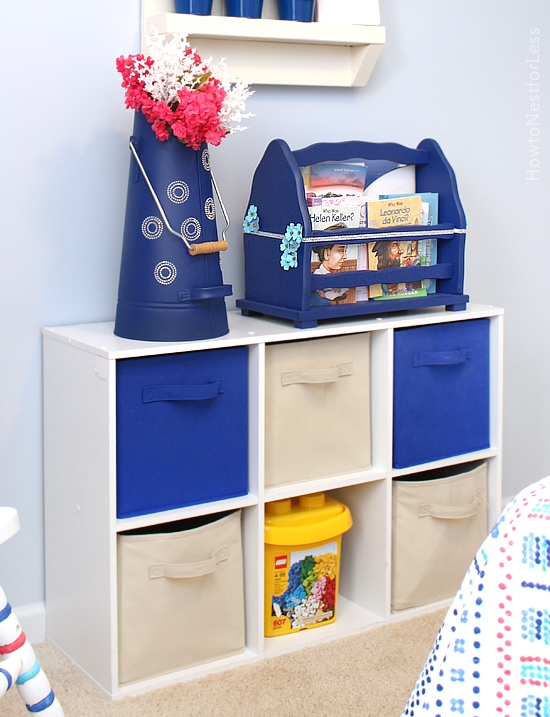 Sitting on top are some other little craft projects, including the book rack I showed you guys a couple weeks ago and a newly painted tin vase.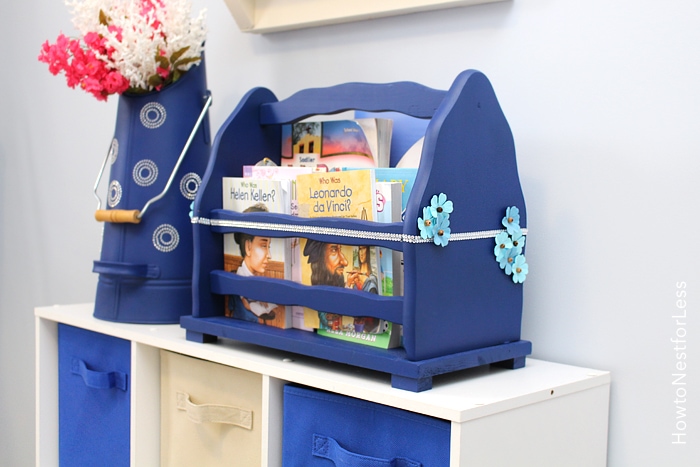 Then hanging above the toy storage is a new wall organizer and shelf that we made. This is mainly for Ellie's art supplies: crayons, markers, pencils, and a little notebook that she can scribble in.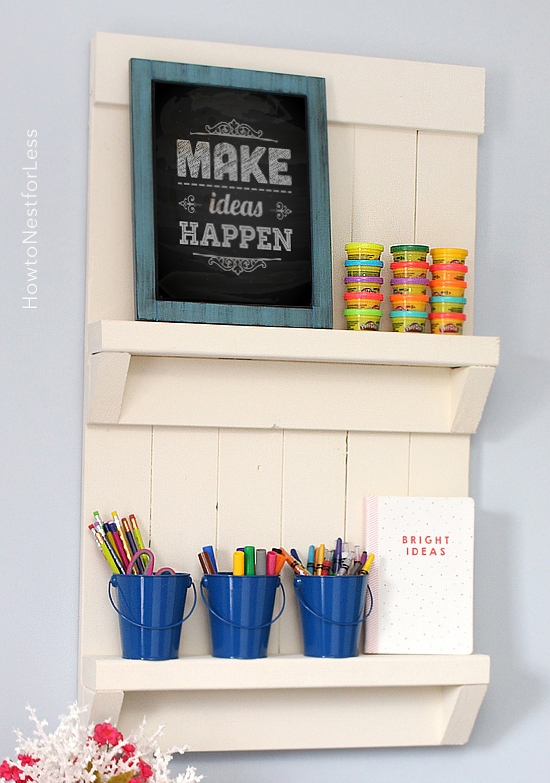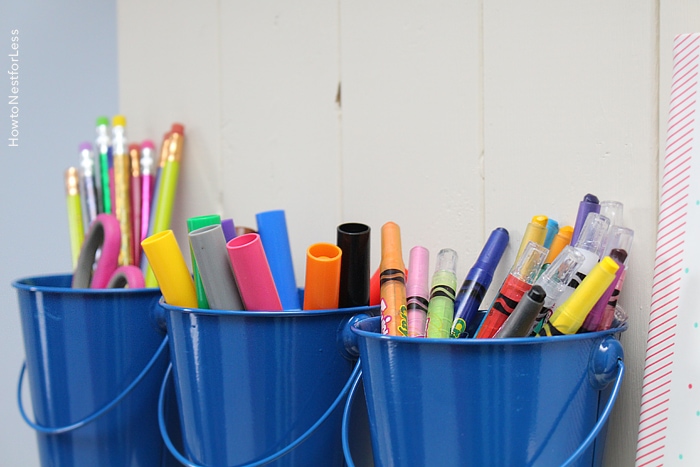 Finally sitting next to the toy area is a newly painted rocking chair for Ellie to sit and read her little heart out. This kid gobbles up books and pretty much carries one with her at all times… even on 5 minutes car drives. Love that.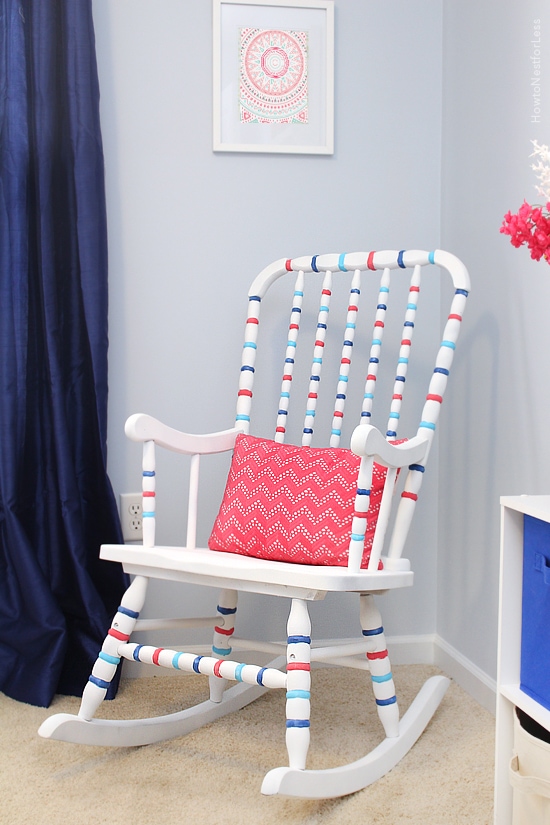 TOTAL COSTS:
Bedding – $40 HomeGoods
Polka Dot Sheets – $20 HomeGoods
Nightstand – $35 IKEA
Wall Paper Pinwheels – $10 Michaels
Rocking Chair – $10 Goodwill
Accent Pillow – $20 Target
Tin Vase – $3 HomeGoods clearance rack
Book Rack – $5 Goodwill
White Milk Jugs – $4 from Hobby Lobby clearance rack
White Frames – $20 HomeGoods
White Flowers – $16 HomeGoods
Blue Fabric Cube Organizer Bins – $14 Amazon
95 inch Blue Curtain Panels – $21 for the pair Amazon
White Lamp – $20 Target
DIY Wall Organizer – under $20 Ace Hardware
Clark+Kensington Paint (Of The Wind Blue) – Ace Hardware
So well under $300 for the entire makeover!
Not to shabby for a room that was 100% empty before.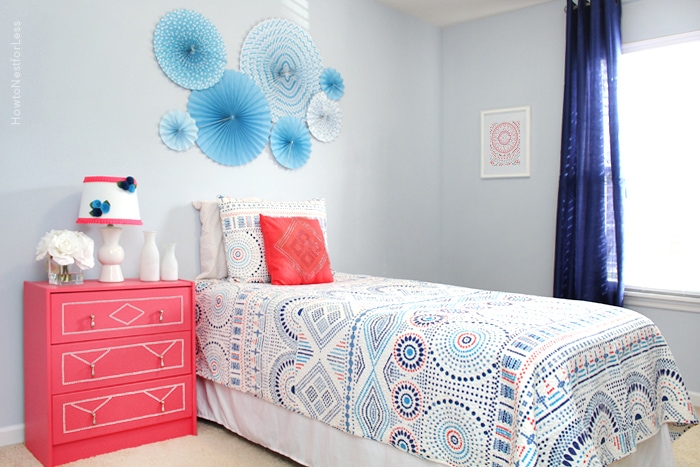 I'll be following up this post with some of the DIY projects for this room in the coming days, including the wall organizer & shelving tutorial. Stay tuned!