Now that I have completed the guest bedroom, Ellie's temporary bedroom, and the kitchen in my brother's house, it's time to start working on his gold and brown bedroom.
I'm basically the best sister ever. But he was so nice to let us crash at his place rent-free for the last 4 months, I spruced up some rooms in his home as a big thank you (his kitchen mini-makeover, guest bedroom, Ellie's temporary bedroom plus two bathrooms underway).
So he deserves a little bit of my help. Since he's a single guy, I wanted to keep this space neutral. No fluff, just classic design elements.
I went shopping a couple weeks ago for his new bedding and fell in love with this brown and gray paisley design from Pottery Barn (the Joli Paisley Duvet).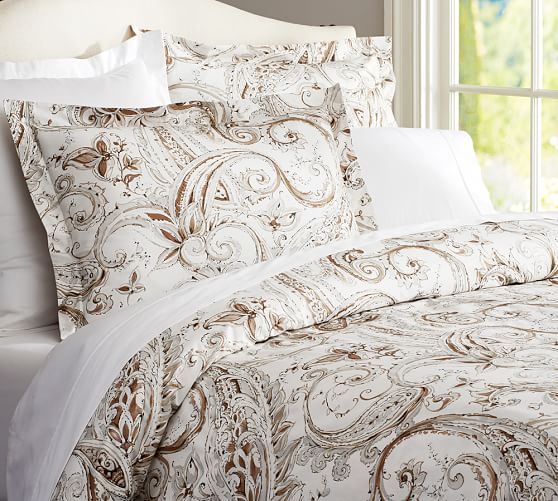 As you know I love to make mood boards before I go forward with the design. It helps me picture paint colors, textiles, and furniture and how well it will all work together. While these pieces in the mood board may not be the exact items I use, they at least give me a starting point.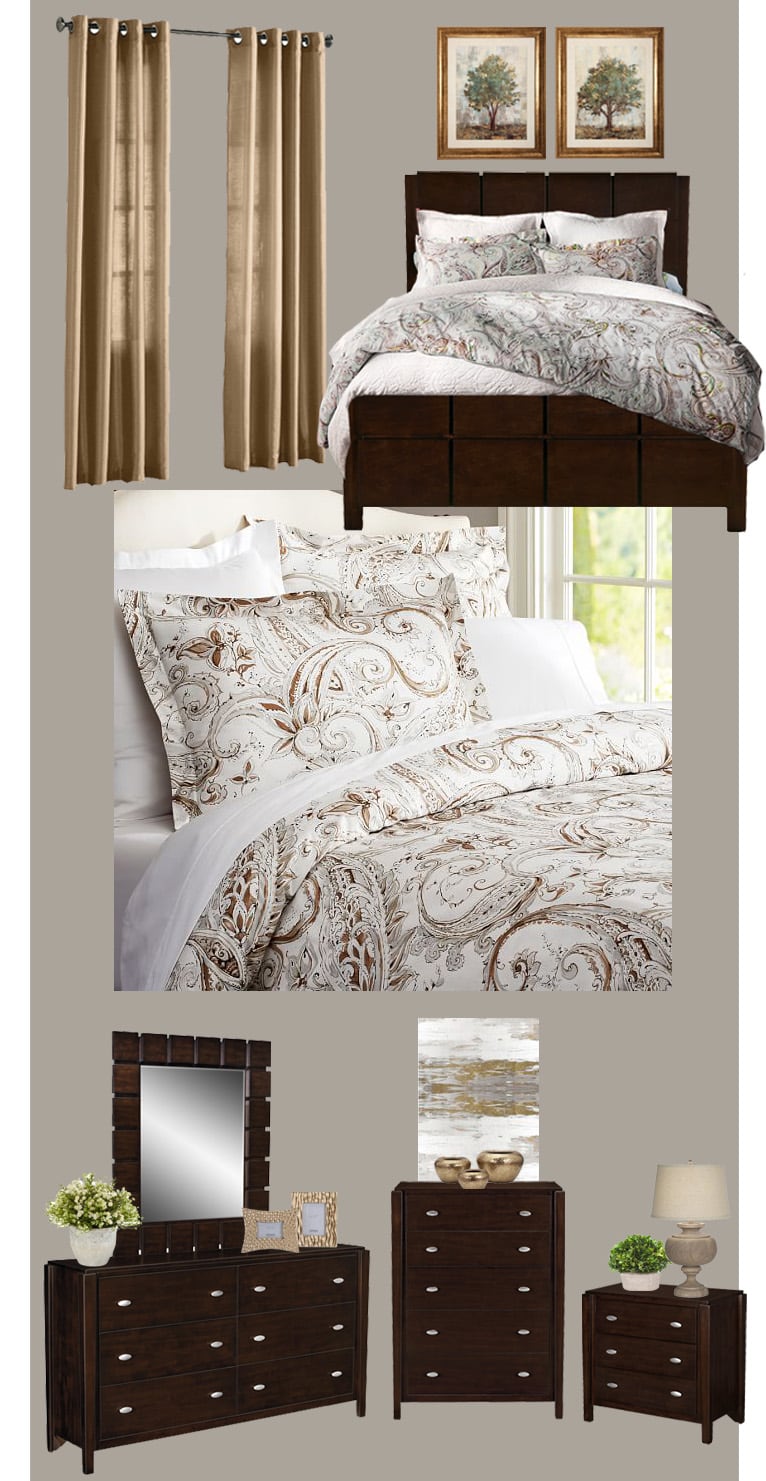 This is actually the exact furniture my brother already owns. I'm thinking dark gray walls, pulling one of the shades from the bedding. Then I hope to accent the room with bronze tones, more grays, and some pops of green throughout (especially in the wall art and décor).

For the wall color I'm looking at Functional Gray again. You might remember I used this in my master bedroom and master bathroom in the old house. Actually, a lot of this design feels like my old room. Hey, if it ain't broke, don't fix it. Right?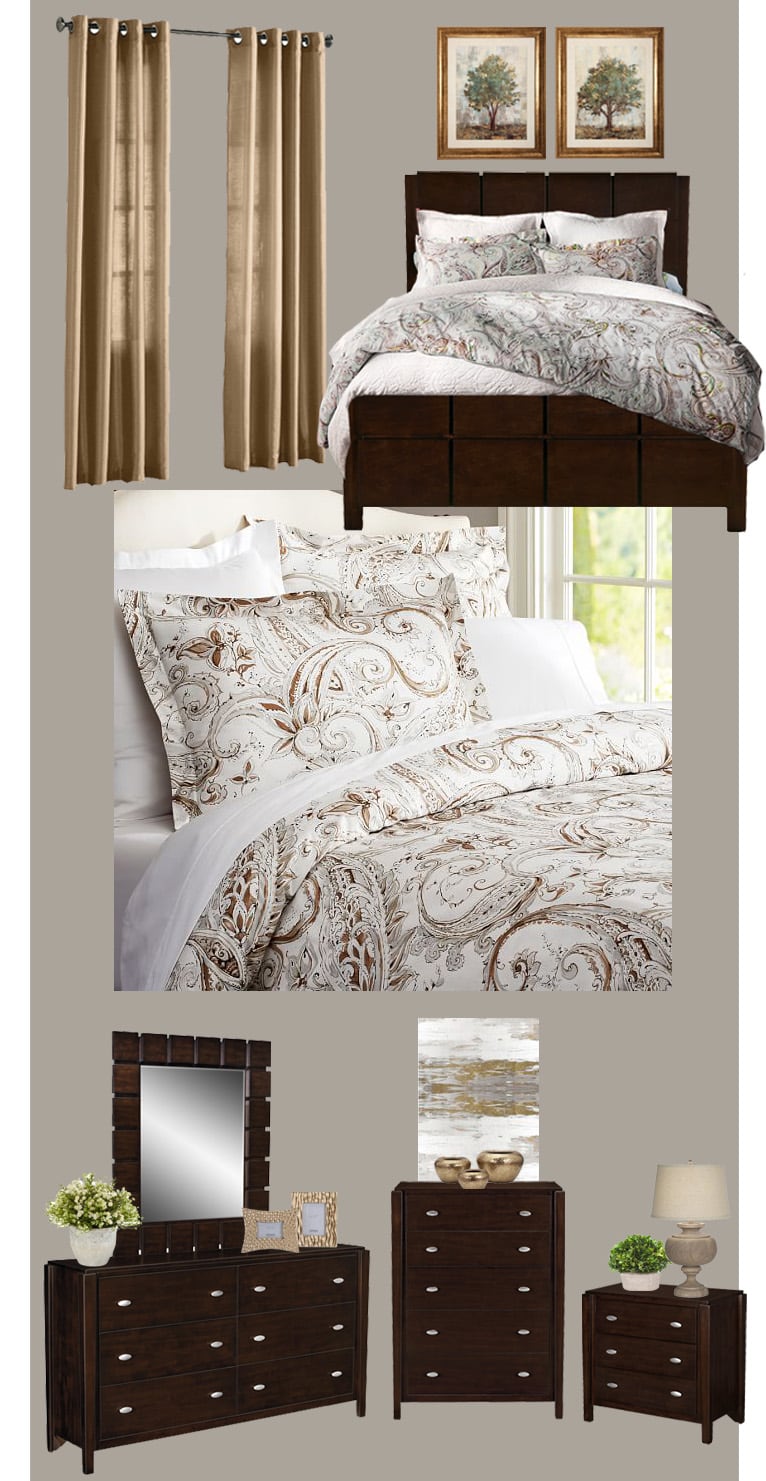 Ready to see what the completed gold and brown bedroom looks like now?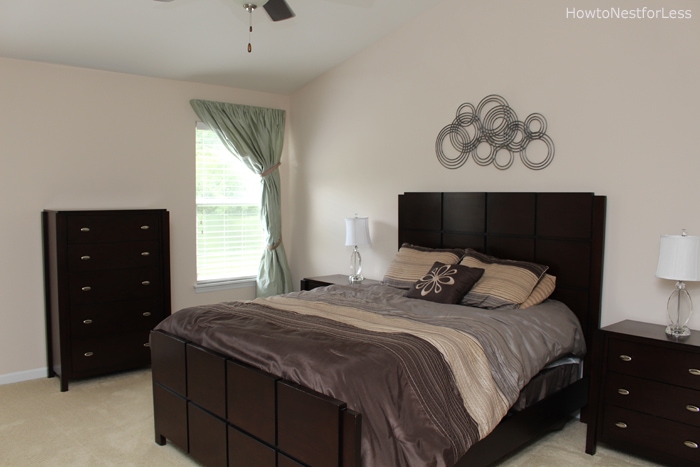 And here's the after…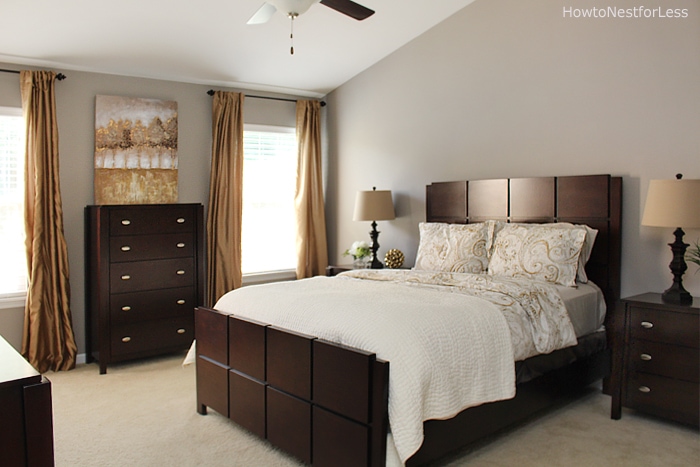 So as a bit of a backstory my brother really loved our master bedroom from the old house and wanted to steal the same look, just adjust it a bit to be a little less girly.
A lot of the color scheme stayed the same though, mostly because we pulled colors from his new duvet cover from Pottery Barn.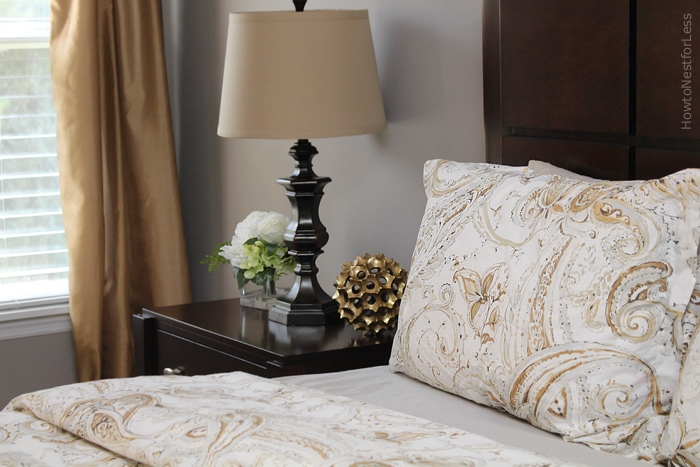 The nightstands I kept simple with new, larger lamps and some greenery. As a dude, he didn't want a lot of knick knacks to dust around. As a busy mom, I completely understand that!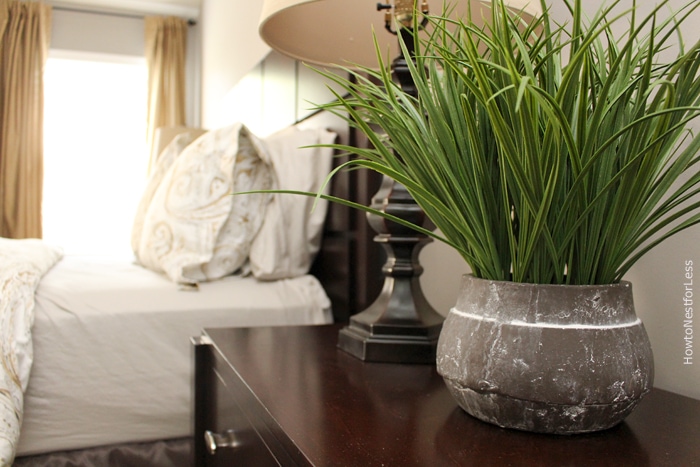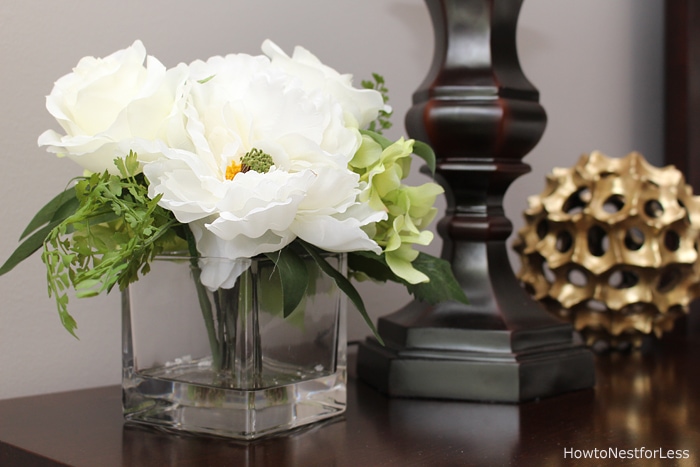 I purchased new gold curtain panels for his bedroom and found some really cool artwork from Hobby Lobby.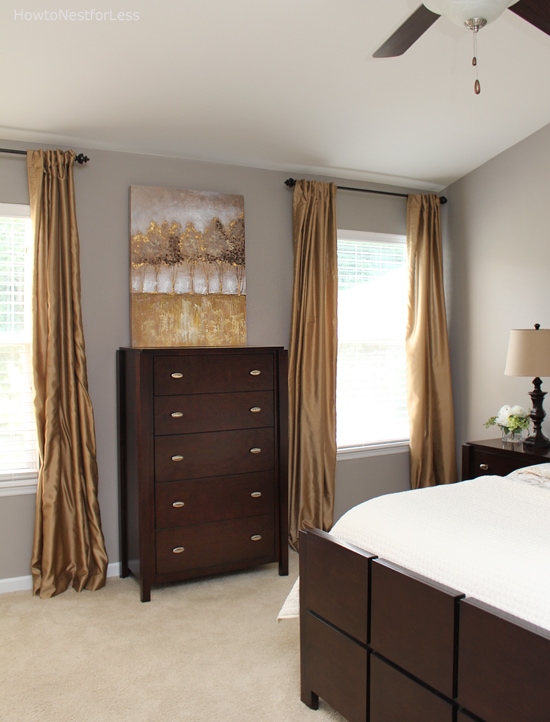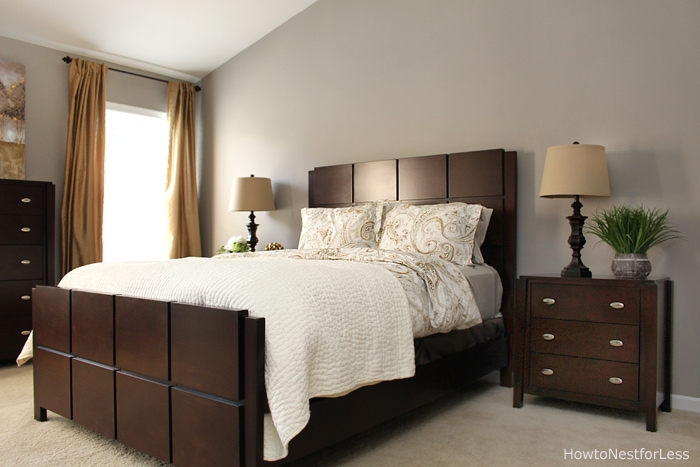 Across from his bed sits his dresser. I just added some additional greenery and some gold photo frames. And that door leads to his master bath which I hope to finish up in the next week or two!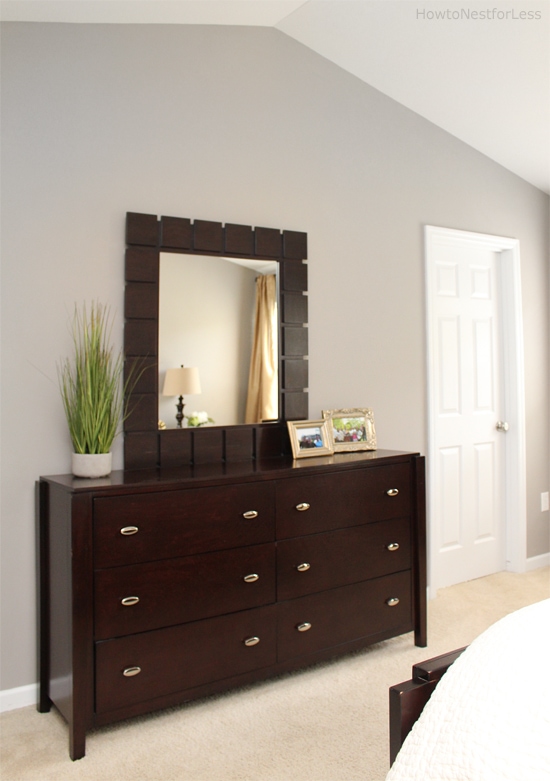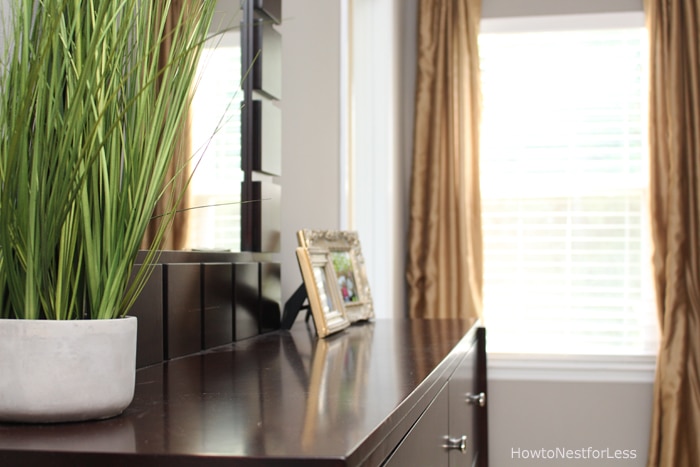 And on the wall with the door to the hallway and his walk in closet I hung an abstract piece of art I found from Hobby Lobby. Seriously, I was surprised at the stuff they had in stock to work with his new bedroom décor.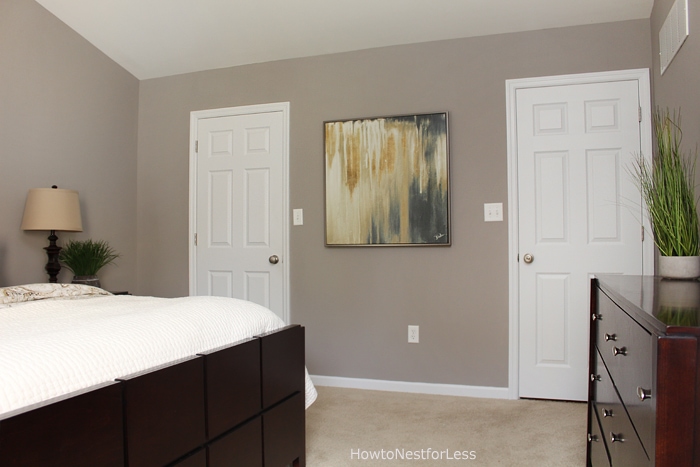 One thing that was in my original mood board design that I omitted from the final bedroom makeover was the artwork above the bed. The framed prints I wanted to use were $200… gorgeous, but we were trying to do this room makeover on a budget. Maybe down the road we'll add them, but for now I'm ok with the blank space.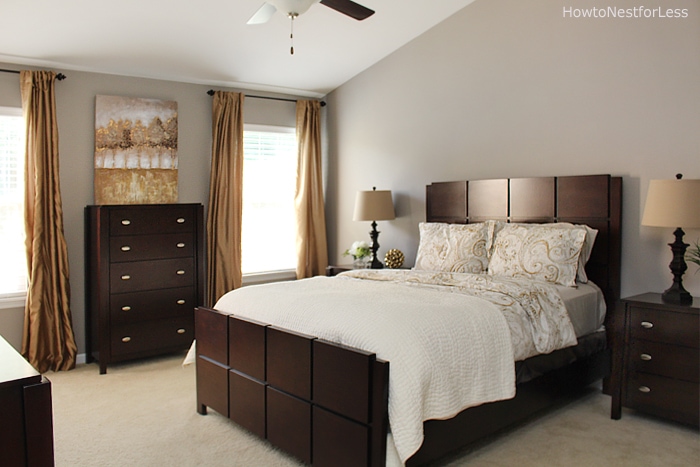 Alright, guess I better get back to moving, right? I'm taking the rest of the week off to focus on unpacking boxes. Next week I'll give you guys a tour of the new place so stay tuned!