This season I made my own quick & easy Christmas gift bags!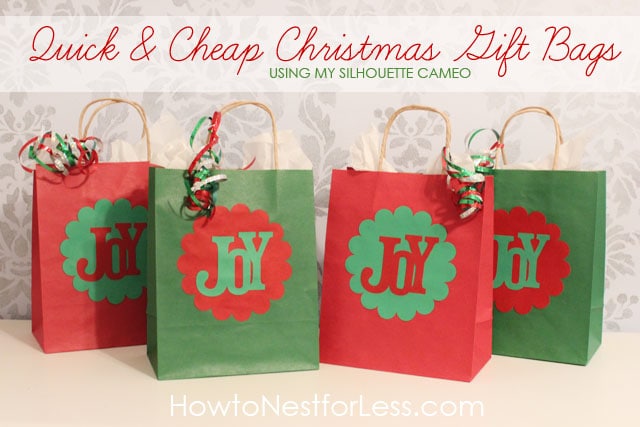 Yep, the holidays are fast approaching… can you believe it?! Seems like only yesterday it was 110 degrees outside and I was wishing for snow.
Well now that I'm getting prepped for the Christmas season, holiday gifts are on my mind! I thought I would break out my Silhouette Cameo to spruce up some plain gift bags I had leftover from last year. Come take a look! First thing I did was pick out the design I wanted from my Silhouette store. 99¢ per design, pretty cheap! I already had the scallop in my Silhouette library so all I needed was the JOY text. I set it up in my software and sent it to cut.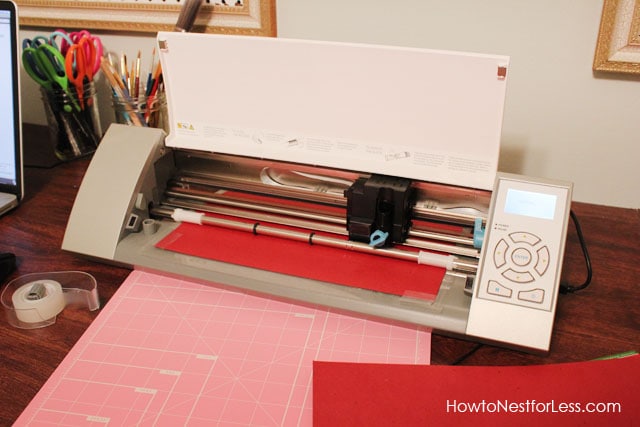 This machine truly is magical by the way. As it was cutting I kept thinking to myself… why don't I use this more often? Umm… it's pretty amazing. Look at the awesome shapes and text it whipped out in about 2 minutes!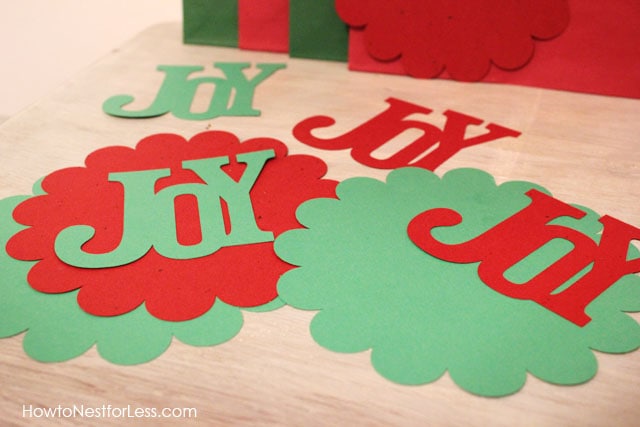 Once everything was cut out, the only thing I needed to do was glue them onto my plain gift bags. I added a little bit of pretty ribbon and they're ready for some presents!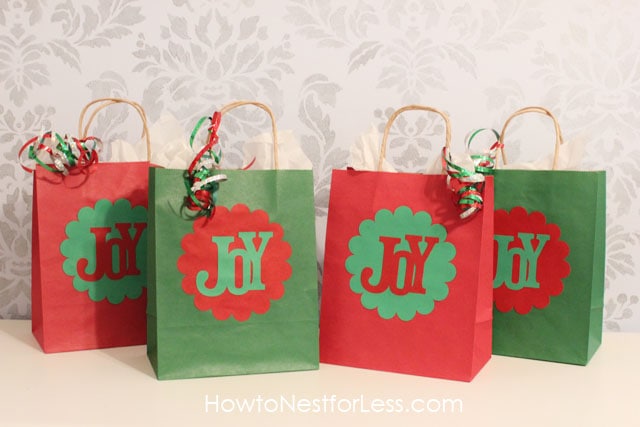 Supplies I used to make 13 GIFT BAGS:
Paper gift bags (you can get a set of 13 from Michaels for $3 if you use a 40% off coupon)
(3) sheets of green scrapbook paper
(3) sheets of red scrapbook paper
Red, green and silver metallic curling ribbon (purchased the entire set from the Dollar Tree)
So if you're doing the math, that's about $6 for 13 handmade holiday gift bags!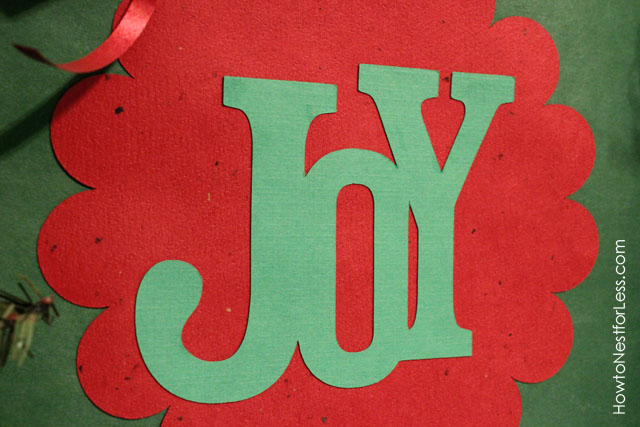 Pretty cute, right? Let's hope my family likes them!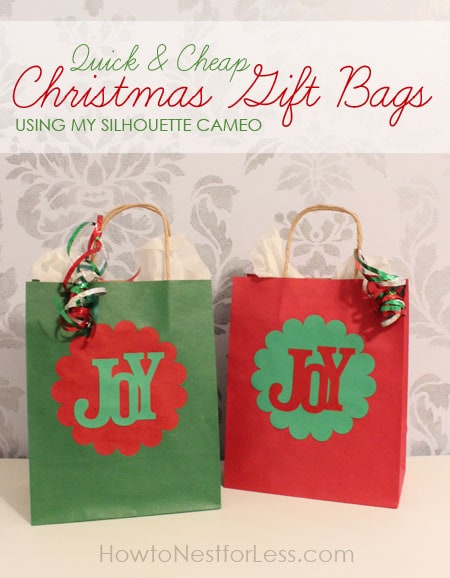 Now it's tis' the season to deck the halls and trim the tree! Since I'm putting some finishing touches on my decorations tonight, I thought I'd share my progress… with the help of my adorable helper!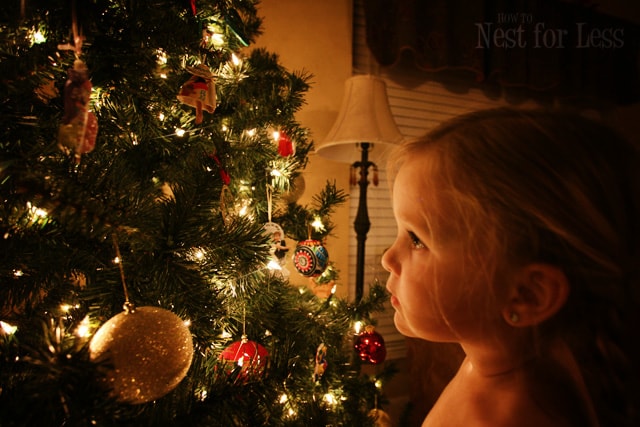 I just LOVE seeing the joy of Christmas through a child's eyes! She was such a BIG helper in hanging ornaments and deciding where the decorations should go. Yep, just giddy with excitement!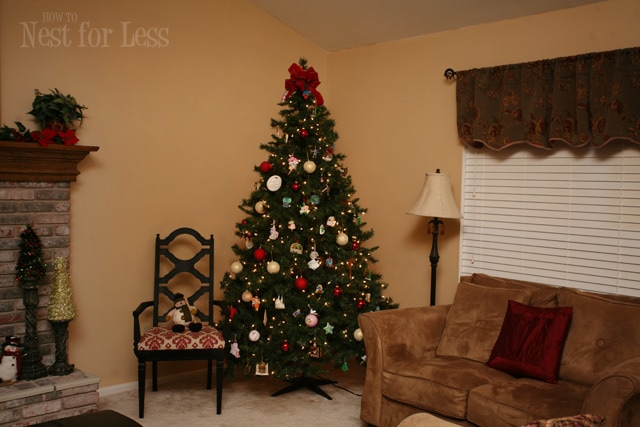 So I'm pretty big on collecting ornaments for milestones and memories. Let's take a closer look!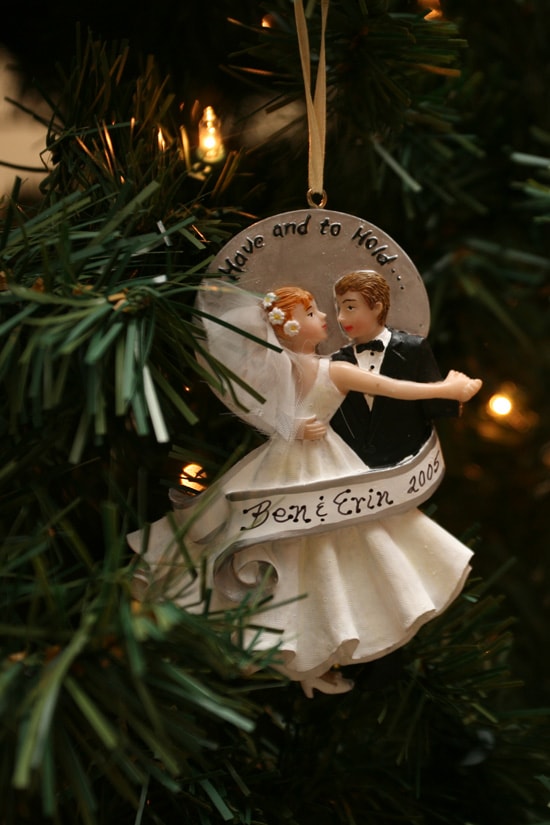 First up is one of our wedding ornaments from 2005. My mom gave us this one for Christmas following our special day. LOVE!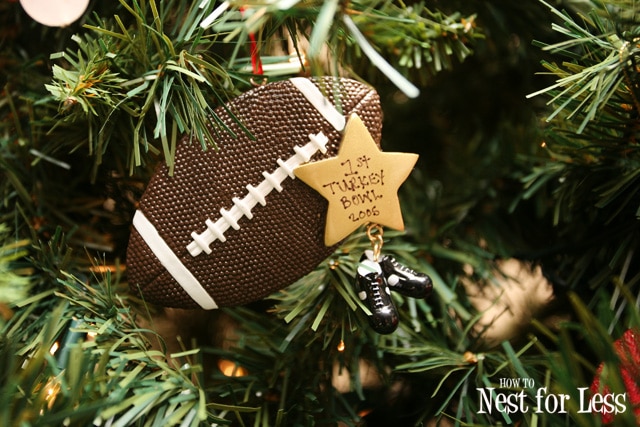 So the boys in my family play football every Thanksgiving with their friends and family…for the past 20 years! When my hubby married into the family he was "lucky" to join the annual Turkey Bowl. So of course we had to commemorate the special day with a football ornament!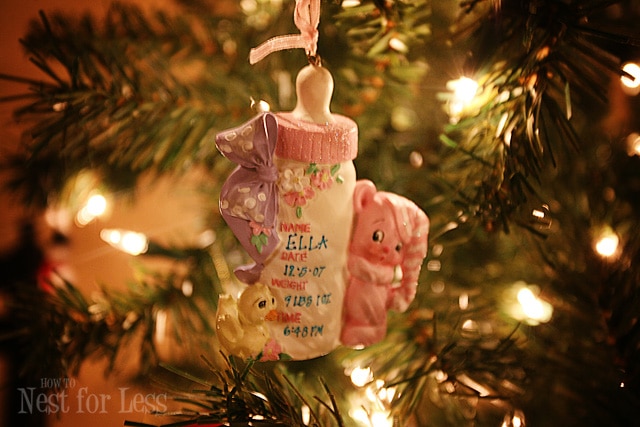 I'm sure we all have an ornament for the birth of our first child! Since my daughter was born in December of 2005, I think we received about 10 different ornaments to celebrate her birth! Yep, I still hang every one of them on the tree. I have special feelings for this one since my hubby gave it to me on Christmas morning.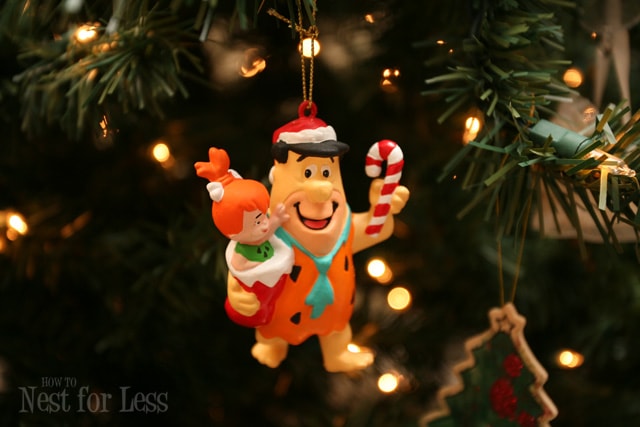 For my daughter's first Halloween our little family of three dressed up as the Flintstones. Yep, that's a Fred & Pebbles Christmas ornament to remember those adorable costumes from oh-so-long ago!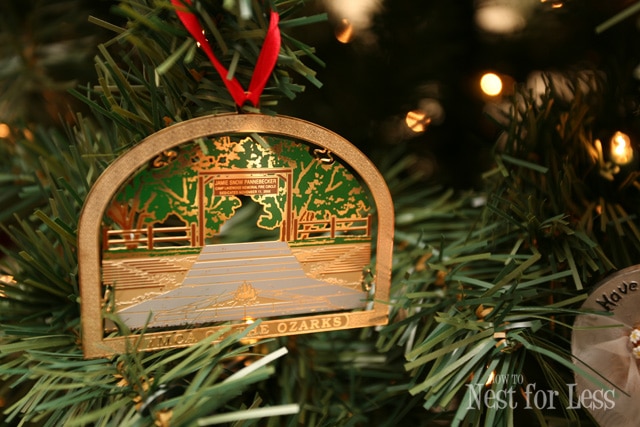 This next tradition came from my parents. Since they're seasoned travelers, they purchase a Christmas ornament from each vacation destination. I started the same ritual when my hubby and I got married. Here's our latest… our family vacation to Trout Lodge in Missouri this past Spring.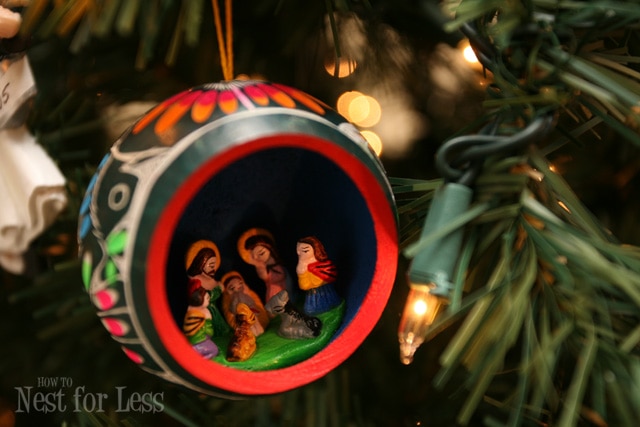 And I take a yearly trip with my company to Mexico. Here's a beautiful hand-crafted nativity scene from Rivera Maya. LOVE this one!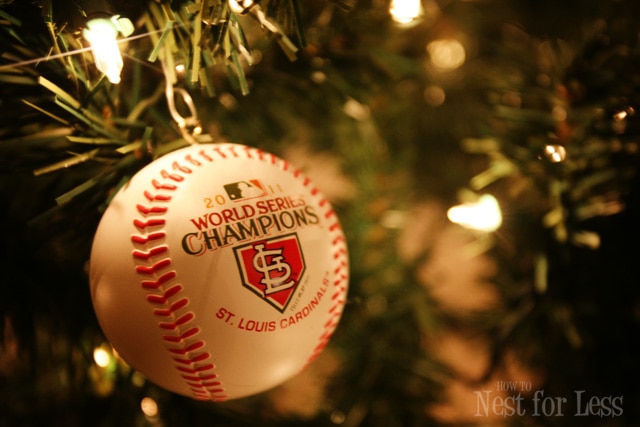 And of course no St. Louis Christmas tree would be complete without a 2011 Cardinals baseball World Champions ornament!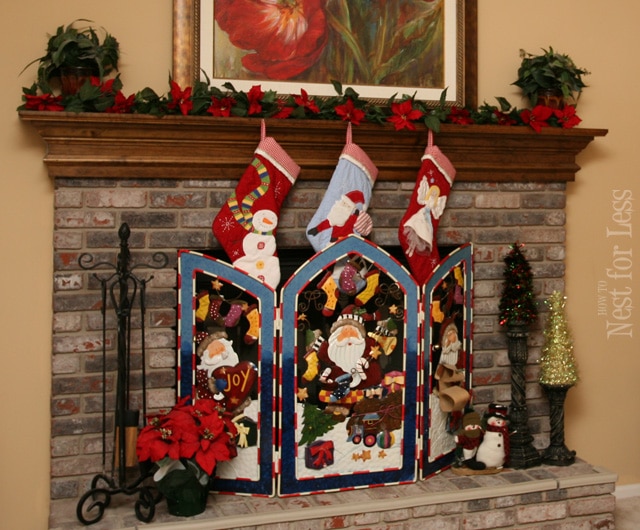 So here's a little peak at my fireplace. I got the screen from Sam's Club a couple of years back from my mother-in-law and it's a perfect fit for my bright decor! Also, I just purchased the stocking this year from UglySofa.com. Yes, those are Pottery Barn stockings at a fraction of the price!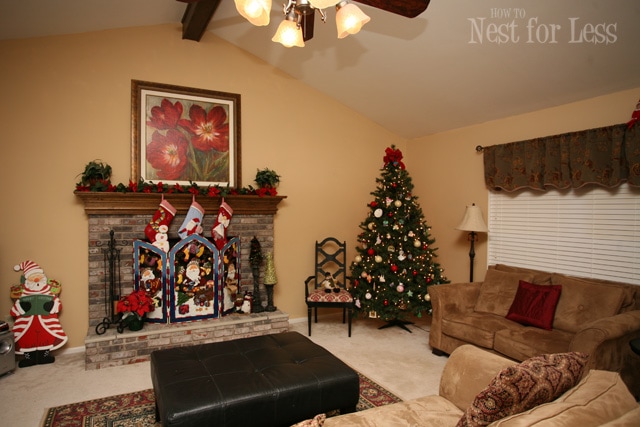 I still have some tweaking to do, such as a Christmas tree skirt and some new topiaries on the fireplace mantel. But besides that I'm making some major progress.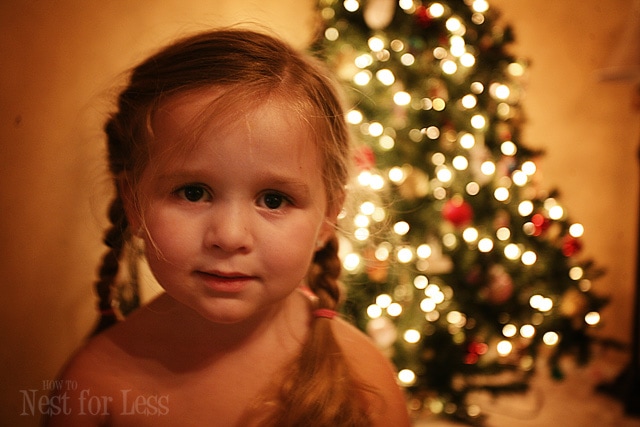 Thanks for viewing! I can't wait to read all the other blogs out there and see their Christmas decorations! LOVE this time of year 🙂