This post brought to you by Dollar General. All opinions are 100% mine.
It's hard to believe summer is over and the kiddos are headed back to school, especially college kids who seem to go back earlier each year. I have a niece who is headed to her freshman year at Mizzou (University of Missouri) and I thought I would make her a little goodbye gift basket and wreath for her dorm room door. Yep, I'm just that nice.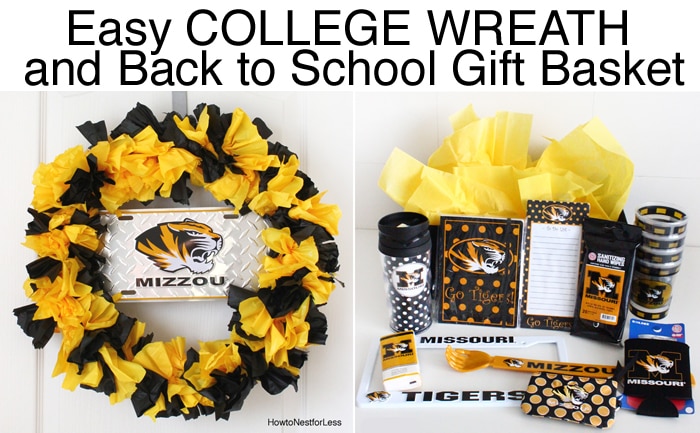 Since I didn't want to spend too much money, I decided to go with one of my favorite inexpensive wreath designs using plastic tablecloths. Seriously this wreath only took me about 1 hour to complete and that included all of the prep time.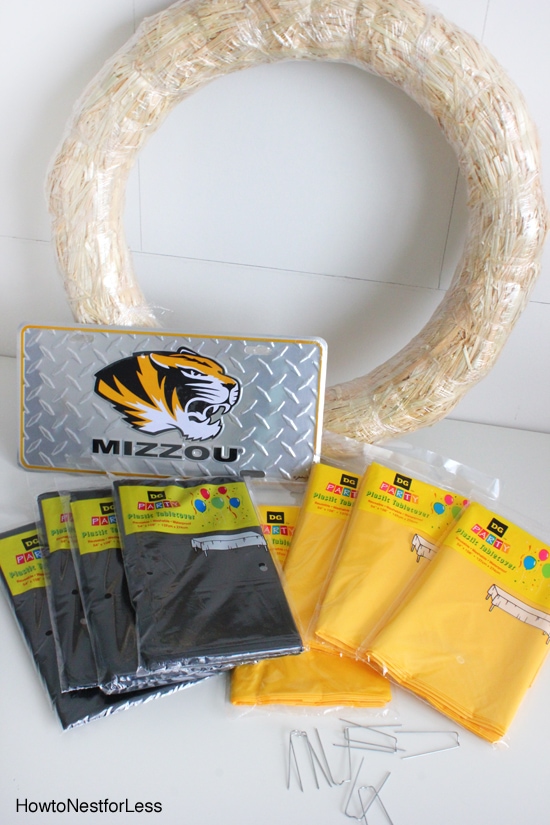 Supplies you'll need:
Straw wreath form (still in the plastic)
(4) plastic tablecloths – I used 2 black and 2 yellow
Greenery pins
License plate cover (from Dollar General)
Ribbon
Start by cutting the plastic tablecloths into about 4 inch wide strips. I actually keep the tablecloth folded out of the bag and trim it like that. Very time consuming! Just make sure you cut off the sides where the edges are folded. Then take your strips and tie them around the straw wreath form. I just knotted. Nothing special.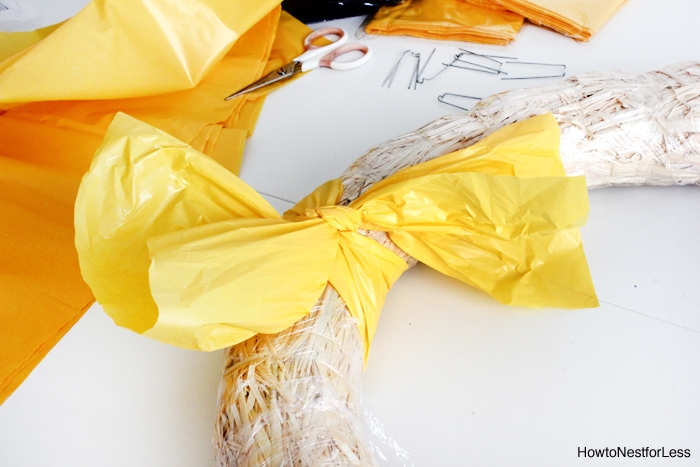 Use a pattern as you go (mine was just black and yellow). You can see when you've filled in all of the spaces the back will have a pretty striped effect. If you need to fix a part where the tablecloth strips might be a little loose, use a greenery pin to take it into place. Just remember the front side is what you're actually going to use… and it's not so pretty at this point.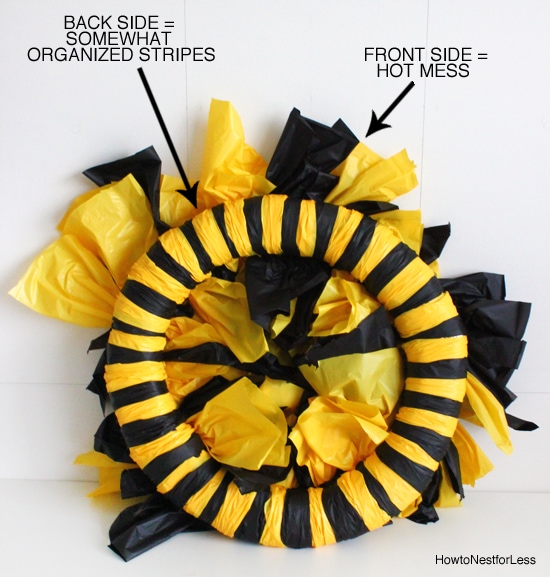 But you can easily fix that. Just take a pair of scissors and trim down the mess. The reason I do this rather than work with shorter pieces is because it's sometimes hard to knot when the plastic is shorter. Plus if you're pulling for a tighter knot, the plastic can stretch on the ends. You want a nice clean edge so trimming works best. Trust me!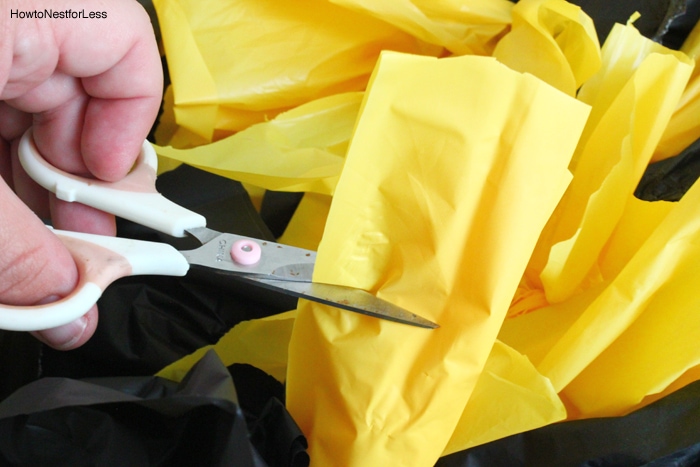 Next you can see my progress. We're getting there…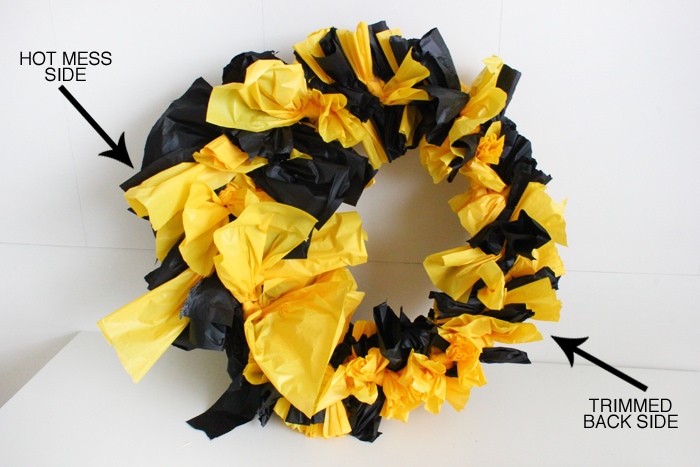 And finally the completed base of the wreath. Woot!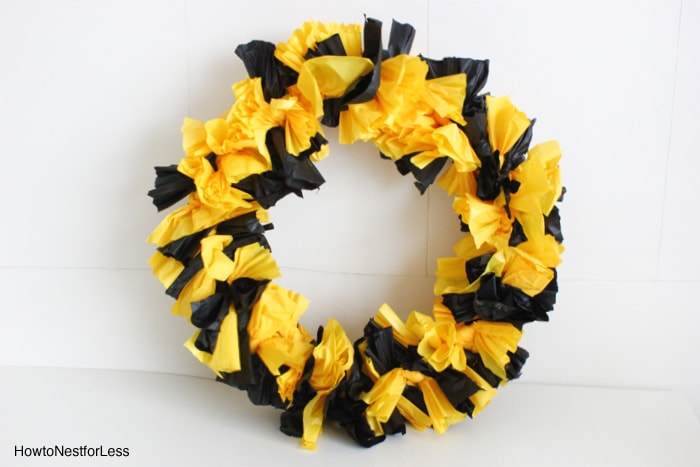 To add a little pizzazz I added a Mizzou license plate that I got from Dollar General. It's the perfect amount of bling for the center of the wreath, plus it already has the four corner holes where the bolts would normally go on your car. Super easy to just use a bit of ribbon and tie it around the wreath form. Don't worry… the plastic tablecloth pieces will mostly hide the ribbon.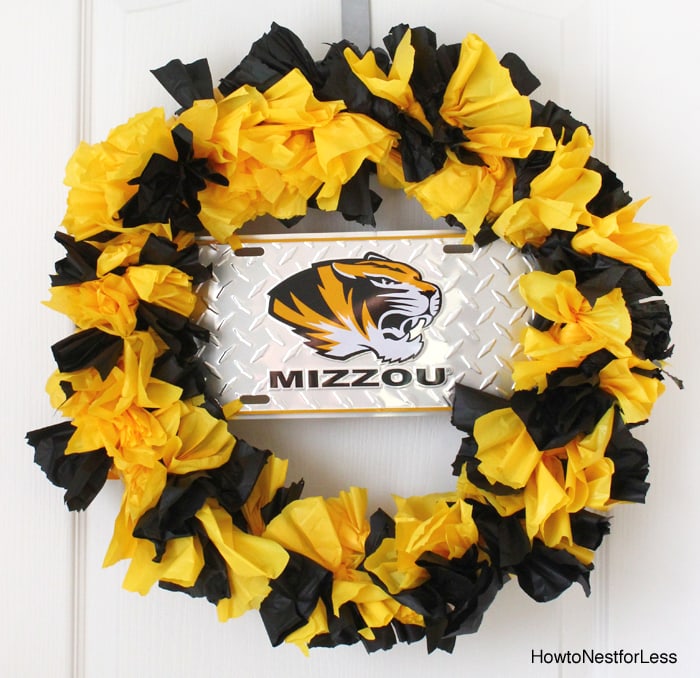 Pretty darn cute, right?
And completely weatherproof so it's perfect for a front door too!
While I was at Dollar General I grabbed a bunch of other Mizzou items for a gift basket. Journal, coffee mug, tumblers, wallet with ID holder, tissues, magnetic to-do list and more. Umm… completely amazed at the selection of items!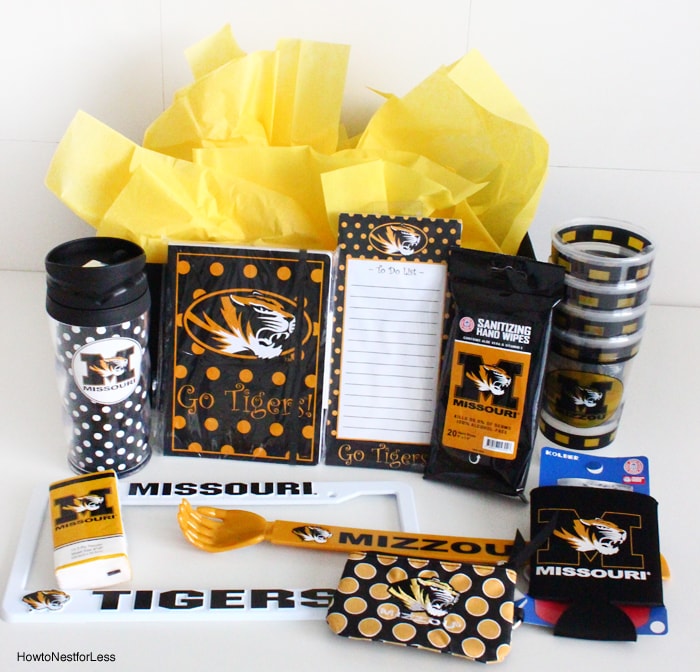 I found a black basket and yellow tissue paper from Dollar General to pull the look together. I think my niece will be quite pleased with her present!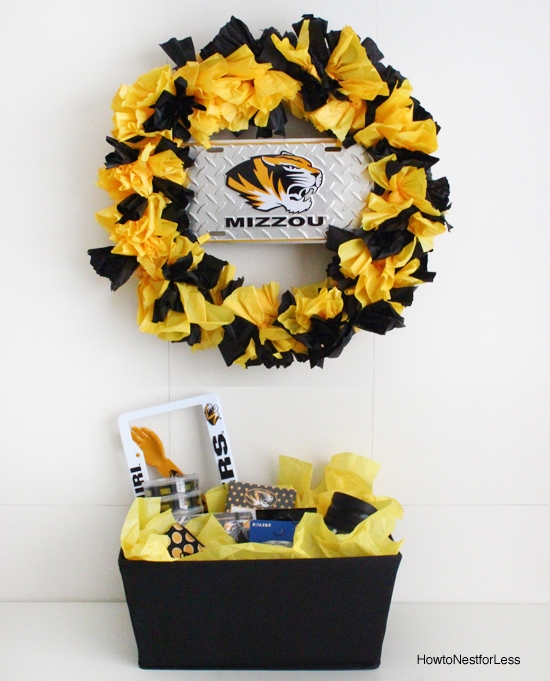 I mean, what Freshman wouldn't love a gift basket from their favorite aunt filled with tons of goodies?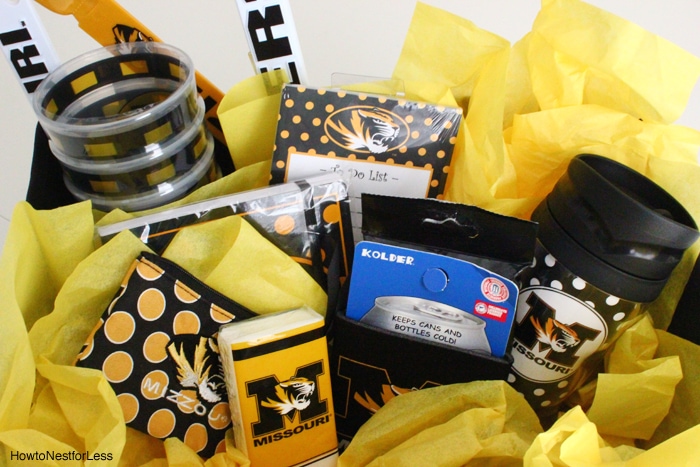 Although the wreath might not make it to her. It's going to be super hard to part with, especially with football season around the corner and my front door looking a little bare these days…