It's hard to believe that we've already been in our house for 8 months. It sometimes doesn't even feel like we're settled yet. Like I have little bits and pieces of every room, but nothing 100% complete.
So today I thought I would show you some progress… some of the projects we've completed thus far. As a reminder, here's the first floor plan: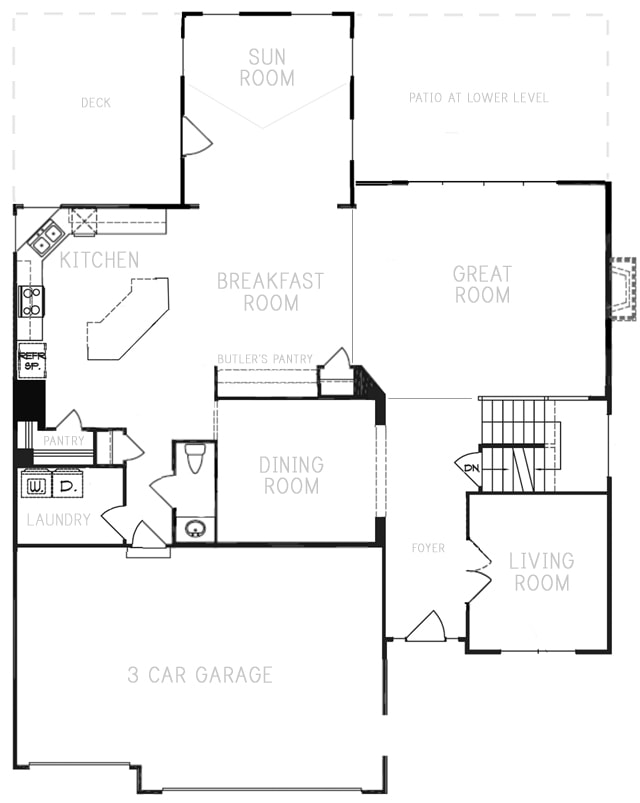 I haven't done one single thing in our living room, dining room or laundry room. It's pathetic really. But I have made some updates to our great room. We just had it painted last week so now I'm just scouting out drapes and an area rug to finish the space.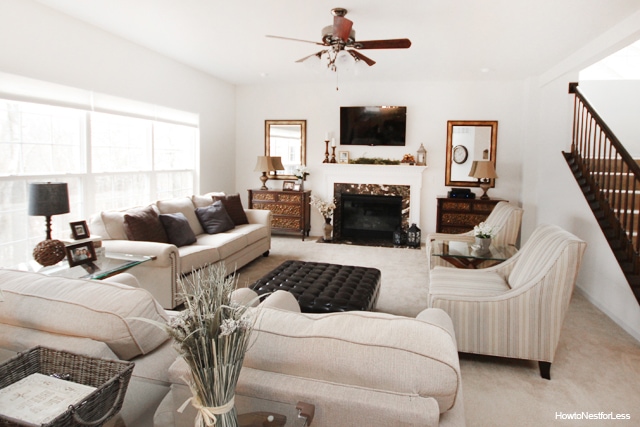 Our butler's pantry/breakfast room area at least has a little bit of love with the fabric backed cabinets, but I'm still waiting on a backsplash to really finish the space.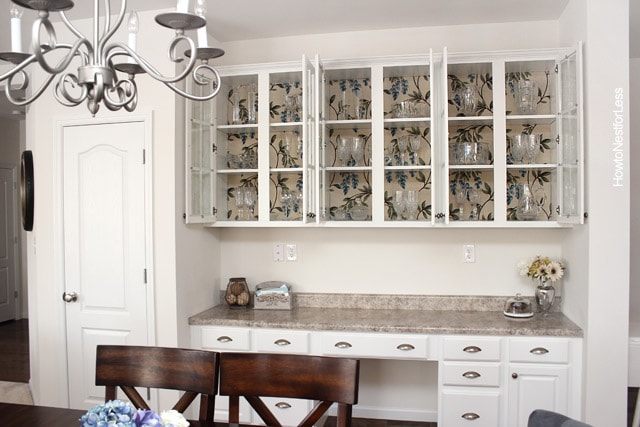 Our hearth room/sun room is probably the most completed room on the main floor, considering I still need to find a way to incorporate some color in this space. Just seems a little bland to me. I'm looking for an armoire to replace that fireplace (a way to hide that TV and to add some interest). Baby steps, people.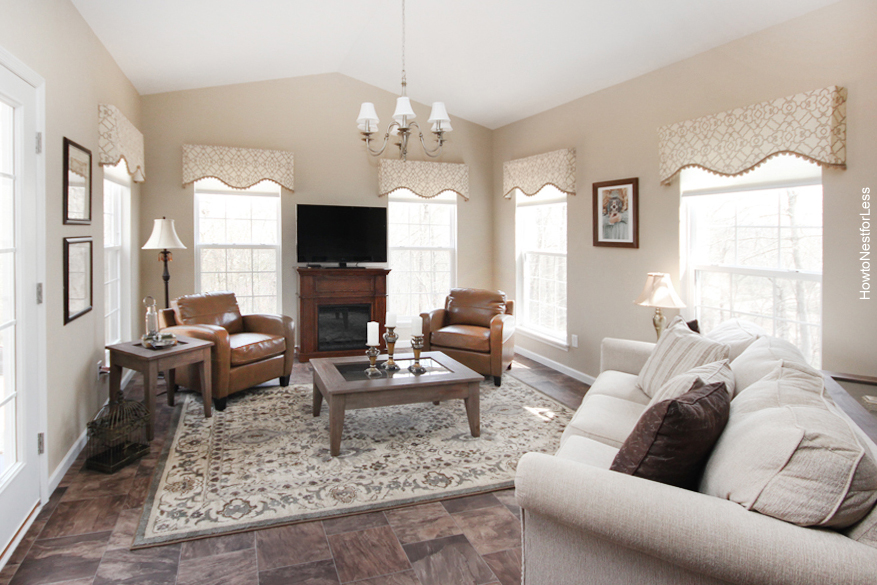 The kitchen is going to be a work in progress for years. I'm trying to find new chairs and a backsplash for a quick update to this space but long term plans include building out the tops of the cabinets, a wine fridge and built ins, and trimming out the island.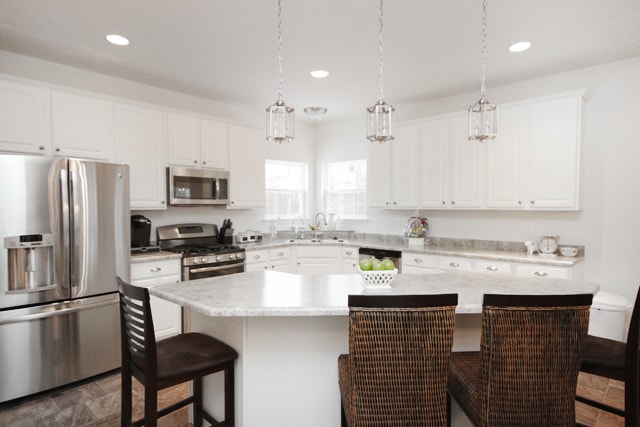 Oh, and of course I can't leave out the powder room. Smallest space in the house but it's done.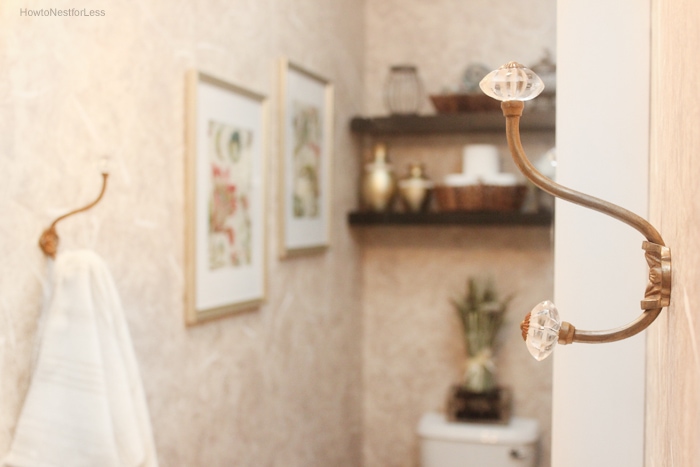 The second floor is definitely a work in progress as well. I'm slowing making updates to my craft room and hope to have a reveal soon. But the master bedroom is completely untouched. I really want to do that room right and take my time.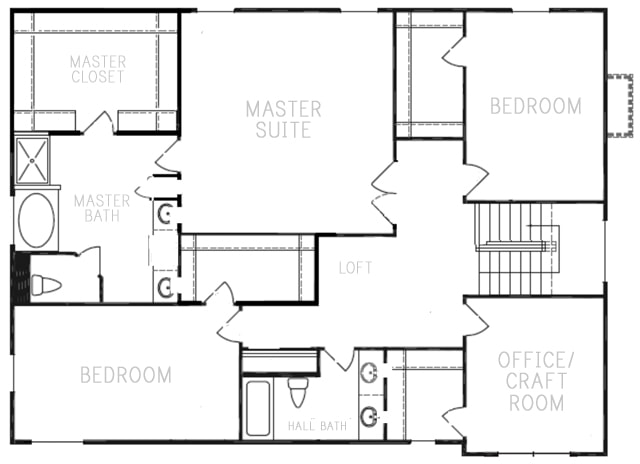 Ellie's room is complete… well, for now. We're already planning a couple updates which include rearranging the furniture and new bedding/draperies (something with pattern I think). I'm guessing the stage will remain the same though.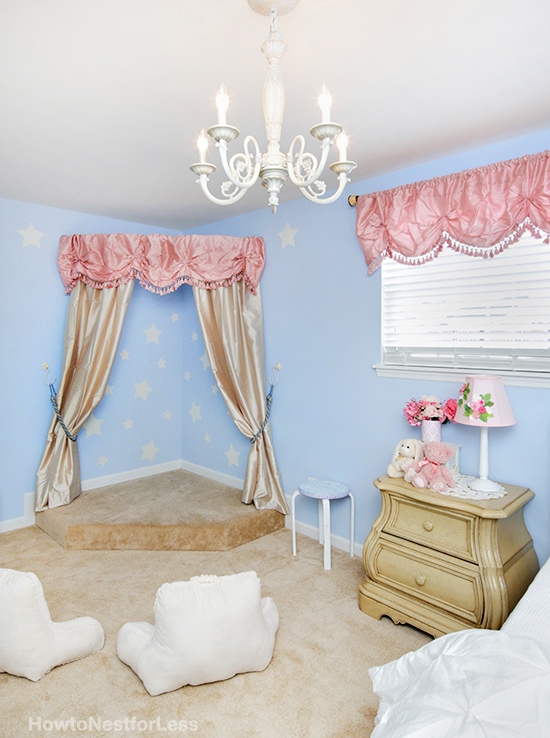 I also finished the guest bedroom including a DIY fireplace mantel headboard. Yeah, most unused bedroom in the house and it's 100% complete. For some reason it's always easier to design the spaces I hardly use.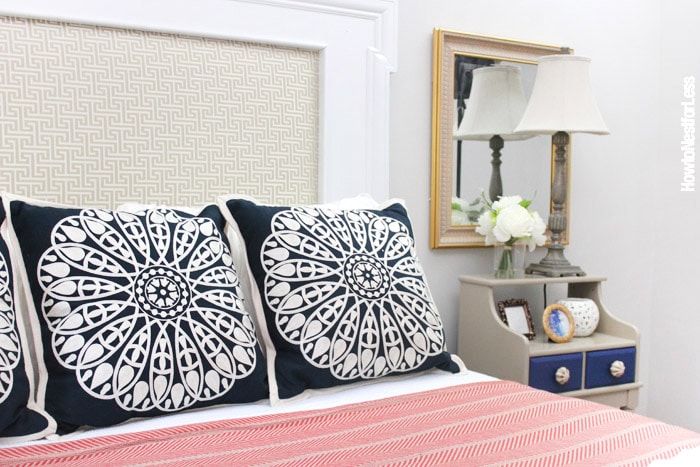 And I guess the last thing is our back patio with DIY firepit. Nothing huge back here… yet. But now since it's the end of summer I might try to find some items on clearance to accessorize (or just give up until next Spring).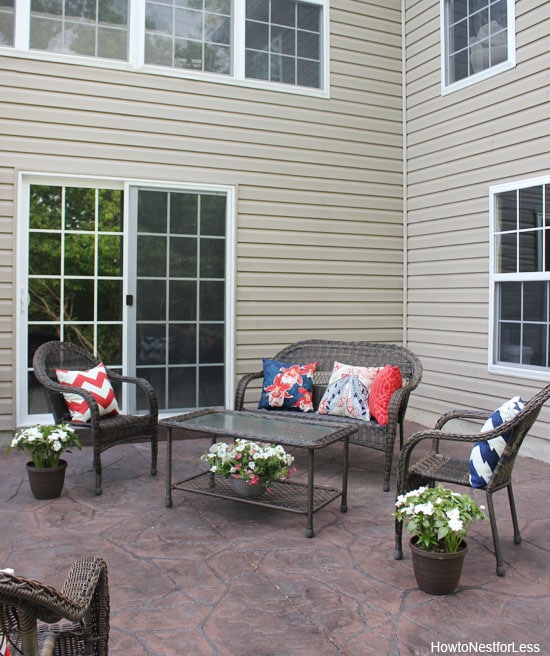 So that's it for now. Not too shabby for 8 months in I guess, although sometimes I feel like I've barely made a dent. But now that the house is painted I can actually move forward with some of those projects that have been hanging over my head.
And I'm really excited to decorate the house for Fall and then Christmas.
Is that weird that I'm already thinking about that?