This house is finally starting to come together and really feel like home. Last month I completed our self-adhesive kitchen backsplash, painted our moldings, and painted the dining room. Well over the weekend I was finally able to put the finishing touches on our family room.
C'mon… let's take a tour. Get ready for photo overload.
*Some affiliate links may be used.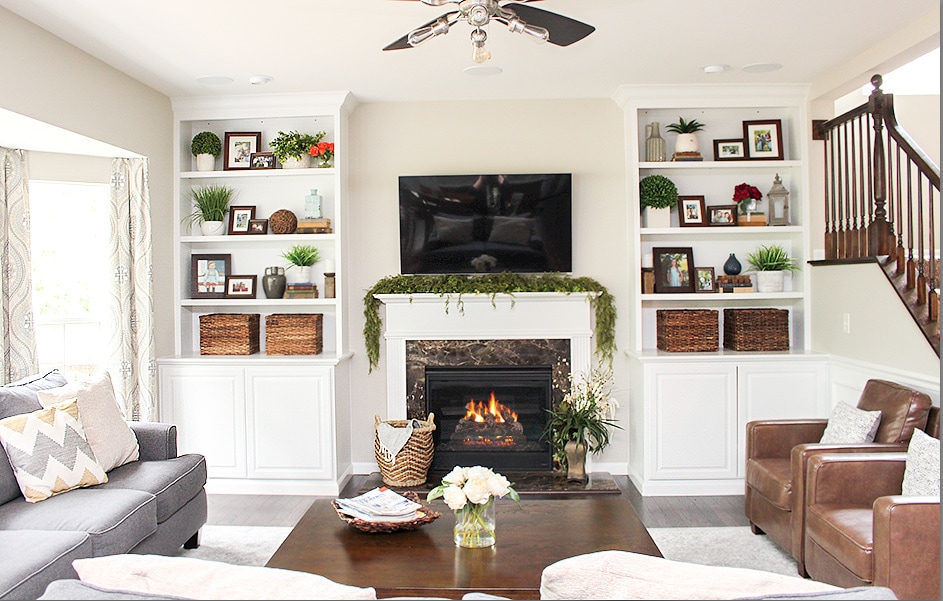 My favorite part of the family room is the built-in bookshelves. While we don't have a lot of books these days thanks to the iPad and Kindle, we filled the shelves with lots of greenery, family photos, and baskets to organize our little messes.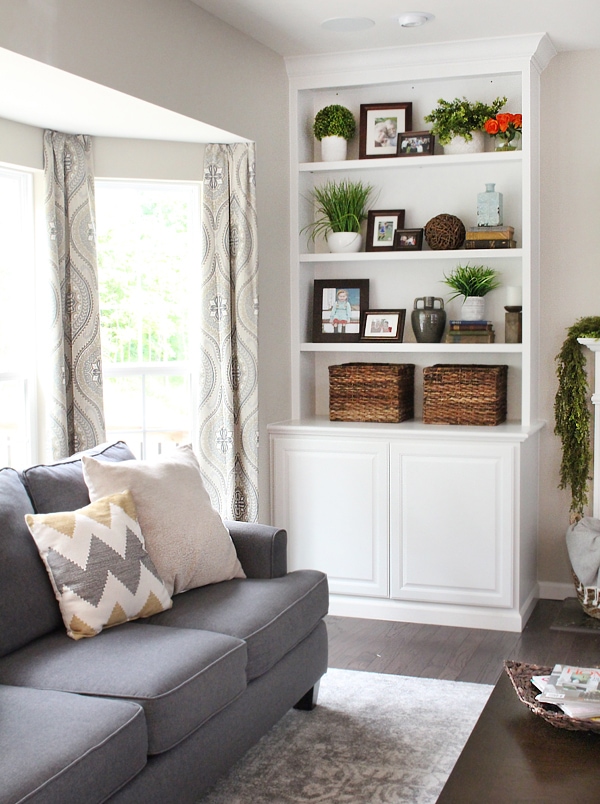 We purchased new couches for this house when we first moved in. I felt like something different from our last home's family room so I went with a charcoal blueish gray color for the sofa and loveseat from Weekends Only, but Wayfair has a very similar one if you don't have a Weekends Only near you.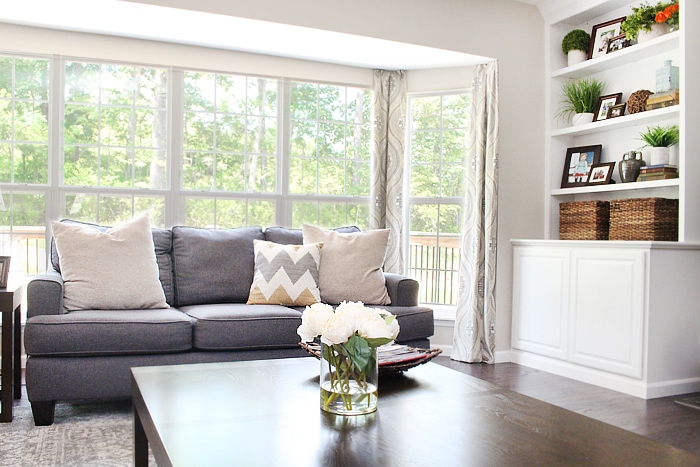 Instead of using the accent pillows that came with the couch I bought some beige pillows from At Home (similar ones here) and a little chevron one from Gordman's (similar ones here if you're not in the Midwest). Yeah, not a huge fan of chevron but it seemed to well with my curtain panels.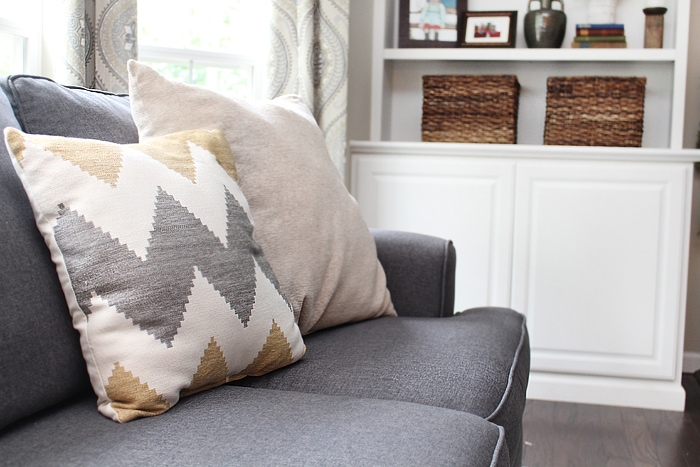 Speaking of curtain panels… I got these Sandstone color ones from Joss and Main (similar ones from Wayfair). I actually used these same curtains in our last home in the living room and was sad that I didn't get to enjoy them for very long (that's what happens when you only stay in a house for 16 months, right?).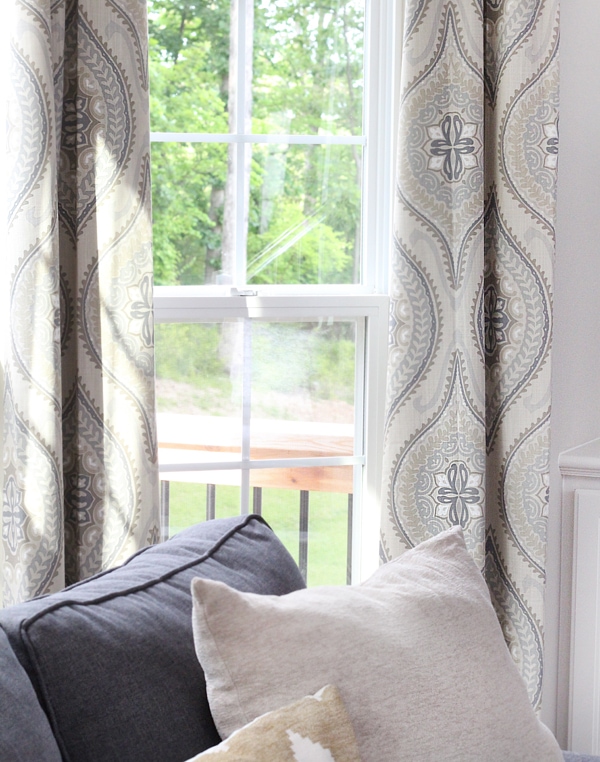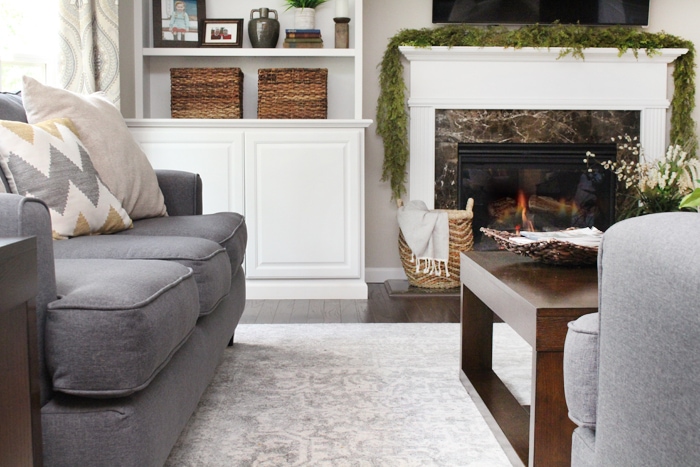 The area rug was my biggest obstacle in the room. I actually purchased three different rugs for this space. I just couldn't get over the shedding and dust from a sisal rug. So I guess the third time is a charm with this beautiful 9×12 area rug from Joss and Main (similar one here). Their website describes it as silver and ivory but it works perfectly with my blue gray couches. Definitely thrilled with my final choice!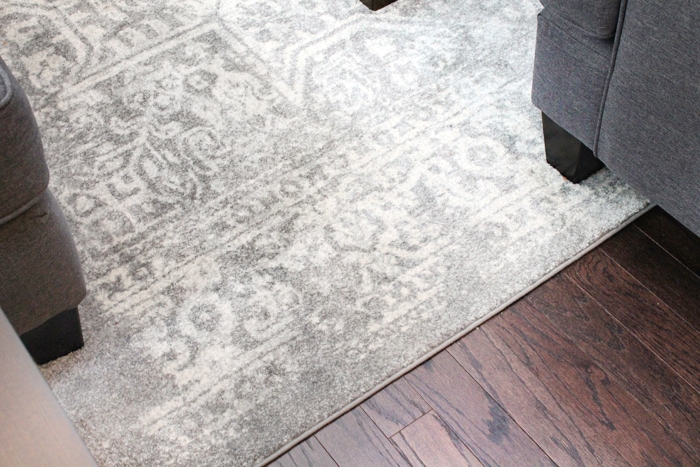 The coffee table and end table are also from Weekends Only, but I found a similar coffee table from Walmart here and the matching end table here! I dressed the top of the end table with some family photos including my favorite photo of my grandma and grandpa. I also put out my grandpa's old pipe. I've had this on display for the past couple of years and love thinking of him each time I see it.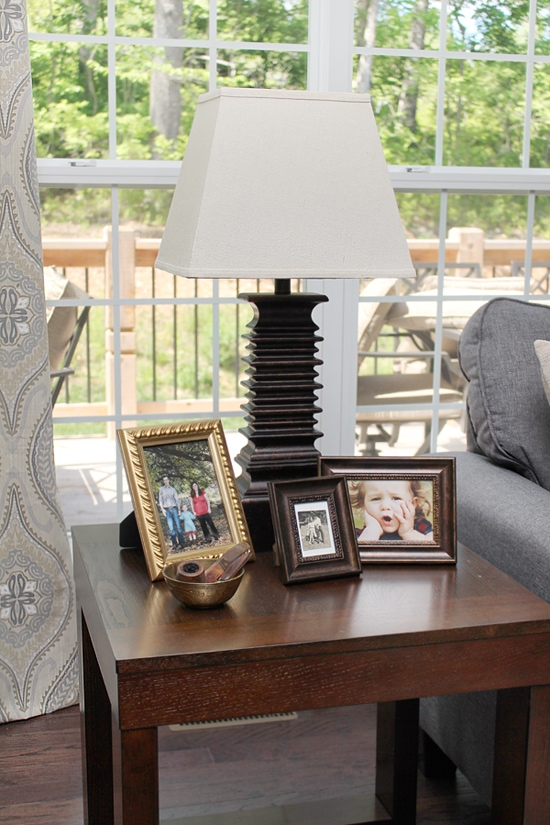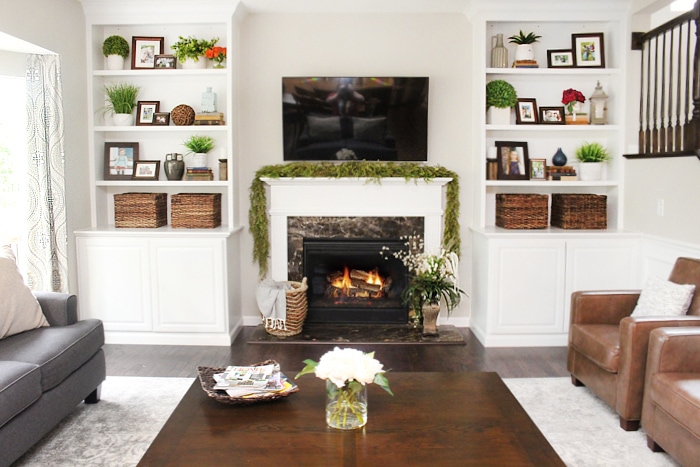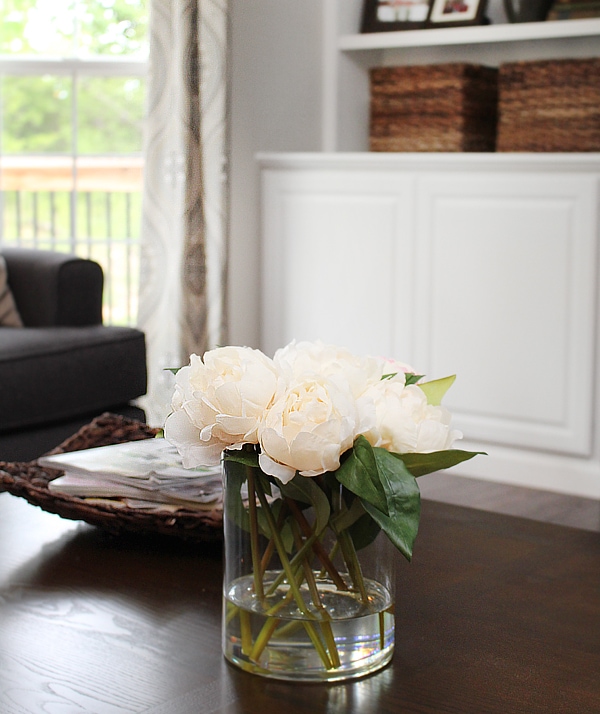 Now onto the other side of the room… It took a couple months but I finally found some small leather chairs for next to the stairs in the family room. We landed on ones from Target, but they're not available anymore. I found some really similar in style from Wayfair.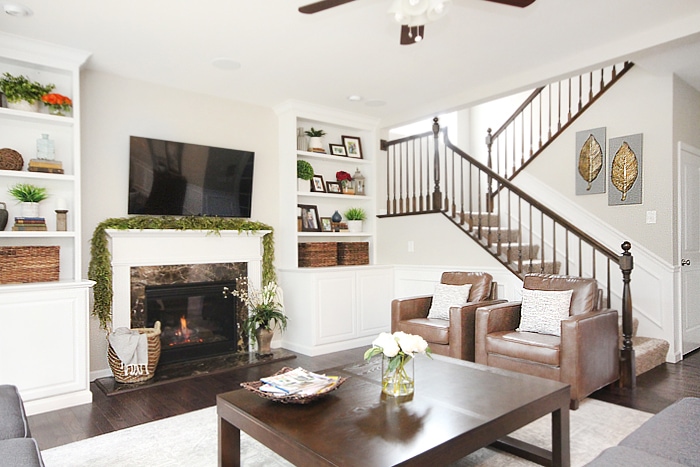 You can see we hung the gold leaf artwork that I made from a Goodwill find at the staircase. Then accent pillows were a last minute score from At Home, but Wayfair has some pretty similar. Love the little sprinkles of navy, gray and beige in them.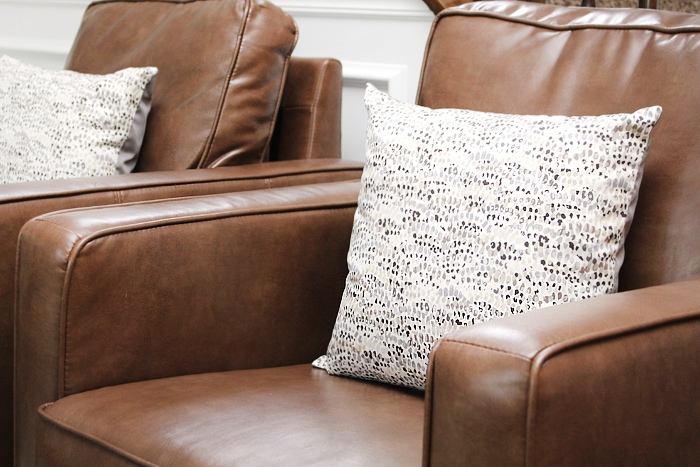 Here's a view from near the bookcases and fireplace. Those double doors lead to the playroom (hmm… maybe that should be my next focus?).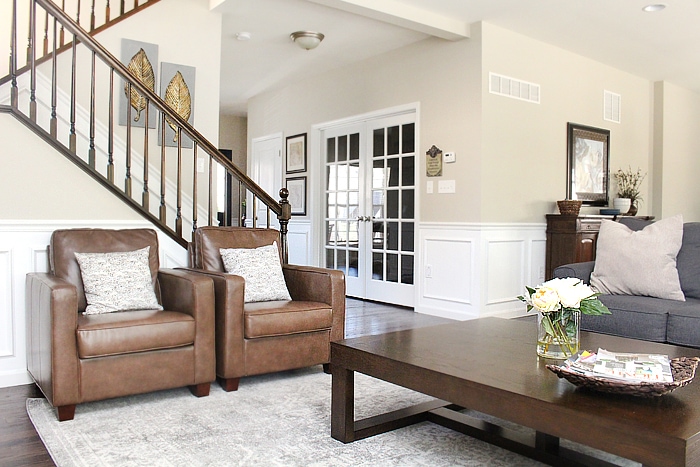 And behind the loveseat you can see our breakfast room and kitchen.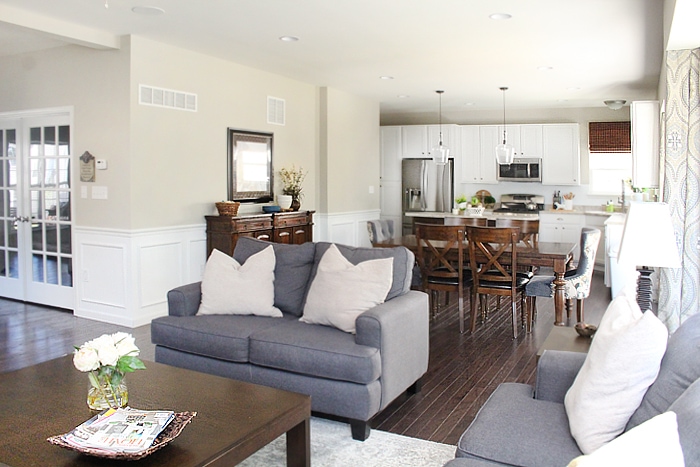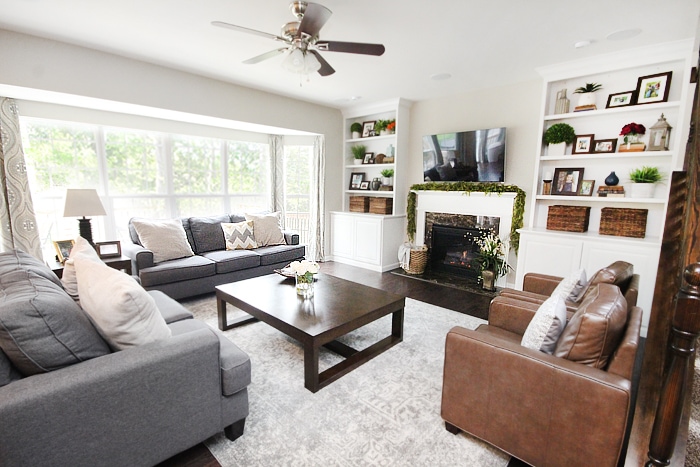 Overall I'm extremely happy with this family room. I still want to raise the TV a little bit and maybe paint in between the built-ins a shade darker (or maybe some planks?), but for now this room is DONE.
So, what do you think?
I'm totally loving the dark couches with the white built-ins.
Definitely one happy girl over there!