With the technology of iPads and Kindles, it seems a lot of people are cleaning out the bookshelves in their homes. While I love the smell and feel of a real book, there's just something about the ease of getting a new book in 2 minutes loaded onto your tablet.
So now the problem arises…
what do we do with all of our bookshelves?
When I worked on my parent's family room I was finding some real gems in their overgrown book collection which included literary classics, Lance Armstrong biographies, romance novels, and popular diet fad books from the 80s. Yeah… time to get rid of those.
But what do you do with that empty space now?
Here's some ideas to fill the void.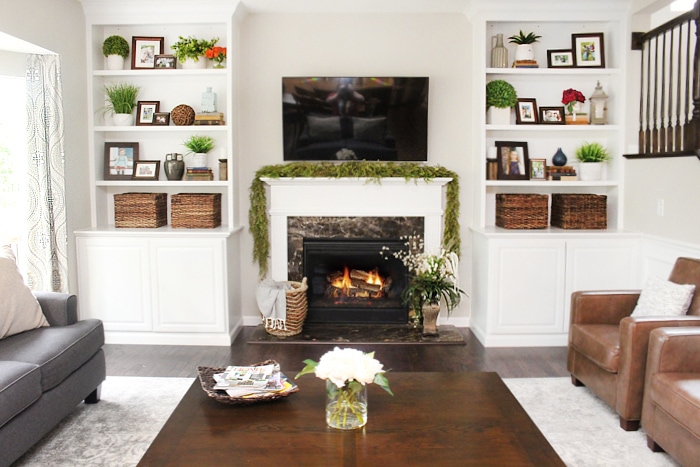 GREENERY.
Nothing cheers up a space more than some beautiful plants. Whether it's a bright pop of flowers or just some lush green plants, you can never go wrong with them breaking up some dead space on your bookshelves.
FAMILY PHOTOS.
My absolute favorite décor on bookshelves are family photos. It's a great focus, even if it might look like a shrine to your kids! Try to keep a consistent look with the colors of frames, but feel free to mix up the sizes and textures.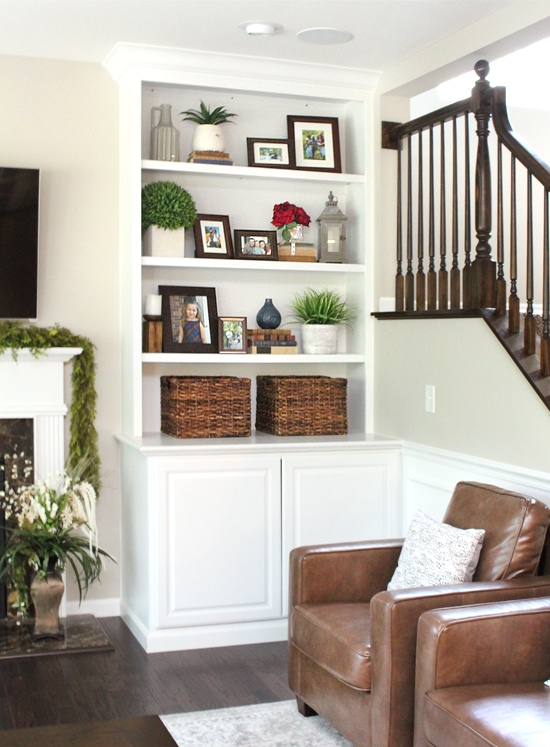 BASKETS.
I'm a huge fan of baskets on bookshelves. They're a great way to organize little messes. We keep our remotes, exercise bands, crayon boxes, coloring books, little toys and even my camera and external flash in the baskets. Plus if you're able to keep the baskets low enough it's a great way for kids to help put away their toys with ease!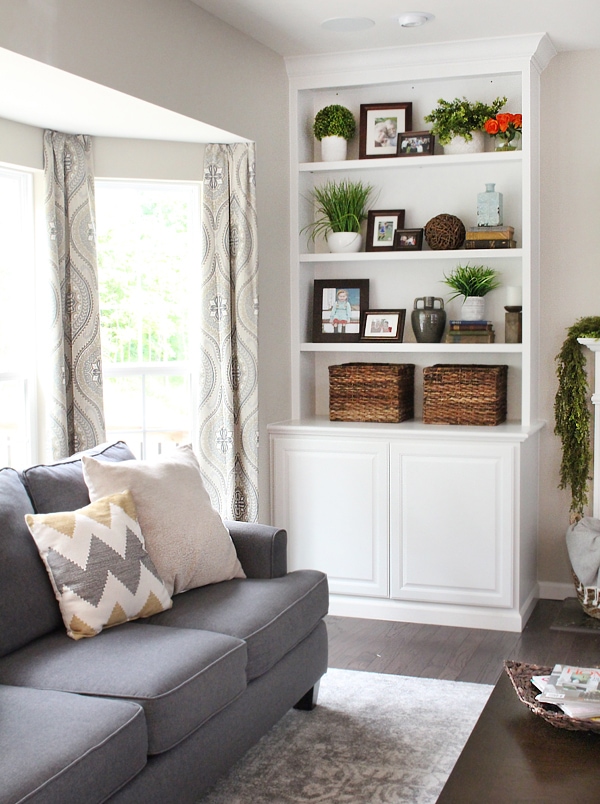 CANDLESTICKS.
While I would never recommend candles on your bookshelves, I do love the battery powered ones! I have one on each side of my bookshelves and we often turn them on during movie night for the perfect mood lighting!
VASES.
Add coordinating colors to your room with ceramic or glasses vases on your bookshelves. I found all of mine on clearance from Kirkland's and Hobby Lobby. Little cost with big impact!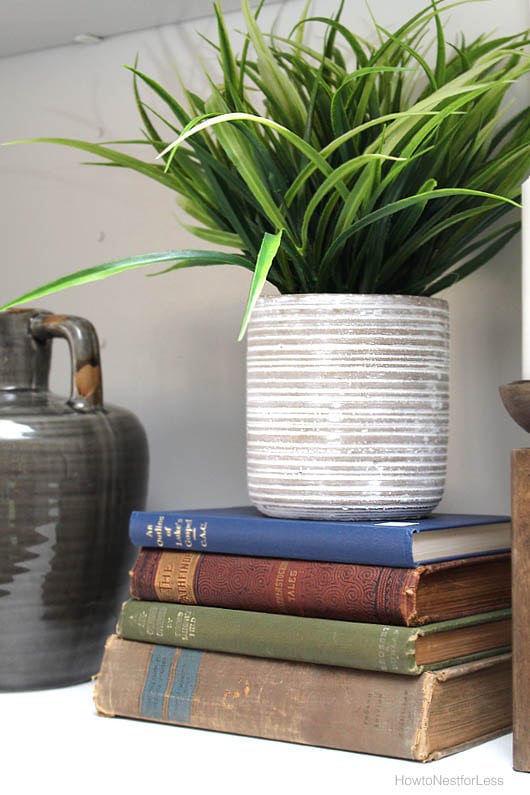 A FEW FAVORITE BOOKS.
Of course I couldn't part with ALL of my books. There are a few that you'd just have to pull out of my cold, dead hands. Most of them were my mother's when she was a little girl and I love the distressed spines. I keep these on the bookshelves more as decorative elements since I don't need to get them down often.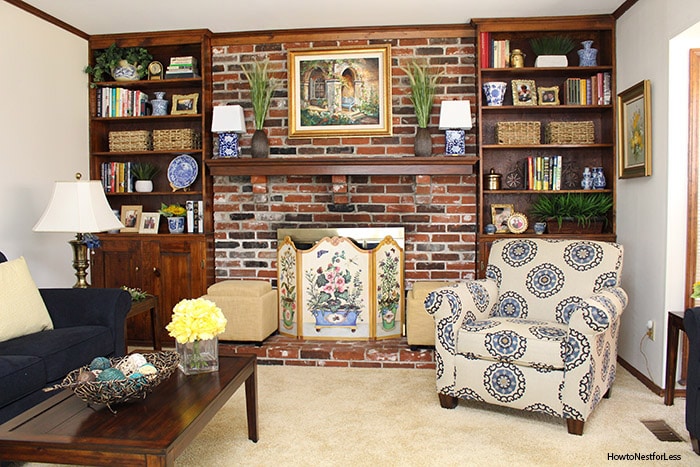 If you want to see details on how I styled my parents dark bookshelves,
visit their family room makeover.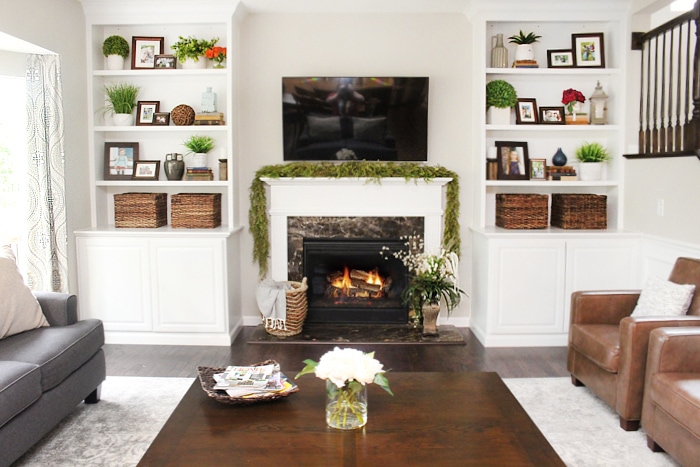 And you can see my own family room makeover here.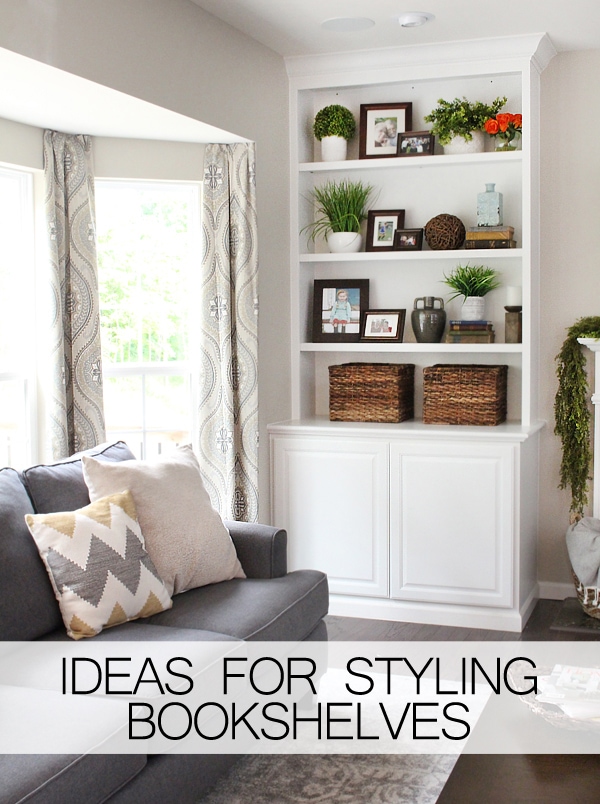 So how do YOU love to decorate your bookshelves?
Family heirlooms, weird collections, only books?