Back in September I showed you guys the DIY shiplap wall in Ellie's new cottage bedroom and quickly fell in love with the direction for her new bedroom. Then in October I gave a little makeover to her nightstand with a cracked patina effect. Sad that it took me 3 months to get back on track but I worked hard past week to finally finish the room. Come on… let's take a tour!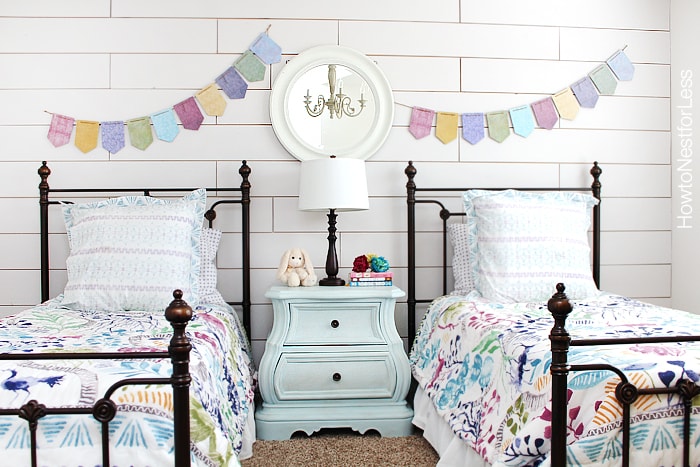 So as I mentioned before, this whole room started when I saw a plank room in a magazine and really wanted to copy it for Ellie's new bedroom. Then the little lady requested that she wanted blue furniture. I wasn't about to spend any money on something new so instead we transformed her old nursery set (I just love the lines of her furniture, don't you?).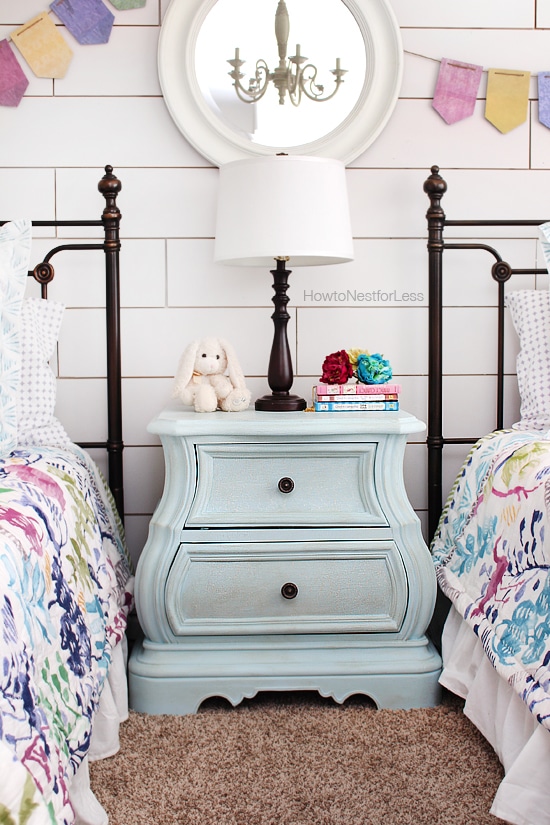 This past week I finally finished the matching 5 drawer chest and some DIY bookshelf ledges.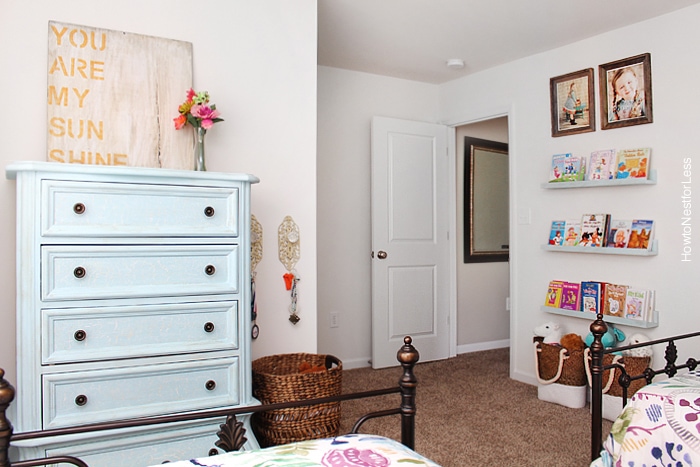 For her chest, Ellie's walk in closet causes a little bump out in her bedroom so it was the perfect place to put it. And to paint the chest I used the same technique as her nightstand: cracked patina drawers, dark wax, and new oil rubbed bronze knobs. Sitting next to it is a large basket for her blankets and some hooks for her soccer medals.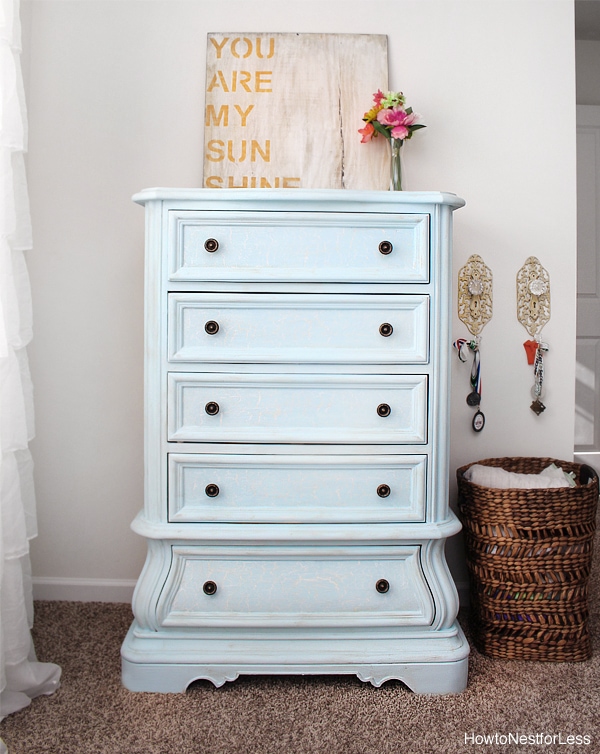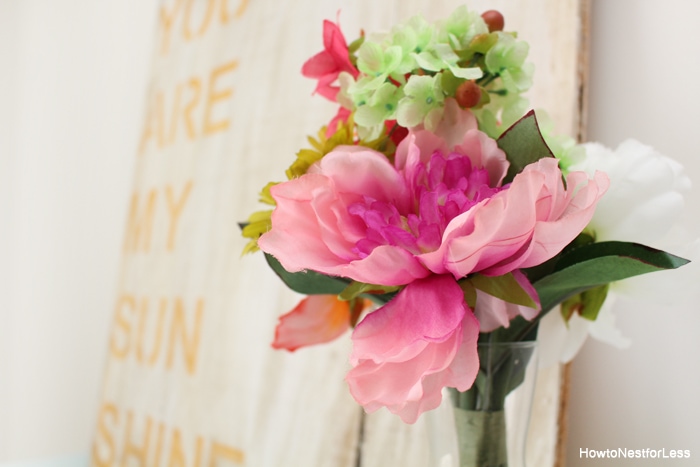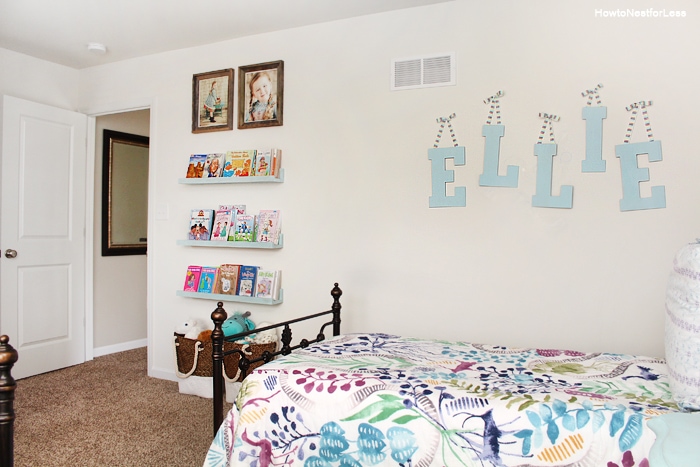 Just beyond the chest next to her bedroom door are the 3 new bookshelves we built. Super easy to make (tutorial coming Wednesday) and all 3 shelves together are holding about 75 books. Since this kid is obsessed with books she wanted a place where she could easily access them… although this is probably only 1/20th of her book collection. The rest will go in the (someday) playroom.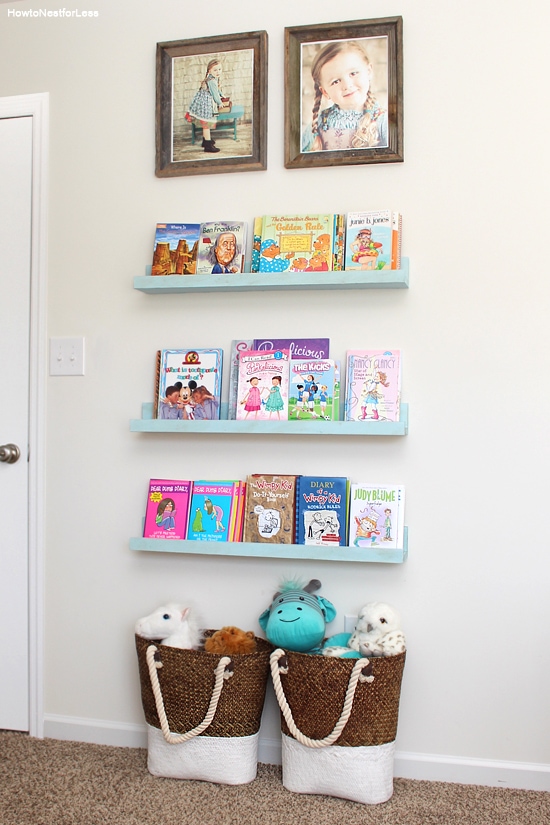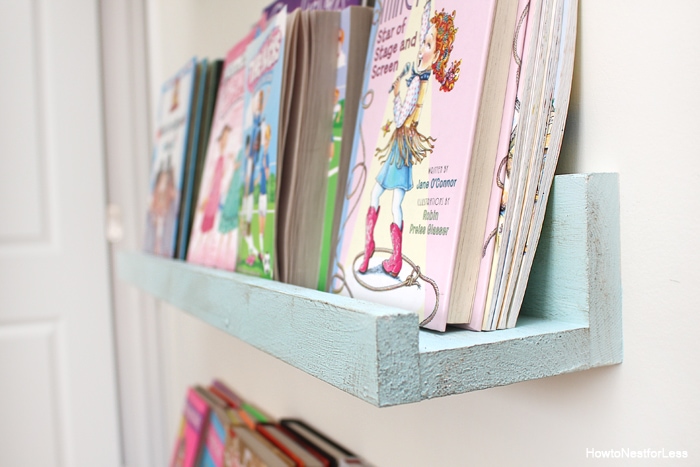 Just below the shelves we put some clearance Hobby Lobby baskets that hold her stuffed animals. I liked the handles on them so Ellie can easily tote them around the house.
Ellie's favorite space in her new bedroom is her walk in closet. I showed you guys this space back in November. The only minor update is the new Harry Potter printables I made.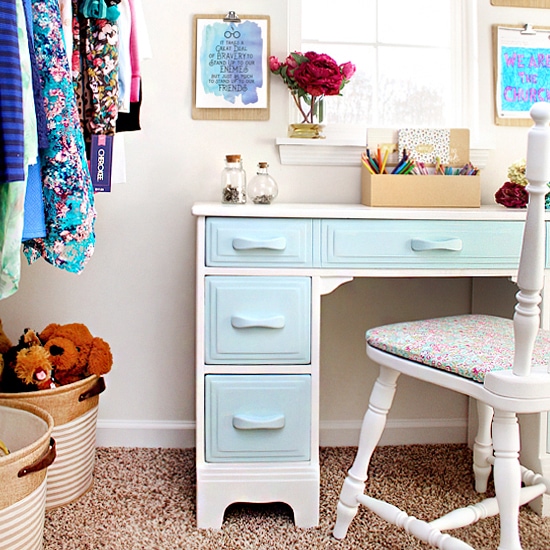 These are her two favorite quotes that she requested to decorate her walls. We searched high and low online for a printable Ellie liked but everything was so "boyish"… in her words. So I just decided to make my own printables with a cool watercolor background. You can download them here.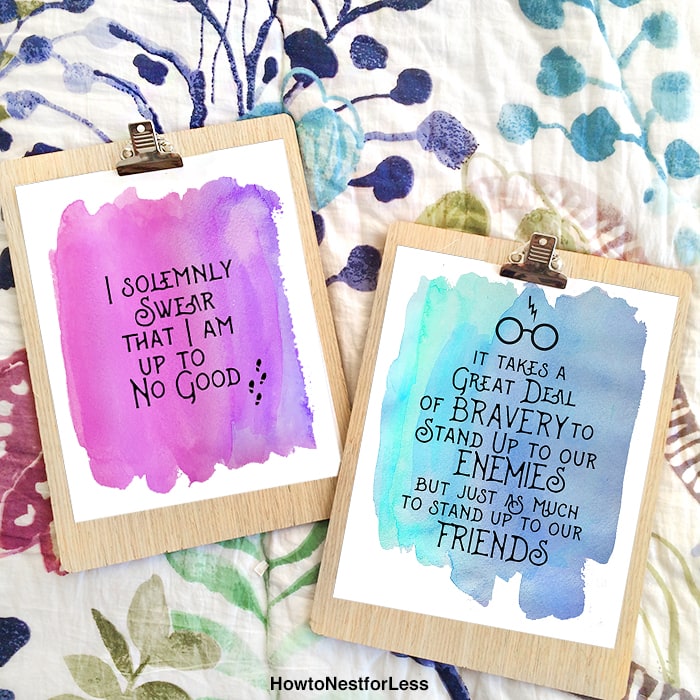 OK, back to the cottage bedroom… The beds are from Joss & Main and the bedding is from Anthropologie. Unfortunately they no longer carry those quilts. Big bummer. We're talking about upgrading her bed to a full size. And whenever that happens, I'd like to make a channel tufted headboard like this one.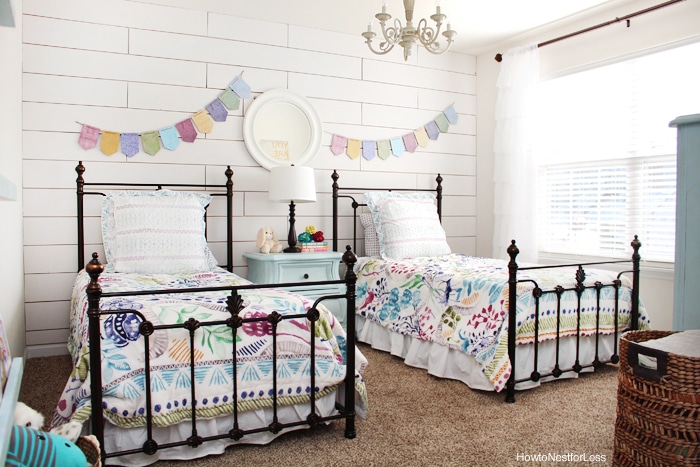 I purchased a curtain rod for her big double window from Ross Dress for Less for about $12 and some ruffle curtains from Amazon. I made the bunting banners myself out of scrapbook paper to bring some color from the quilts onto the walls.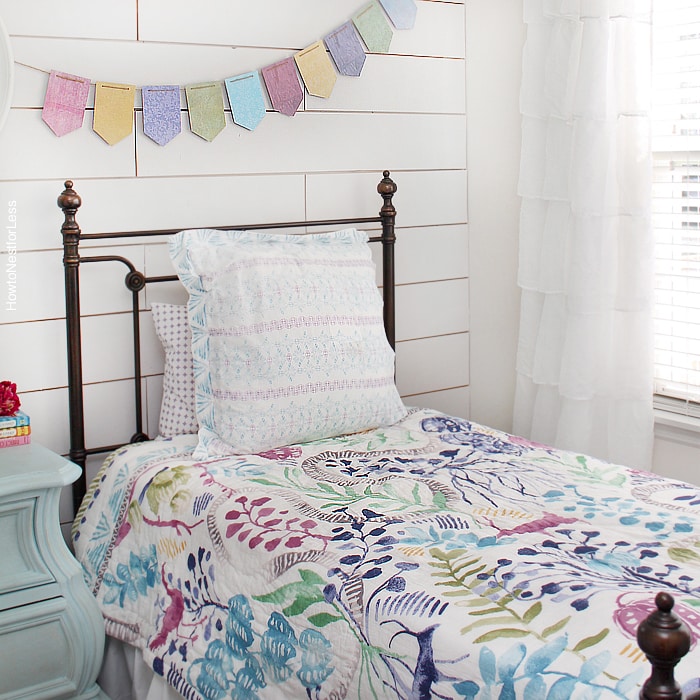 Here's a breakdown of our shopping list:
Bedding – Anthropologie (no longer in stock, but love this one)
Twin Beds – Joss & Main
Sheets  – HomeGoods
Rope Handle Baskets – Hobby Lobby
Large Basket – HomeGoods
Chandelier – Lowes
Round Mirror – Hobby Lobby
Lamp – Ross Dress for Less
Furniture – Treasure Rooms in STL
Paint for Furniture – Ace Hardware
Curtains – Amazon
Curtain Rod – Ross Dress for Less
Ruffled Bed Skirt – Joss & Main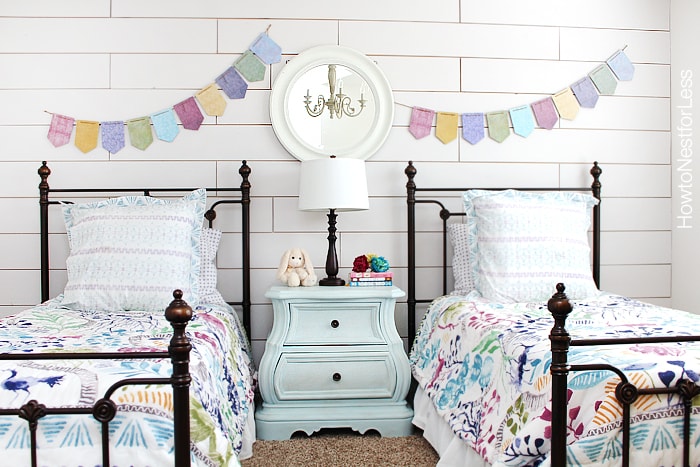 Well at least I have one room completely done in the new house!
As I mentioned in the next few posts I'll be sharing some
tutorials on some projects from Ellie's cottage bedroom.
Stay tuned!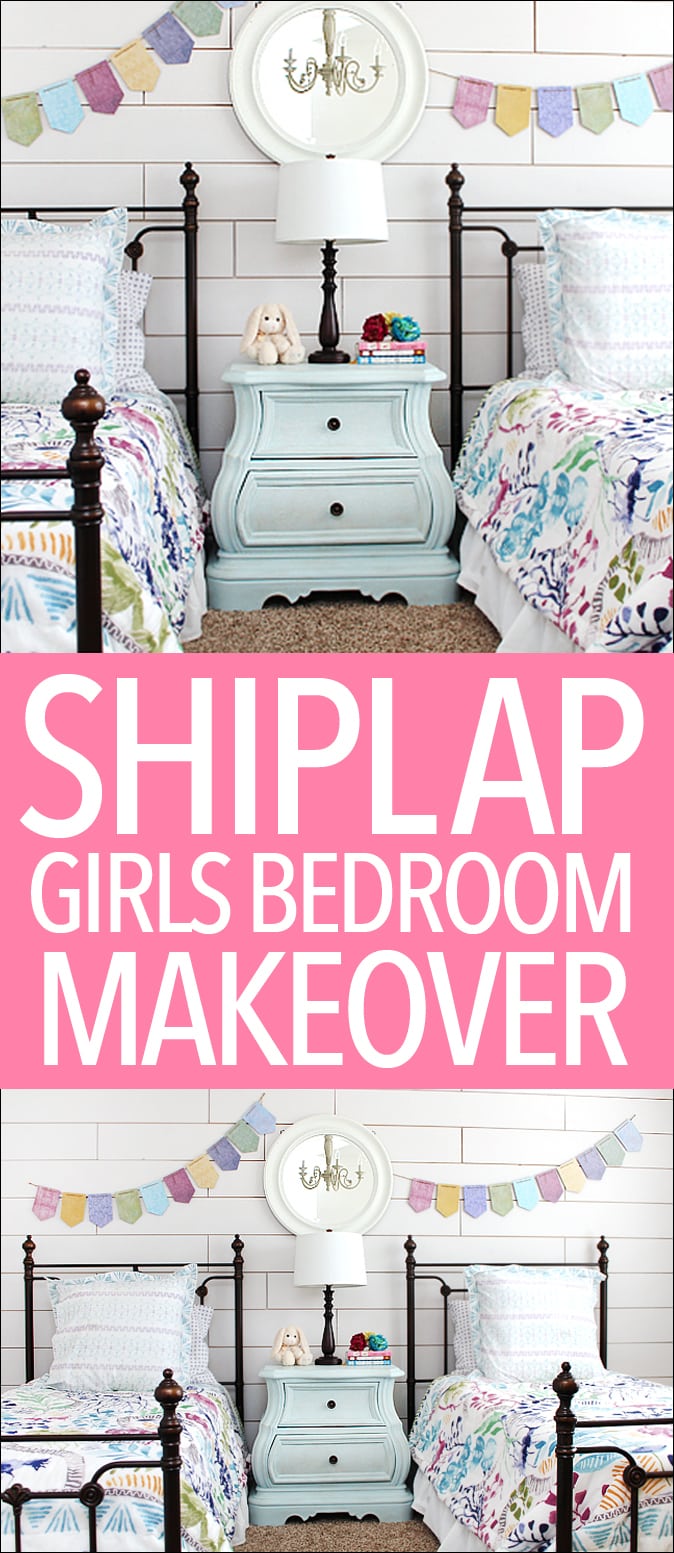 *This post may contain affiliate links.