Today is my 36th birthday. I honestly love my birthday being the same week as Thanksgiving because I get to spend my birthday cash on Black Friday and I usually get some sweet deals. Well today I'm sharing with you guys some of my absolute favorite things along with my good friends… stuff that we just can't seem to live without. And if you're still looking for some holiday gift ideas (or birthday or whatever), check out these favorite things… you don't even have to wait until Black Friday to score great deals on these items, too!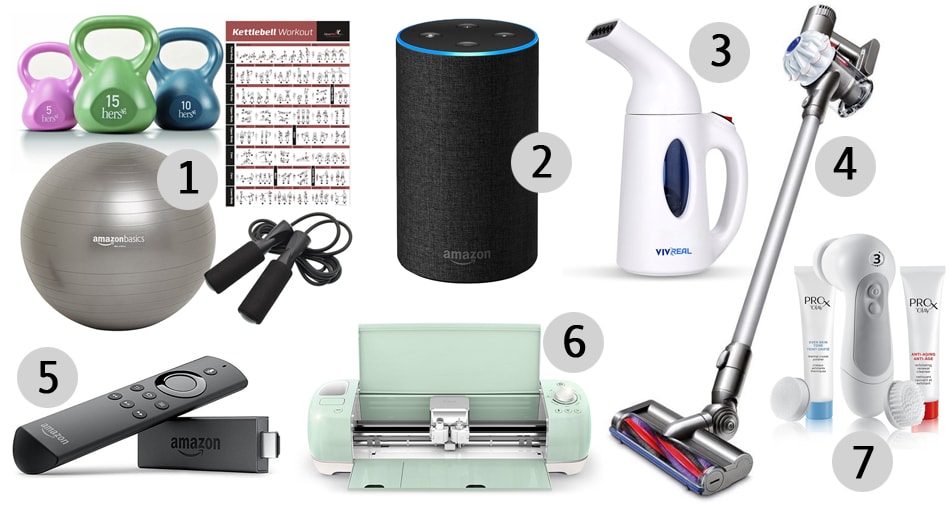 1.HOME WORKOUT EQUIPMENT
Recently I've found that it's nearly impossible to get to the gym so I've made a little home gym for myself. I have a treadmill and elliptical, but what I've been using everyday recently our kettleballs (and I purchased a little kettleball workout laminated poster for help), an exercise balance ball, and a jump rope. In total this cost me about $100 and it's perfect for a quick workout in the evening after work. And maybe you're laughing at a jump rope for exercise? Trust me… it's a hard workout that will get your heart pumping!!
2. AMAZON ALEXA
Ok, I'm sure you've heard of this one. I have to admit that I made fun of it at first and never thought I would really ever use it. But now I'm totally obsessed with my Amazon Alexa. I use it to play music, ask for help with recipes, get weather and traffic updates, sync my calendar to it, and more. TRUST ME, you'll love it!
3. HAND STEAMER
This hand steamer is travel size and heats up quickly! We actually never get out our big one anymore. This is the perfect size to steam a shirt or two in a few short minutes. Less than $22!
4. DYSON V6 CORDLESS VACUUM
This cordless vacuum is all the rage in my family! And not just my household… my mom, sister, and two sister-in-laws own this exact vacuum. IT'S LIFE CHANGING. No cords to worry about while you're cleaning around the house, plus it switches to a handheld vacuum so you can easily clean out the car, stairs or other tough spots!
5. AMAZON FIRE STICK
So… we cut the cord. Yep, we got rid of cable completely about 3 months ago. And I have to admit, I love it! Instead of paying a ton of money each month on cable we now have 3 of these Amazon Fire Sticks around the house so we can easily stream TV shows and movies from Netflix, Amazon TV, and more. So easy to use and thousands of TV channels are available including major news channels for free!
6. CRICUT EXPLORE AIR 2 MACHINE
You may have noticed that I've been doing a lot more DIY and craft projects recently using my new Cricut Explore Air 2 Machine. This is my new favorite toy and it's now under $200 on Amazon! One of the best holiday gift ideas, trust me!
7. OLAY CLEANSING SYSTEM
This is my new favorite face washing/cleaning system. Super easy to use and works in the shower. Makes my face glow! Only $26 for the whole system!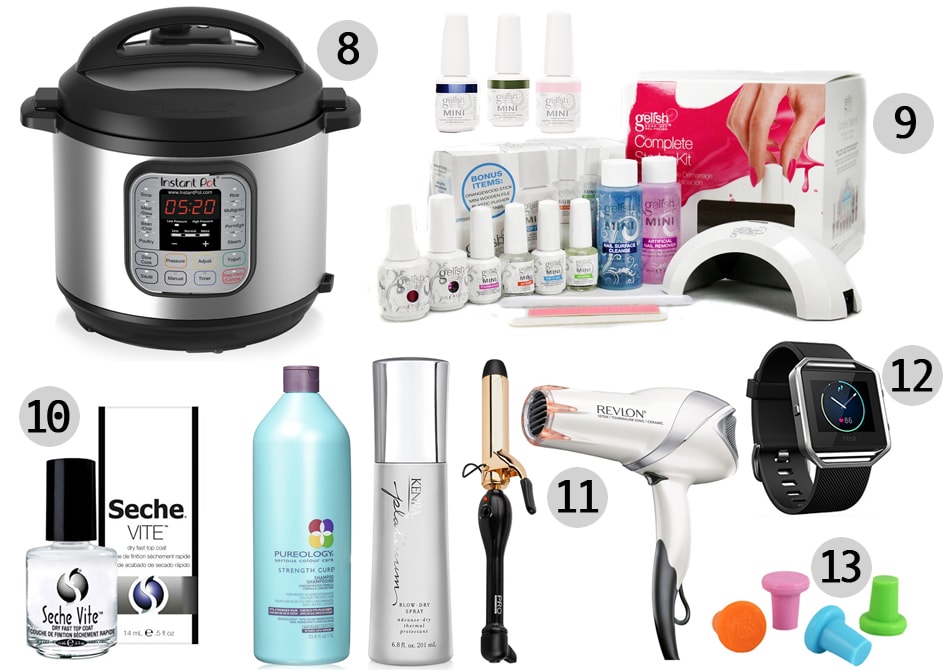 8. INSTANT POT
I know you've probably been seeing this everywhere recently or maybe seeing fun recipes on Pinterest. Well this holiday season might be the right time for you to get an Instant Pot! It combines 7 kitchen appliances in 1: Pressure Cooker, Slow Cooker, Rice Cooker, Steamer, Sauté, Yogurt Maker and Warmer, plus it prepares dishes up to 70% faster! Seriously one of the best holiday gift ideas!
9. GEL NAIL POLISH KIT
So a few months ago I purchased this Gelish Harmony Complete Starter Set. I was totally skeptical at first with this do-it-yourself home kit (especially since it's $115), but I promise you it's amazing and worth every single penny. My nail polish stays set for roughly 2 weeks at a time and it's so easy to use. This kit comes with 5 different colors but Amazon and Sally Beauty sells additional colors.
10. SECHE VITE DRY FAST TOP COAT
If you're not quite ready to spend the big bucks on the gel nail polish kit, try this Seche Vite Dry Fast Top Coat. Just use this stuff on top of any nail polish for super shiny and long lasting nail color! Just read the reviews on Amazon… you'll be sold! Makes an awesome stocking stuffer!!
11. MY FAVORITE HAIR PRODUCTS
I know some of these aren't necessarily holiday gift ideas, but I feel like I have to share them with you! I have a couple hair products that I use every single day that I'm obsessed with. Seriously, I swear by all of this stuff! First up is the Pureology shampoo. I just started using it about 9 months ago after a friend told me about it. My hair has never felt so clean without the gross build up or waxy feeling. Next up is the Kenra Platinum Blow Dry Spray. I have super thick hair and this cuts down my dry time in HALF. I have no idea how it works… probably witch craft. I even don't care though, it's amazing. Next up is the curling iron I use, Pro Beauty Tools 1 1/4″ Curling Iron. It heats up in seconds and my hair stays curly until I go to bed. And last up is my Revlon infrared blow dryer. It had amazing reviews so I took a chance on it and I love it!!
12. FITBIT BLAZE SMART FITNESS WATCH
As I mentioned earlier, I'm starting to focus on my health and trying to exercise more. I love this Fitbit Blaze watch because not only does it track my steps, but it also tracks my heart beat, cardio, cross-training, biking, weights, treadmill, elliptical, and more. I can get my text messages on my watch, but I normally hate the constant dings so I turn off those notifications 😉 You can also log in your food and weight on the app. LOVE this watch!!
13. SILICONE WINE STOPPERS
I'm not ashamed to say I use these silicone wine stoppers often and love them! I hate when you put the cork back in the bottle and it just barely doesn't fit in the fridge so you have to angle it all weird and hope it doesn't fall over. These help my bottles fit perfectly in the fridge plus they're adorable!
__________________________________
But wait! There's more must-have items from some of your other favorite bloggers.
Check out these holiday gift ideas from:
Cherished Bliss
Clean and Scentsible
How to Nest for Less
Mom 4 Real
Nest of Posies
Taryn Whiteaker

Hope you guys enjoy my current favorites.
And hopefully you found some goodies for your holiday gift ideas!!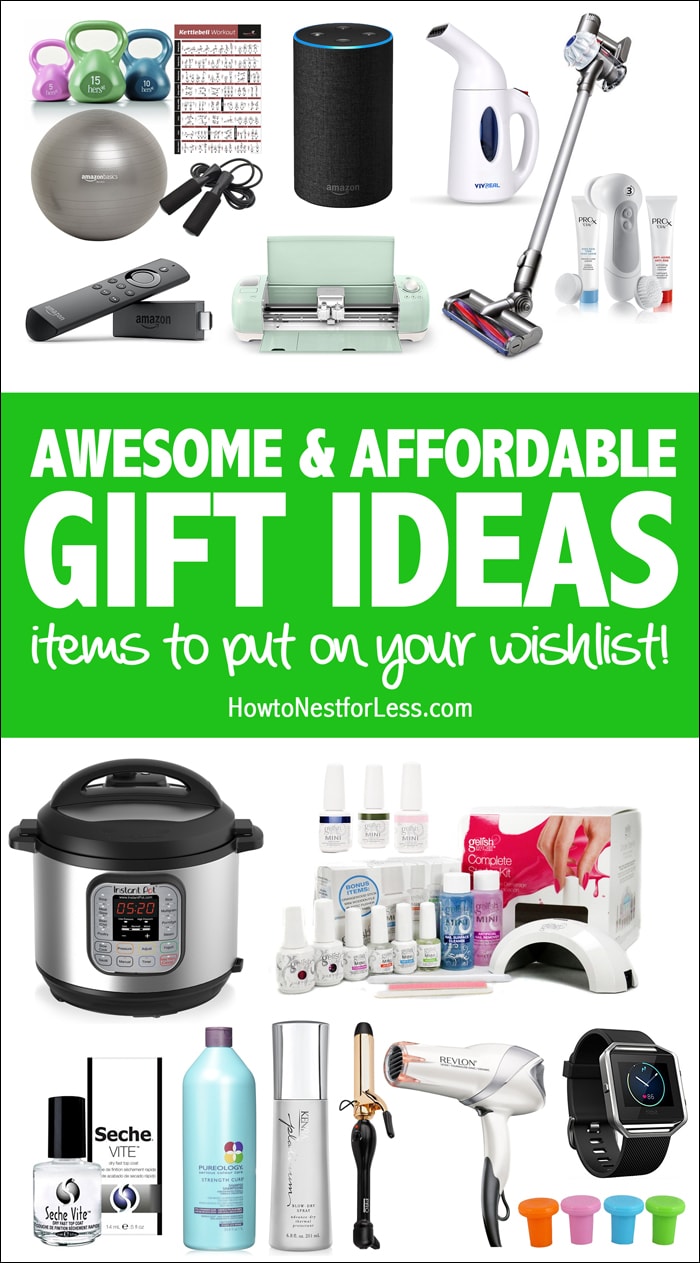 How to Nest for Less is a participant in the Amazon Services LLC Associates Program, an affiliate advertising program designed to provide a means for sites to earn advertising fees by advertising and linking to amazon.com.