I am sharing with you 10 everyday household hacks with Krazy Glue!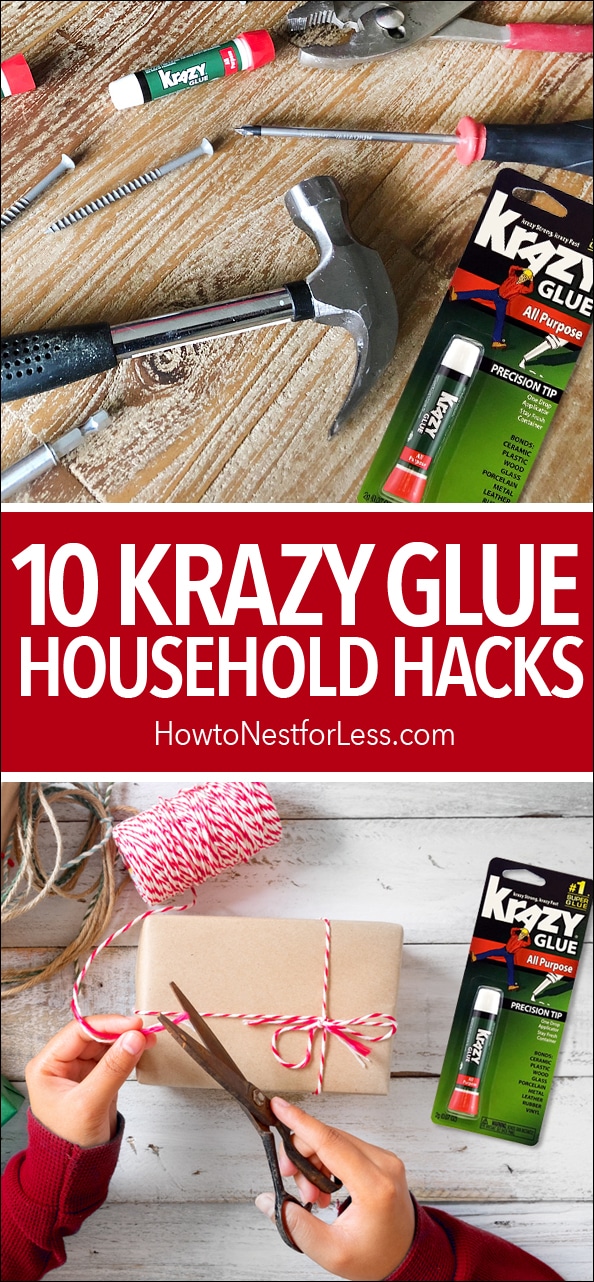 This post has been sponsored by Krazy Glue. All thoughts and opinions are my own.
I'm sure pretty much everyone has a tube of Krazy Glue in their home, either stuffed away in a kitchen drawer, their sewing kit, a medicine cabinet, or even their purse. Krazy Glue is great for everyday household repairs. It works great on wood, rubber, glass, metal, plastic and ceramic. Well since you might not know all of the crazy cool uses for the stuff, today I'm sharing with you guys 10 Krazy Glue Hacks!
1. FIX BROKEN TOYS
Did the arm come off your kiddo's favorite superhero or did Barbie lose her head again? Instead of throwing the broken toy away, try dabbing it with a bit of Krazy Glue to make your kid's favorite toy like new again.
2. FIX A PAIR OF BROKEN GLASSES
If the glass lens keeps popping out of your frames, try keeping it in place with a dot of Krazy Glue. Or if the arm breaks off your favorite pair of prescription frames or sunglasses, Krazy Glue can fix that!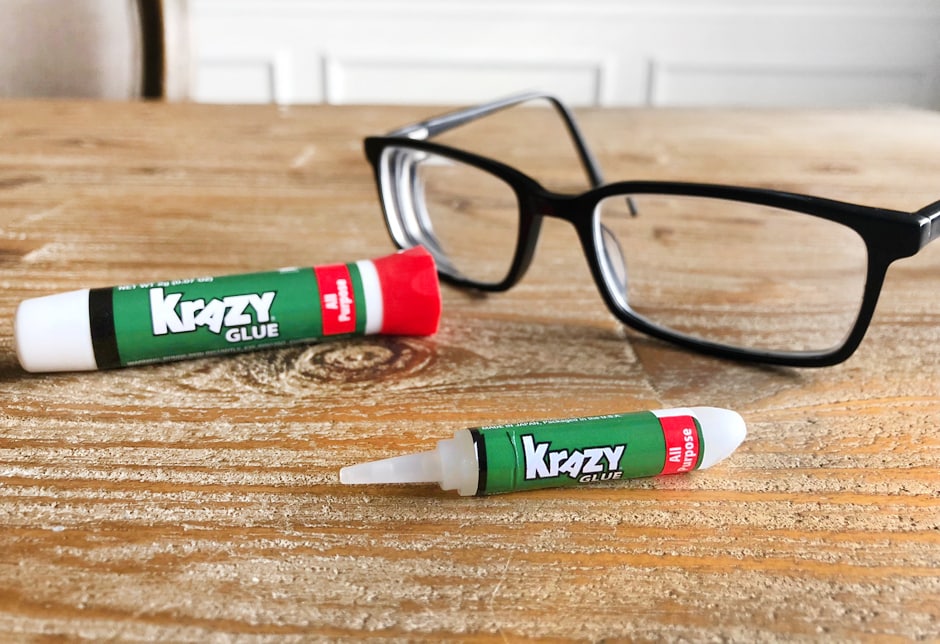 3. BROKEN SHOES
Use Krazy Glue to easily save a pair of shoes! Whether your sole is peeling away or you just broke your high heel before a big interview, try fixing your shoe with a dab of Krazy Glue.
4. AUTO REPAIRS
Yep, it's smart to always keep a tube of Krazy Glue in your car glovebox or emergency kit for some auto Krazy Glue hacks. Krazy Glue can fix broken dashboard buttons, trim pieces, rubber seals and weatherstripping, or help fix interior cracks.
5. WRAPPING PRESENTS
With the holiday season upon us, there are lots of presents that need wrapping! Did you know you can use Krazy Glue to seal wrapping paper on presents? If you're looking for that clean seal with no tape showing, this is the best trick!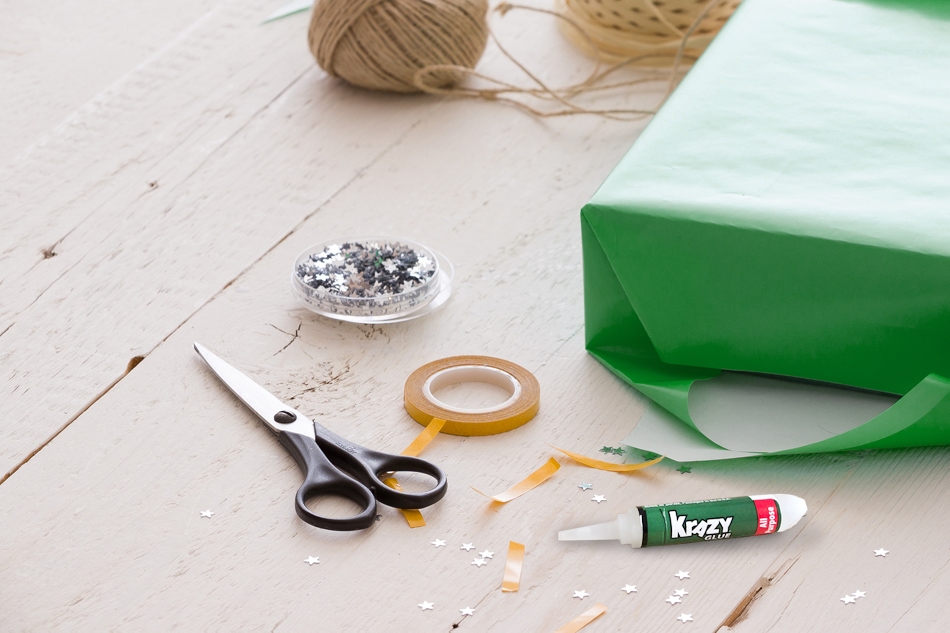 6. BROKEN FURNITURE & CABINETS
Whether it's a little chunk that got nicked out of your baseboard or the peeling toe kick on your cabinets or maybe a broken knob on your drawer, Krazy Glue can fix that in a jiffy and get your household back in order.
7. DIY PROJECTS
Need an extra pair of hands when working on a DIY project? Krazy Glue can keep your materials in place. Try using a dab of the super glue to hold two pieces of wood together before you nail or screw them together. Also fix the loose or broken handles on your hammer or screwdriver instead of replacing the tool! Also, did you know Krazy Glue is waterproof? That makes it perfect for bathroom repairs!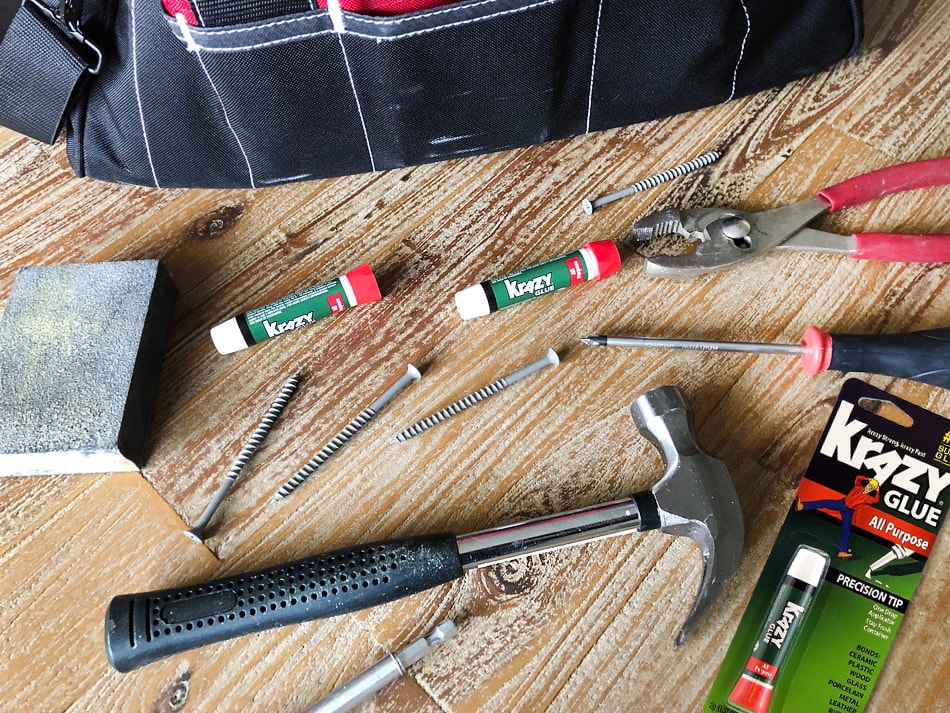 8. HOLIDAY PROJECTS
Oh, I could name about a million ways to use Krazy Glue for craft projects! It's one of my top go-to items in my craft room. Try using Krazy Glue when making a wreath, like attaching flowers or bows. Also think about using it for other holiday decor, like making your own ornaments, picture frames and holiday centerpieces.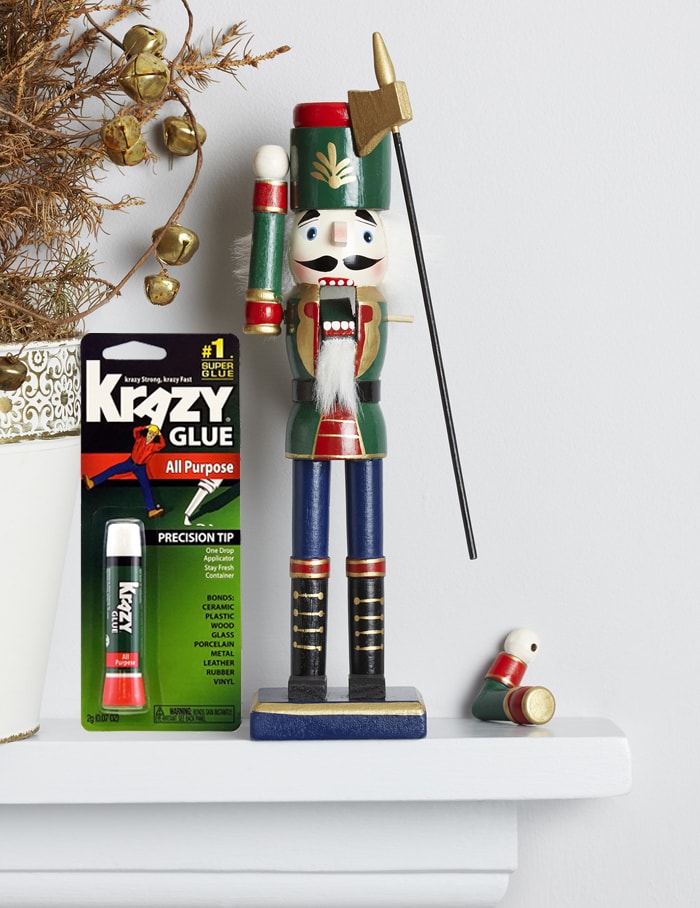 9. FIX BROKEN JEWELRY
Whether the back fell off an earring, a gemstone fell out of your favorite costume jewelry necklace, or a charm broke on your favorite bracelet, try fixing it with a dab of Krazy Glue to make it like new again.
10. STOP RUNS AND RIPS IN FABRIC
Another reason to keep Krazy Glue in your purse? Stop a run in your pantyhose or tights with a little dab of Krazy Glue. You can also repair snags and pulls in sweaters and knits.
_____________________________________
So what else have you guys used Krazy Glue to fix around your house?
Do you have some Krazy Glue hacks?
Leave a comment below!
For more DIY Krazy Glue ideas and a coupon, click here!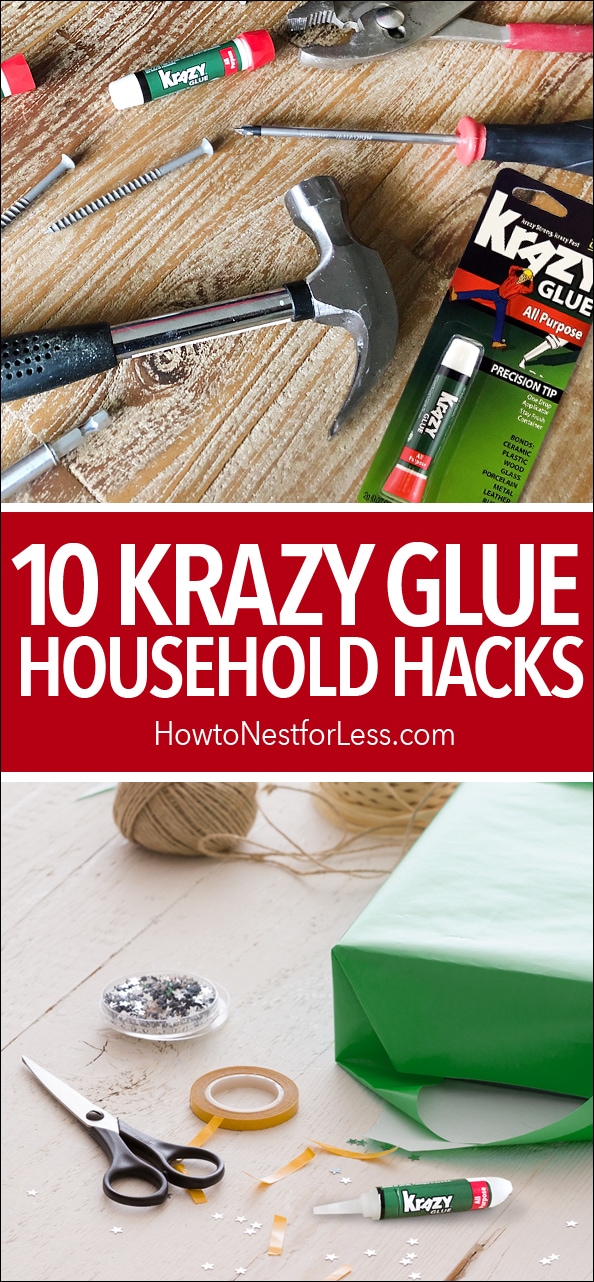 For more tips and tricks,
CLICK HERE.