OK, I guess I'll jump on this bandwagon and write down my Home Goals for 2012! The Nester is having a Home Goals linky party today and I might as well make a To Do List for the big house projects I want to accomplish this year. So here we go!
1. GREAT ROOM MAKEOVER
First up is to give my great room a makeover. My family spends the most time in this room and it's the first thing you see when you enter our ranch style home. The current color scheme is tan, red and some olive green, but I'd like to give this space a huge POP of color. I won't be getting new couches this year, but new drapes, accent pillows and an area rug will help liven this space. I also plan on moving the couch into the corner away from the window to let in some more natural light.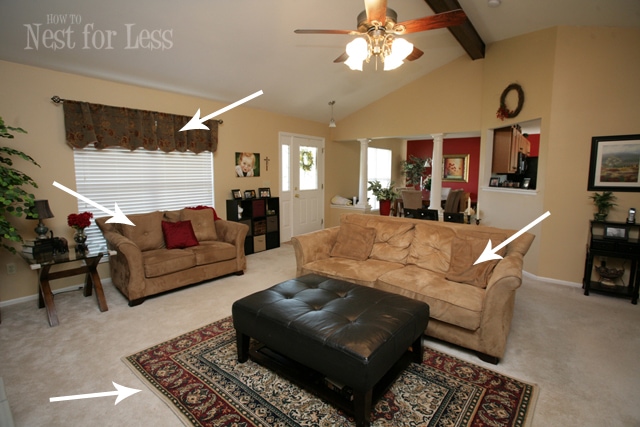 I'm also painting my house next week! Since my walls are continuous in my open floorplan, the great room, dining room, hallway and stairway will all be getting a fresh coat of paint. Super excited!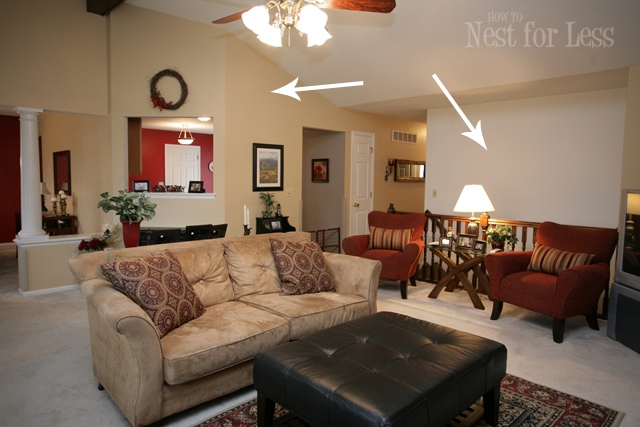 2. DINING ROOM
This is my "blah" room that I've put on hold for the past 5 years. To liven up the space, I plan on getting some bold drape panels, patterned slipcovers for my two end chairs and a new light fixture. We also have a piano on the tan wall underneath the mirror now. I'm considering giving it a coat of peacock blue! Yep, big POPS of color throughout the home. Oh, and the red accent wall is staying…no matter what you say!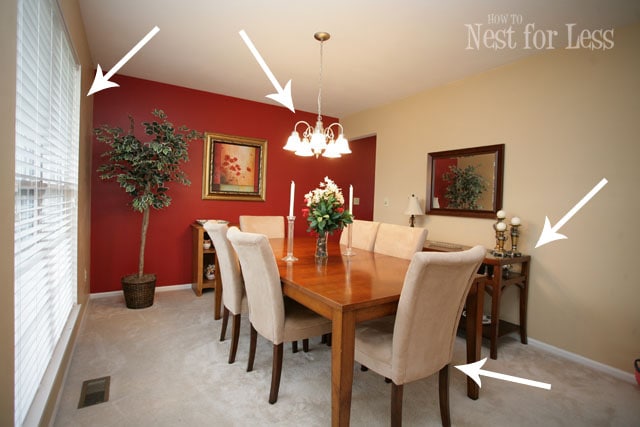 3. KITCHEN
I made a lot of changes to my kitchen this past year, including a stone backsplash, crown molding on my bland oak cabinets, a new accent storage table and iron leaf wall art. In 2012 I would like to replace my sliding glass door vertical blinds with some beautiful curtain panels. I'd also like new lighting over the kitchen table & pendant lighting over the kitchen center island. I'm also toying around with the idea of painting my island. I just need a little push! OH, and flooring! My goodness I would LOVE new flooring! But that might just have to wait until I can afford hardwood throughout the entire home.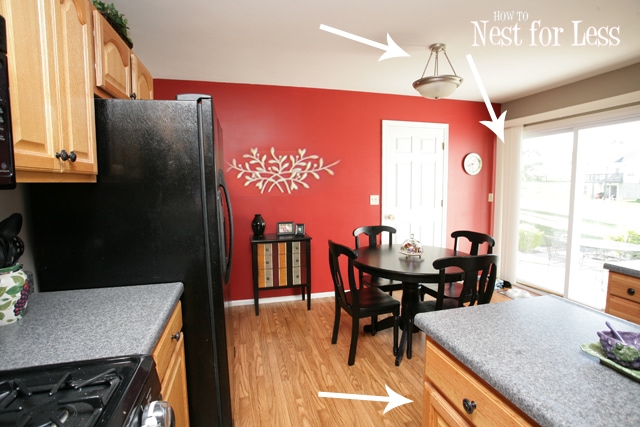 4. CRAFT ROOM/HOME OFFICE
OK, I painted this room back in November and I'm still unsure about the color. Sometimes I love the yellow, and other times I want to rip my eyes out. I think my biggest gripe is that nothing photographs well in this room. The yellow just bounces off the walls and onto any project I'm trying to photograph. Maybe curtains and a new accent pillow will help calm the yellow down. I'm just having a hard time figuring out complimentary colors. I'd also like to find a beautiful armoire that I can paint and will use to organize my crafts. Hmm… to repaint or not to repaint. That is the question.
5. BACKYARD
And finally we have the backyard transformation! This space is so bad I don't even have a decent picture of it (the only one I can find is this shot of my daughter from 2 1/2 years ago and it doesn't show much). My concrete patio isn't very large but I'd still like to make good use of the space. As of right now I only have our gas grill and black iron patio dining set. This year I plan on adding some loungers, an outdoor rug, some colorful pillows and A LOT OF LANDSCAPING! The only problem? I hate gardening. But I must suck it up and find my inner green thumb since I have an active 4 year old who will be spending countless hours in the backyard this summer.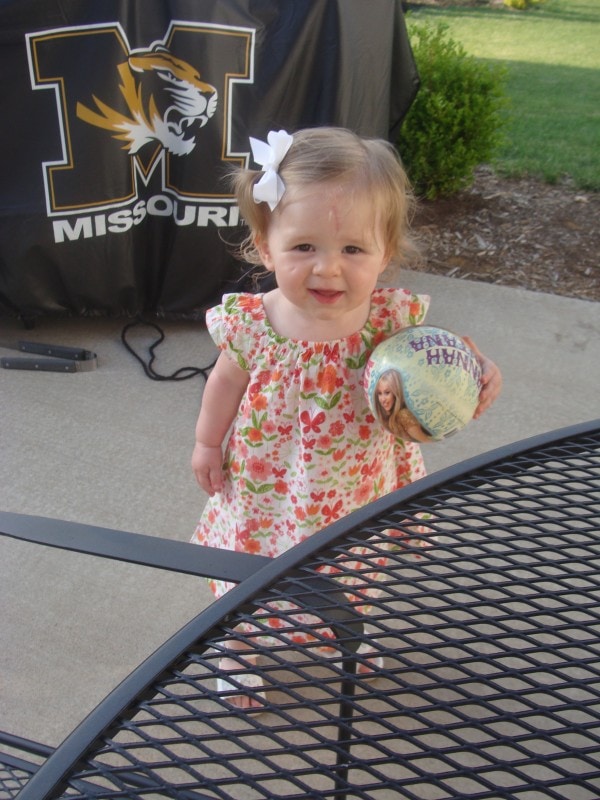 And that's it! Small order, right? HA. I really just want to mark some big things off the list in 2012 so I can feel better about living with this house for a couple more years until we're ready to sell. Wish me luck!
So, what's on your To Do List for 2012? Any big plans??