It's time to start cracking down on some DIY projects in our new place. So today I'm showing you how to frame a bathroom mirror.
While I have some wallpaper on order that should be here some time this week, I wanted to get a jump start on the bathroom and trim out the bland builder grade mirror.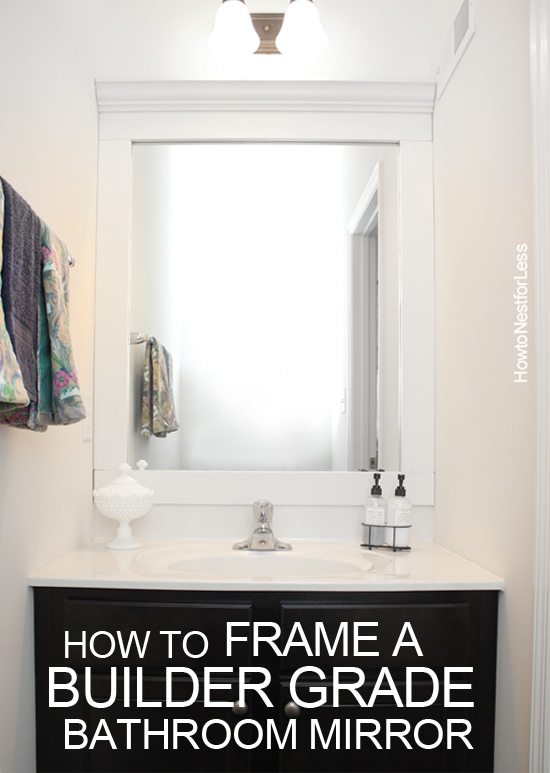 The bathroom is extremely small… only the width of our vanity. Yeah, small. But at least that meant that framing out the wall mirror would be a super quick and easy project.
How to Frame a Bathroom Mirror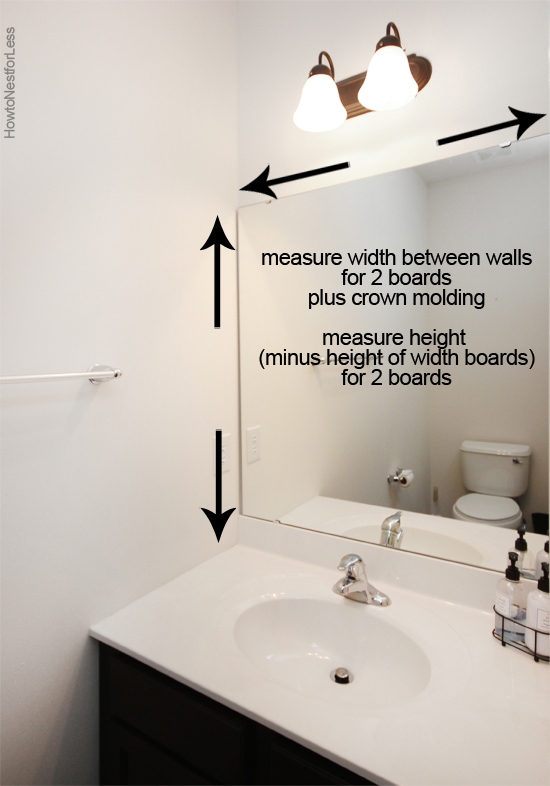 Measure, Cut, & Paint
I measured for my pieces of trim and crown and purchased the wood from my local hardware store. Then, I painted the wood including the back sides of everything since the edges could reflect in the mirror.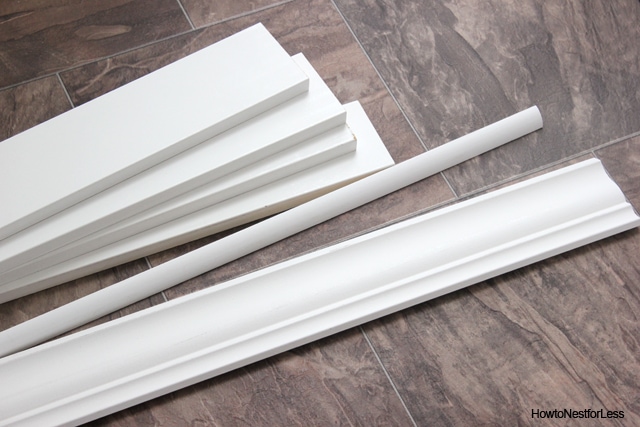 Start Gluing
To adhere the first piece of trim to the vanity mirror, I used Elmer's ProBond Advanced. This heavy-duty strength glue will bond any Mixed Materials, like wood to metal or ceramic to drywall or wood to mirrors, without any of the foam residue. Plus it has a translucent paintable finish.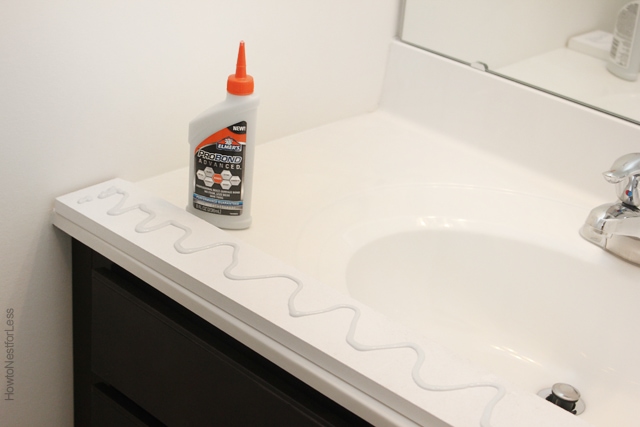 Secure with Painter's Tape
I put a generous line of ProBond Advanced on the back of the wood then pressed it along the bottom of the mirror on top of the backsplash. To hold it in place I used some painter's tape.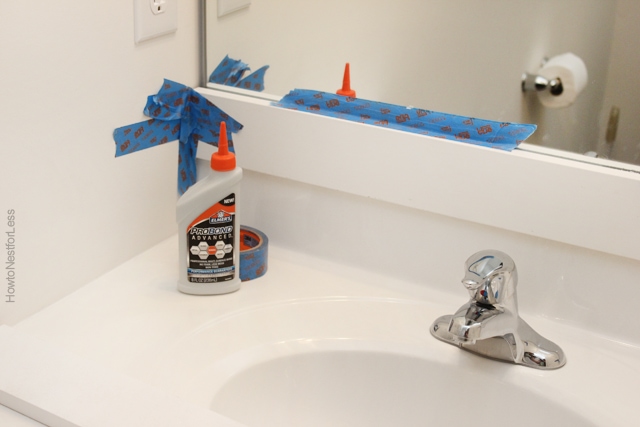 Check for Levelness
Next I added the side boards. Start with one side: add a little bit of glue and clamp in place with painter's tape. Next hold the other side in place, but do not glue yet. You want to make sure that the two side pieces are the exact same height and that the top board will be level once in place.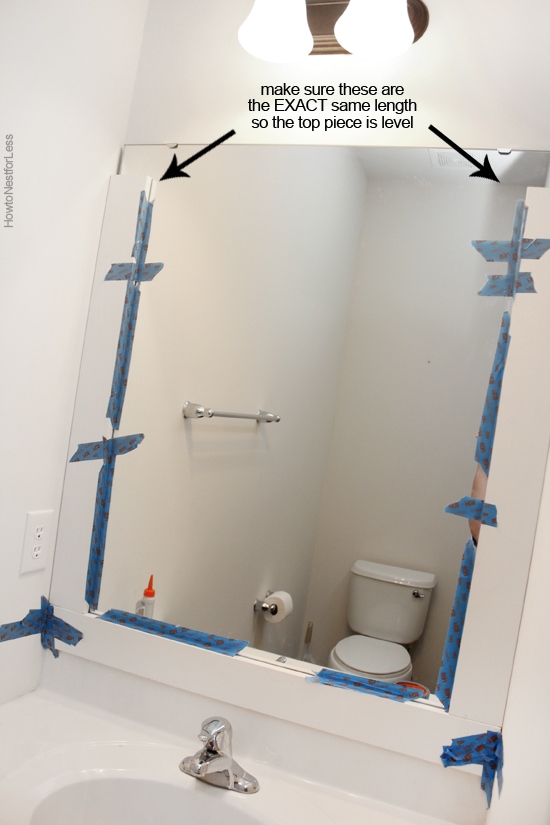 Now it's time to add the top piece. Since I didn't want to apply too much pressure while nailing the crown into the top board after I adhered it to the mirror (yeah, I could just see the entire mirror breaking into a million pieces in my head), I went ahead and pre-nailed the crown to the top MDF board BEFORE gluing on the mirror.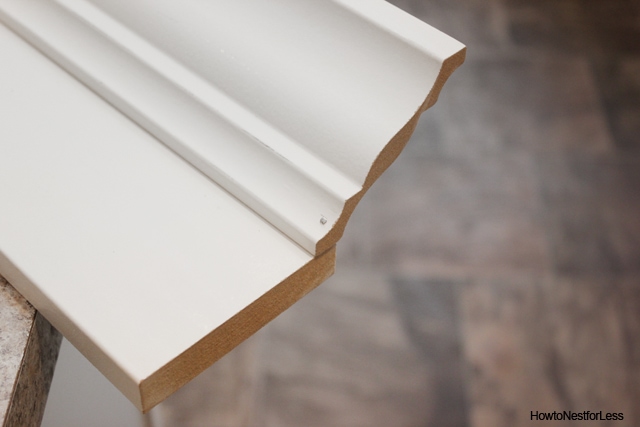 Glue and Clamp
Then I went ahead and glued/clamped in place.
Wait 24 Hours
I waited 24 hours before removing the tape. Then it was time to caulk and putty the nail holes in mirror frame. And then stand back and admire your new framed bathroom mirror!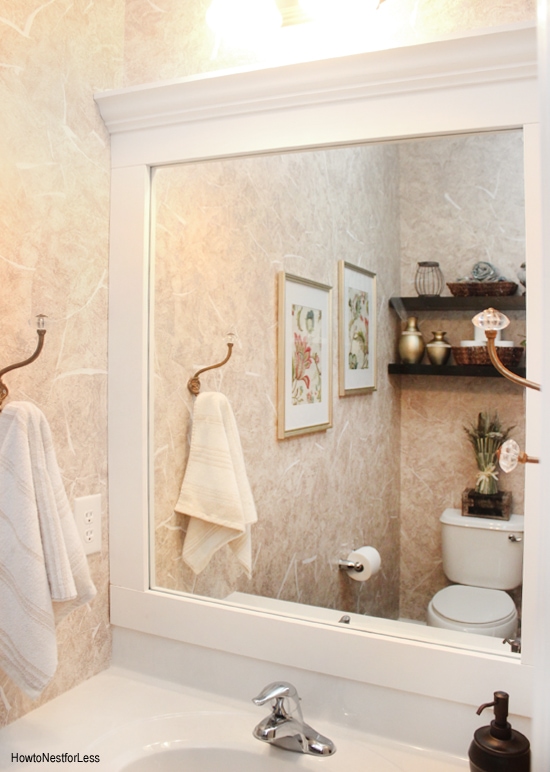 I was completely stunned at how fast this project went along once I had the wood purchased and painted. Only took an hour to get everything glued and clamped in place. Not bad for turning a builder grade mirror into something with a little character.
SEE THE ENTIRE POWDER ROOM MAKEOVER HERE.