Make sure you follow me on Instagram and Pinterest for a sneak peek into my recent projects!
While I'm inching closer to crossing a couple rooms in the new house off my to-do list, I thought I would take a step back and share how I get to the finished look. There's a bit of planning that goes into my madness, so today I thought I would share some of my tips and tricks for creating a well-designed room.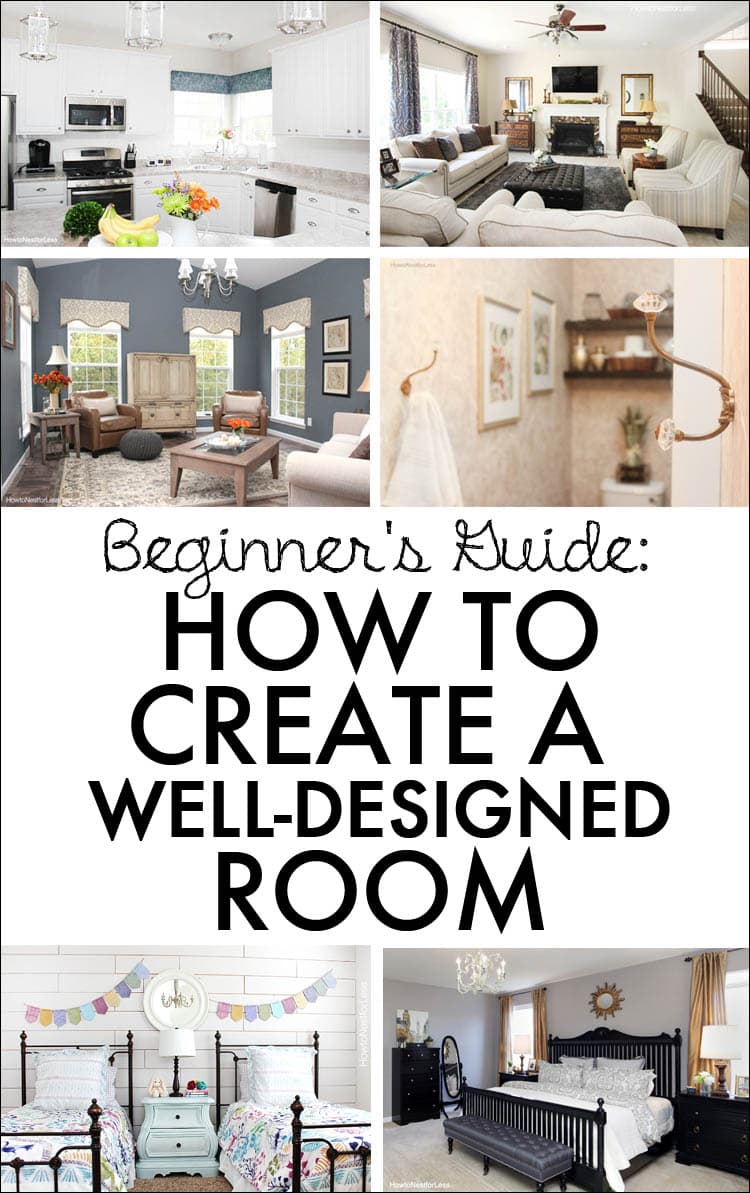 1. PICK A STARTING POINT.
Let's say you're starting a family room makeover. Where do you even begin the design process? I often look to the staple pieces, or larger furniture like couches and chairs. Those are going to be the main focus of the room so you'll want them to be good looking and comfortable (which doesn't always go hand-in-hand, right?).
Next I usually look at textiles: window treatments, area rugs, and accent pillows. By this time I usually have a color theme in mind and can narrow down my searches. Then once I have my textiles, I usually pull a paint swatch color from within the fabric. Ace Hardware even has the Color Match Technology where it can scan a pillow, bedding, rug, etc to perfectly match a color for your walls. Amazingly cool.
Or if you have your base furniture and a paint color in mind, you can then find textiles to coordinate with your color scheme.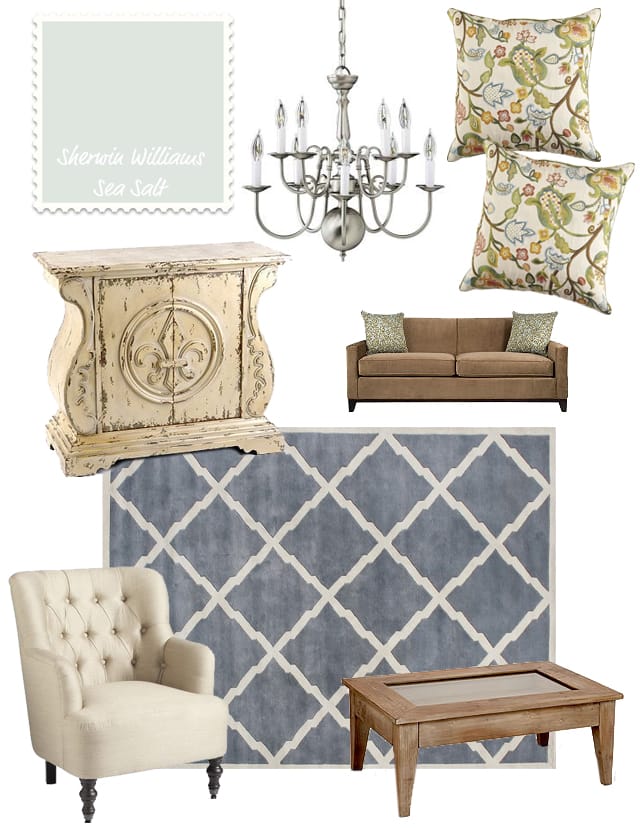 2. BE TRUE TO YOU.
A couple of years ago when I was designing the sun room in our last home I noticed a big trend across Pinterest and blogs. Tons of them had these gorgeous mono-chromatic rooms. Beige everywhere! I mean couches, chairs, wall colors… pretty much everything in the room. And it worked together so nicely!
And then when I try my hand at it… flat.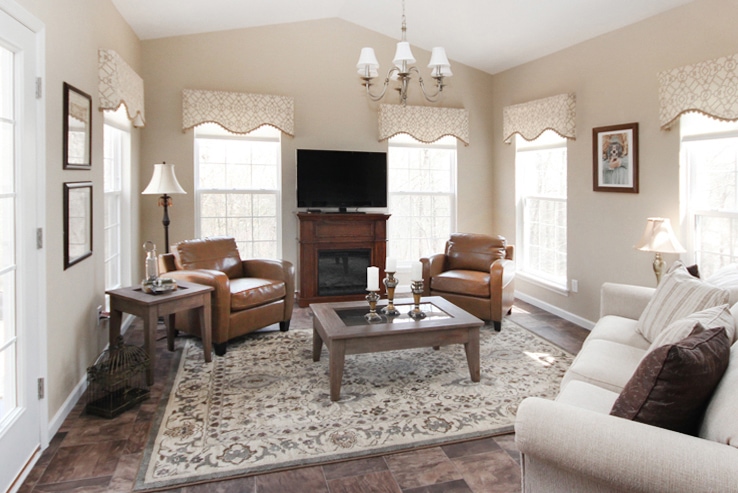 Then it dawned upon me that I really needed to be true to my own design aesthetic. So I painted the walls Bottlenose Dolphin by Valspar and the entire room came to life! Same window treatments, same couches, same chairs & tables, same area rug and wall art and lighting… the paint made the difference in the room. And it had me written all over it.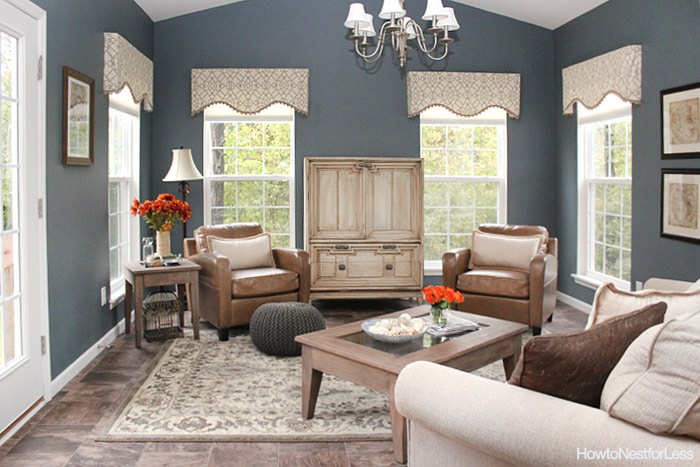 3. LOOK FOR INSPIRATION TO FINISH YOUR VISION.
If you're having trouble narrowing down colors, look for inspiration. I prefer to look at Houzz.com instead of Pinterest for interior design ideas. You can easily filter the photos and don't have to worry about broken links or strange search results. Save a bunch of images, then go back and see if there's a trend among your favorites.
Maybe you already have one key item in your room but need help finishing the look? In Ellie's new bedroom we found some bright, colorful quilts perfect for her twin beds. Since there was so much going on in the pattern, I wanted the walls to remain light and not have the room look like an exploded box of crayons. So I looked to design magazines for some inspiration. I found a house that was almost entirely decorated with white planked walls. And even though the house had this very cool modern vintage vibe, I thought the same wall treatment could work in Ellie's bedroom. And it did!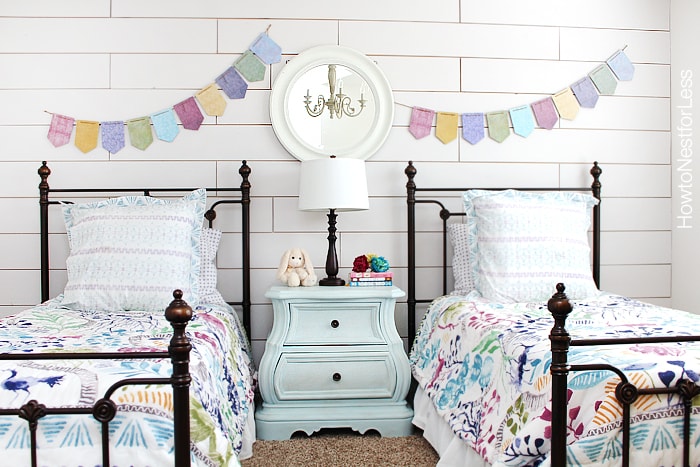 One trick when flipping through design magazines: I always keep my phone nearby and snap photos of the pages with ideas I like. And since I always have my phone with me when I'm out shopping I can easily look back on the photos for inspiration.
4. MAKE A MOOD BOARD.
So you're probably wondering by now… how do I put all of these ideas together? MOOD BOARDS. I tell everyone this is my saving grace when designing a room. I often worry how colors, patterns, and textures will flow together and creating a mood board really takes some fear out of my purchases (especially online ones). I might have 5 different curtain panels that I love for my bedroom, but until I see them in the mood board I can't fully envision how it will all work together in my space.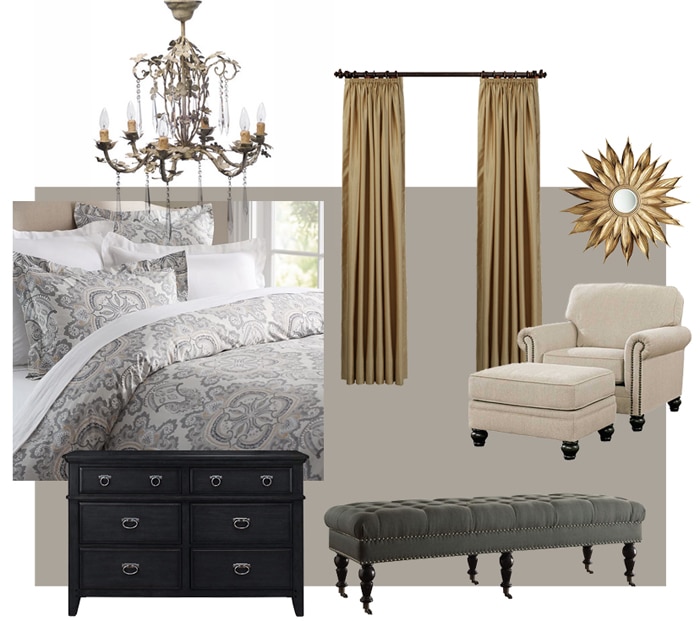 I use Photoshop to create my mood boards, but you could even use Paint or Microsoft Word to place saved images next to each other to see how it will all flow together. My favorite place to gather images for home décor is Joss & Main because everything is on a white background (in Photoshop I use the magic eraser to delete the white background so I can layer images on top of each other, see a quick tutorial here). And while I usually don't buy the exact pieces that I use in my mood boards, they are a big help in my decisions and give my guidance on my purchases.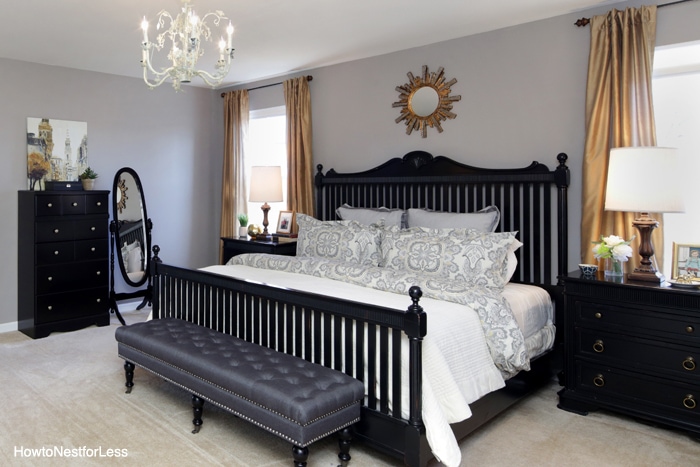 5. WRITE IT DOWN.
I'm sure going into a room makeover you kind of have an idea of what you'll need… For example a family room will need couches and/or chairs, coffee table, end table, window treatments, area rug, accent pillows, etc.
Make a list of what you think you'll need and keep it with you. I personally like to make my lists under Notes on my iPhone. It syncs to my computer at work, laptop at home, and my phone. Gotta love technology! I love the ability to add or delete items from anywhere I am, plus having them within an arm's reach if I happen to pop into a home store on my lunch break.
6. DON'T FEEL YOU NEED TO BUY EVERYTHING AT ONCE.
Unless you've been saving money for months or are lucky enough to have deep pockets all the time (must be nice, eh?), you probably can't buy every single thing you want for your new room makeover at once. Furniture, drapes, area rugs, lighting, wall art… it all adds up. Think of your long term goal for the room and buy what you can, then save for the rest. Don't get into credit card debt over home decorating!! It's not worth it. (read about how we climbed out of $20,000 credit card debt or my money saving ideas)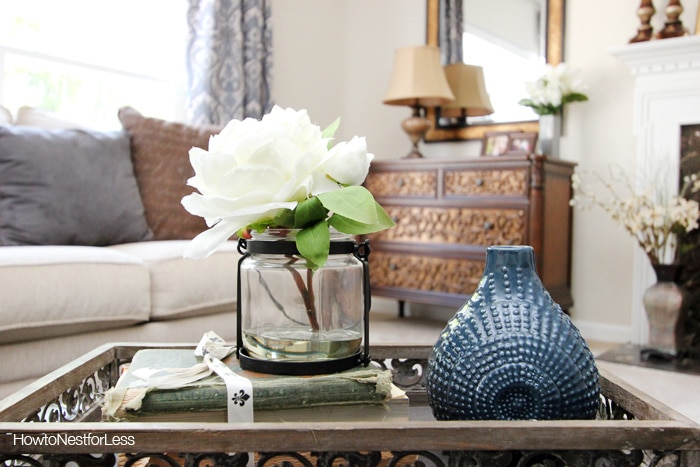 In our old sun room I knew I didn't want that fake electric fireplace and wanted to find a large armoire to hid our TV. I was able to barter with the owner of a local vintage store: the fireplace for the painted armoire. While that scenario might not happen often, think about having a garage sale to get rid of old, unused items and use the money towards purchasing items for your room makeover. Or hit up the local thrift stores for budget-friendly items. Check out my tips for How to Thrift Like a Pro.
7. BUY MULTI-FUNCTIONAL FURNITURE & HOME DECOR.
When I was designing my family room, I really wanted built-ins on either side of our fireplace but it just wasn't in the budget at that time. So instead I decided to purchase a set of matching chests and hung matching mirrors above them. I figured someday when we had the money to buy the built-ins, I could then use the chests in a bedroom as nightstands or even use one in the foyer.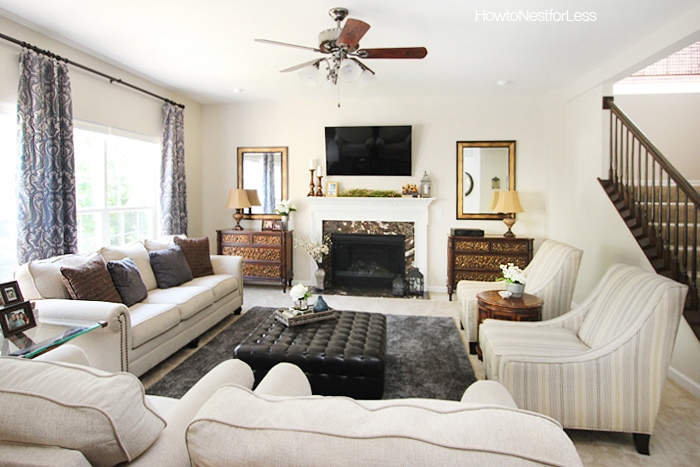 I also buy a lot of home décor accents that can continually be used throughout my home, even if I redecorate. Lots of greenery, picture frames, neutral lamps, and ceramics in colors that run throughout my home.
8. MAKE IT HOME.
My biggest piece of advice would be to remember that your house is a place for your family to gather. It should reflect the things your family loves: a school-crafted ceramic from your 7 year old, photos of your great-grandparents, trinkets you've collected over the years, your latest (and maybe not greatest) DIY project, and cool collectables from your family's travels. While you want your home to look nice and sharp, you don't want to create a cold, stark place where your family doesn't want to sit and snuggle every night. Cause c'mon… the world would be a very depressing place without those nightly snuggles, right?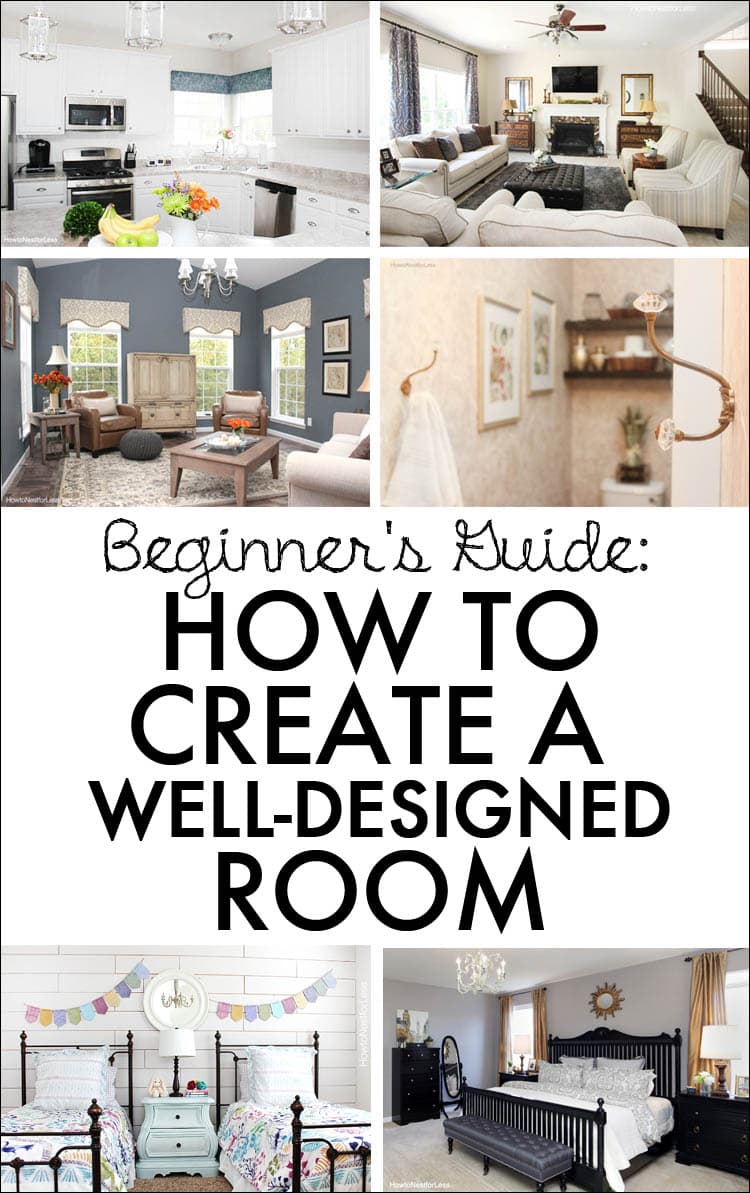 OK, so what's YOUR best tip for creating a well-designed room?
Where do you start in the design process?
What's your favorite part, and what do you totally dread?