In late November we added the built in bookshelves to the family room and I've been itching to get them styled ever since. I kind of threw together some items during the Christmas season to fill the empty shelves, but now that the holidays are over I spent the weekend giving them a big makeover.
Here's the before…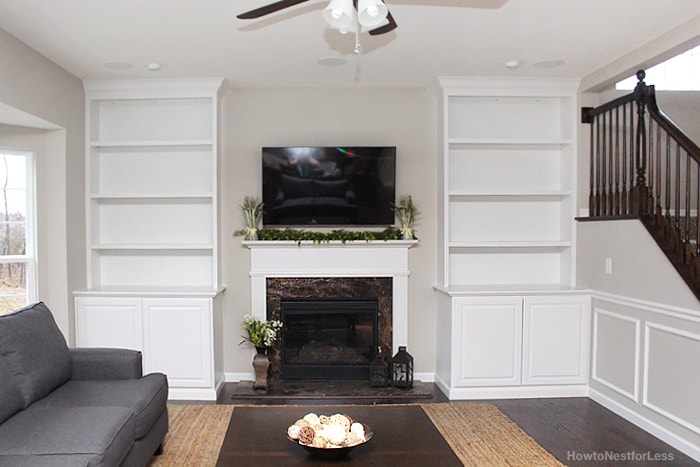 And here's the after…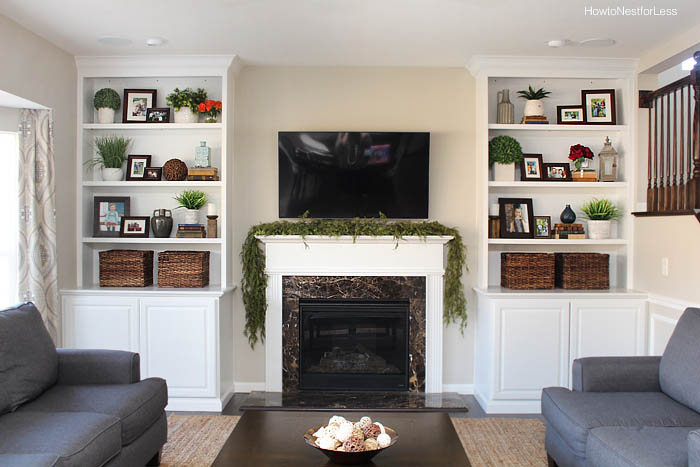 It's amazing how much homier this room feels now that there is some life on these white shelves! The room feels so much warmer, not so stark white.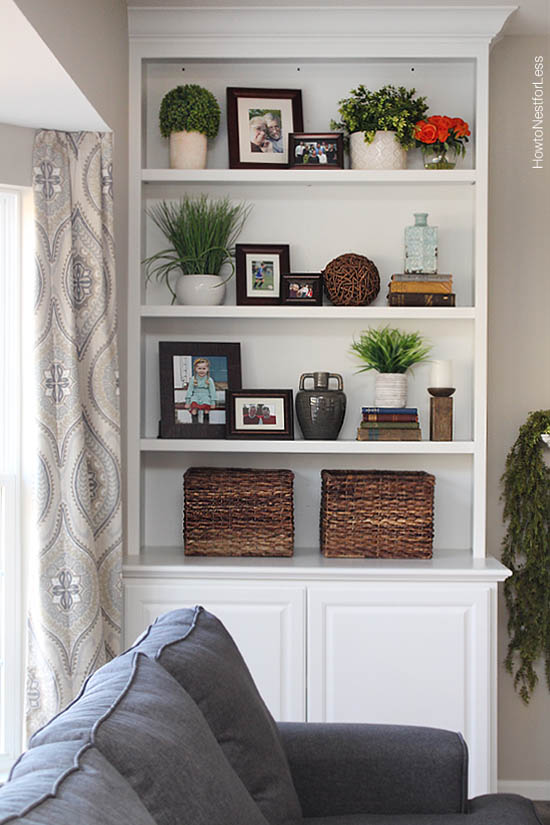 You can see I also picked out some new curtains for the family room. They're actually the same ones from Bed, Bath & Beyond that we had in our old living room (when I had to throw the room together right before we listed the house).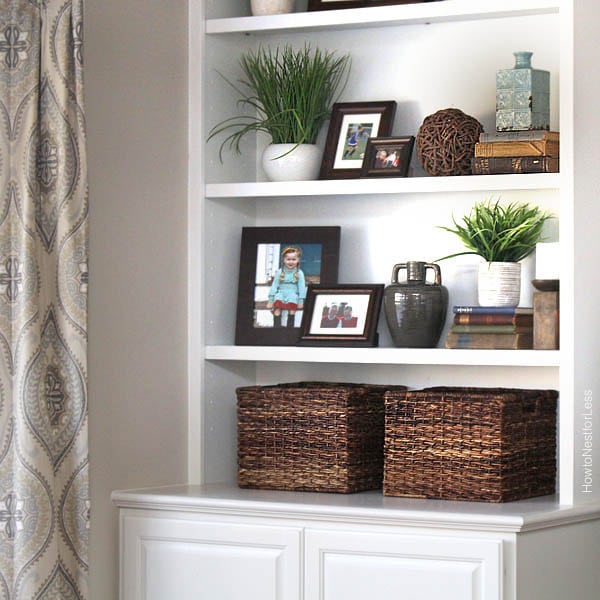 You may have noticed that I still need some accent pillows for the couches. That has been an agonizing journey. I think I've purchased & returned about 4 different sets. Not even kidding.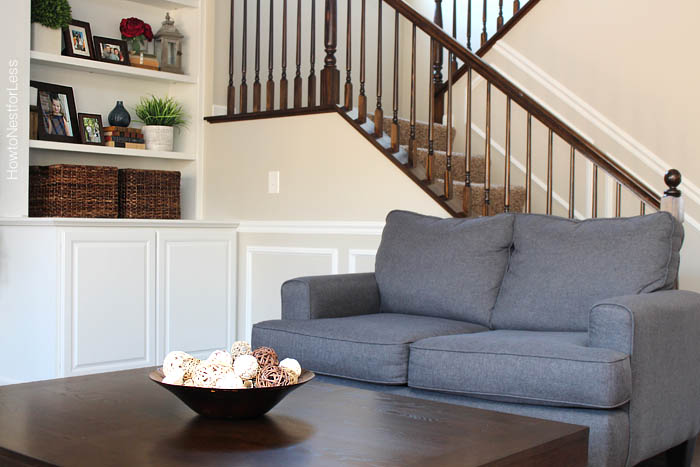 OK… back to the bookshelves. When decorating these I knew I wanted to use a lot of framed family photos. I had a lot of brown frames in storage and used them in a couple different sizes on the shelves. I like how they bring together the color of our staircase railing and dark hardwood floors.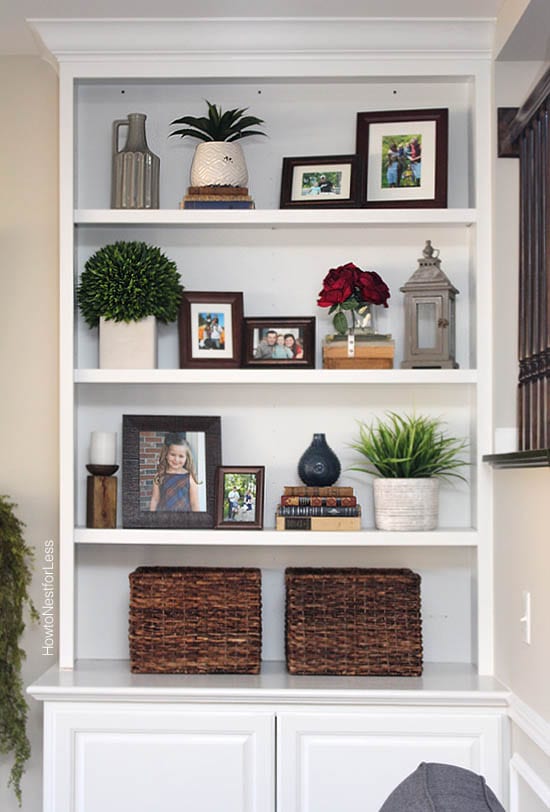 And normally people would fill these with actual books (obvious choice there) but Ben and I donated all of our old ones last year before the big move. We figured that we weren't going to read most of them again and Ben prefers to read new books on his iPad (not me so much, I love the feel of a good book in my hands). Well we kept a couple books, mostly the older vintage editions. I used those on the shelves then filled in the gaps with items from our home décor stash.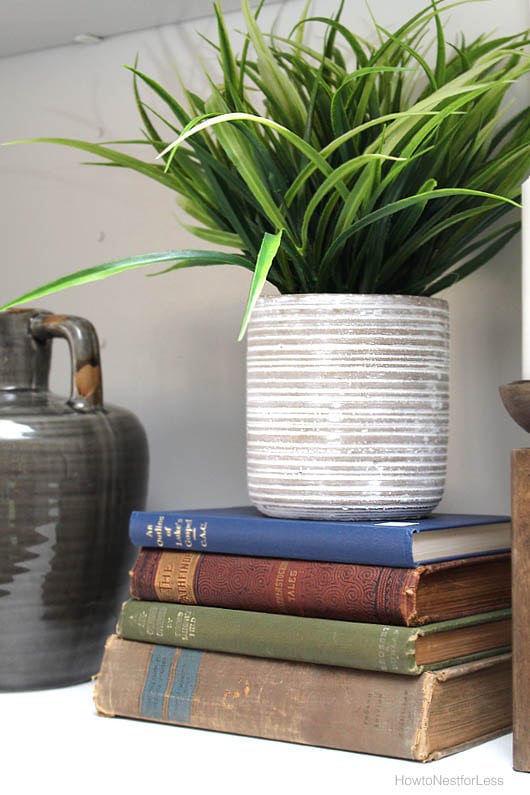 I also purchased a couple baskets from Target for each side of the bookshelves for added storage.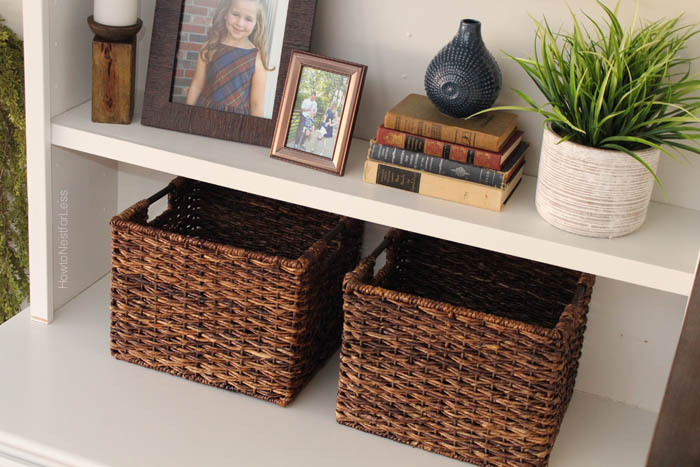 There's a couple of minor items I need to complete before I can officially cross this room off our to do list:
• find affordable club chairs
• purchase accent pillows and end table lamp
• raise the mounted TV a little bit
• hang blinds
But besides that this room is good to go!
Now if someone can point me in the direction of affordable leather club chairs that don't cost an arm and a leg, I'd be forever grateful.