I love wallpaper. There's just something about a bright, bold, or fun pattern that really sets the tone of a room. Whether you use it in small spaces like a bathroom or laundry room, or a big space like a bedroom accent wall or dining room, wallpaper can really wow.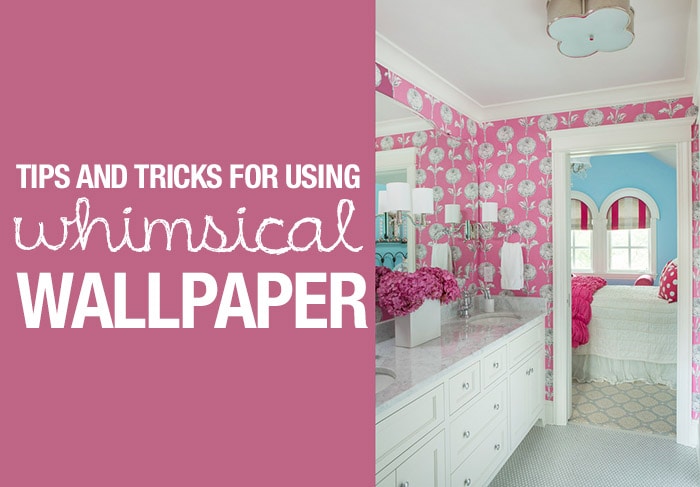 So here's 15 gorgeous whimsical wallpaper designs that I'm crushing on
plus tips and tricks for how to use them:
.
Love this pop of color in the entry foyer!
But something this bright and bold keep to a minimum.
---
.
This is a room where you can let your wild side go in full force.
Especially if your laundry room is hidden behind closed doors, kick back and have fun.
---
.
Or go monochromatic with something like these silhouette dogs.
The little use of color has a big impact.
---
.
Wanting to add some fun to your mud room?
A big and colorful wallpaper is a great solution.
---
.
A nursery accent wall can add great pattern and interest.
I love how they use the green and carry it throughout the design!
---
.
Wallpaper the ceiling?
Yep. Keep the walls simple though if you're going bold up top.
---
.
I also love this fun and fresh wallpaper behind the crib.
Don't be afraid to hang large wall decor like mirrors over the design.
---
.
Instead of behind the bed, think about wallpapering an accent wall
that will point out a beautiful window or niche.
---
.
A kid's playroom is a fun place for a big, bold pattern.
---
.
Looking for something fun and functional?
This photo frame wallpaper is a great way to showcase your kids artwork.
---
.
One of my favorite places to use wallpaper is in a bathroom.
Easy to wipe down the walls!
---
.
I'm totally crushing on this navy nautical wallpaper.
Perfect for a boys bedroom or bathroom!
---
.
A brighter, bolder wallpaper looks great against white.
Keep your accessories to a minimum though if used in a small space.
---
.
Whimsical wallpapers are also fun in a powder room.
It's a great place in your home to take a chance with design.
---
.
Or if you're afraid of bright bold colors,
just try a fun pattern instead that will add a lot of impact.
---
 If you're looking to purchase some wallpaper,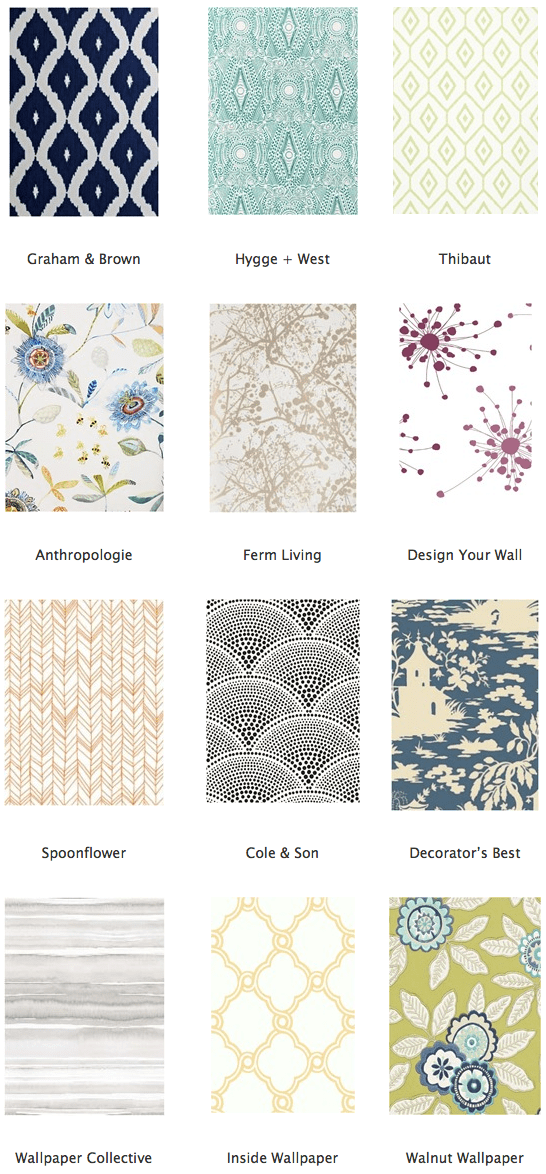 .
So, are you obsessed with wallpaper like me?
I'm trying to pick out a pattern for my dining room.
Stay tuned!
.