A couple months ago I showed you this awkward space in our kitchen where the cabinets just seem to stop, leaving us with a 4ft wide bare gap. I tried filling it with artwork but it still seemed pretty empty and bland.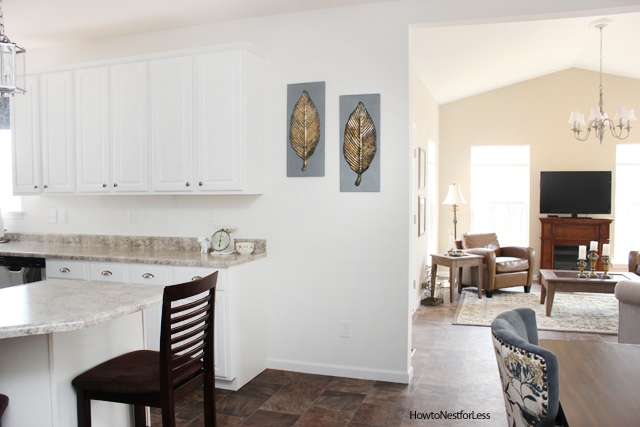 I hope to someday fill this space with a wine fridge and built ins like my parents' living room (well, on a much smaller scale), but I don't have that kind of cash to spend as of right now. So instead I gave it the old "nest for less" treatment and purchased some kitchen industrial metal shelves. And here's what the space looks like now…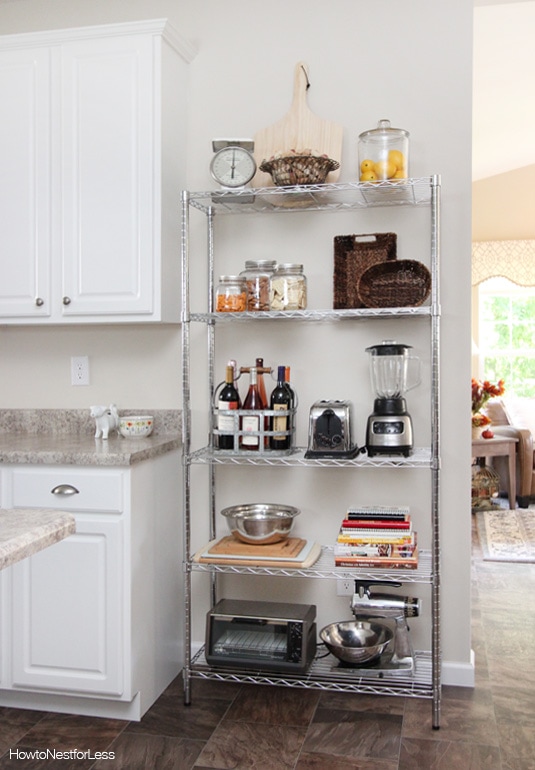 Not too shabby for a $67 purchase.
Yep, only $67 from Amazon (not an affiliate link). Before the purchase I figured if I hated how the metal shelves looked in the kitchen, I could always use them in the garage or basement instead. Win-win bargain shopping.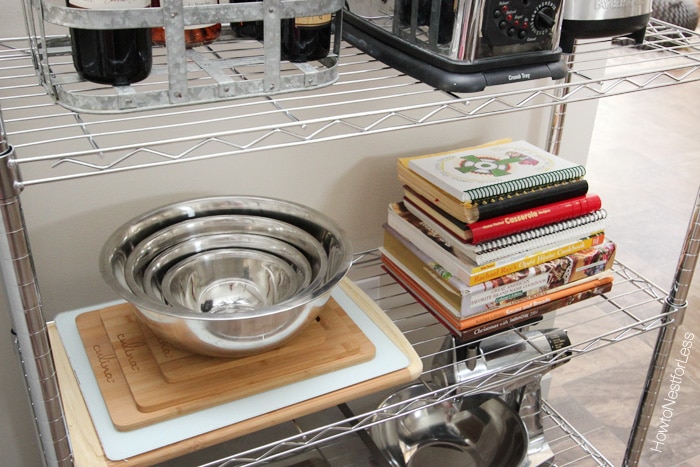 I filled the shelves with some items that I wanted on display and within an arm's reach, such as my mixing bowls, cutting boards and cookbooks.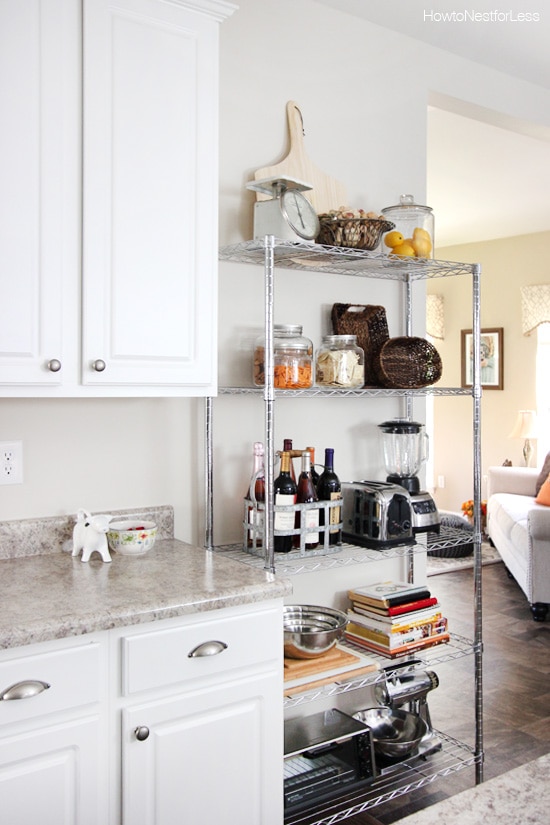 I love the fact that I can now keep my kitchen counters clutter-free by putting my small kitchen appliances on the new shelves instead. Plus I opened up some additional storage space in my cabinets with this new system.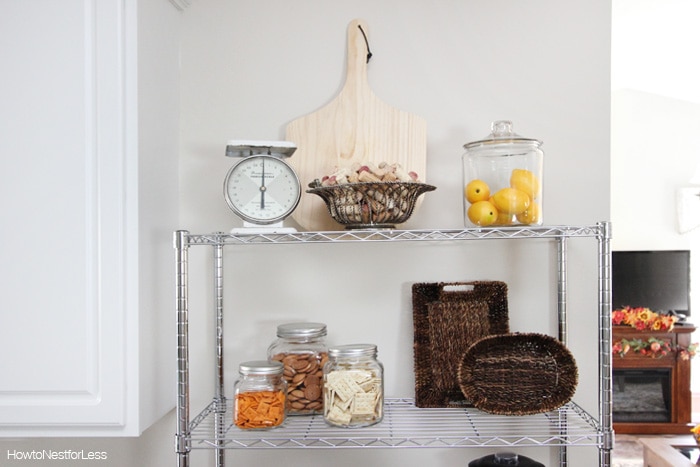 I also like how the metal goes nicely with my stainless steel appliances.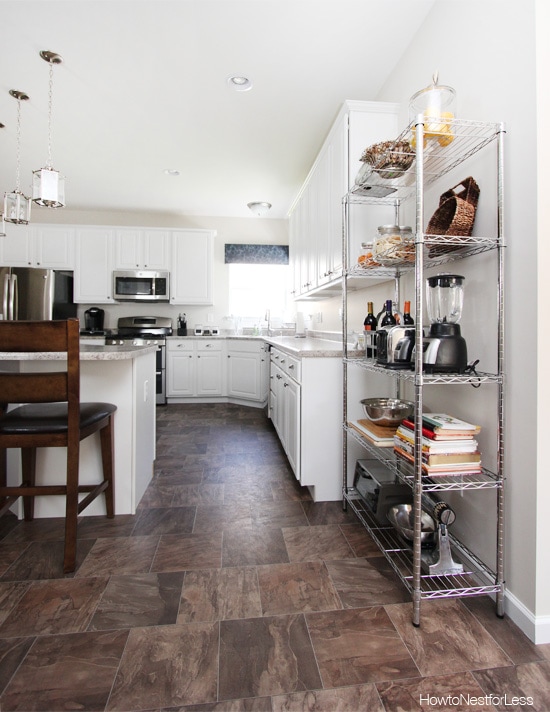 Now the next thing I need to work on in my kitchen is the backsplash. A couple weeks ago I showed some options on my Instagram and I think I decided on white subway tiles with darker grout. This project is tentatively on the schedule for the weekend after Labor Day (yeah, fingers crossed).
So I'm making baby steps towards getting this kitchen completed.
Still on my kitchen to-do list:
•  Backsplash
•  Trim out kitchen island
•  Build out on top of cabinets
•  Built in platter rack near fridge
•  Kitchen command center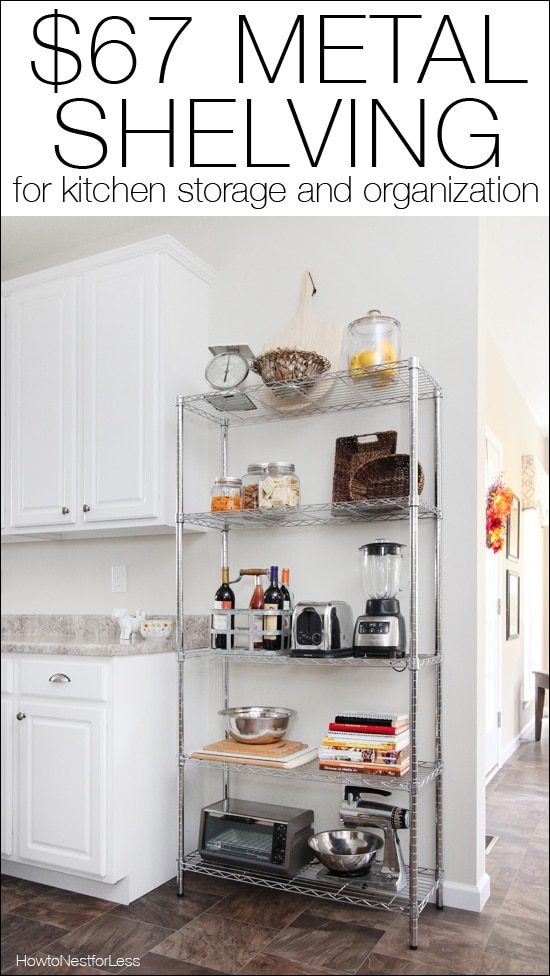 So do you have awkward spaces in your kitchen?
Would you do a cheap fix for now like me,
or just save your money and wait to do it right?