It's been an amazing week unveiling my master bedroom makeover! Now it's time to reveal where I purchased a lot of my goodies (in case you were wondering!).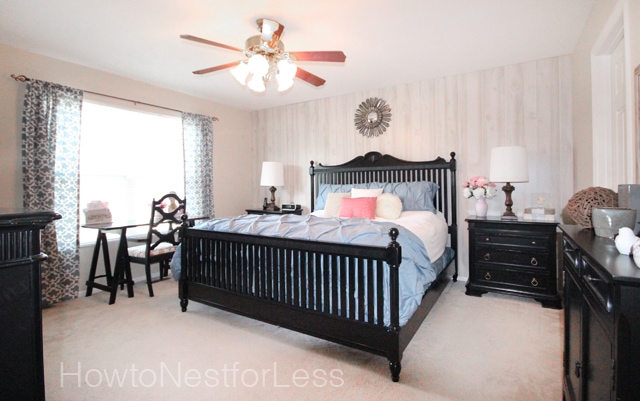 First up is the bedroom furniture. We purchased (ok, not we… my parents got this for us as a housewarming gift!) this bedroom set from Value City Furniture a little over 6 years ago.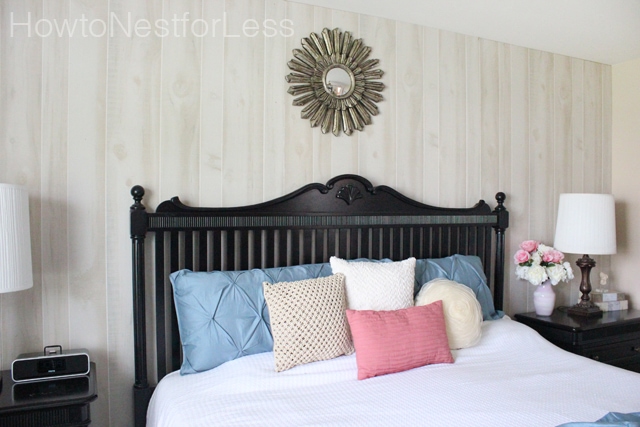 The paneling for the accent wall is from Lowe's for $14.96 for each 4×8 foot panel. Make sure you check out the tutorial for installation I posted yesterday.
Now for the bedding… The blue puckered comforter is from Target (only $100 for king). We purchased the rose accent pillow for $20 and the tan jute accent pillow for $25 from Target as well. The ivory rose pillow is from Pier 1 for $24 and the white fluffy pillow is from WalMart (can't remember the price). The Ralph Lauren white coverlet was $30 from TJ Maxx last summer (a total steal!). Oh, and that snazzy sunburst mirror is from TJ Maxx as well for $30!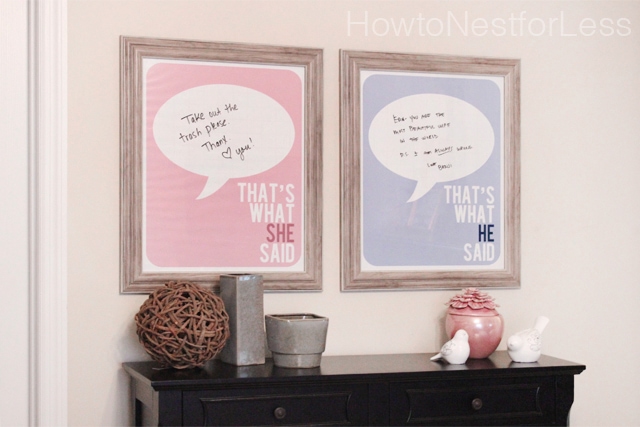 For our little console table… The posters were a free printable from My Sister's Suitcase. I printed them out at my brother in law's sign shop and purchased two frames from Michael's (I think after coupons they were $15 each). The twine ball and rose jar are from Kirkland's. The blue vases and little birdies are from Michael's.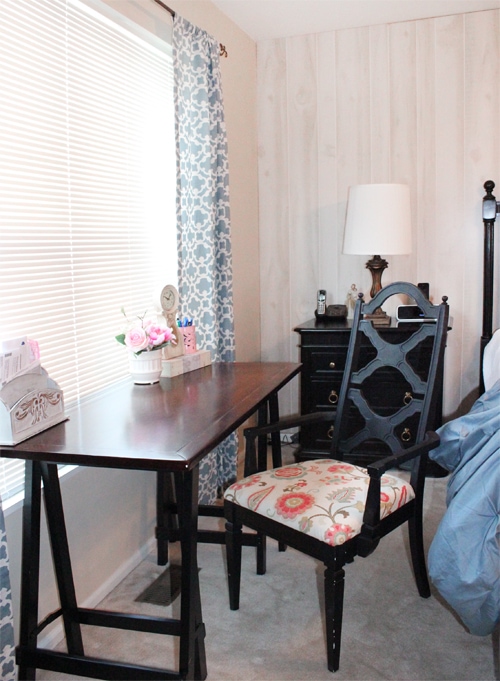 I purchased this sawhorse desk last fall from Pier 1 Imports for $170. The chair is a Goodwill find that I painted black and the fabric is from Hancock Fabrics (I got it 50% off!). The letter holder is from Hobby Lobby and the drapes that match my bedding are from Target as well (I think they were $20 each).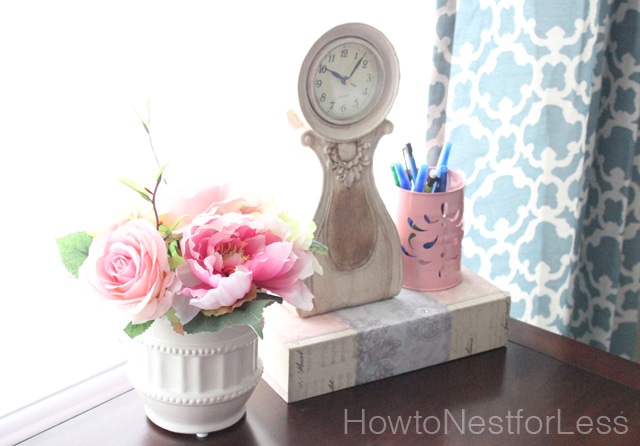 The flower arrangement and storage book are from Michael's, and the clock is from Kirkland's. That little pencil holder is from Michael's in the $1 section!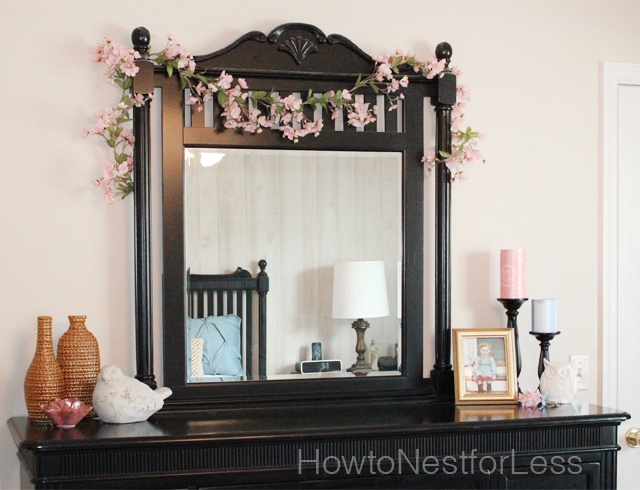 The tan textured vases are from Gordman's. The white bird and ceramic rose are from Kirkland's. The white owl is from Michael's and the candles I covered in scrapbook paper from JoAnn's Fabrics. Oh, and the flowered garland is from Michael's (wow, I didn't realize how much I actually got from Michael's until I wrote everything down! BUT I did get everything from there for 50% off).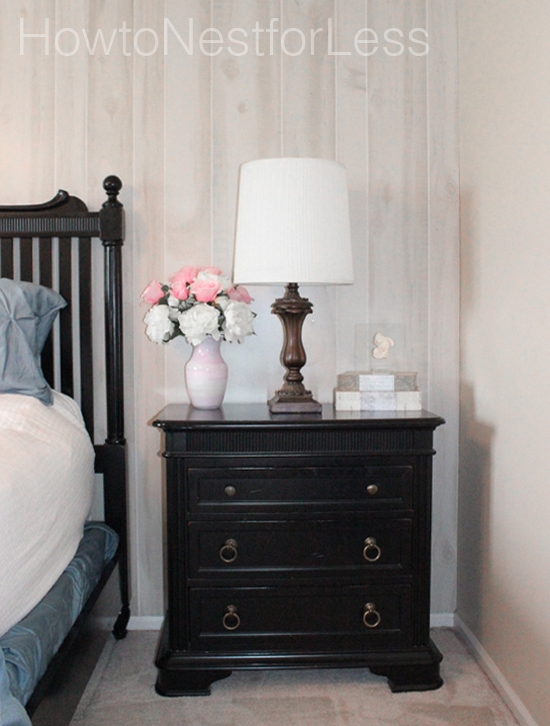 The glass vase I've had forever and just painted the inside with some pink and white acrylic paint. Seriously, a two minute project! The lamp bases were purchased from an auction and the lamp shades I got on clearance from Lowe's for $7 each. Those little books are also from Michael's. They're hollow and great to store little treasures in, like remote controls, eye glasses, lotion… anything else you need handy but don't want on display!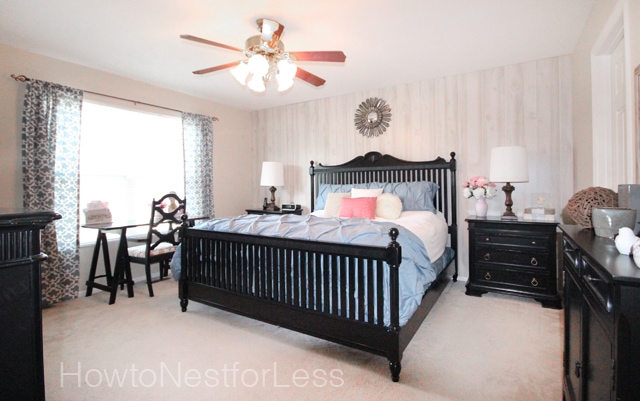 I think that's about it! Just let me know if there's something else you see that I didn't list. I'm happy to help (especially since all these items were purchased on a budget!).