So the other day I was walking through Ace Hardware and stumbled across the organization aisle… ya know, where they have all of the closet storage products? And I noticed these little Rubbermaid shoe add ons for their closet systems.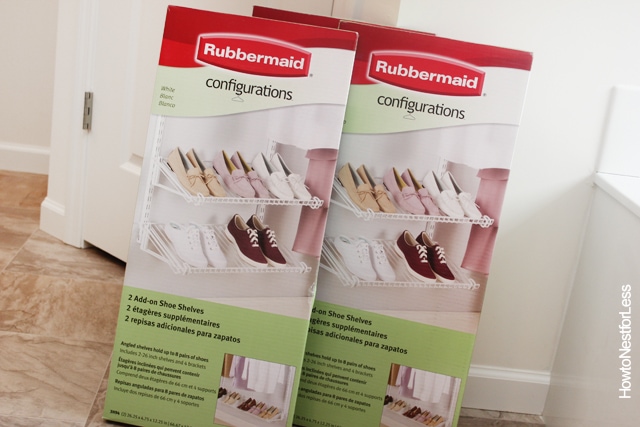 Now we just moved into a new home a little over 3 months ago and our new closet is MASSIVE. I'm talking 3 feet bigger than my daughter's old bedroom.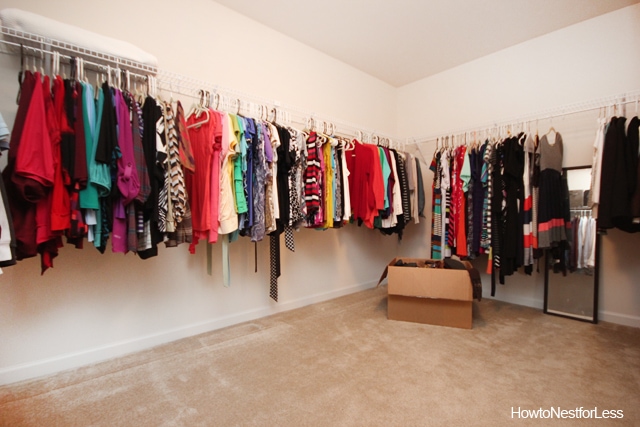 But the shelving is really odd in there. Only one wire shelf all the way around. It's plenty of room for our clothes, but I had no place to put our shoes. Well… see that box?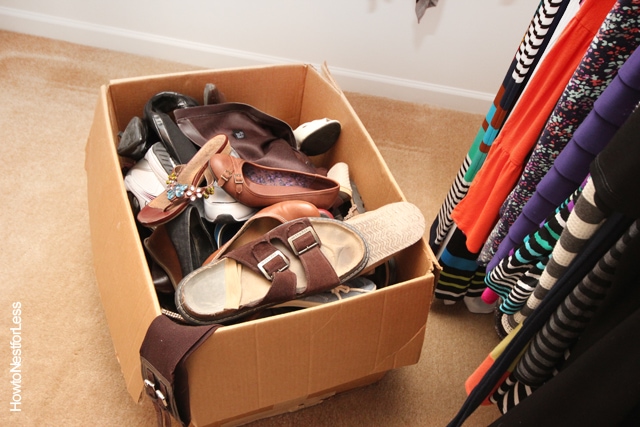 Yeah, it's our "shoe box". Literally.
Now we could have redone the closet with really expensive built ins or a full closet system, but I'm thrifty and can't really see spending hundreds or thousands of dollars on a closet. So now you can see why I was a little giddy to find those shoe add ons at Ace Hardware.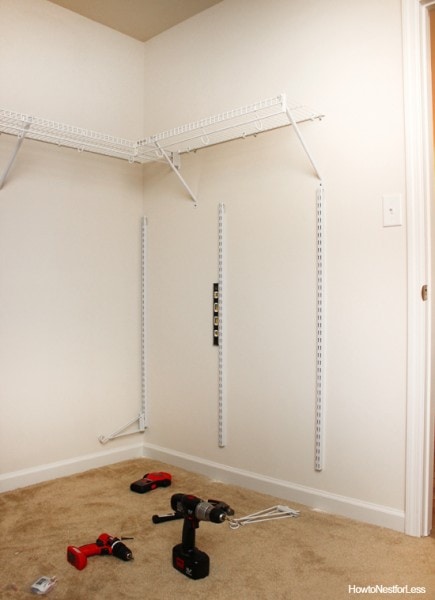 I figured the best place to put the new shoe shelving would be just to the right when you walk in the closet. Two shoe shelves come in each box and they fit perfectly side-by-side under the existing shelf.
We purchased (3) 48 inch hanging brackets and used drywall anchors to secure them to the wall.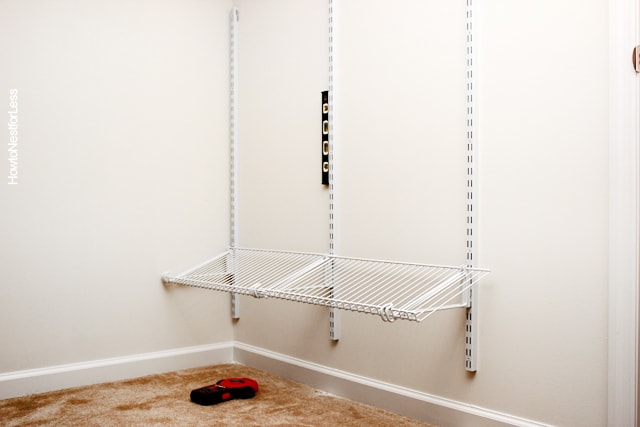 Seriously took about 10 minutes to hang all 3 brackets. Then you just hook in the shoe add ons. The hardest part of this project was just measuring and making sure everything was level.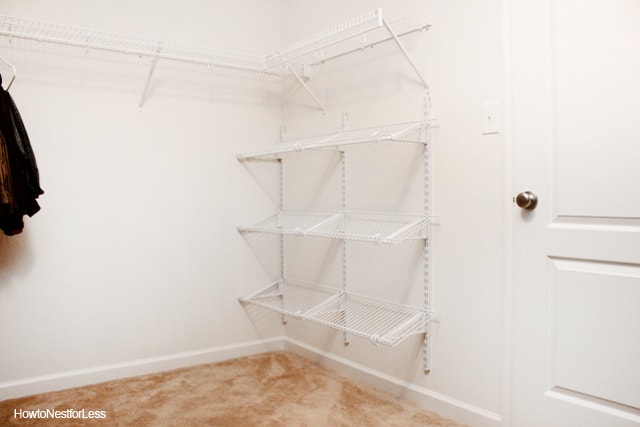 And now the fun part… adding all the shoes!
The shoe add ons are on an angle and have a little lip at the bottom so your shoes don't slide off. And each shelf holds about 7 or 8 pairs of shoes (well 6 for my husband and his size 13 feet).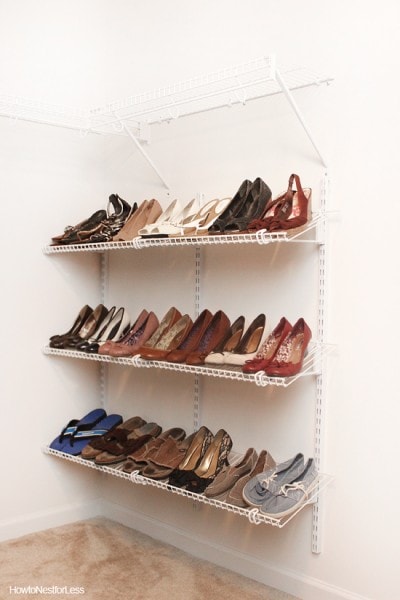 And I like that these shelves are adjustable because I'm thinking of moving them around and adding another shelf. You know… cause a girl's shoe collection is never ending.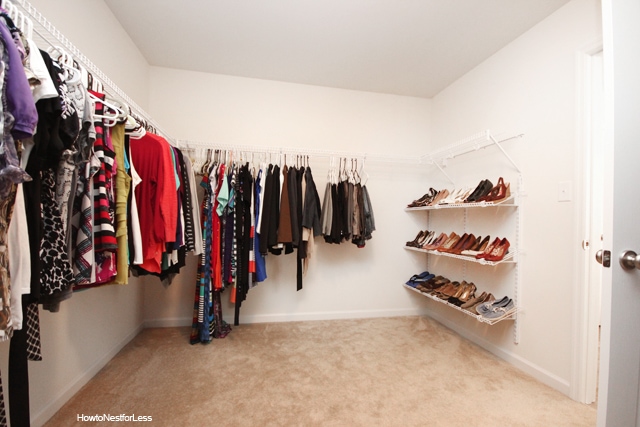 OK, now for the good stuff!
One lucky reader is going to win a $100 gift card to Ace Hardware to spend on something you didn't know they offered like shoe organizers… or whatever else you need!
Winner will be chosen next Monday and notified via email.
GOOD LUCK TO YOU!
And stay tuned for more updates to this space! Next we're going to add a new light fixture and find a piece of furniture to serve as an island to store my jewelry, scarves and my husband's ties.
If you want to see more projects from the Ace Hardware team,
check them out HERE!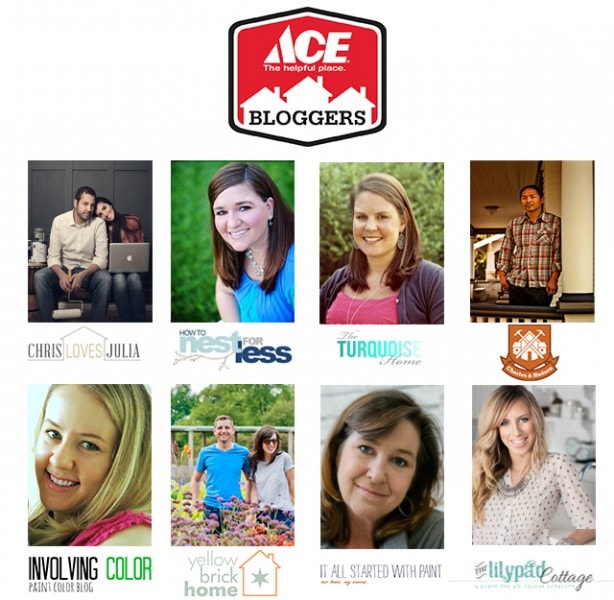 I am a member of the Ace Bloggers Panel and Ace Hardware has provided me with materials for this project. I was also compensated for my time and this blog post. All opinions are my own and do not necessarily reflect those of Ace Hardware.