Thank you to Dave Ramsey's ELP Program for sponsoring this post!
I have written a couple posts about this in the past but I always seem to get emails and questions about selling our home in record time. I honestly love this subject because real estate has been my life for the past 15 years. As many of you know I still work full time for one of the largest home builders in the US. Luckily I love my job and everything that goes with it!

I bet you can tell that I've seen a lot through the years. Ben and I were actually working for the same home building marketing company from the mid 2000s until the downfall in 2009 when we BOTH got laid off. Yeah, very rough times for a young family with a one year old. Thank goodness things bounced back in a BIG way. Inventory is actually at an all-time low in many cities across the U.S. It's definitely a time to SELL!
So I'm here to help you get your house ready…
Here's 15 Best Tips For Selling Your Home.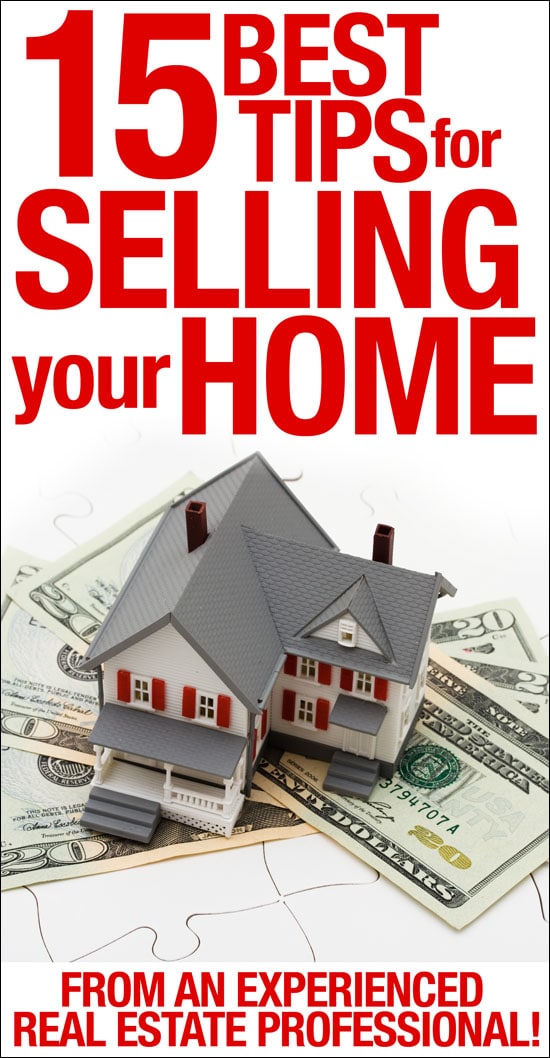 1. Great photos mean EVERYTHING.
If you're going to take anything away from this post, this is it! We live in a visual world where people start their new home shopping journey online and want to preview the home before actually driving out to see it. Why waste your time, right? Potential customers want to see the layout, the colors, the finely appointed features, the yard… everything. If you give them dark and gloomy photos, it makes the house seem dark and gloomy. Hire a professional photographer if needed and make sure they use a wide angle lens to capture as much of the space as possible in each shot. Don't be afraid to interview photographers and ask to view their portfolio.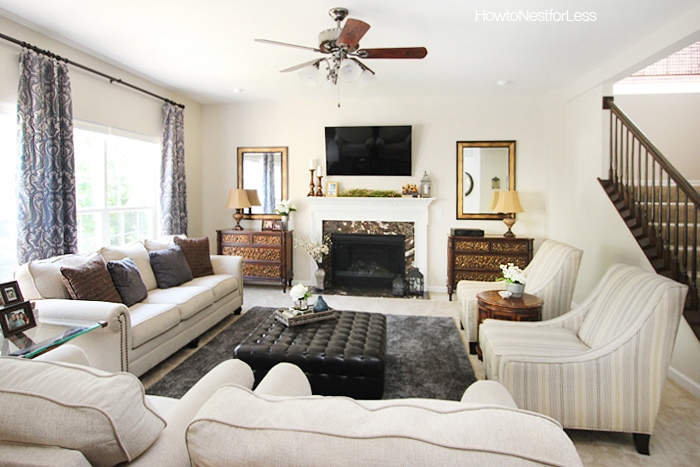 2. Weekend bandit signs.
No matter how much your market your home online or in newspapers, nothing drives traffic like a good old fashioned bandit sign (those corrugated plastic signs on metal frames). Potential buyers often will move within 5 miles of their current home and can notice your For Sale signs while driving their kids to school, or on their way to the grocery store or the bank. And don't just put one sign in front of your home and call it a day. Put bandit signs at the front of your subdivision and at a few spots along the main road or back roads on the way to your neighborhood. Check your local guidelines, but oftentimes they'll let it slide on the weekends, just like garage sale signs.
3. Cheap laundry baskets are your new best friend.
I cannot tell you what a lifesaver this was for us while we were trying to sell our home. Yes, sometimes you will get those last minute calls asking if someone can show your home in 30 minutes. It's too hectic to try and pick up the chaos when you still have to get shoes on your kids, pack up the pet, and get out the door as fast as possible. To help pick up the mess like random toys, shoes, and paperwork, just throw everything into a cheap plastic laundry basket and shove it in your car before you leave. You can then organize and sort when you arrive back home.
4. Use a real estate agent.
I know when you think about that real estate commission it's often a hard pill to swallow, but trust me… it's worth every penny to hire a professional. Most real estate agents will have professional photographers take photos of your home (refer back to #1!) for their marketing, which includes a brochure or flyer. Also, they can list your home on multiple websites that you could not access on your own including the multiple listing service (MLS). Your agent can also market to co-workers in their office to spread the word.
To find an expert real estate agent in your area, check out Dave Ramsey's Endorsed Local Providers (ELPs). If you know Dave, you know he got his start in real estate and he expects the absolute best out of his agents (his ELPs are in the top 1% of agents across the country!).
His company just released a FREE guide that breaks down the home selling process into easy-to-understand basics. The tips in Dave Ramsey's Home Sellers Guide will help make sure you have a successful home selling experience.
One of the sections in his free guide covers the agent interview process. It is so important to interview different agents and do your homework. We had 3 different real estate agents walk the home and give us a listing price… and they varied by $30,000! Dig in deep to ask why they priced your house a certain way. Don't be afraid to voice your opinion and ask for an explanation. They are working for YOU! But remember, your real estate agent is a professional and does this every single day…so their opinion is important!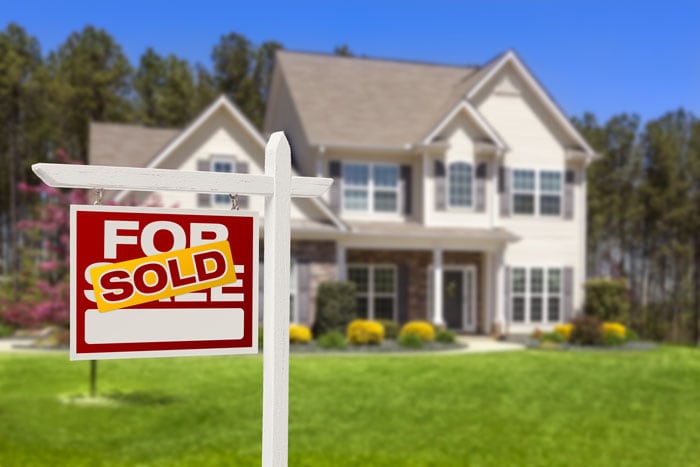 5. Declutter your home.
Other sites that claim to have the best tips when selling your home will often suggest removing all family photos from your home. I completely disagree with this. A house should feel and look like a home. A place that is lived in—not a museum (unless you're selling a museum-like mansion, then go ahead… remove that massive oil painting of the family above the fireplace). But limit the amount of photos and knick-knacks. DECLUTTER. Clean off the mess from your countertops and end tables. Think less is more, but make sure you still have it styled.
6. Brighten your space.
Make a house seem a bit more cheerful with additional lighting. Turn on all of the lights in your home before a showing. Upgrade your light bulbs to a higher watt to make the entire home seem brighter. Think about getting the whiter light bulbs instead of the ones that cast the yellow haze. Also, add some floor lamps or table lamps to dark corners.
7. A coat of paint can change everything.
I know you've heard a million times before about painting a couple rooms in your home before putting your house on the market. Make sure you go neutral. But also think about painting other things in your home. Do your cabinets need a facelift? A coat of paint can change that and completely transform your kitchen. Also think about painting old furniture for a quick and cheap makeover, or even painting your patio furniture to upgrade your outdoor space. Paint is one of the cheapest upgrades you can make. Embrace it!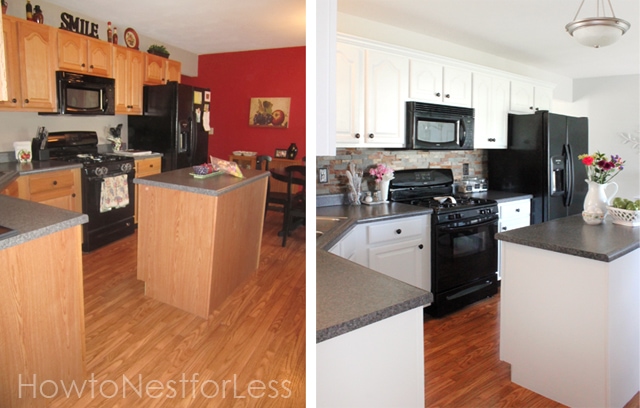 8. Concentrate on the kitchen.
A kitchen is often the most important room in the house. It's where company seems to gather when you are entertaining. Work on making the kitchen a little more up to date with some minor projects… upgrade an appliance or two, get new countertops, paint the cabinets. This can make or break the home, so make sure you focus on this area first. Before we put our house on the market we painted our cabinets and the accent wall, decluttered, and got a new lighting fixture. Made a HUGE difference!
9. Online marketing.
As mentioned in #4, a real estate agent can help you get on multiple websites through their listings such as Trulia, Realtor.com, or Zillow. Also consider the other online outlets they might introduce you to: Facebook, Twitter, YouTube, email blasts. If you would try to market an Open House next Sunday through just a sign in your yard, it would have much less of an effect than if your real estate agent blasted it to all of their contacts and across social media.
10. Curb appeal.
It's the first thing people see when they drive up to view your home. Make sure your place looks inviting: wash the windows, paint the front door, plant some flowers and mow the lawn. A first impression is everything. Don't turn them off before they even get through the front door.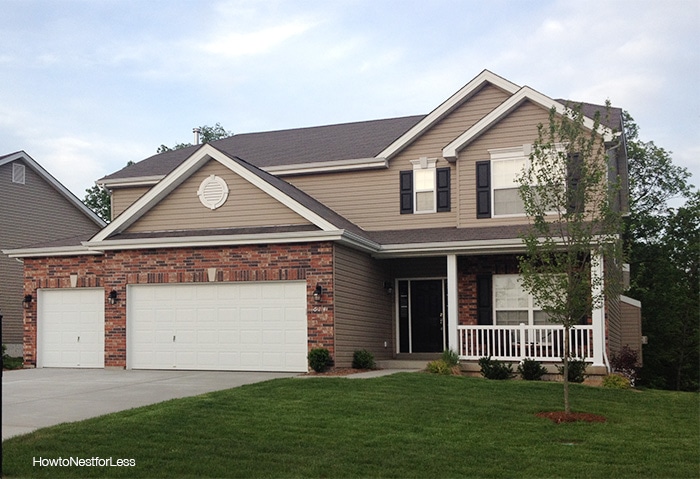 11. Clean the carpets.
We argued back and forth when putting our old home on the market on whether or not we should replace the carpet. We had lived in that home for 7 years and the almost-white carpets were looking a little grim, mostly due to our toddler. But instead of replacing the carpets, we decided to get them professionally cleaned instead. And it was AMAZING how they turned out! Brighter and fluffier, plus all of the extra dander gone that our vacuum couldn't pick up. When people toured our home, they always asked if the carpets were new and were surprised when we told them no. Another note, make sure all flooring is clean and ready for showings… vacuum, mop and clean any grout tiles.
12. Do pre-inspection repairs.
When we were selling our last home we had two big cracks in the basement wall. We called in the professionals to get it fixed with carbon fiber mesh, one of the absolute best concrete repair solutions and it's 10 times stronger than steel. While it's not the prettiest fix in the world and cost us $600, the solution came with a lifetime warranty and the work was signed off by an engineer. Without this paperwork and the repaired basement walls, it would have been tough to sell the home with the two large cracks. And luckily, the buyers had a real estate agent who was very well versed in basement repairs and home warranties to agree that our repairs were properly done pre-inspection. It definitely saved us a headache from trying to work out the repairs in the contract or after the home inspection.
13. Organize key spaces.
Just a friendly reminder that people will be opening all of your doors and even some drawers to check out space and storage. Keep them organized! Clean out your linen closets and add some organizational storage like bins and boxes to disguise some of the mess. Also think about reorganizing some kitchen cabinets and packing away some of the unneeded entertaining pieces or extra sets of dishes. Make sure your kids' toys are organized and out of the way as well. Also tackle key spaces like the garage and basement.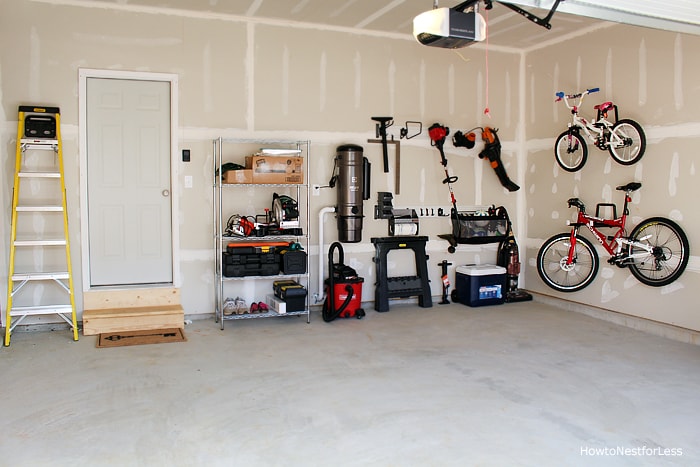 14. Store your off season clothes.
Speaking of closets, make your closets look bigger by storing off-season clothes in the attic or basement. Also, if you're a big shoe hoarder but don't have the space, hide some pairs as well.
15. Get a clue about your competition.
Another benefit of having a real estate agent is getting a read on the competition in your area. Your agent can find out other prices, types of houses, condition of other homes in your area, and what your house is actually worth in comparison. PULL THAT COMP! Don't be afraid to ask for this knowledge and make them do the research for you. It's best to be prepared when potential buyers try to negotiate price with you and you can actually prove to them why your house is worth the price you're asking for.
And remember what I told you about the $30,000 difference from the agents? We actually went with the highest listing price and had 3 offers that very first day. AND we got $5,000 above asking price since there ended up being a bidding war. INSANE. In the end all 3 families commented on our bright photos, clean home, and our awesome real estate agent. Gotta love that!
---
If you're looking for more tips and tricks, check out free Dave Ramsey's Home Sellers Guide.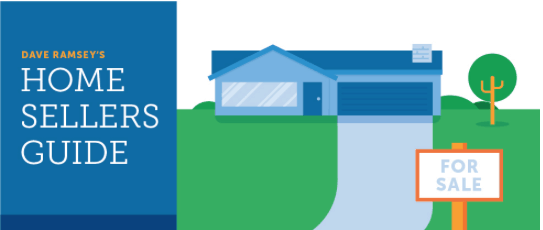 It has lots of step-by-step help where you can learn:
Whether selling your home is a good idea
How to wow buyers without busting your budget
The secret to getting competitive offers
What to expect once you get a signed contract
And much more!
TRUST ME, YOU CAN DO IT!!
Stop thinking about it and get the Home Sellers Guide to help.
Good luck!
Let me know if you have any questions 🙂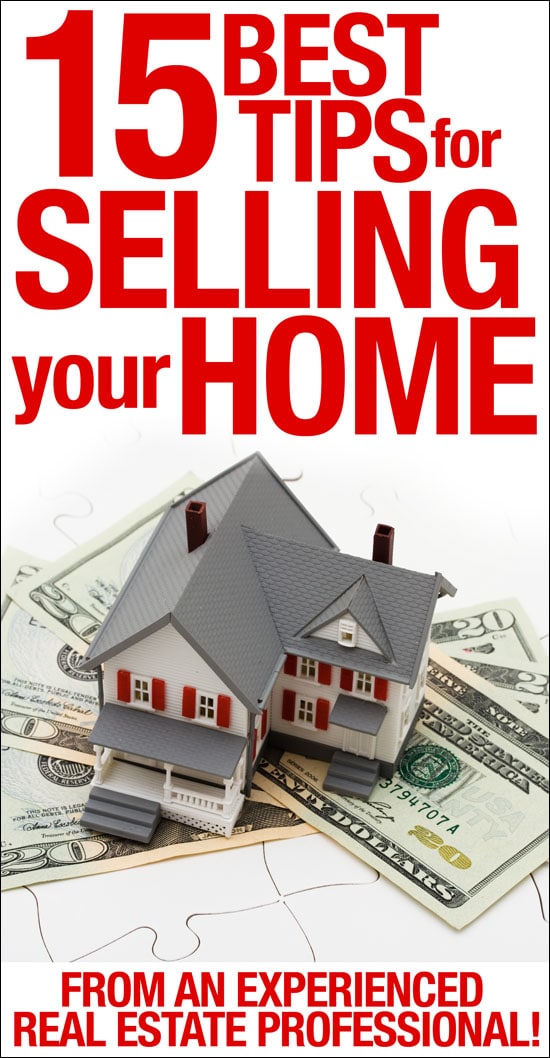 This post was sponsored by Dave Ramsey's Endorsed Local Provider program, but all opinions are my own!