I'm in the process of making some pretty hefty decisions for our new home. Yes, the most important room in the house is on my mind: THE KITCHEN.
My biggest request for the new home was an open kitchen floorplan. Something that flowed into a large breakfast room and living space so the kitchen didn't feel so disconnected from the rest of the house.
And then I found the perfect floorplan that suited my family. Here's a little snippet…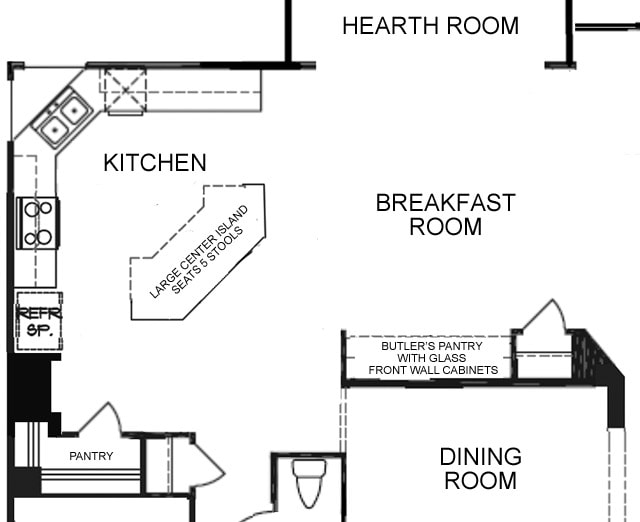 For me, this area right here is what sold us on the house. The large kitchen center island that will seat at least 5 stools, large breakfast room, and an adjacent hearth room so my family is within an arm's reach.
The photo below is a pretty similar kitchen for structural purposes only (the center island and cabinet layout are a bit different but at least it gives you an idea).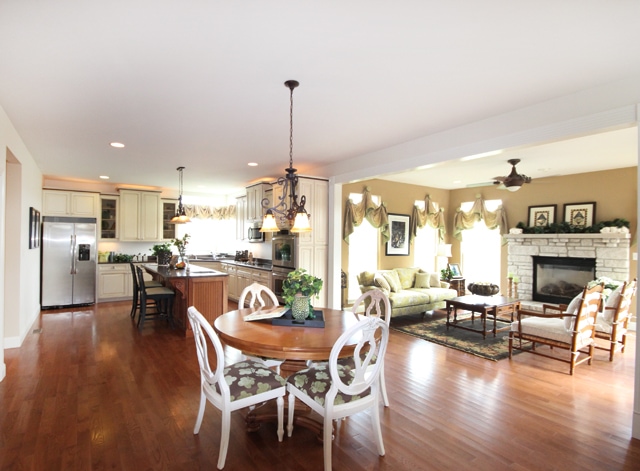 And here's kinda-sorta what our hearth room/sunroom will look like straight on but we'll have a vaulted ceiling. We're still debating on the stone fireplace but our budget is quickly depleting, bummer.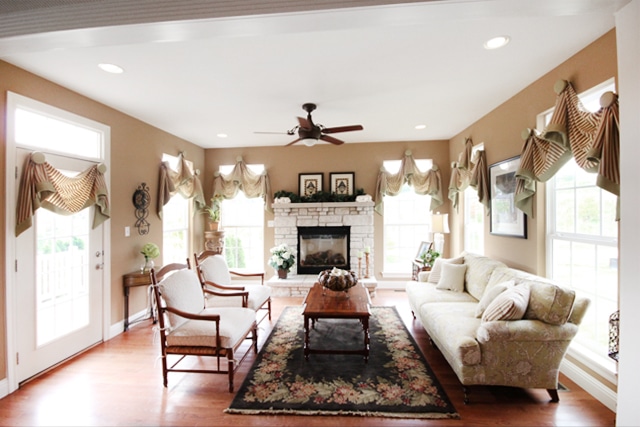 Now I keep finding these beautiful gourmet kitchens on Houzz and Pinterest, but c'mon people… I can't afford 80% of the things in those pictures. We're focusing on structural at this point, knowing we can always upgrade lighting and other things later. So I'm scaling back my dream kitchen a bit to fit my budget, and luckily I've found some tips and tricks that will give me that dream kitchen on a real budget.
First of all, we couldn't quite afford granite countertops. I love the look, but I hate the price tag. Then I found the Wilsonart® HD® High Definition® Laminate countertops that looks just like granite but within our price range (approximately one-third of the cost of real stone granite, yay!).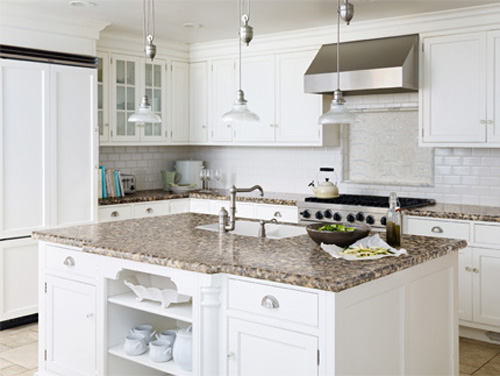 These Wilsonart countertops seriously look realistic with natural flow patterns and mineral details. For homeowners this is the dream of combining the beauty and durability of real stone with an affordable price. And it's inspired by actual granite with all of the cool veins and markings.

Plus the AEON™ Enhanced Performance Technology from Wilsonart means countertops are durable‑up to five times more scuff resistant than traditional laminate.
We'd also like to get a Wilsonart® HD® Integrated Sink to give our countertops an upscale, clean look. There's no lip, no seam. Instantly makes the kitchen sophisticated, don't you think? And the Wilsonart Integrated Sinks are resistant to both stains and heat. BONUS.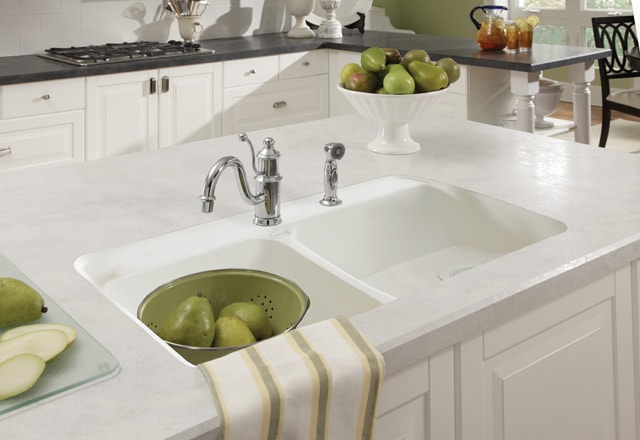 Another cool part of the Wilsonart countertops is that you can choose a decorative edge to really set it apart from other laminate countertops. The Beveled, Cascade, and Crescent edges are three of the most popular edges and definitely are the perfect finishing touch (plus an affordable way to achieve the granite look without the visible seams).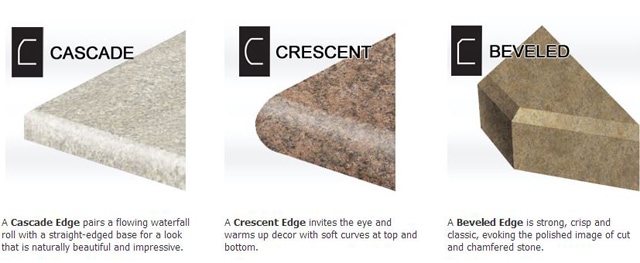 I know not everyone is building new, so keep these facts in mind when remodeling your home as well. Whether it's your kitchen, bathroom or laundry room, Wilsonart offers the best quality, design and affordability.
Soon I'll be sharing more of our floorplan so stay tuned!

If you want some more information on this product, check out:
www.wilsonart.com/dreamkitchens
or you can find them on Pinterest for more kitchen makeover ideas!