This stunning Pinterest Project Christmas ornament garland is the perfect solution to last minute decorating!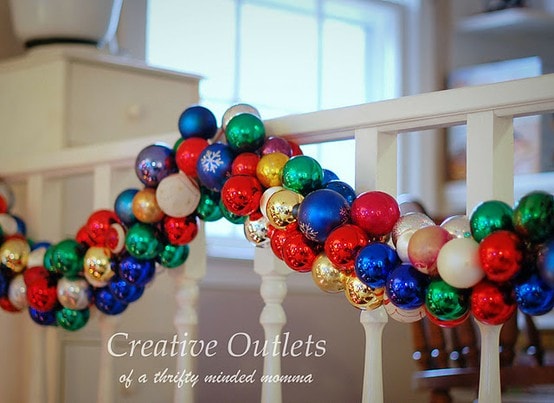 Last week I came across this GORGEOUS Christmas ornament garland from Creative Outlets of a Thrifty Minded Momma while surfing Pinterest. Thought this would be the perfect last minute holiday project to spruce up my home before the holidays.

So instead of using castoff ornaments like the one above, I purchased a couple of Christmas ornament packages from the Dollar Tree (each package had one dozen mini ornaments). I also got 3 yards of black cord from JoAnn's fabric to thread the ornaments.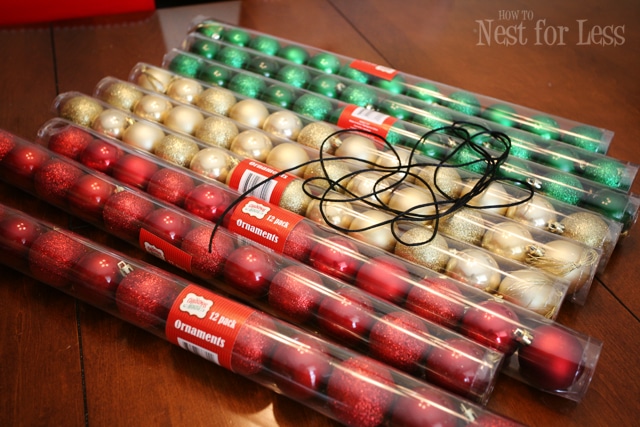 Just lovin' these ornaments from the Dollar Tree! Each package came with gloss, matte and glittery versions.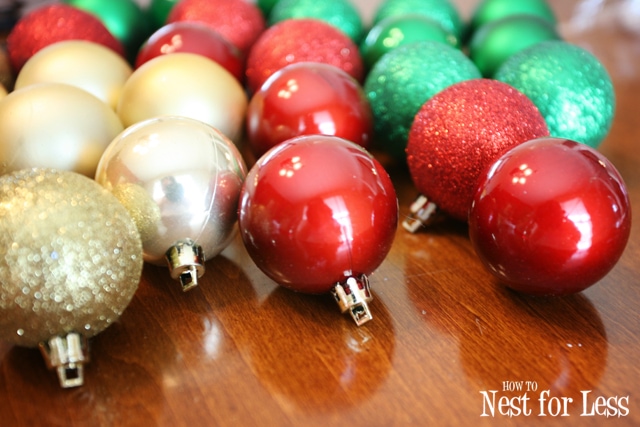 To get started I threaded the black cording through the ornament hook hole.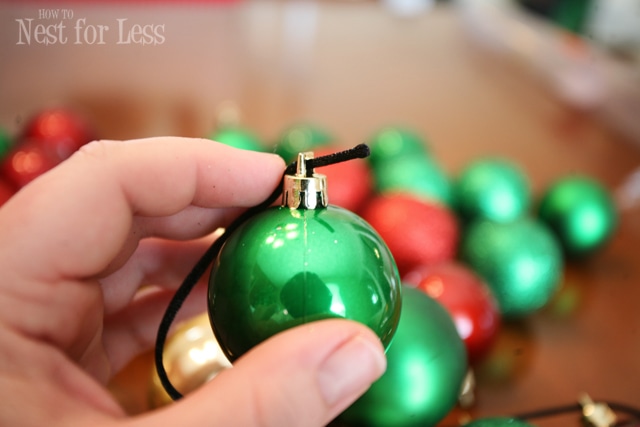 I varied the colors and finish of the ornaments when stringing the garland.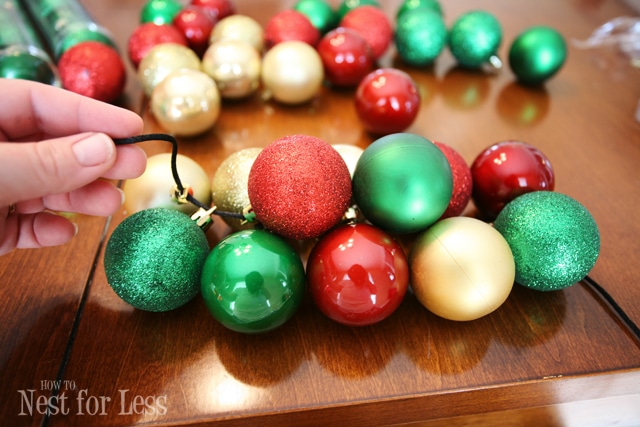 Yep, and that's about it! I used 9 total boxes of the mini ornaments to create my entire garland. Total time to string all the ornaments was only about 10 minutes. Super fast, easy and cheap project…who doesn't love that!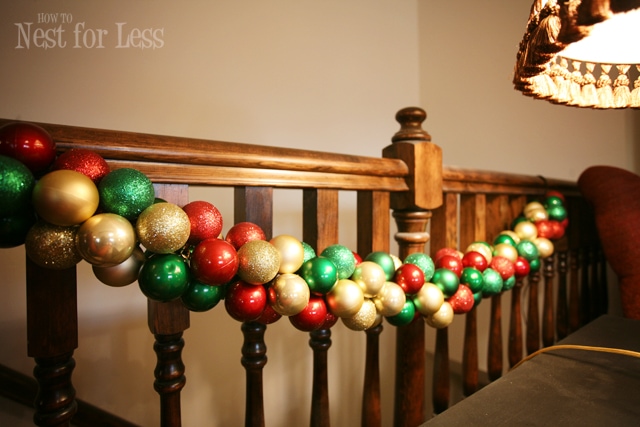 Isn't she purdy on my spindled railing leading to the basement!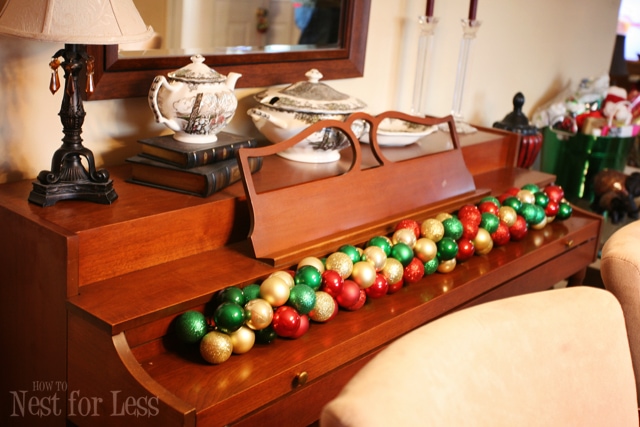 Or stretched across my piano for a little holiday bling! I even used some extra ornaments for a centerpiece on my dining room table. Just an old Christmas wreath with a hurricane glass in the middle filled some leftover ornaments!   A very easy centrepiece idea for sure!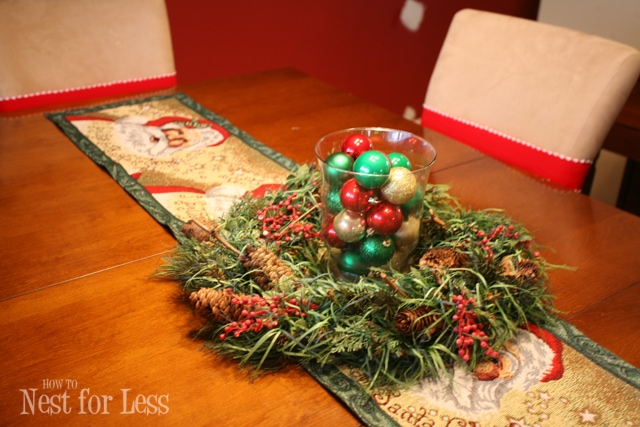 And finally my favorite: two ornament garlands on the banister leading to the lower level with matching sparkly bows!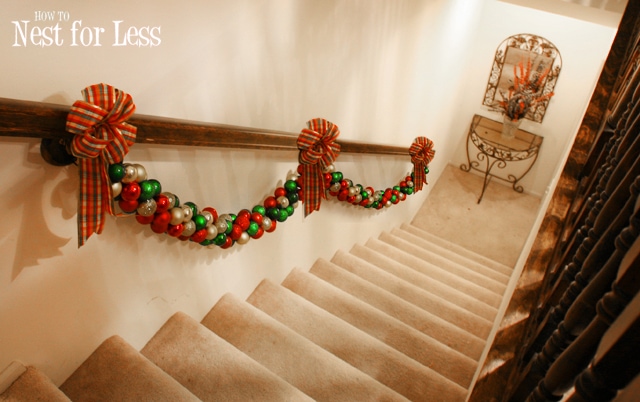 Super easy garland project, plus it only cost me $10 for each garland! I think I'll try to scoop up some ornaments on clearance after Christmas to make even cheaper versions for next year! I have a couple more places I'd like to display these around the home next year. LOVE the pop of color it adds to any room.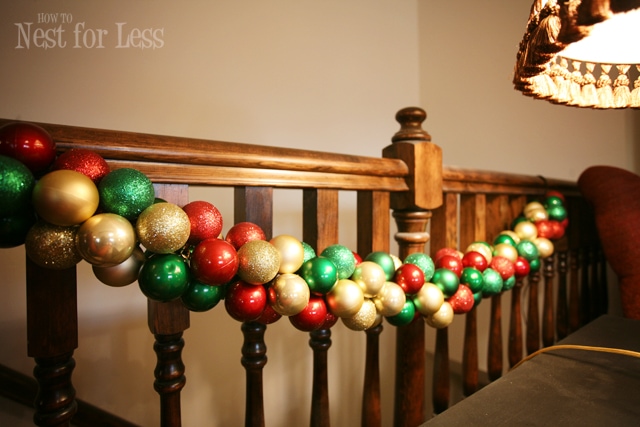 Yep, love finding new projects on Pinterest. I think I'm done creating things for this year's holiday season, but I'm still pinning away for next year! You can see all of my Pinterest boards by clicking here!