While on Pinterest the other day, I ran across some super cute color-coded chore sticks from Embellish. Loved the idea, but my daughter is only three and can't help out too much around the house. So, I decided to alter the idea a bit and help cure boredom!
Here's my Rainy Daze activity sticks!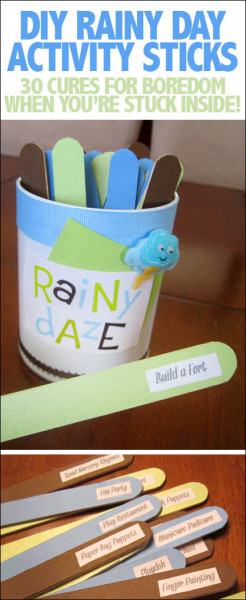 So here's the step by step instructions…
First I gathered all of my supplies:
White tin jar
Scrapbook paper
Wooden craft sticks
Spray adhesive
Elmer's glue
Embellishments (I used Puffies)
Hot glue gun
Ribbon
Alphabet stickers
Print out of 30+ activities
.
Also, here is a list of the 30 activities I used!