With Super Bowl right around the corner it was time to show some spirit!   I made a Mizzou Football wreath that you can customize for your own team!
While at a local grocery store last week, I noticed a curly ribbon wreath out of the corner of my eye. It was extremely cute: a birthday themed decoration with shades of pink, purple, yellow and green. I would have picked it up, but the price tag said $30. Not too shabby, but I thought I could save some cash and make one myself. Plus this way I get to personalize it! So with the upcoming football season right around the corner, I thought a cool take on this project would be a Mizzou Tigers curly ribbon wreath.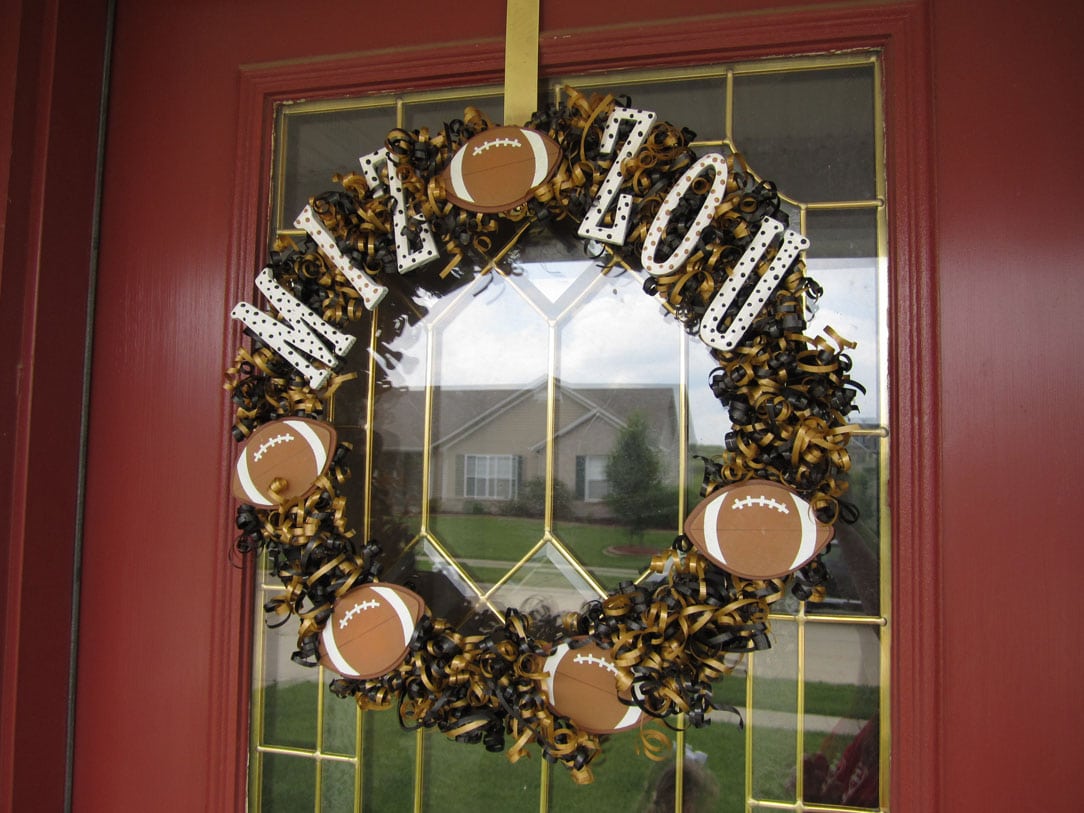 Pretty cute, huh? So here's how I created my unique sporty door wreath…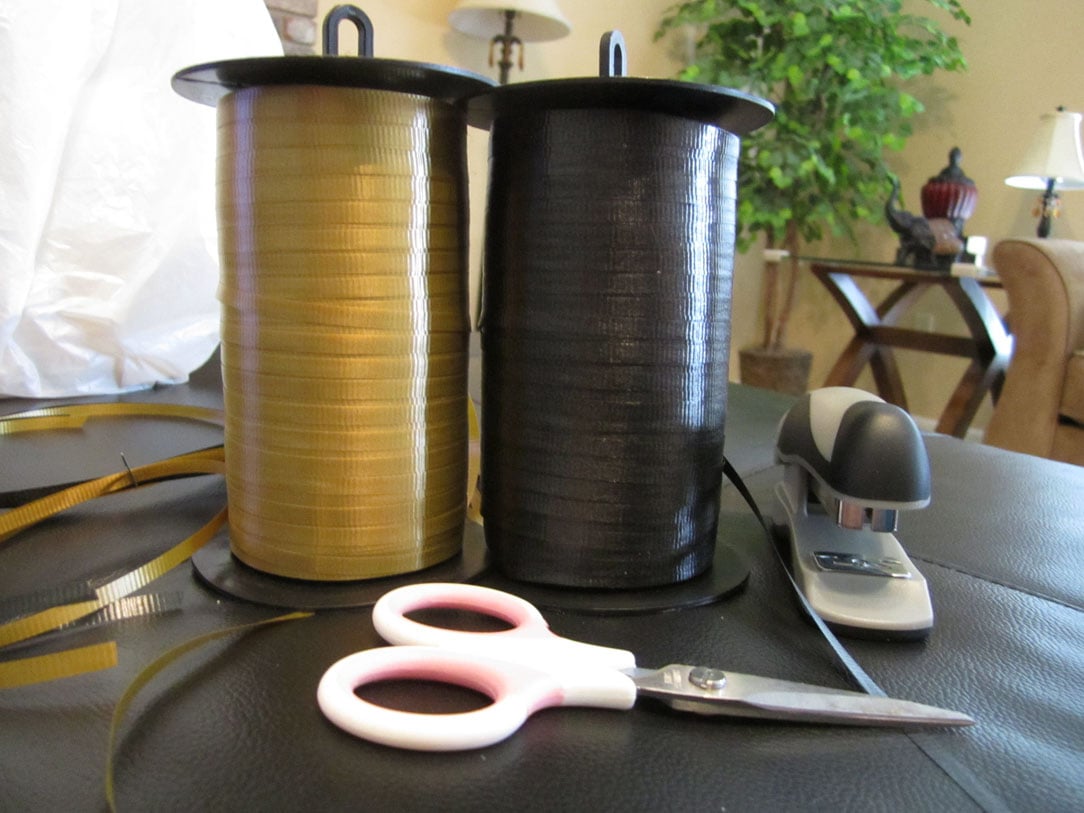 I first spotted some ribbon at WalMart in black and gold. $2 each for the large spools. While walking up and down the craft aisles looking for creative ideas, I found some painted wooden football decals. $1 each! Perfect find for this project!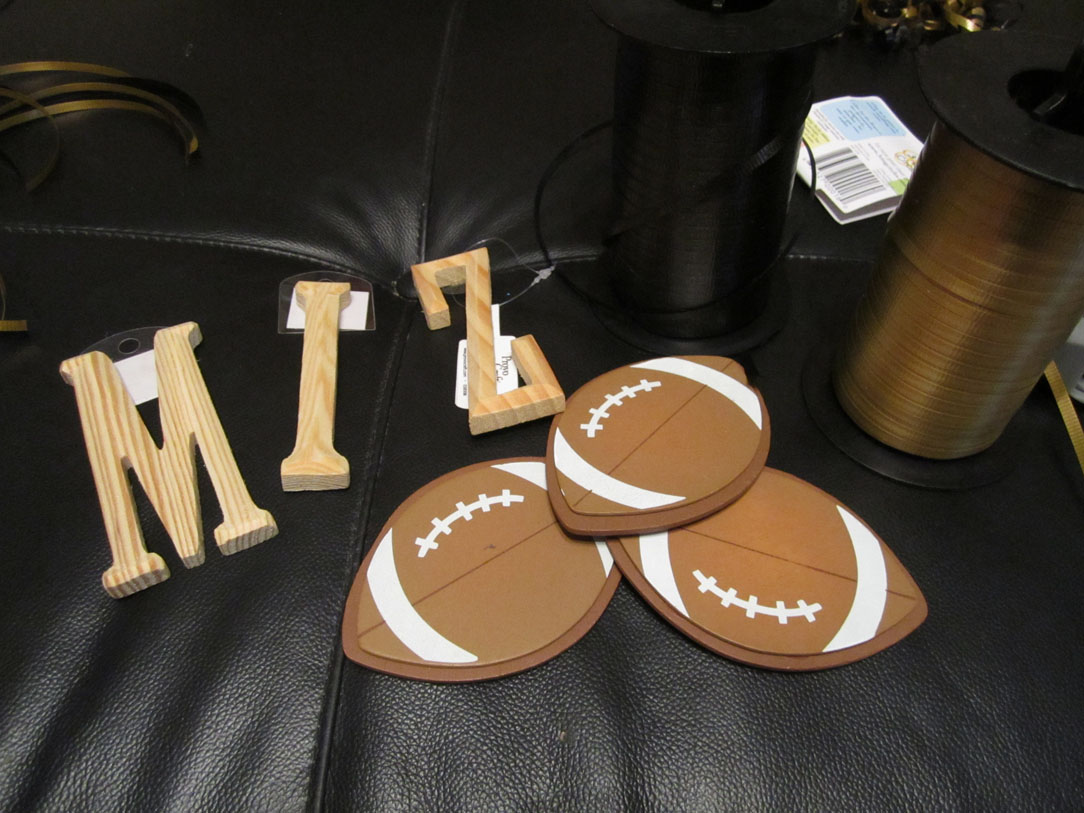 My next stop was Michael's. I purchased 4 inch wooden letters to spell out M-I-Z-Z-O-U and it cost me $6 total. While at Michael's I also found an 18 inch wooden craft wreath for $3 and Scribbles 3D paint in gold and black for $1.50 each.
First step was to paint the craft wreath with Rustoleum's flat black spray paint and the wooden letters with Rustoleum's flat white spray paint. Once the paint was dry on the letters, I used the Scribbles 3D paint to create gold and black polka dots.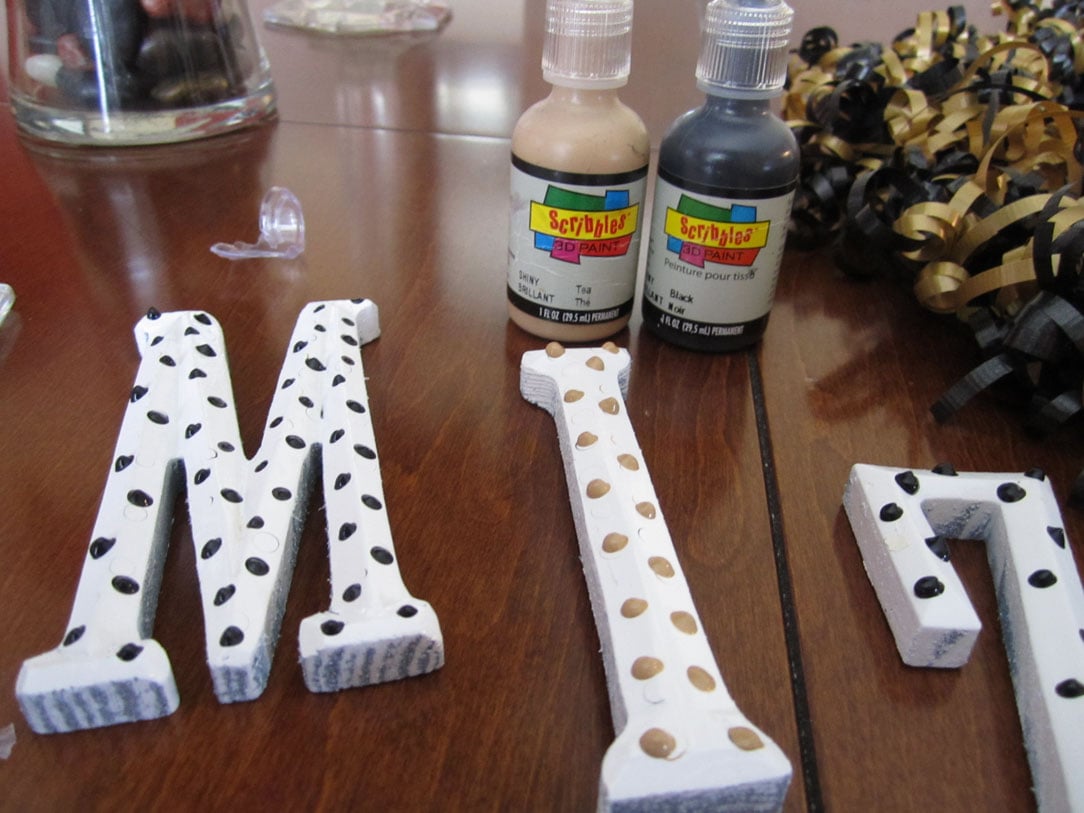 This next step was the most time consuming: cutting and curling the ribbon. I cut the gold and black ribbon in 6 inch lengths and grouped them in bundles with 4 ribbons of each color. Then I stapled the vibrant ribbons together in the middle of the group and curled both ends with a pair of scissors. I bet I had to make near 100 bundles of ribbon! The 18 inch craft wreath I bought had a pretty big area I needed to cover!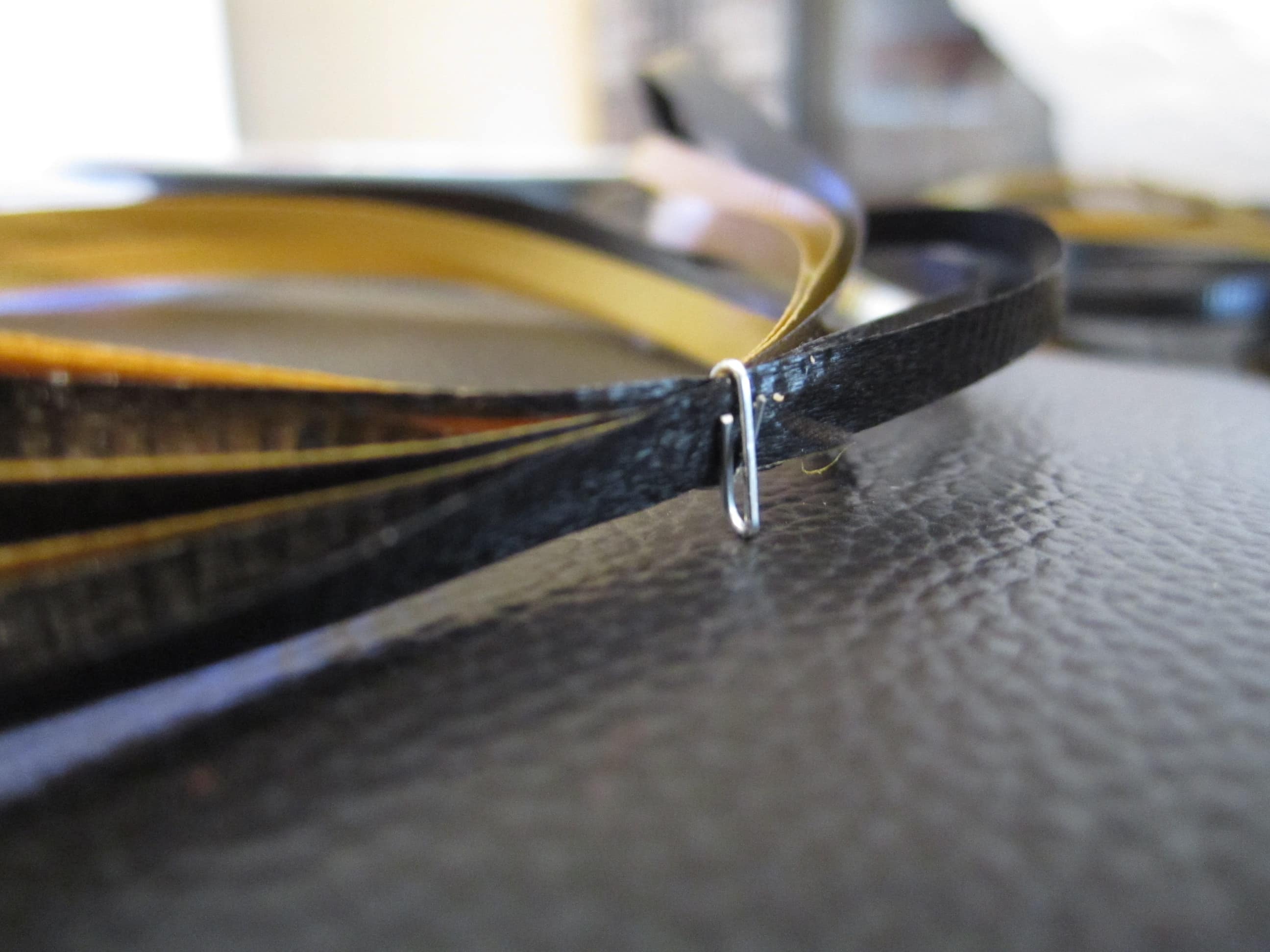 Once I was finished curling all of the ribbon, I used my handy dandy hot glue gun to stick the ribbons onto the craft wreath. I filled in spaces as needed, but tried to cover as much as possible so none of the black craft wreath showed through.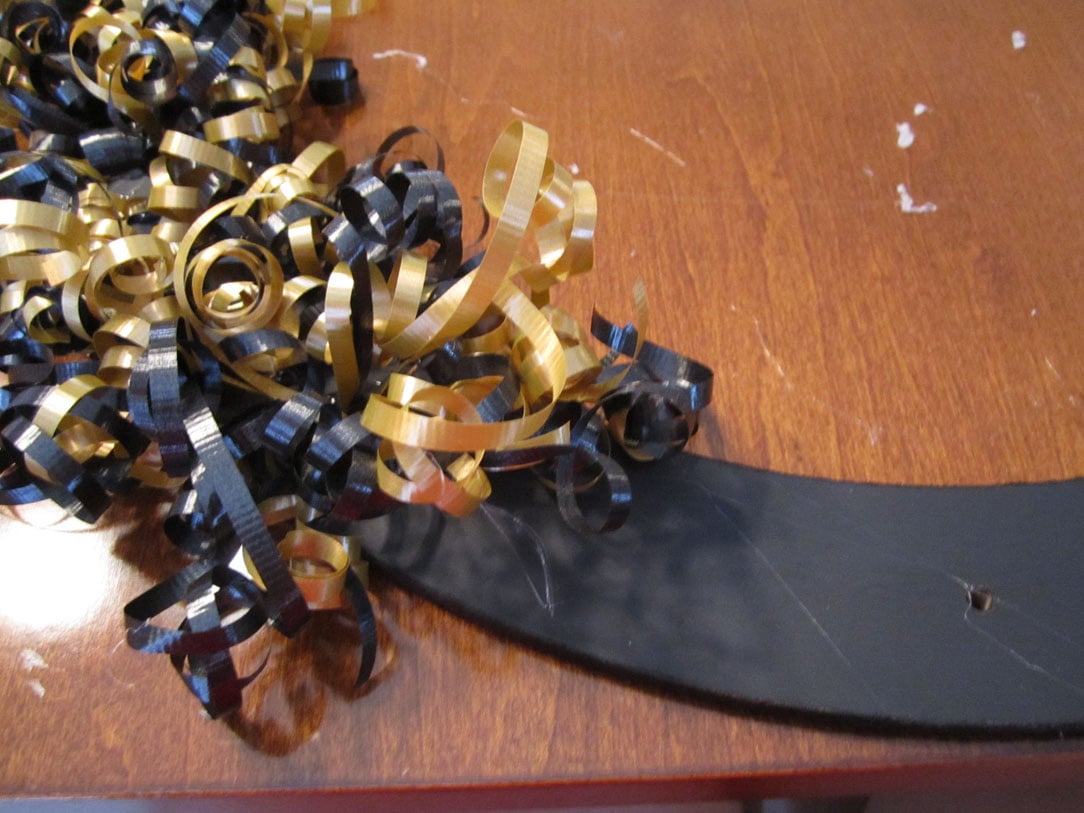 Next I laid out my MIZZOU letters and footballs until I found my perfect appealing composition. Then I used my hot glue gun and secured them in place.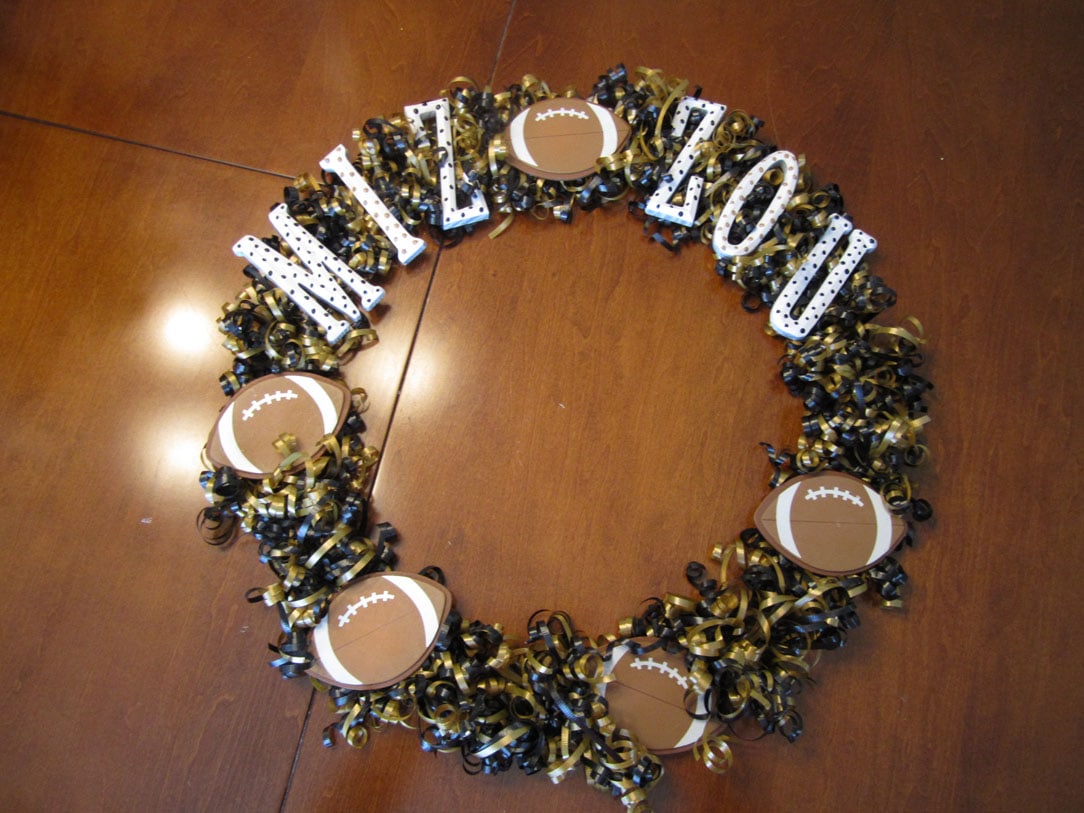 VOILA! It's complete and totally unique! I love it and can't wait for football season to start! Hmm… now I think I'll have to make one if the STL Cardinals make it into the playoffs 🙂