Yesterday my husband's family had a 4th of July celebration with tons of food and family fun. During the planning phase, I decided to volunteer to bring the cole slaw. Now, I've never made cole slaw before in my life… so why did I speak up? I still have no idea! And of course my husband's family is the type that makes everything from scratch. You can't just go to the store and buy a bottle of slaw sauce to throw on some cabbage. Oh dear… where to begin…
Then an idea popped into my head. My side of the family leaving for Florida on Friday and one of our favorite places to visit is Pineapple Willy's in Panama City Beach. They have great beach food and are known for their pineapple cole slaw. PERFECT! I thought I would try to find a similar recipe to create for my husband's side of the family.
I searched the internet and found Lorri's Pineapple Coleslaw on Food.com. Just thought I would share the recipe with you! Prep time is only 15 minutes.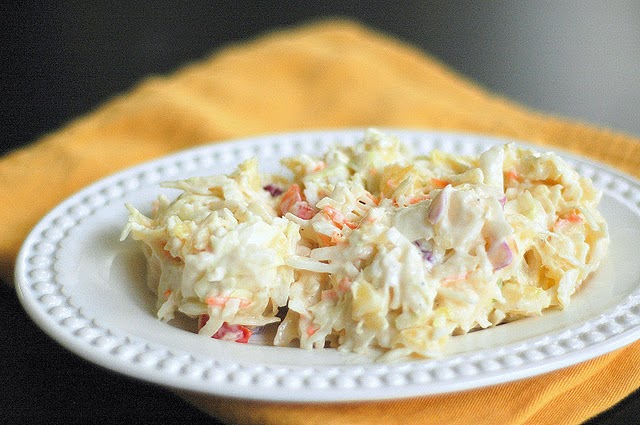 Ingredients:
5 cups cabbage, shredded
1 (20 ounce) can pineapple, drained and cut into small pieces (drain all juice from pineapple. DO NOT used crushed.)
1/2 cup half-and-half cream
1 cup mayonnaise
1/4 cup sugar
3 tablespoons vinegar
salt and pepper
Directions:
Mix cabbage and pineapple.
Mix cream, mayo, sugar and vinegar.
Add cream dressing to cabbage and pineapple.
Salt and pepper to taste.
Store covered in refrigerator 1-2 hours before serving.
The recipe serves 8 people and it's only 15 minutes prep time. IT WAS DELICIOUS! Tasted just like my favorite slaw from Pineapple Willy's! I had to triple the recipe since my husband has a large family, but the end result was very yummy!