Make sure you follow me on Instagram and Pinterest for a sneak peek behind the scenes and to view my latest projects!
Have you ever heard of Mr. Goodwill Hunting? I got to hear him speak at the Haven Conference and he's famous for his thrifty fashion sense. He's been featured on The Nate Berkus Show numerous times, and his sense of style is out of this world!
Now I can't share all of his fabulous Thrifting tips that he shared with us (I was too busy staring at his shoes instead of writing detailed notes), but I can give you a few… plus some of my own!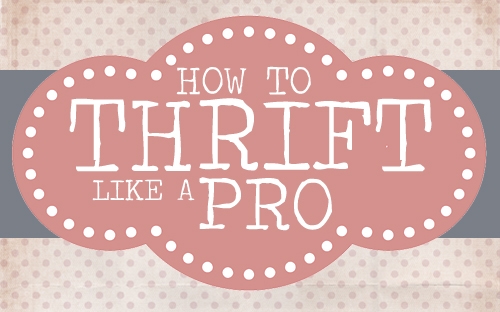 Keep a list on hand of what you need. Don't just go shopping to shop; go with a detailed list of wants vs. needs. Having a pre-plan will help you navigate the store better and keep you on your budget.

Know what you're about to buy. Bring your iPhone or smart phone with you so you can research on the spot. Look up the brand name on the internet so you can make sure you're getting the best possible price of retail compared to resale.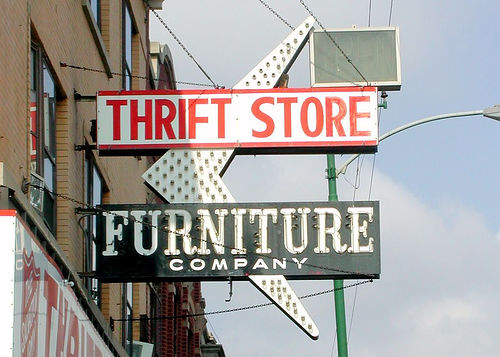 source

There are a lot of thrift store and resale options besides Goodwill and the Salvation Army. Remember that the larger stores can be overpriced, too. Research your area and find the smaller resale stores that should have competitive pricing. Also shop your local Craigslist and yard sales for goodies

Last week I was shopping at Goodwill and found a lovely dresser with ornate detailing for sale. Price tag? $275! Um… keep in mind that some items are over priced and you should just walk away. If thrifters pay that top dollar, prices will raise across the board.
Remember that not everything is always as it seems. You might find an amazing ornate mirror but it's just not the right color. Paint it! Or use a really modern dresser for a TV console instead! Think outside the box.

If you're friendly with the sales associates, they might tell you about some extra items they have in the back warehouse that hasn't been put on the store floor yet. Also, a friendly sales associate might give you some insider tips, like when furniture is going to be marked 50% off.


Make sure if you're buying a huge hutch for your dining room you can get it home. If you don't have a truck or an SUV, make sure you have a friend or family member that can help. You also might want to ask the thrift store if they have any delivery service (although the charge may not be worth it).


Sometimes you can haggle with the thrift store employees for a discount. If you've been to the same shop for over a week and keep seeing that dining room table, ask for a discount! Remember that these stores always have new stock coming in and they need to get rid of what's on the floor. But… you might have a harder time getting some big bucks off your purchase if you're carrying your Coach purse and wearing your Prada shoes. Dress like you need the discount.

Thrift stores are changing out their stock. Just because you see a coffee table for sale doesn't mean it's the perfect coffee table for your home. Make sure you shop each store often to find exactly what you're looking for. Don't settle!


Have you ever found a beautiful chair at Goodwill that you just had to purchase, finally got it home and it didn't fit your space? Yeah, happens to the best of us. One of the most important rules is measure before you buy! Go shopping with exact measurements of your space in hand, and then bring a tape measure with you so there's no second guessing yourself.
So, have you gotten any cool new items recently while thrifting?
What's your favorite store to shop?