I will show you how transforming an every day lamp shade can revamp the look of a room!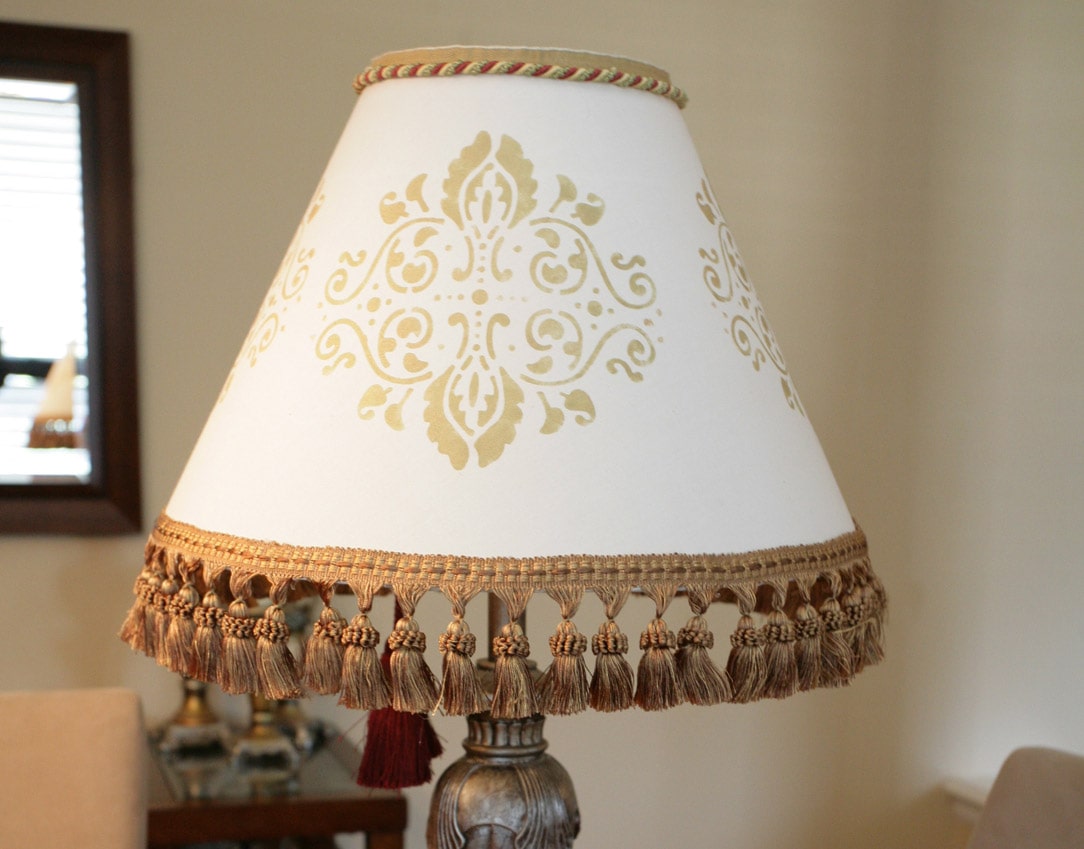 When I was researching stencils to complete my daughter's bedroom wall (seen here), I came across a couple of articles online about using small stencils for customization of ordinary lamp shades.   These were from the DIY blog Two Girls Being Crafty. I thought this was a perfect idea for my great room's lamp, since the shade is white and kinda blends in with the stairwell behind leading to the lower level.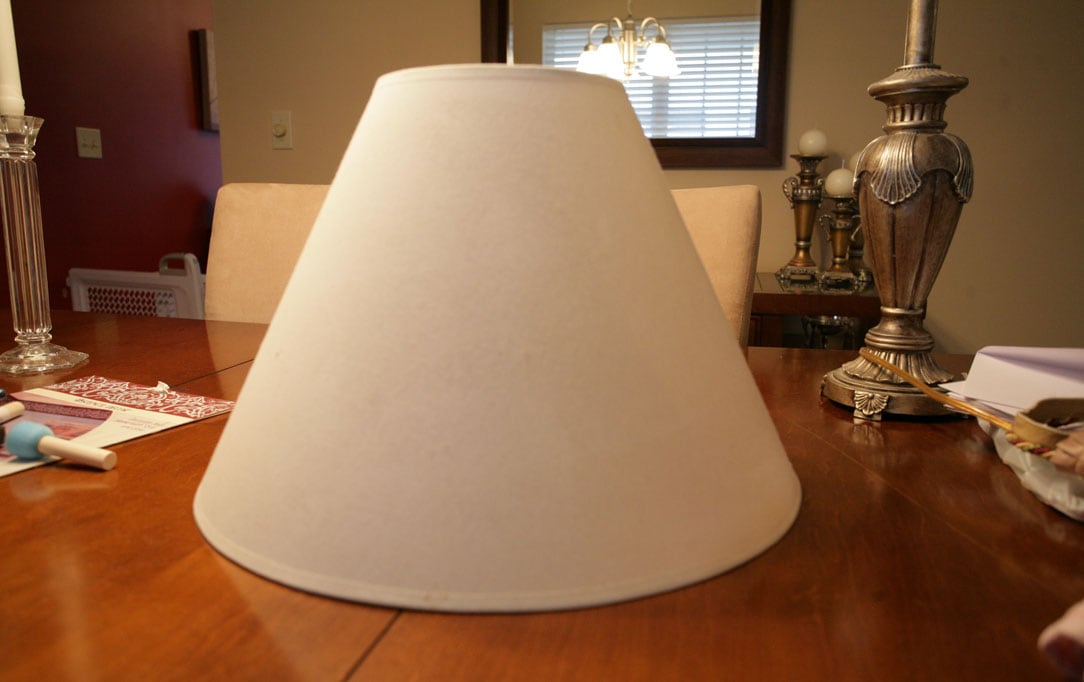 I figured I could completely transform my lamp shade by adding a damask wall stencil and some tasseled trim. First stop, Hancock Fabrics to find the trim.
My great room is mostly red, with a couple of accents of olive green, black and tan so I decided to work off that color scheme to complete my transformation.
First thing was to clean the lamp shade with a damp cloth to get rid of all dust or debris. Then I got all of my supplies in place: fabric paint from Michaels ($1.39 for the small bottle of gold and $2.39 for the large bottle of green on sale), blue painter's tape to hold the stencil in place, stencil brushes that I had in my paint closet and the damask wall stencil from Michaels for $10.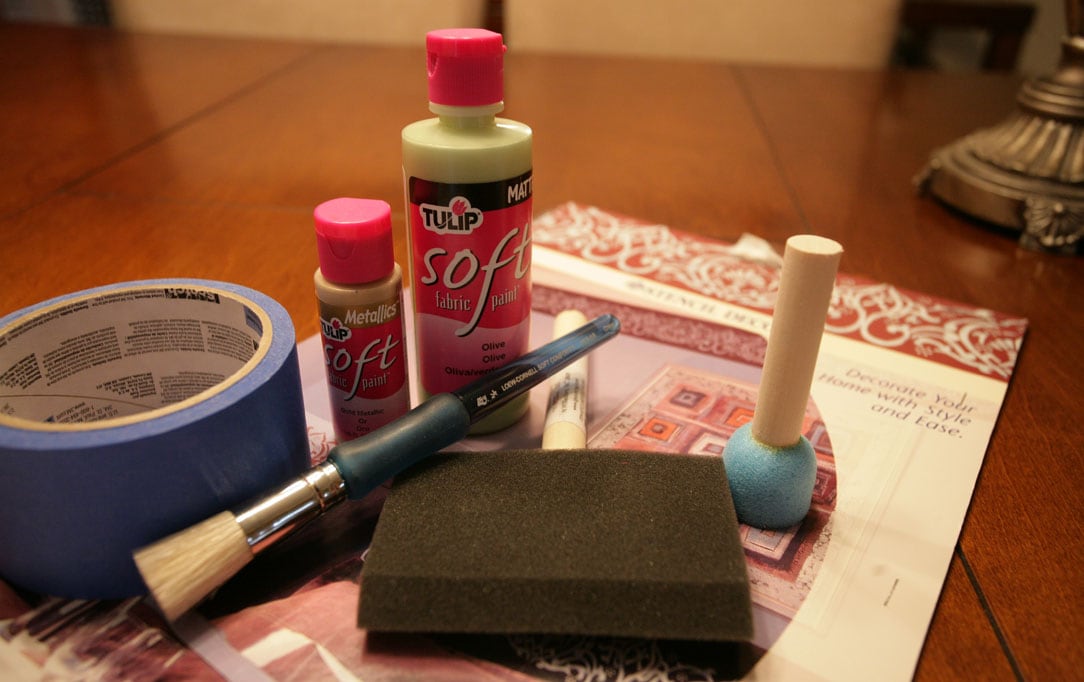 To prepare, I taped the small damask wall stencil in place with blue painter's tape. There was a seam on the back of the lamp shade so I used that as my guide for spacing the stenciling evenly. I then mixed the fabric paints, two parts gold and one part olive green. As seen below, I only had an Elmo paper plate to use as my mixing palette. Oh well, whatever works!



I applied the mixed paint with a stencil sponge that I had purchased in the past from Michaels art supply store. I slowly peeled up the stencil to make sure the paint covered all of the areas evenly.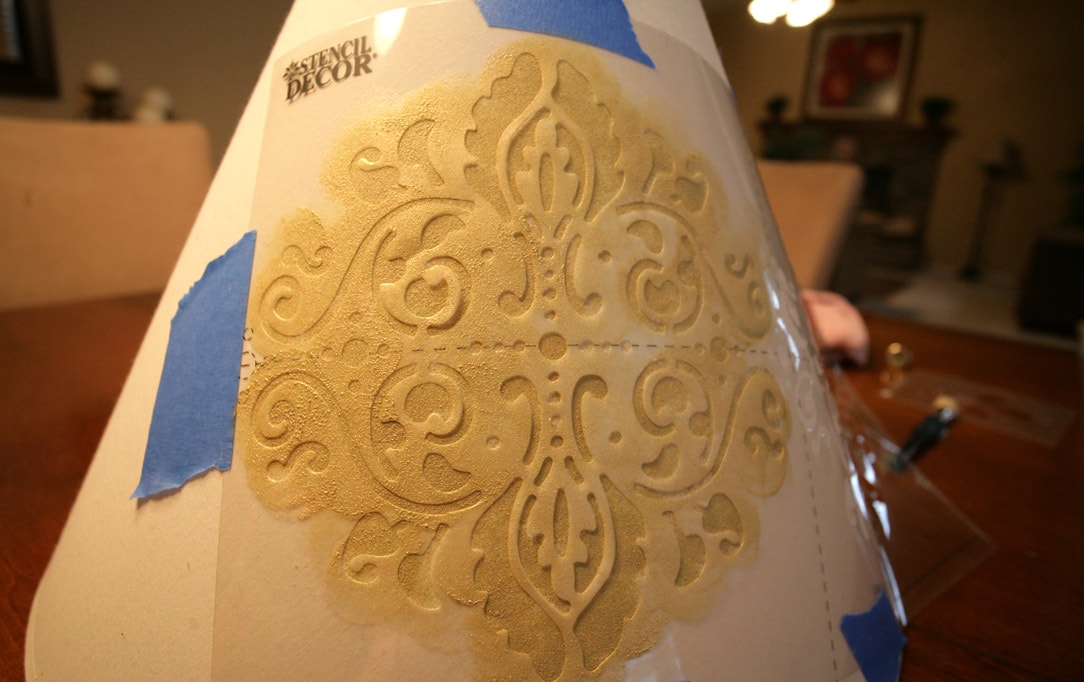 I painted the back of the shade first directly up the seam, followed by the front and sides to space the stencil evenly. The paint dried quite quickly and wasn't applied too heavily so I was able to tape down the next stencil immediately.
Isn't she purdy? This project isn't even close to complete yet and I'm totally in love with this timeless look already.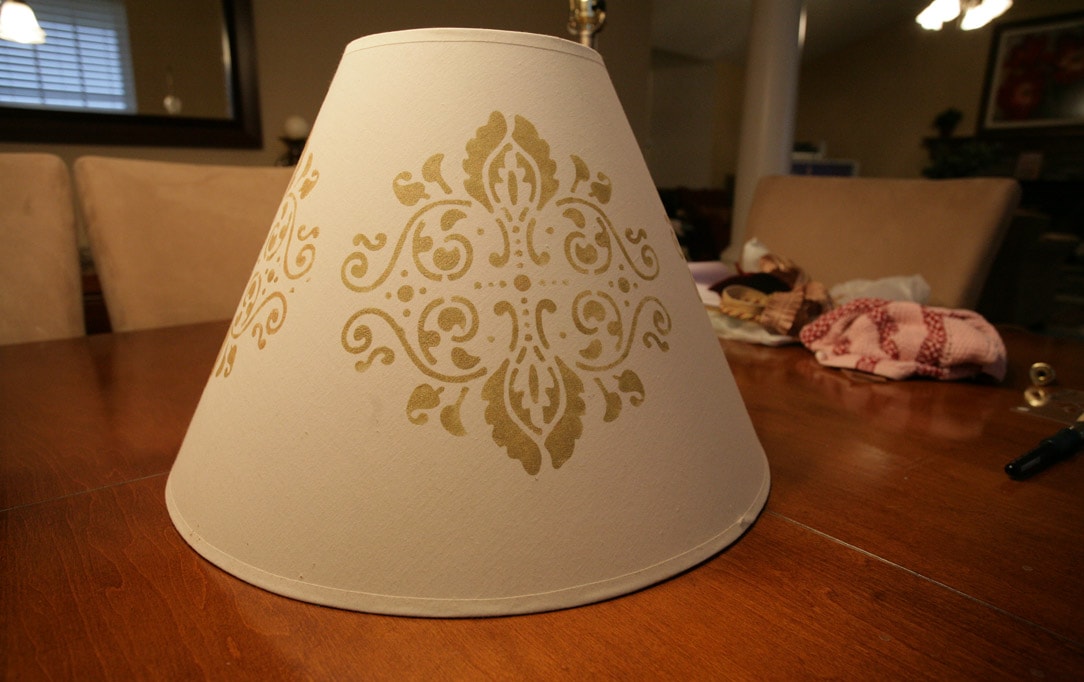 Next step, the trim along the top of the lamp shade. I found this rope cord from Hancock Fabric for $2.39 a yard. I used my hot glue gun to wrap it around the top of the shade.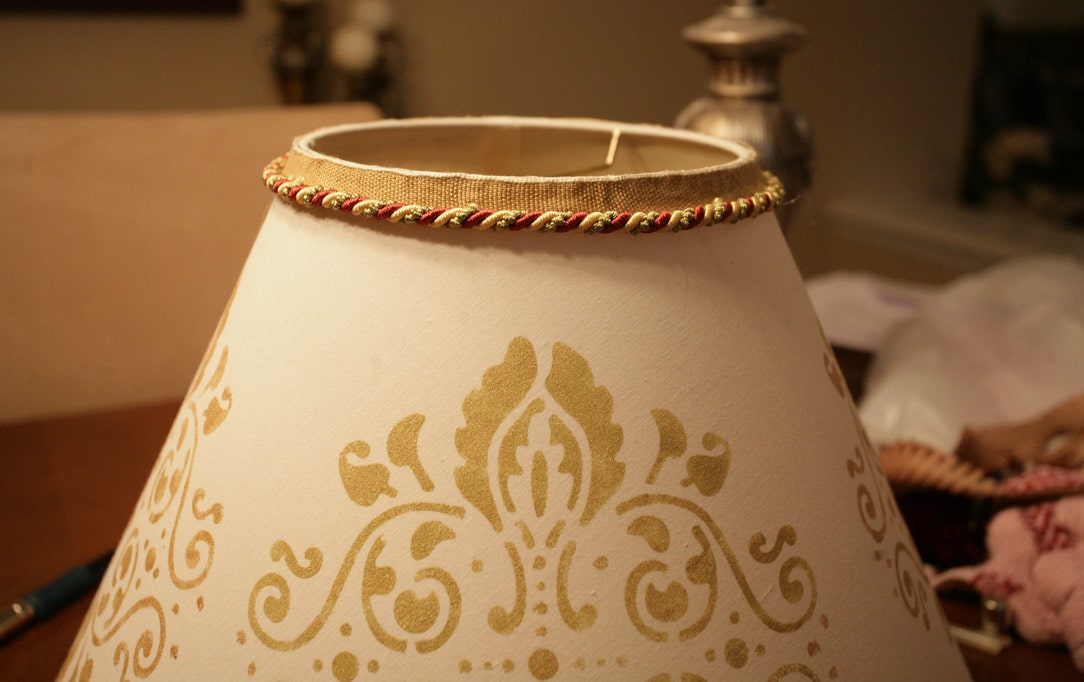 I then glued on the gold tassel trim to the bottom of the lamp shade. I purchased this from Hancock Fabric as well. It was originally $11.99 a yard, but I got it on sale for 50% off. I purchased two yards for the bottom of the lamp shade.

The last piece to complete the lamp shade was a deep red large tassel from Hancock Fabric that I got on sale for $4.19.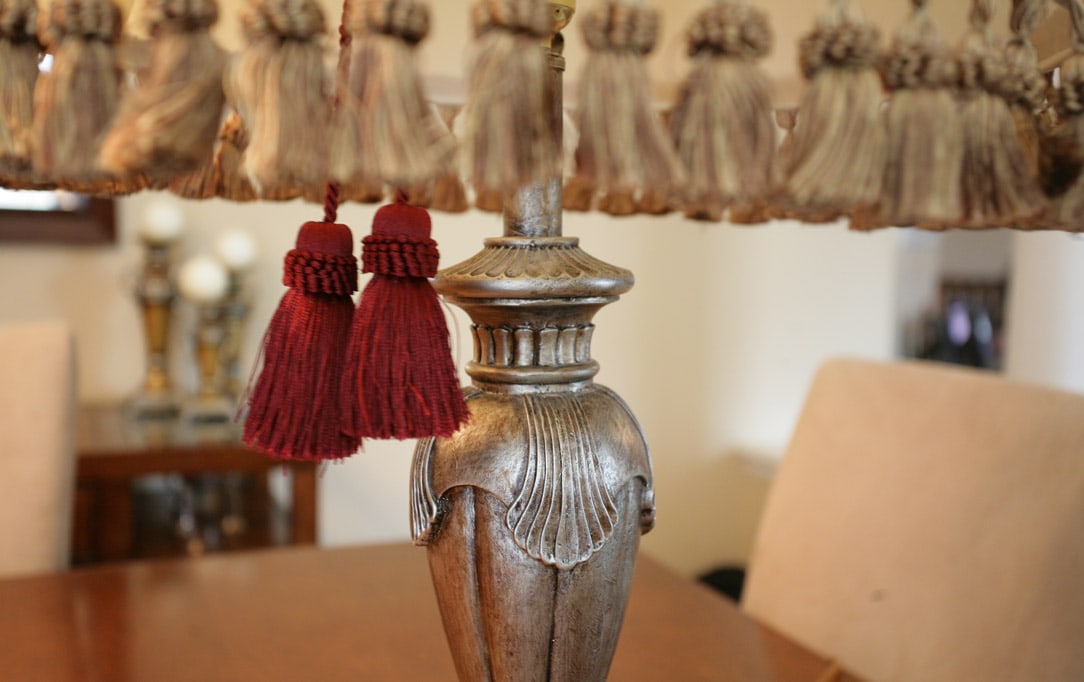 Again, here's the before and after transformation.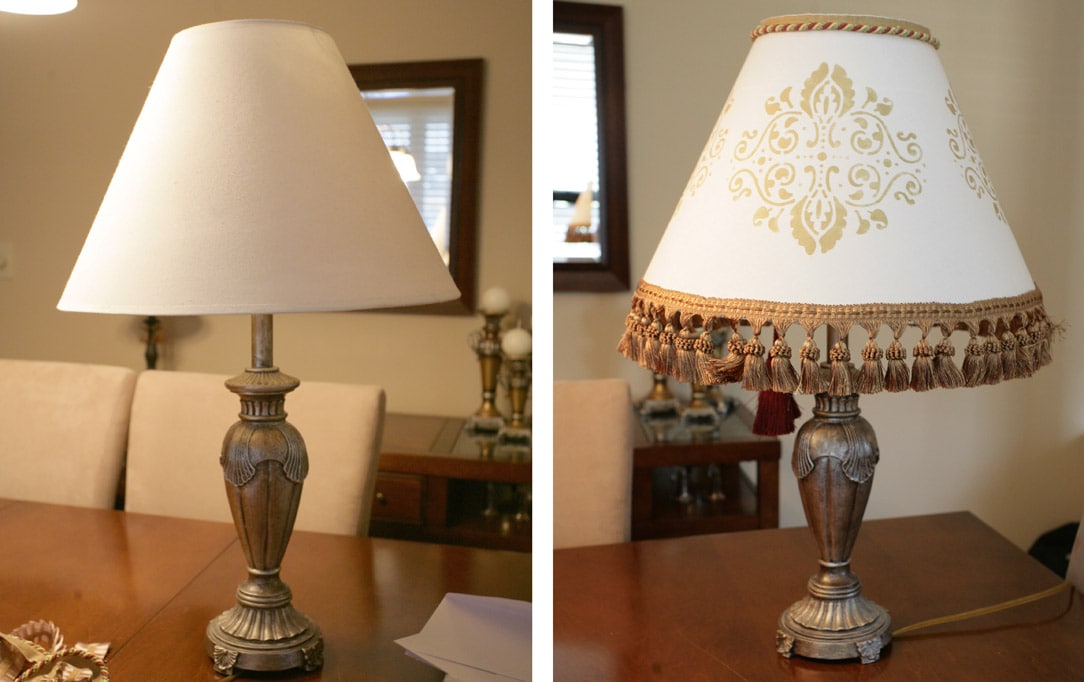 So total costs for this project: $14 for the paint and stencil from Michaels and about $20 from Hancock Fabric for the two trims and tassel. So less than $35 for the entire project. Yeah, I kinda think that I could have bought a new lamp shade for $35, but at least I can say it's an Erin original 🙂 And it kept me busy on a Saturday night.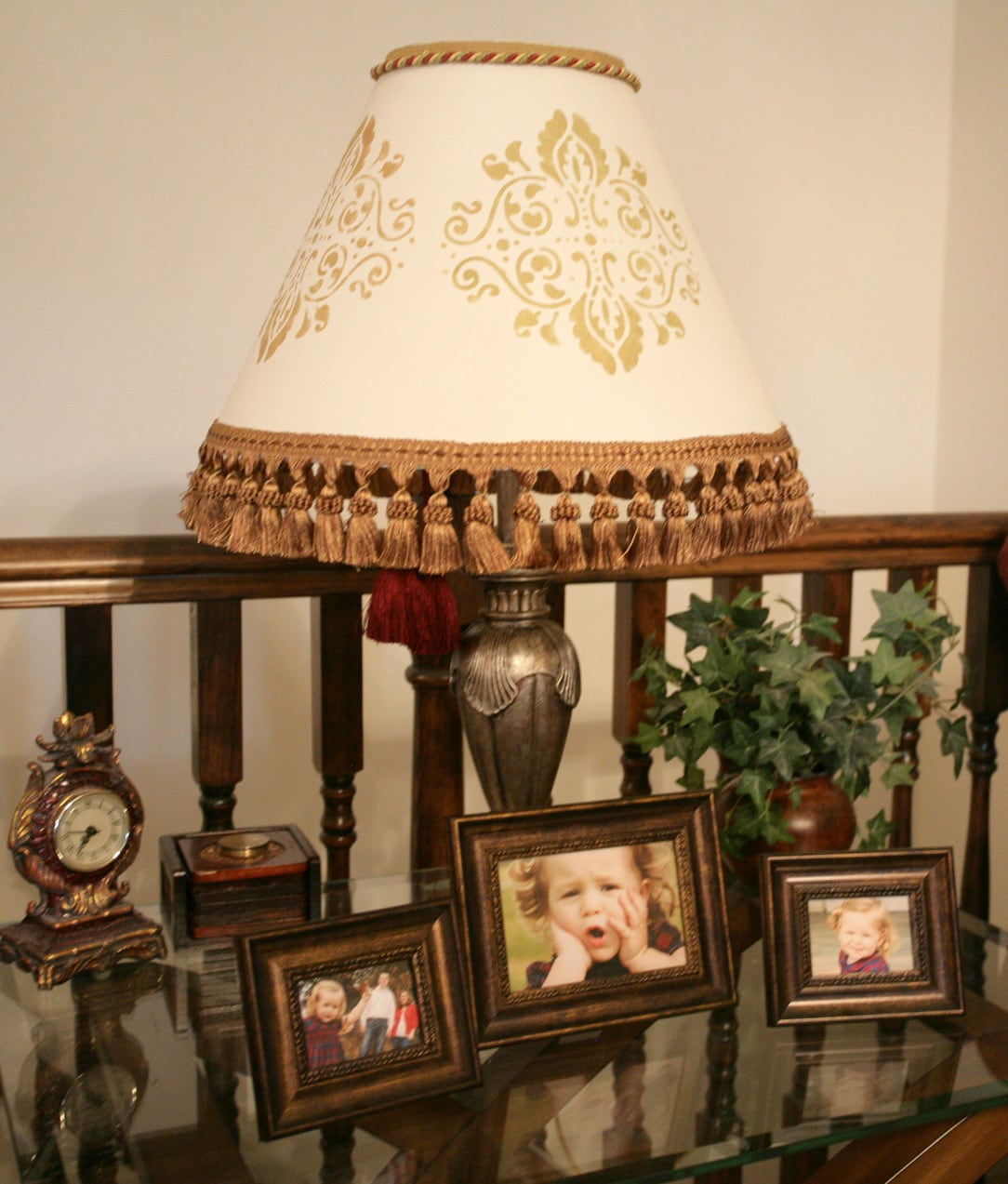 Photos on my end table were taken by J'Lynn Photography in St. Louis. She's amazing! Check out her website at www.jlynnphotoart.com.