*Some affiliate links may be used in this convenience.
Since we just showed you guys the new breakfast room on Monday, today we thought it would be a good time to give you guys a little refresher of our kitchen. When we built the house we opted for white cabinets, dark kitchen island. We figured we could always paint the island white down the road, and while we totally loved the look we wanted a warmer feel in this home compared to our last kitchen.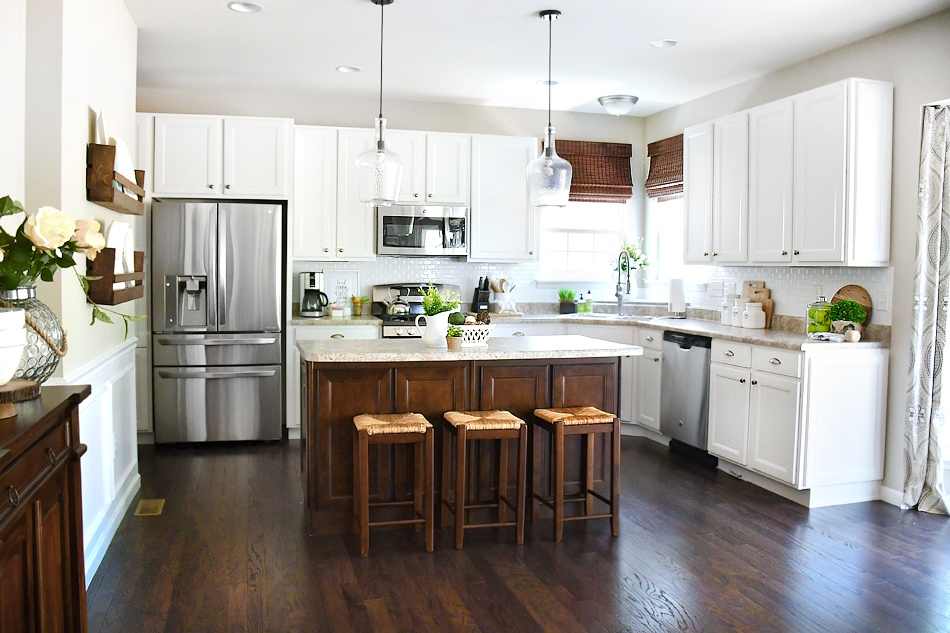 We'll kind of start on the left and work our way around… We built the kitchen platter racks last year to fill in the empty wall space. We're also completely in love with my four door refrigerator. The only problem is the freezer is a bit small but we aren't a huge frozen food family so it doesn't affect us much.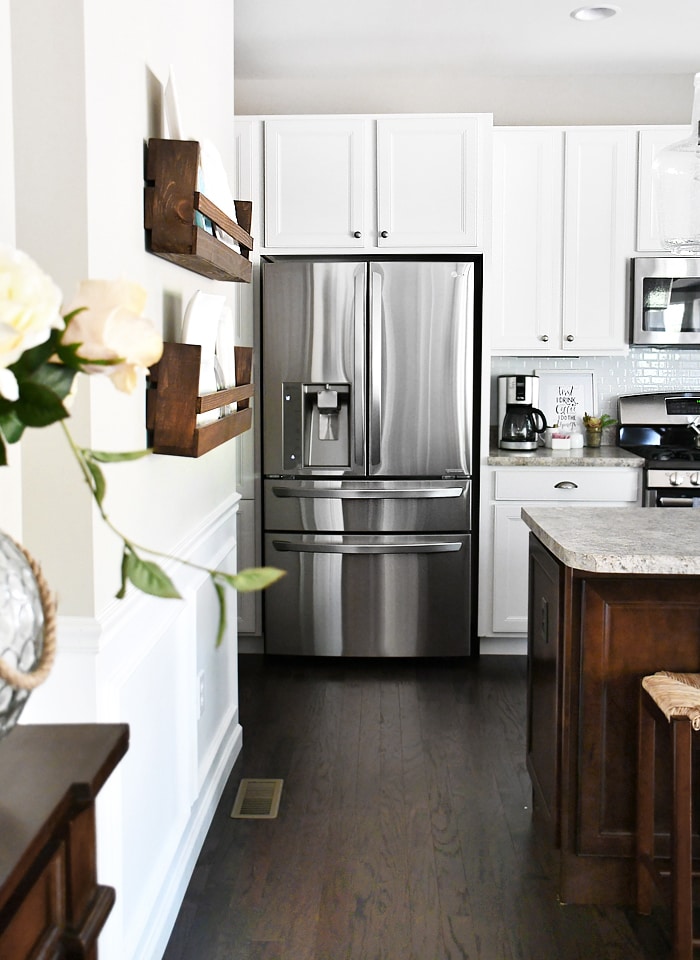 To the left of the fridge we have the doors to our laundry room and powder room and our super pantry cabinet just to the left of the refrigerator. We'll have to give you guys a tour of the pantry soon. It really is one of our favorite features of our kitchen!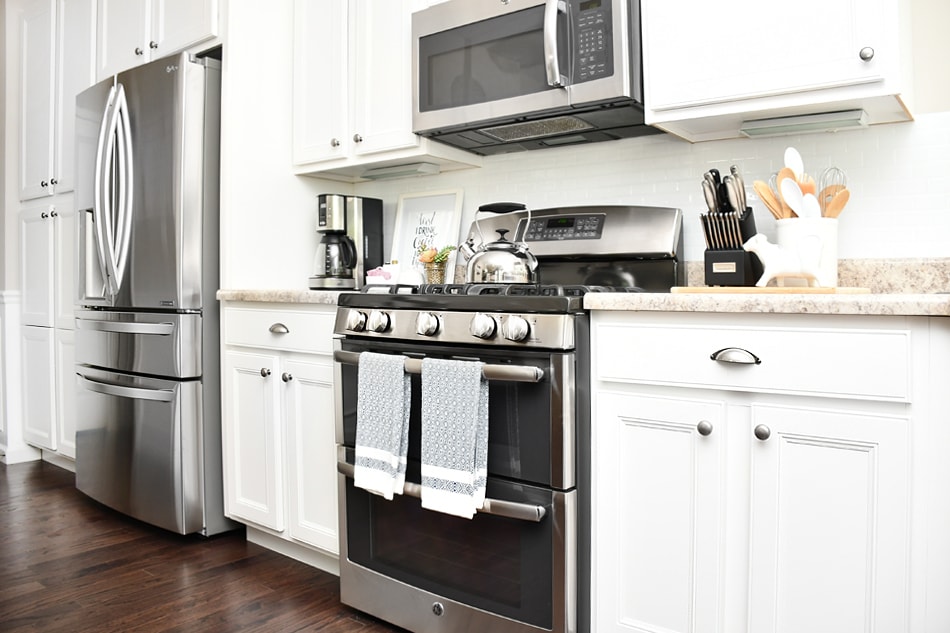 On the counters to the right of the fridge is our little coffee station because the first person allowed to talk to me is Mr. Coffee. While I'm on the subject, not even gonna lie… in the creamer are two little bottles of Bailey's. Some mornings are just really rough 😉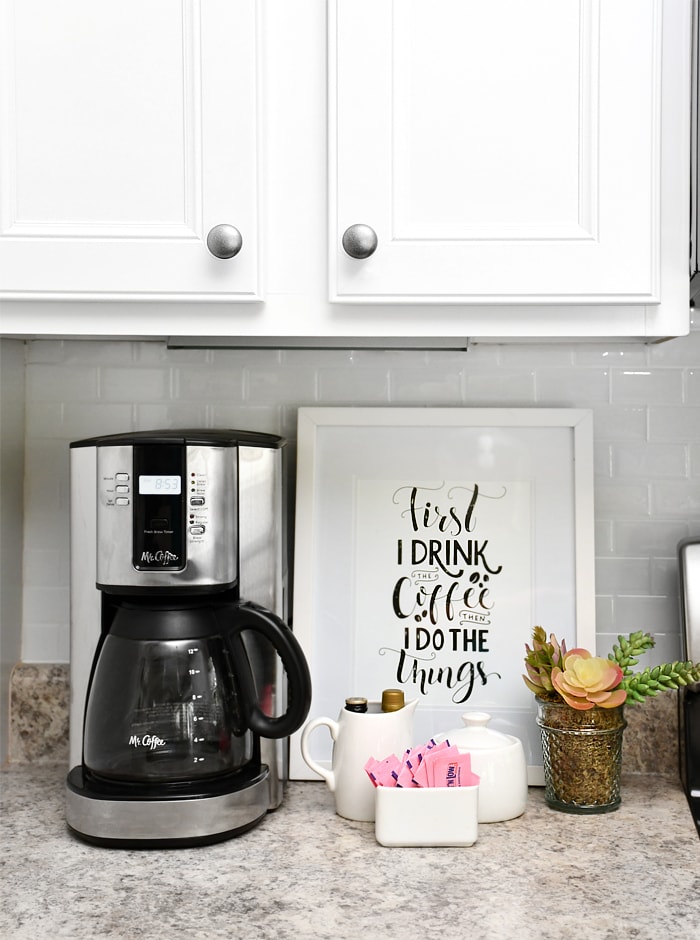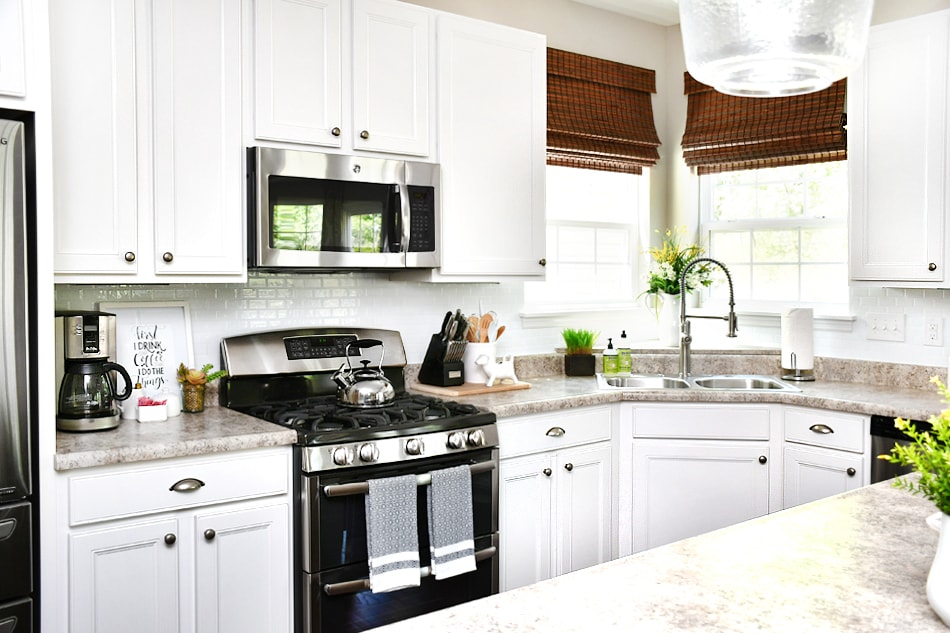 Love our gas stove, but wish we would have done a beautiful hood above it. Our kitchen is small though and it was hard to find another place for the microwave. We might relocate it down the road, but for now we're happy.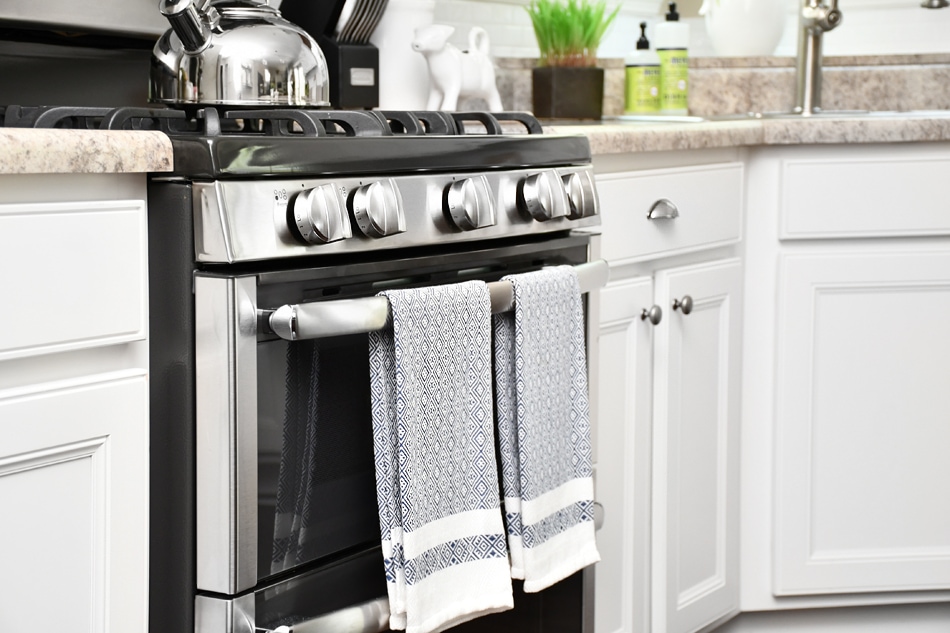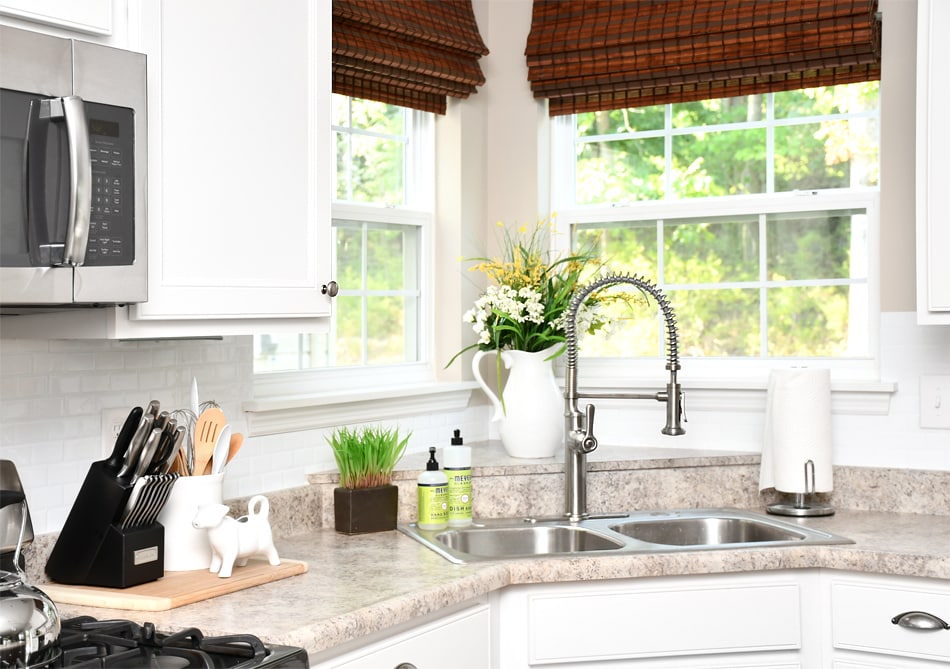 Our favorite addition to our kitchen this past year is our Kohler Sous faucet. We talked it up so much even my mom and sister-in-law purchased the exact same one! The roman shades above are from Lowe's and I love how the color ties into the wood floors. The exact ones we have are discontinued, but these from Amazon are a super close match and cheaper. Score!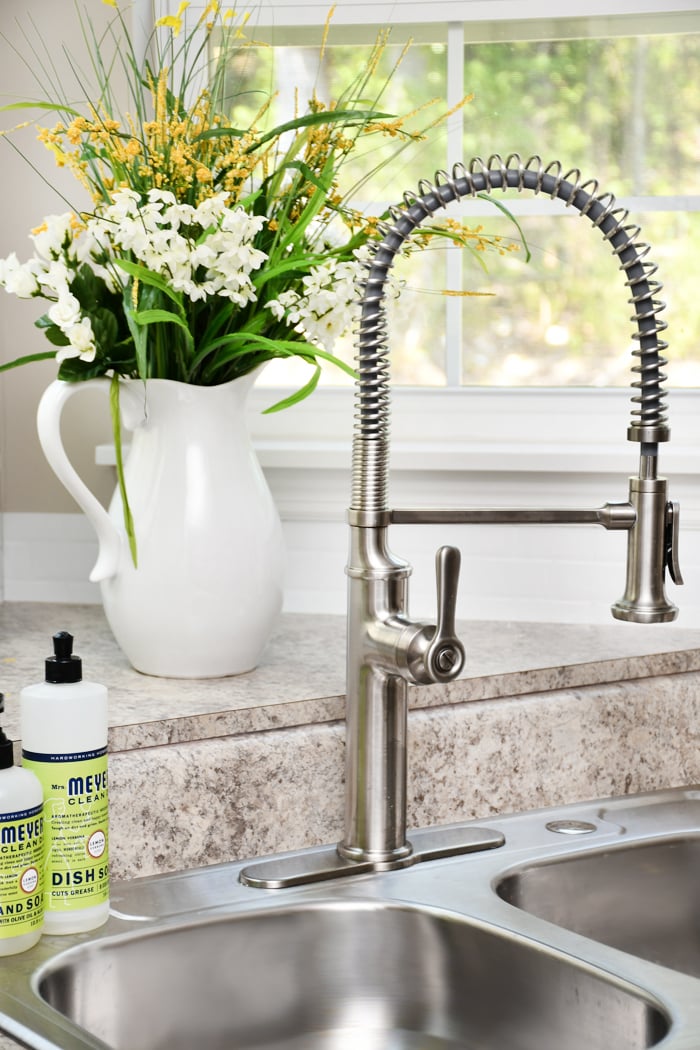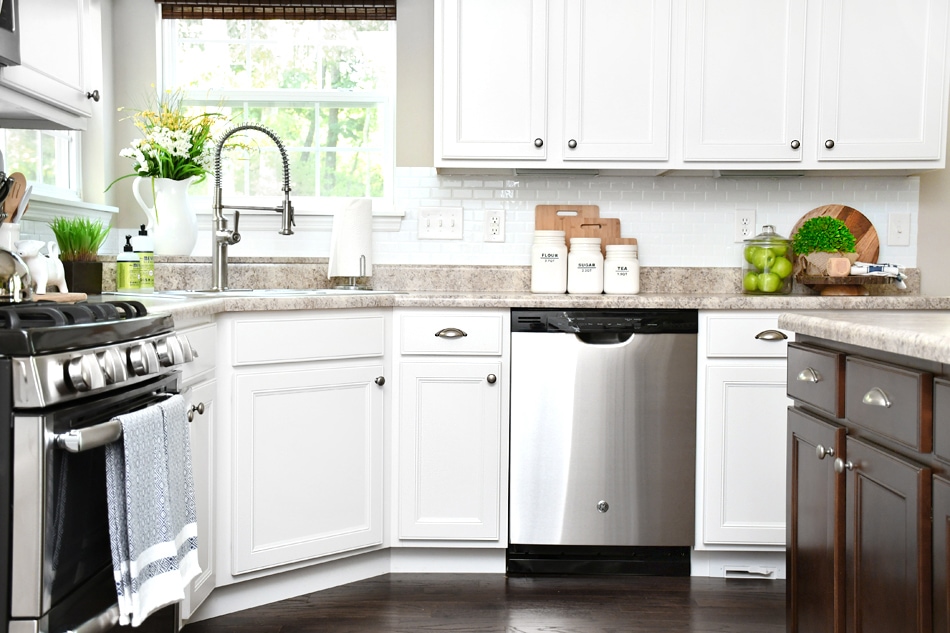 If you follow us on Instagram, you'll notice the new canister set we snagged about 2 weeks ago from HomeGoods. The rest of the counters we decorated with lots of greenery and wood elements like cutting boards.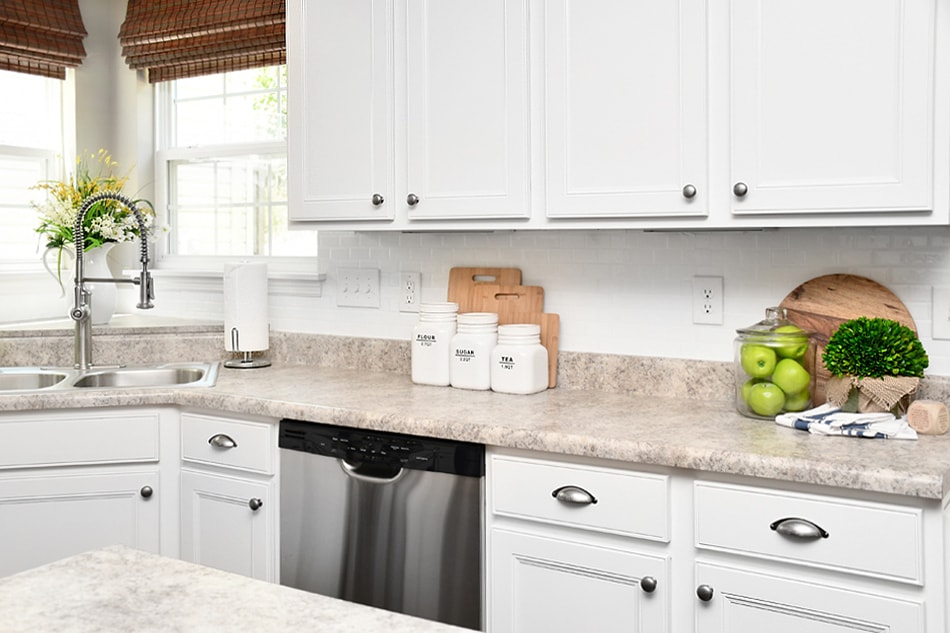 We did some temporary choices in our kitchen until we can decide what we want for countertops and a backsplash. For now we have a white subway backsplash that is actually a self-adhesive peel and stick tile we purchased from Amazon. You can see the full tutorial here. The countertops are Formica laminate (color is Belmonte Granite).
That little cube below is a prayer dice. Ellie tosses it every night to pick the prayer we say at dinner. I can't find our exact same one since it was a gift, but here is a similar one I found.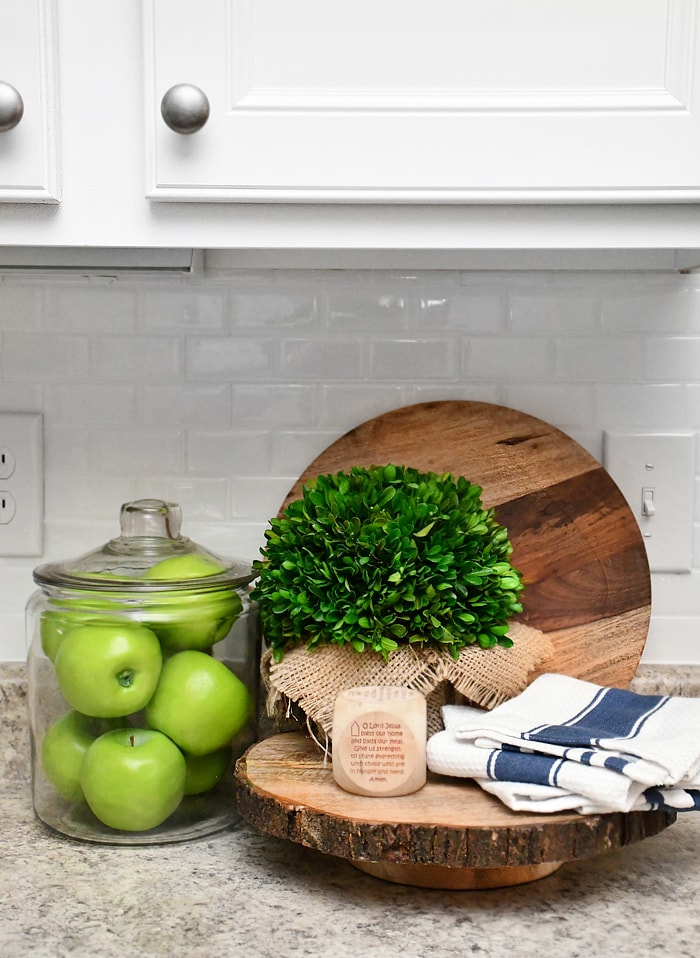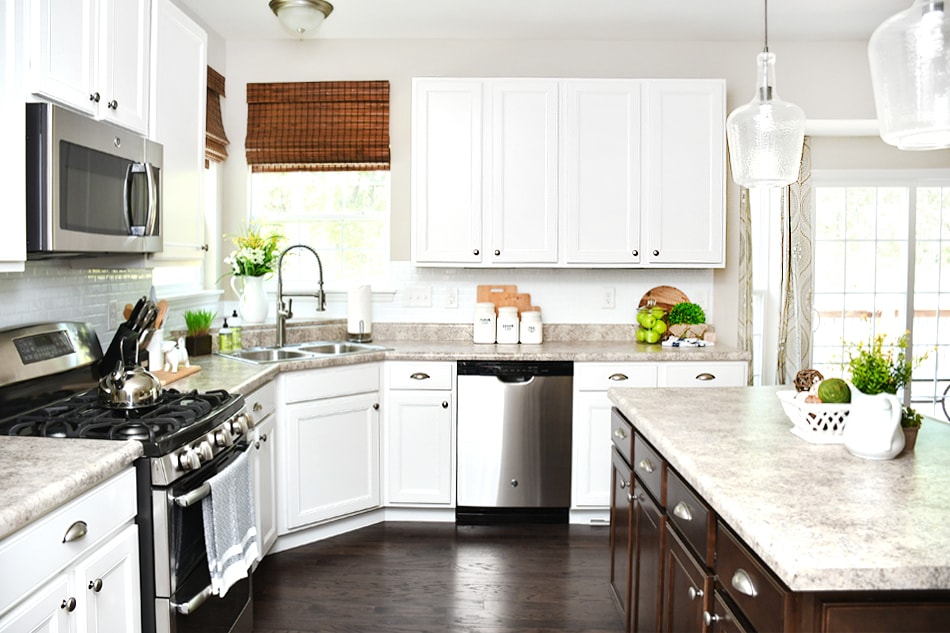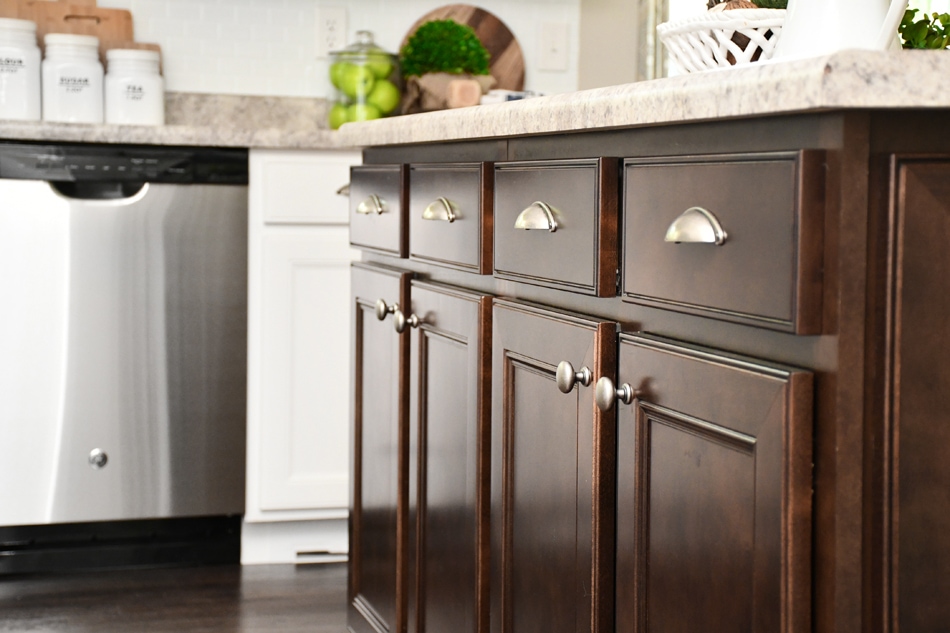 The glass pendants we purchased from Lowe's for about $90 each. Our kitchen is small so we wanted something to blend in with the rest of the space. The kitchen stools we purchased from Amazon (2 for $50). The best part? They came assembled! Of course, I can't find them on Amazon anymore, but I did find these that are super similar. Can't attest to whether or not they come assembled though!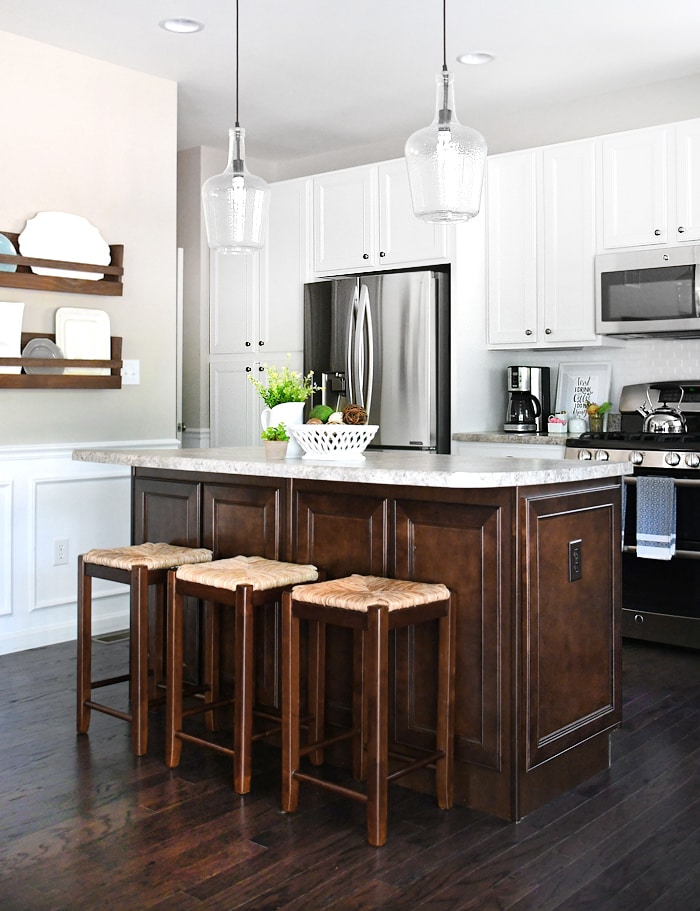 Overall our kitchen is pretty much done with the exception of a few items like the countertops and backsplash like we mentioned before, but those projects will be farther down the road since we're happy with what we have during the interim. We'd also love to build out on top of our cabinets someday with glass fronts and crown molding, but we're waiting to decide if we move the microwave and replace with a hood. Again, nothing in the near future… just on our someday list!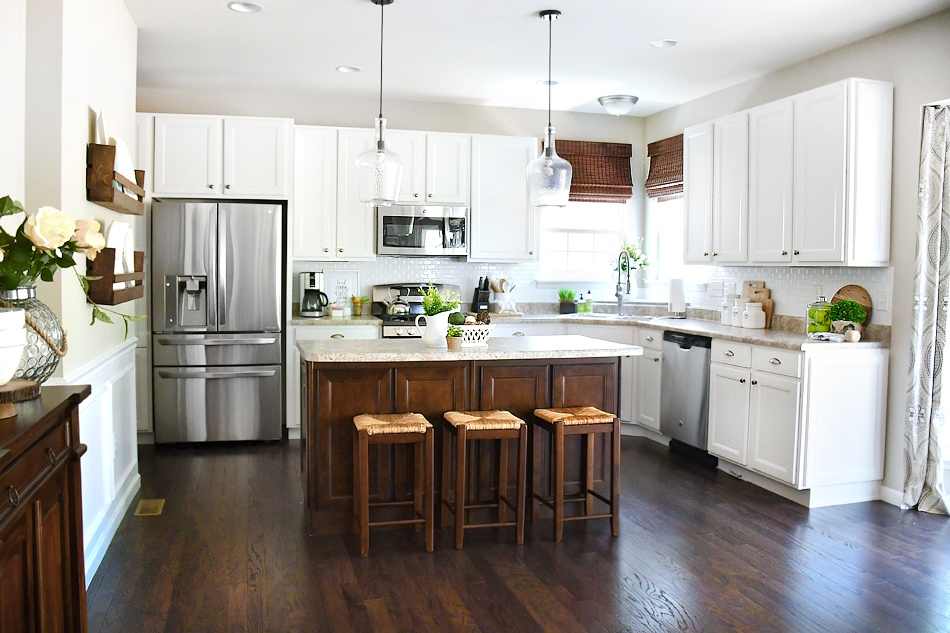 Hope you guys enjoyed the kitchen tour with White Cabinets, Dark Kitchen Island.
If you missed the breakfast room reboot, you can check it out HERE!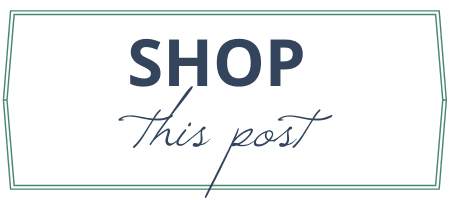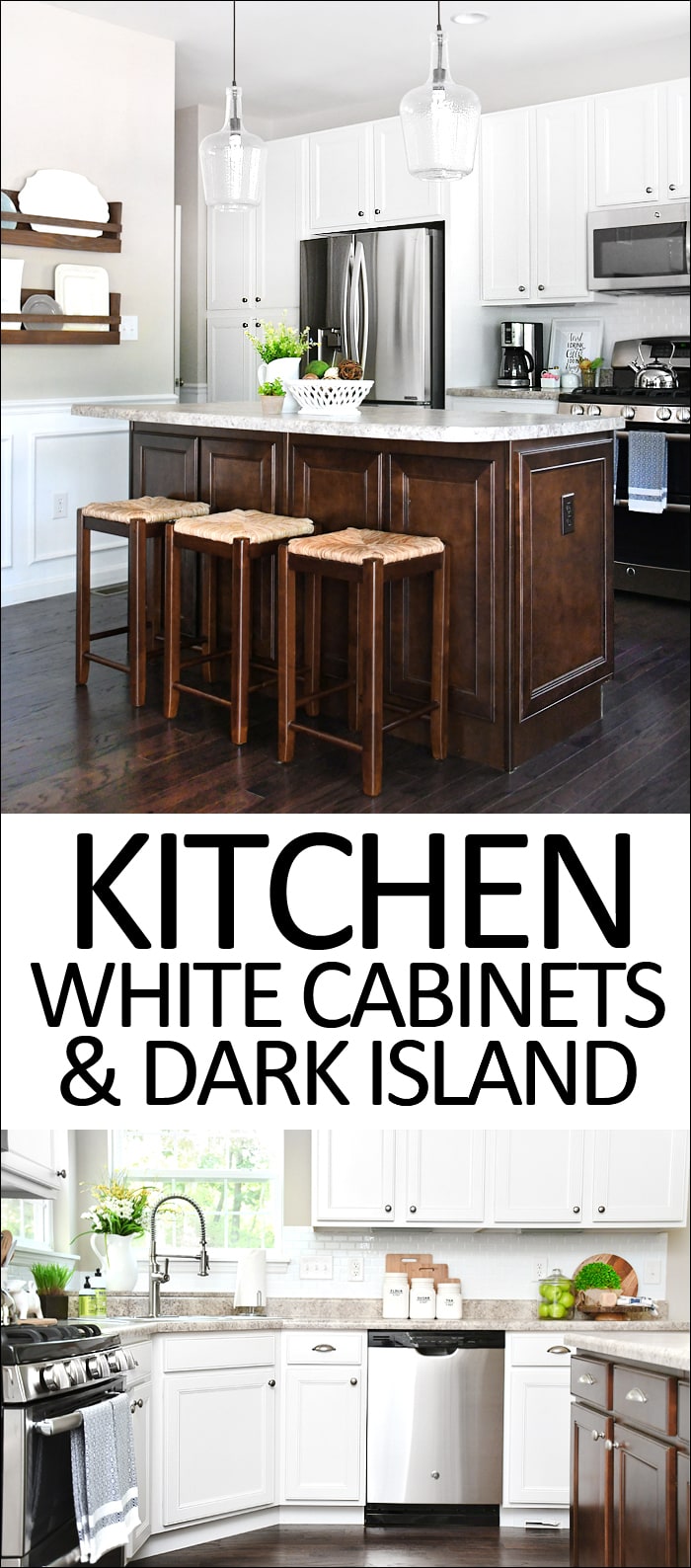 For more room makeovers, click HERE.