One of the things that bugged me about our last home was when people would say it looked like a display. Not the "oh, it looks really well put together" kind of compliment, but the "sweetie, don't touch that, you might break it" kind of comment.
I would always tell visitors that nothing in my house was expensive or cost a lot of money, and anything could be replaced easily if broken.
Why is that? Because I like to choose affordable furniture and décor. I want it to look like a million bucks, but cost WAY LESS.
End tables in our family room were from Goodwill. The consoles were from a local discount store. Mirrors from HomeGoods. Chairs on clearance for $150 each (plus I have a family member that works for the store so we got a 30% deal on top of that). Couches were found online for a fraction of what others cost.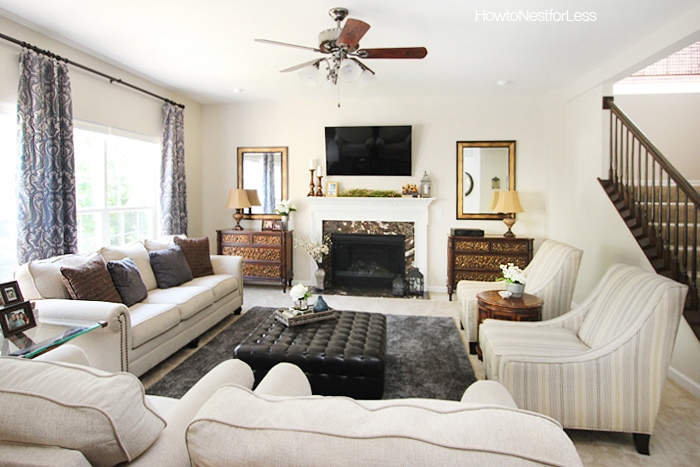 Another room where we chose affordable furniture was our sun room. Those leather chairs were definitely bargains, and those tables were all found on clearance. Matched with a TV armoire that I bartered for free, this room was definitely budget-friendly. The chandelier was even on clearance for $40!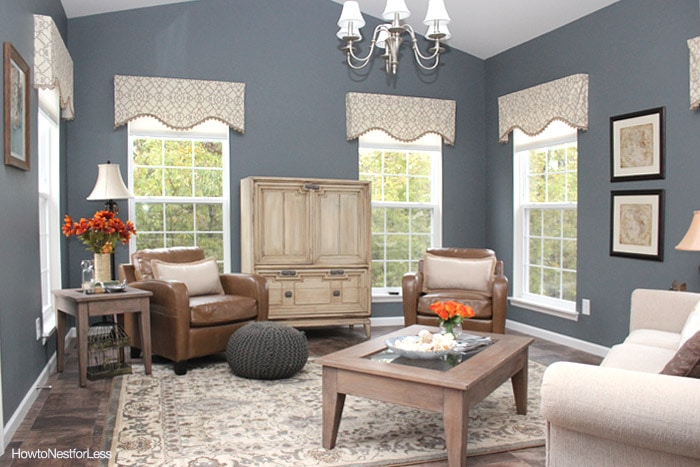 In my craft room I used a white Sauder dresser to hold all of my various supplies and materials. And it's amazing how much I was able to actually hide behind those closed drawers! I'm actually giving this dresser to my sister in her new house to use for my nephew's bedroom. Repurpose… another great way to save money, right?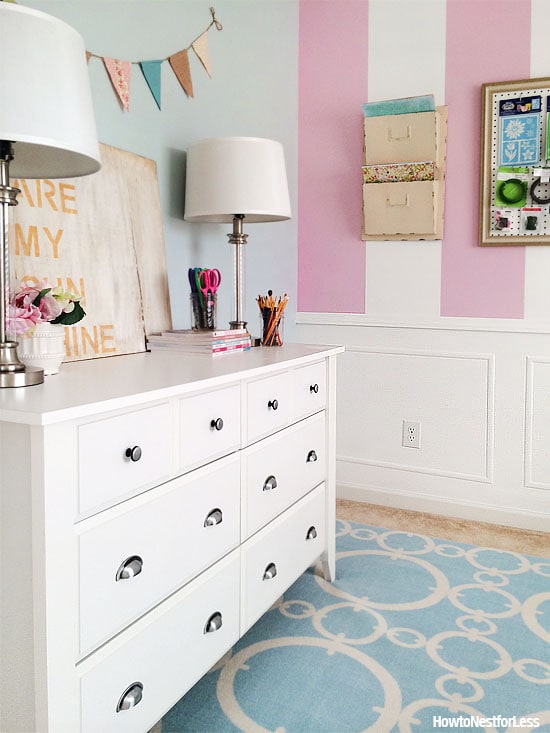 We are actually repurposing a lot of furniture from our old house for my sister's new digs. Since we are downsizing about 1,000 square feet we didn't have the space for a lot of our old furnishings. And with my sister and her family purchasing a home for the first time, yeah… they needed stuff badly.
My sister is getting our nailhead trim couches from the family room and sun room (not to mention our old dining room table and matching console, the white dresser, some barstools, and the list goes on…).
But she really wanted those couches. My sister wanted something to match the nailhead trim but needed to find something affordable (she has 2 kids under 2!). We spotted this gorgeous patterned chair from Sauder (called the Nico Accent Chair). Loved the color, pattern and style. Plus it was affordable.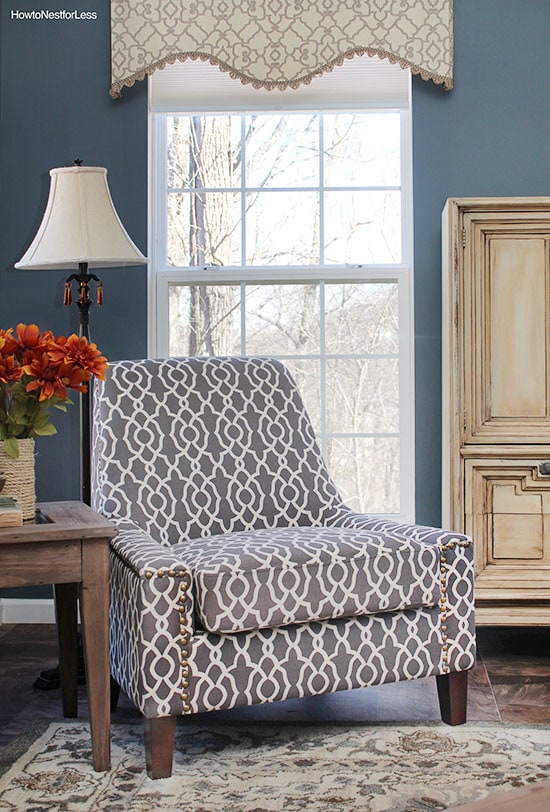 Seriously, the details on this chair is fabulous.
Bargain shopping doesn't mean giving up on style!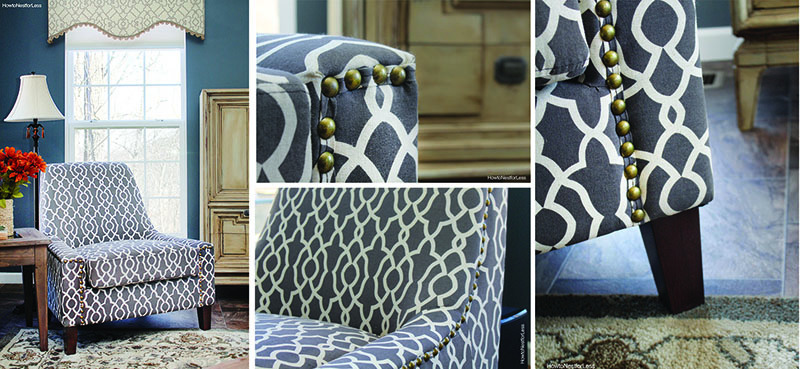 Another huge reason I shop for affordable furniture is that I change my mind pretty often about my décor. Who wants to drop $1,000 on a chair that they would hate 1 year later? Yeah, not me. I don't have the cash for that kind of lavish lifestyle.
Plus I have a kid! I don't get why people spend $2500 on super expensive tables when you have little ones banging their forks and knives onto it at dinner time or pressing their pencils into the surface during homework time. Boggles my mind. Trust me, you can get the look for less. You just have to shop around!
MY ADVICE?
Shop online and in discount stores.
I often will find something I like in a store, then go home to see if I can find it online cheaper.
Also think about saving money by putting furniture together yourself.
Shop around for styles you like.
I love looking at expensive stores for inspiration, then shopping around for similar items at a fraction of the cost. Basically just get the look for less!
You can also check out the lookbook on Sauder.com for design inspiration ideas!
Consider multi-use furniture.
A dresser can be a craft room storage cabinet or a desk can be a sofa table. Just because a piece of furniture has a label doesn't mean that's how you have to use it!