One of the things I hate most about a double move is living out of boxes for a short period of time. While most of our big things are stored away, some things I needed to keep within an arm's reach… like my tools.
Since I'll be doing a bunch of small jobs for family members during these next 3 months and most of them aren't handy (or even own normal DIY tools like a laser level or jigsaw), I decided I needed to bring all of my tools with me to my brother's house. Since I didn't really want to dig around 4 big boxes and 2 tool boxes for the next couple of months, I decided to get organized instead.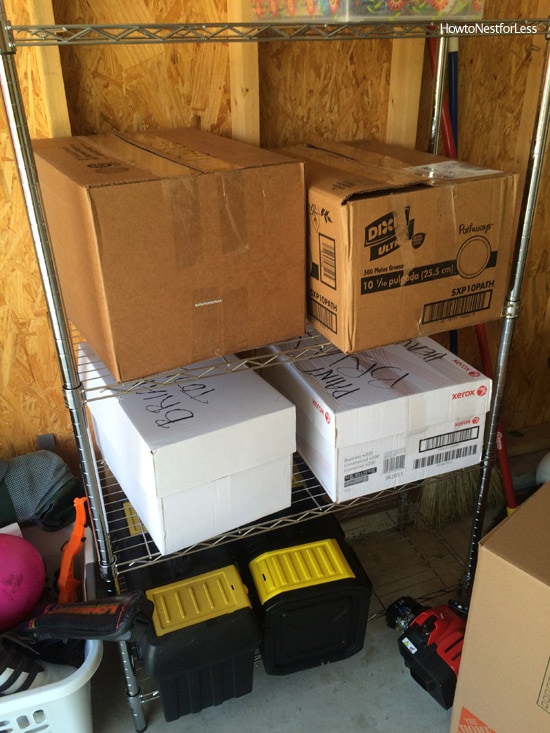 So I bought this bad boy:
the Craftsman 6 Drawer Steel Tool Center from Ace Hardware.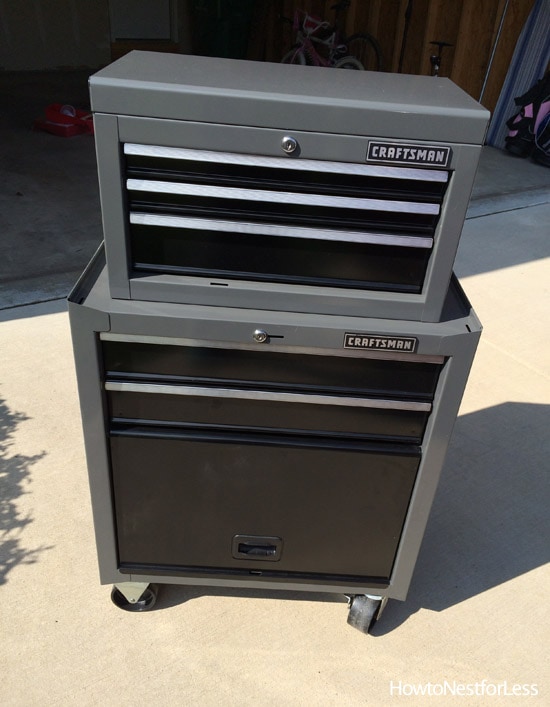 Now I have to admit that Ben was a little bit skeptical when I brought this home last week. He basically shook his head and didn't think it would be nearly big enough to hold all of our tools. But I'm happy to report this bad boy does hold A LOT of stuff. C'mon… let's check it out.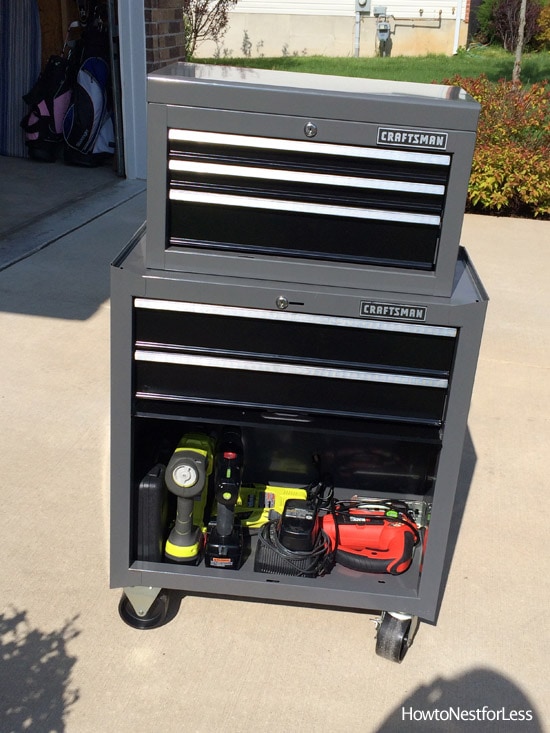 The bottom deep cabinet holds most of the big items like my nail gun, jigsaw, circular saw, drills, chargers, and a toolbox kit.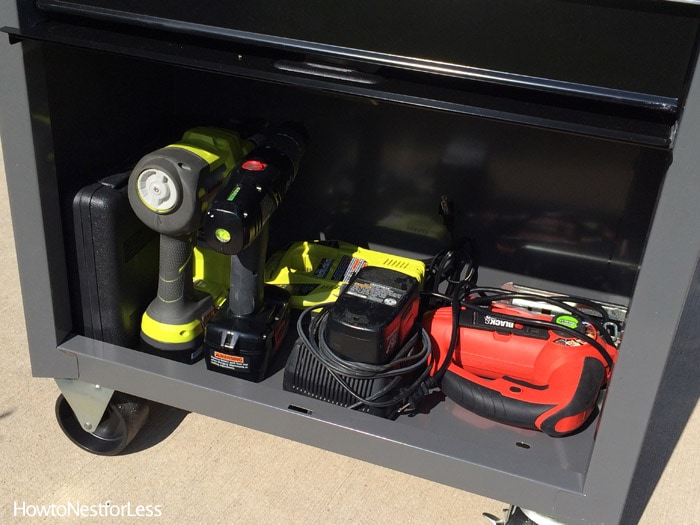 The second drawer holds my hand saws, Kreg jog, clamps, crowbar, etc. And since I'm usually making a mess when I use this tools, I put my safety glasses in here too as a reminder to actually use them. Oh, and cleaning out my boxes of tools helped me realize that I own 4 different hand saws. Not even joking.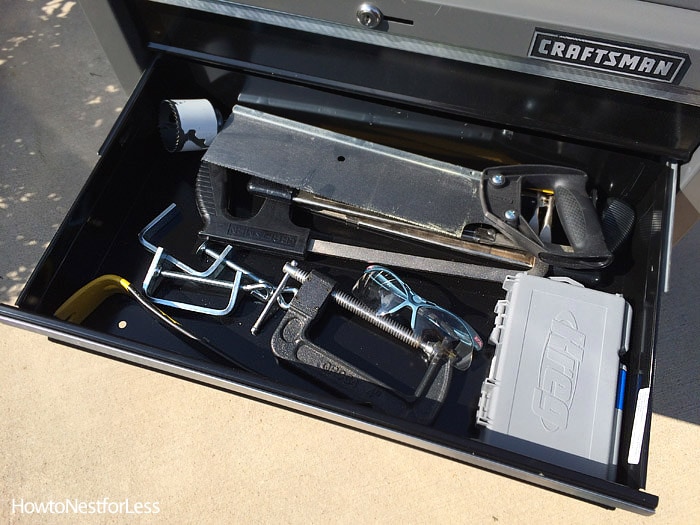 The other big drawer holds some of my painting supplies like drop cloths, paint brushes, sandpaper, paint keys, paint fan decks, etc. And the bottom drawers are wide and really deep. Love how much I can stuff in there.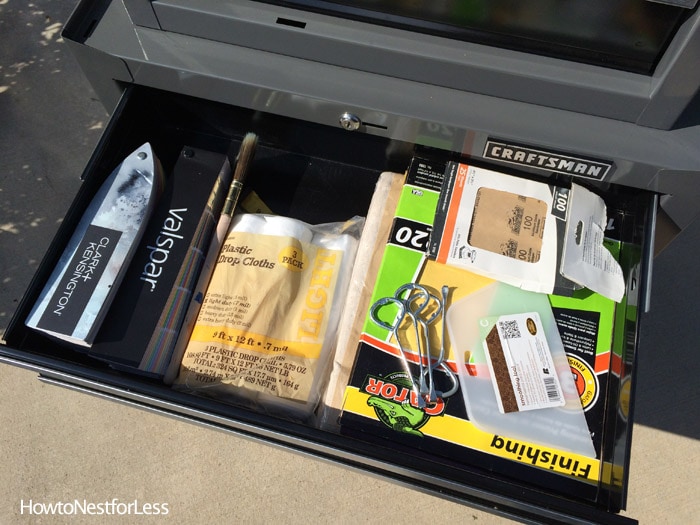 Now moving up to the smaller drawers. Again, when you finally clean out your toolbox, you find that you hoard certain items. Apparently for me it was hand saws and measuring tapes. Below you can see 5 of them, but I found 3 more that aren't even pictured here.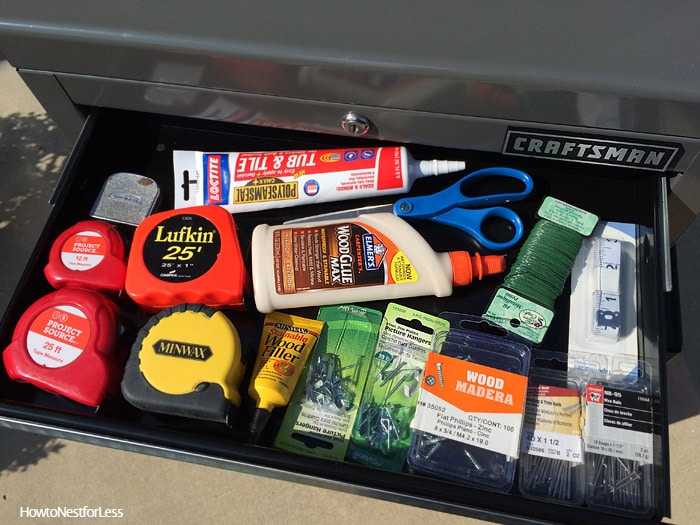 Next is what I like to call my "hanging" drawer. Basically everything I need to hang wall art, mirrors, and picture frames around my house: stud finder, laser level, lots of screws, drywall anchors and nails, plus a hammer and mallet. OK, maybe the mallet doesn't quite fit with this whole "hanging drawer" idea, but oh well.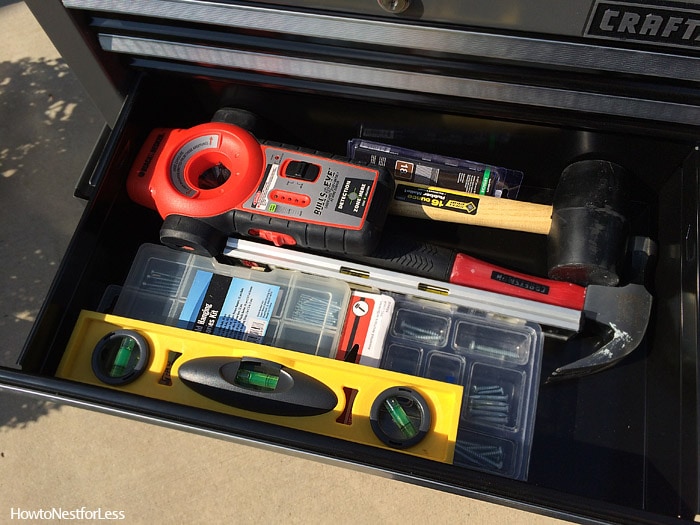 And finally we have another drawer with more random tools, you know… the ones that usually get lost around the house. Pliers, screwdrivers, tin snips, wrenches, utility knives, etc. And what I like about this Craftsman tool organizer is that it comes with a key so you can lock up the tools. Total peace of mind.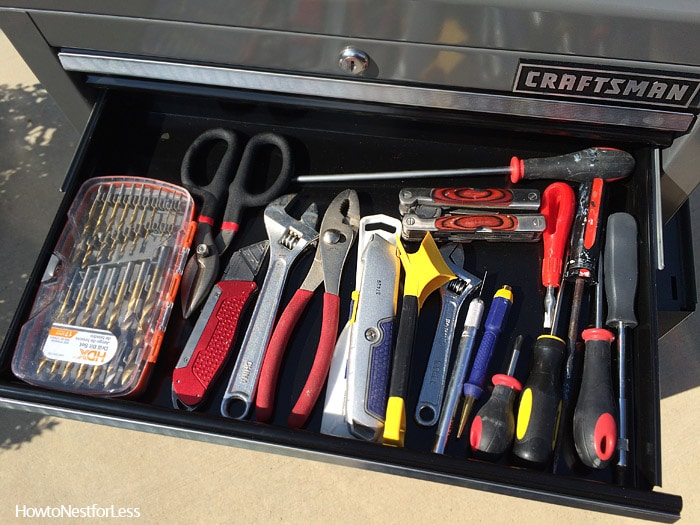 And I have to say after all of this tool organization I made Ben a total believer in this Craftsman 6 Drawer Steel Tool Center from Ace Hardware. We're even talking about investing in another one to hold all of our painting supplies. We are reverting back to a two car garage in the next house and I need to organize and maximize space!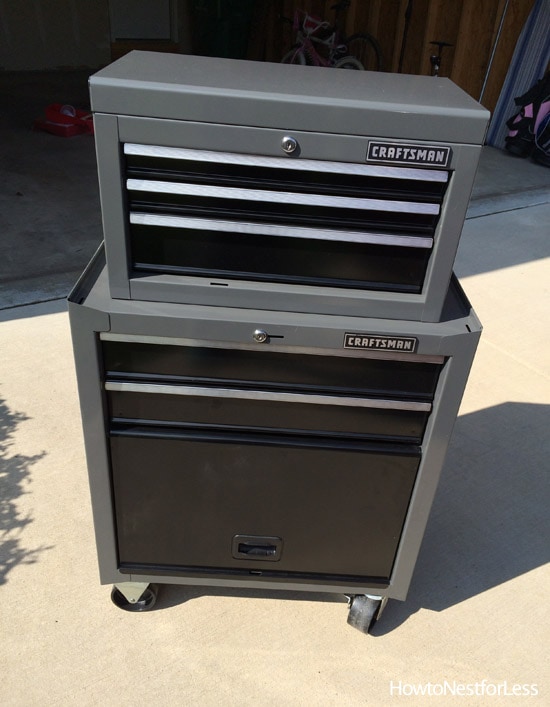 Oh, and if you made it to the end of this post I have a sweet little giveaway for you guys!
Today one lucky winner will receive a
$100 gift card to Ace Hardware.
Just leave a comment below telling me what you'd buy
to organize your home with the help of Ace Hardware!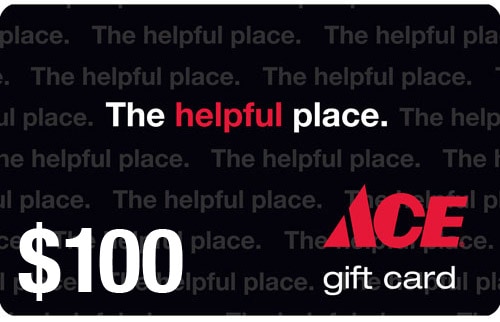 Winner will be chosen one week from today!
And make sure you check out all of the Primo Brands available at your neighborhood Ace Hardware, including Craftsman, Scotts, Toro and Weber.
Hope you guys are enjoying Spring and tackling those home maintenance projects!
---
If you want to see more projects from the Ace Hardware team,
check them out HERE!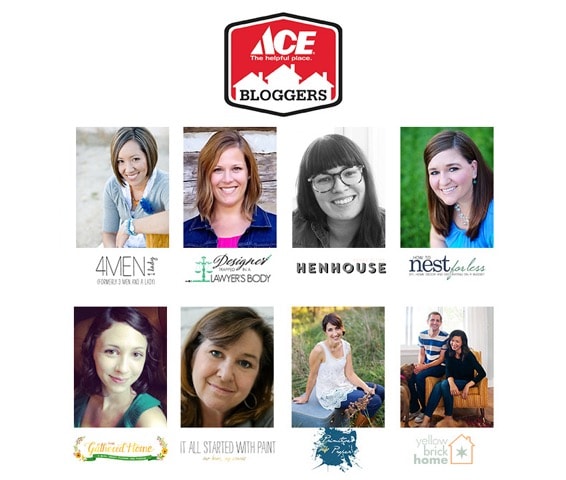 I am a member of the Ace Bloggers Panel and Ace Hardware has provided me with materials for this project. I was also compensated for my time and this blog post. All opinions are my own and do not necessarily reflect those of Ace Hardware.