Last June, I revealed my Craft Room Makeover. Since I use this room daily alongside my husband as our home office/craft room, today I though I'd give you a peek inside some of the craft room organization systems I've implemented. From drawers to cabinets take a look at how I keep everything organized.
Craft Room Organization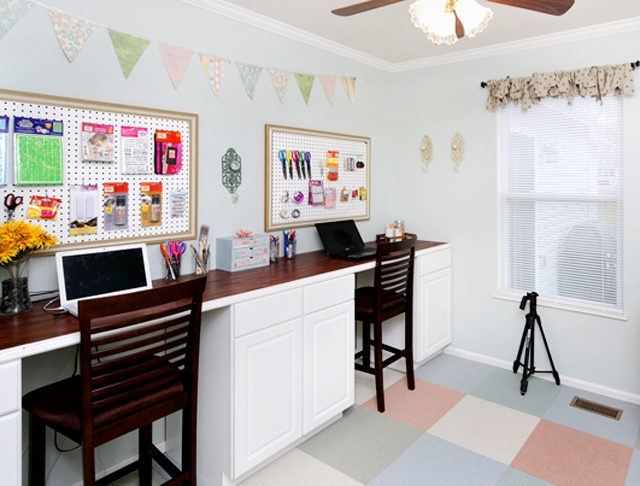 Peg Boards
My favorite organizational tool in this space is my framed peg boards. I purchased two 2x3ft frames from Michael's for 40% off then inserted some cheap peg boards from The Home Depot (which they even cut down to size for me). I removed the backing and the glass from the frame and hung on the wall using wall anchors.
This space is great to hang some of the tools I use most: scissors, tape, tape measurers, stencils and more. Plus it's nice to use some lateral space while creating some functional eye candy.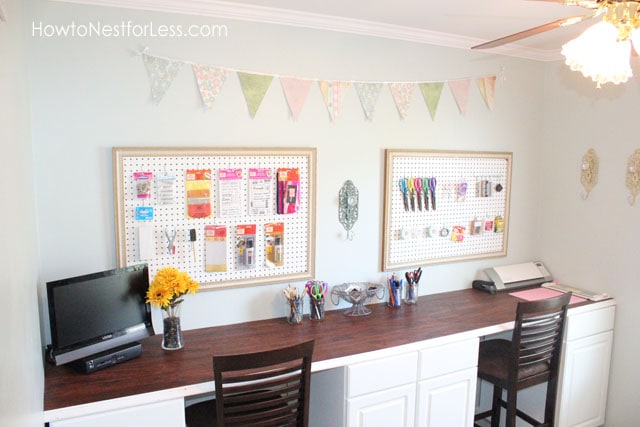 Work Desk
The 10ft long work desk we built is made up of three cabinets: two single and one double wide. This gave us plenty of drawer and cabinet space for the craft room organization. Plus, two nice workstations so my hubby and I can work at the same time.
On the right side of the desk is where I keep my Silhouette Cameo and paper trimmer. Inside that far right drawer I keep all of the power cords, vinyl, scrapers, and transfer paper.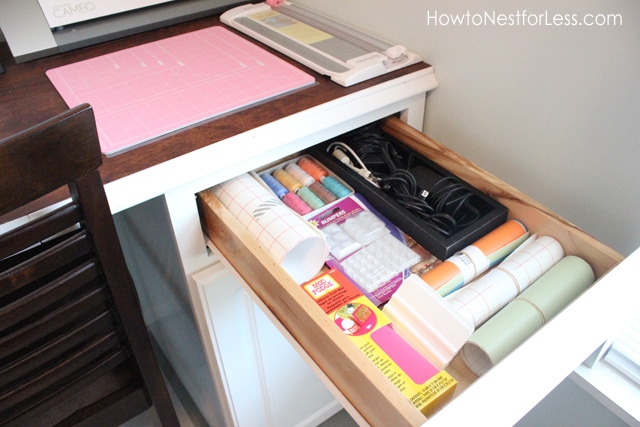 In the cabinet below is all of my painting supplies… yep, my favorite cabinet in the entire craft room. Lots of Annie Sloan Chalk Paint, spray paint, little sample jars, paint brushes, fabric paint, chalkboard paint, milk paint and everything else paint related.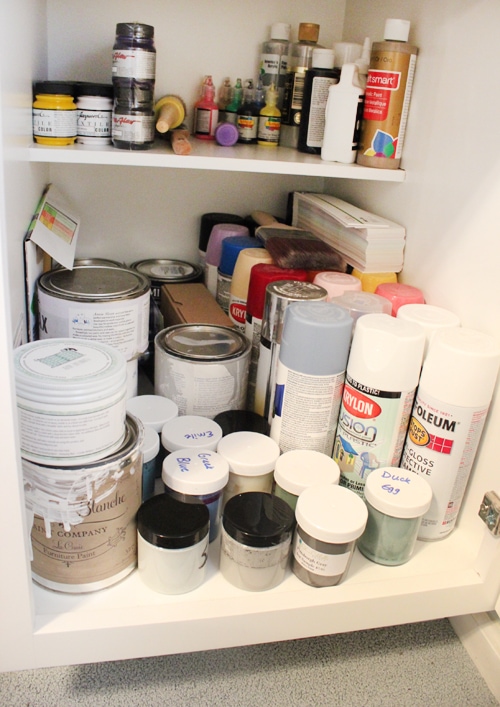 On top of my desk I stay organized with cheap mason jars that hold my small paint brushes, decorative scissors, pens, pencils, colored pencils and small hand tools like my pliers and wire cutters.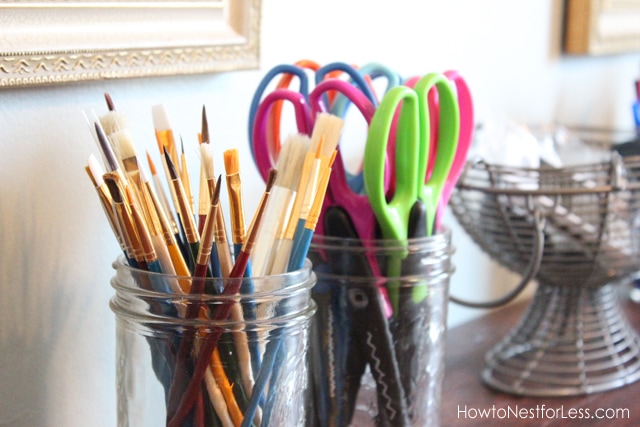 In the double cabinet drawers I keep a lot of my smaller crafting supplies. The drawer on the right actually is my "work in progress" space. Anything that I've recently purchased for an upcoming project goes in this drawer so I know exactly where to find it when I'm ready to begin crafting. Once the project is complete, I find a new home for the supplies and the drawer is then filled with my newest stockpile.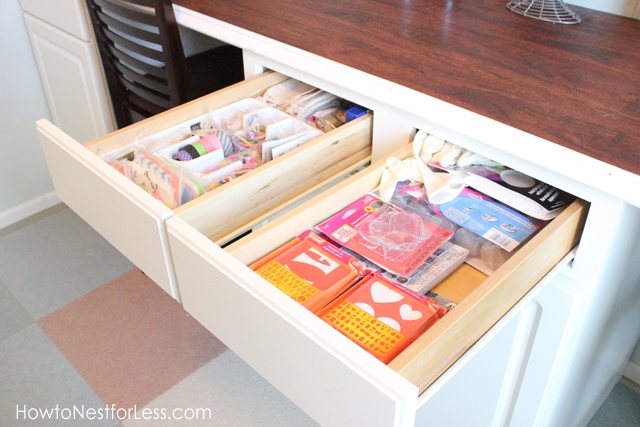 The middle left drawer is filled with some of my favorite crafting staples: washi tape, resin flowers, buttons, paper tags, mini baggies, and jewelry supplies.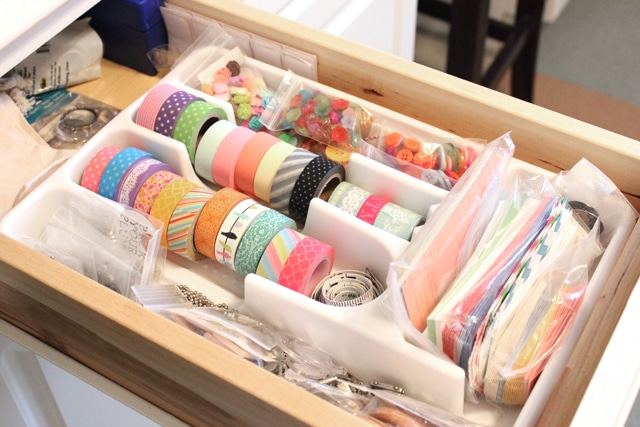 The far left drawer is filled with a bunch of miscellaneous items: glue, staple gun, and a new hot glue gun just waiting to be opened.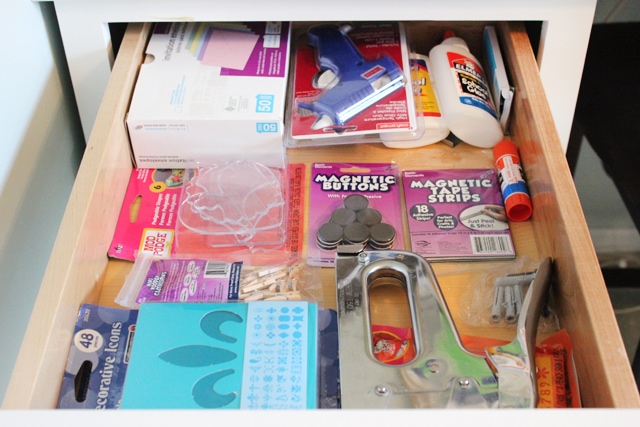 Since I'm not much of a hoarder (I threw away my wedding dress the day after I got married), the cabinets down below are a little bare… which is a good thing. Room to grow, right?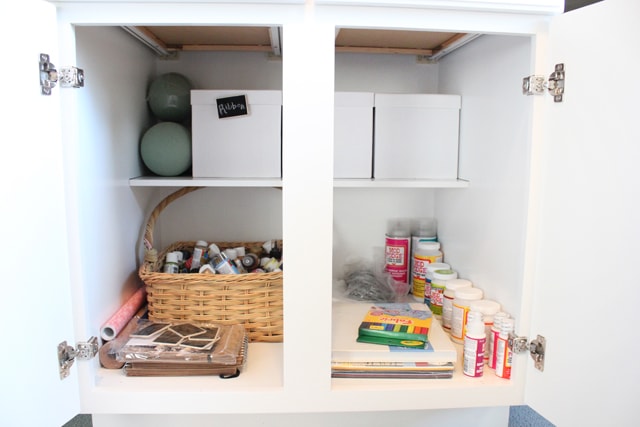 A large basket holds all of my crafting paints. Lots of Mod Podge strewn about. And the three large white boxes hold ribbon and fabric flowers.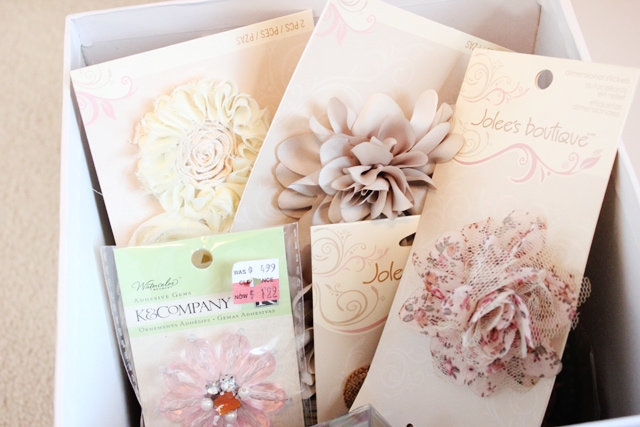 Sewing Desk
The area of my craft room that needs the biggest help right now is the little niche between my window and the closet doors. Right now I have a sewing desk I painted stored over there with some files overhead holding all of my scrapbook paper. I love the hanging files, just need to find out what do to with the space below it (I don't sew so the desk is kinda pointless).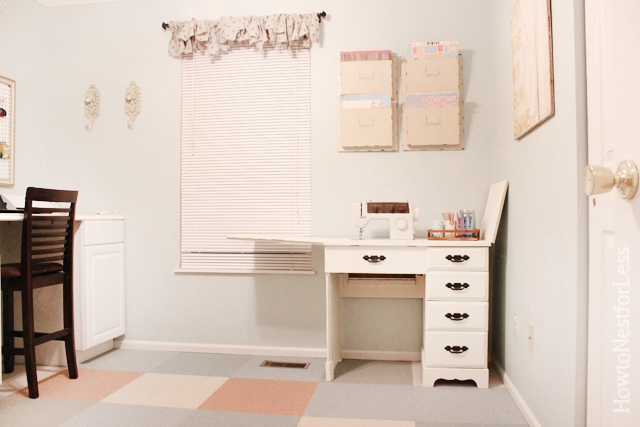 On top of the sewing desk I have a recycled tray holding some paper cups that I covered in scrapbook paper last year. I store greenery pins, glue sticks for my hot glue gun and craft sticks in them.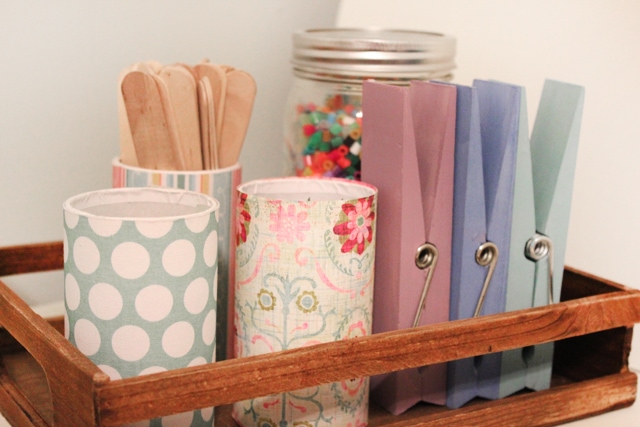 Doorknob Jewelry Holders
On the blank wall near the door I recently hung my necklaces with some DIY Knob Jewelry Holders. Love these.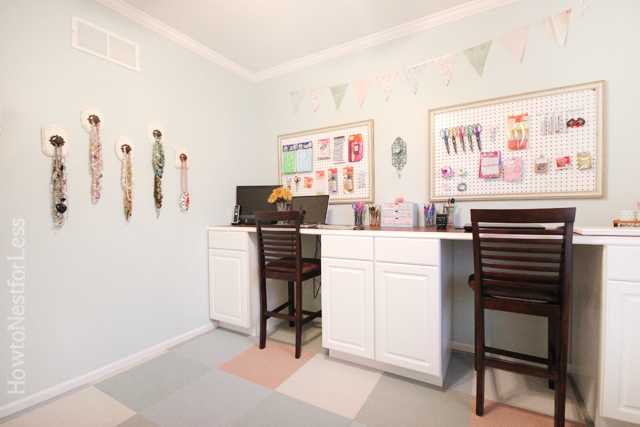 Well, that's about it for the craft room organization tour. I hope you enjoyed taking a little peek behind the scenes!