Friends and family often make fun of me for my oddly organized home. In fact they joke that I could put my home on the market at any moment because it's always show-ready. No clutter, no mess… that's what I love. So today I thought I would share with you guys some of my favorite home organization ideas, some little tips and tricks for how I keep a happy, organized home.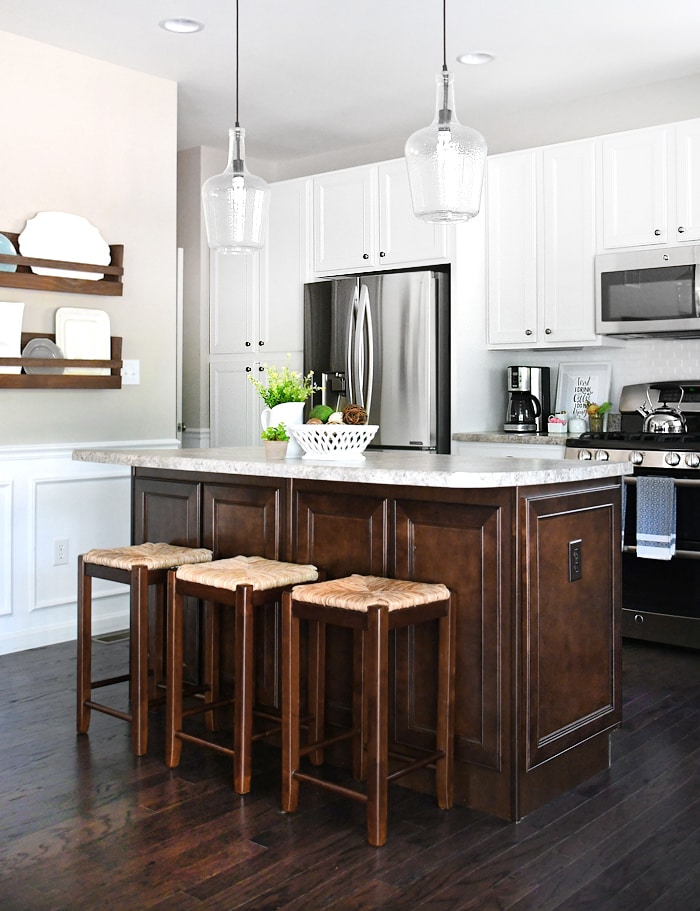 MY KITCHEN
Everyone seems to have a junk drawer somewhere in their home, but I'm a complete nut for drawer organization. My biggest tip is to invest in some drawer organizers. I love the Mainstays brand because they come in three different sizes: the long and narrow (seen below in black and hot pink), the big rectangle (green), and the small rectangle (blue).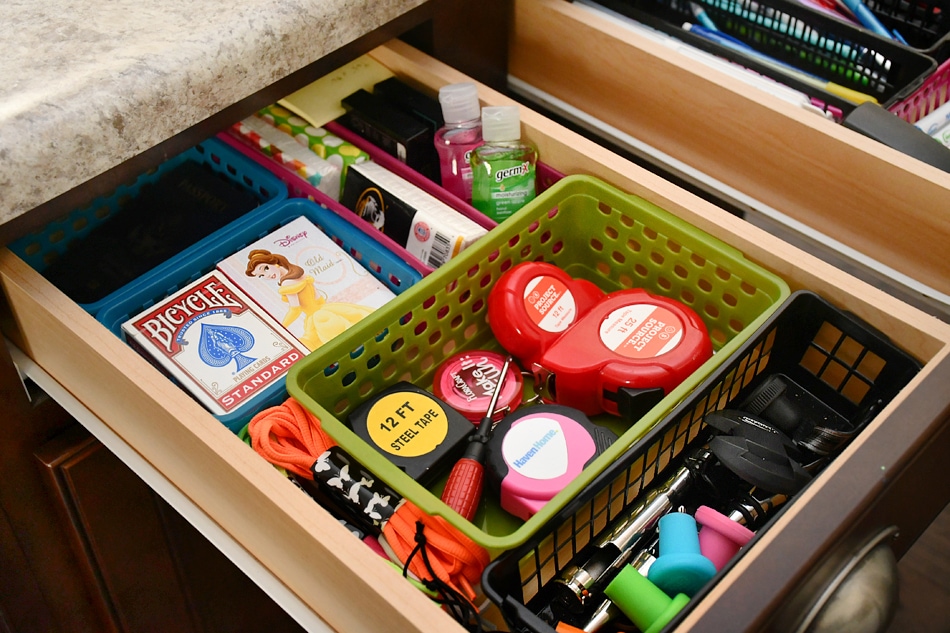 In this drawer I've organized a lot of weird stuff that we use often but items that don't really fit into a certain drawer: my beverage openers and wine stoppers, tape measurers, playing cards, shoelaces, hand sanitizers, pocket tissue packs, etc.
I also used a lot of the long and narrow tray baskets to organize all of our pens, pencils, scissors, markers, etc. This drawer makes it super easy for Ellie to grab what she needs for homework or little craft projects.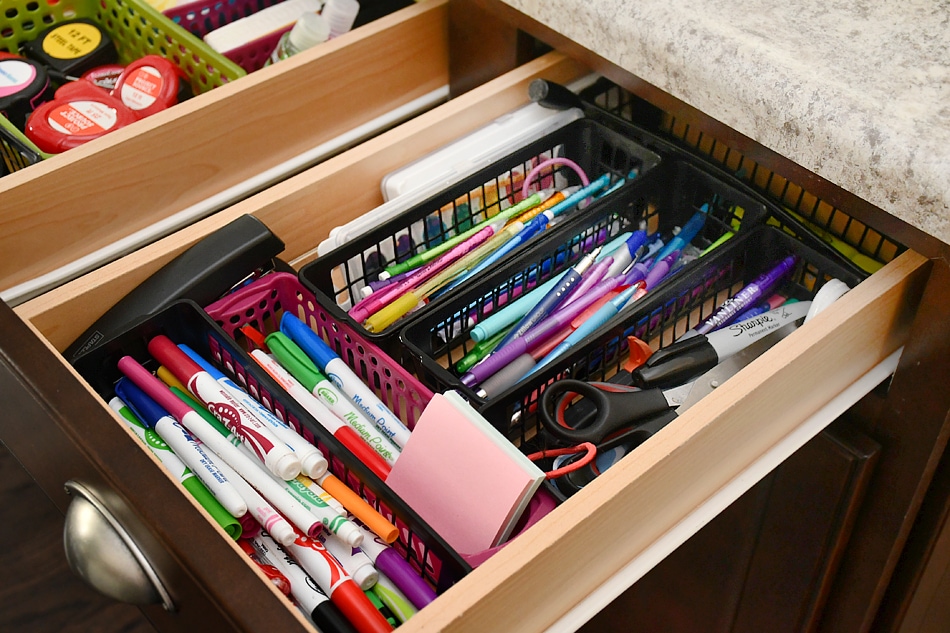 You might recall we don't have a "normal" pantry in this house; we opted for a super pantry cabinet in our kitchen instead that sits to the left of our refrigerator.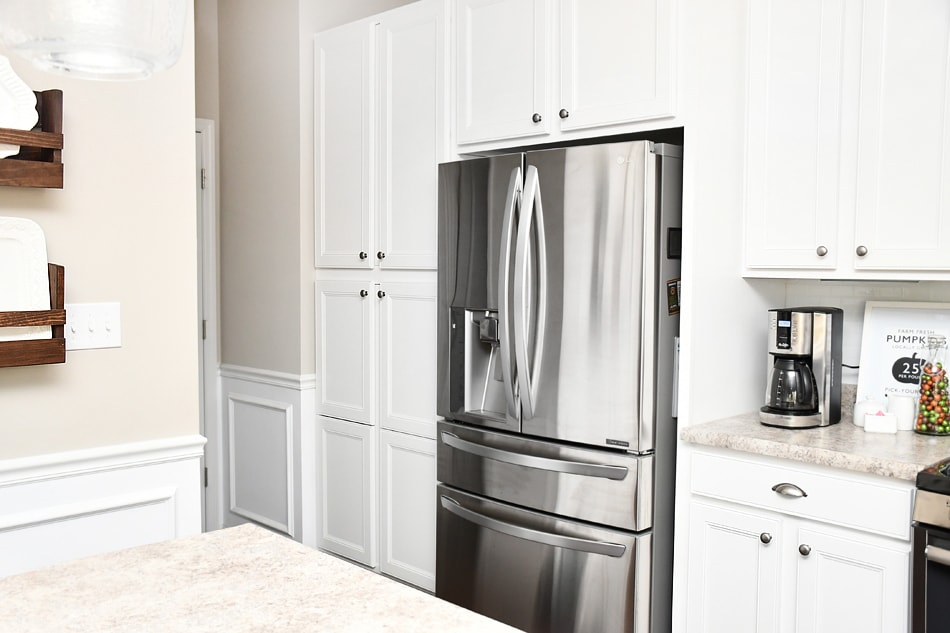 Recently I purchased some IKEA dry food containers to help organize our pantry (big ones $5, small ones $4). At first I was like… "No, I'm not going to be one of those moms. We don't keep cereal long enough to even worry about it going stale." But I was suckered into them during my recent trip to IKEA and I've been pleasantly surprised at how much I actually love them. Makes grocery shopping easy when I see one of the containers getting low on food (ignore most of them are low on snacks and one is completely empty; grocery day is Friday). I also honestly believe these new dry food containers are making our family eat healthier since they're mostly filled with good things like granola, almonds, nuts, pretzels, dried cranberries, pretzels, cereal and rice.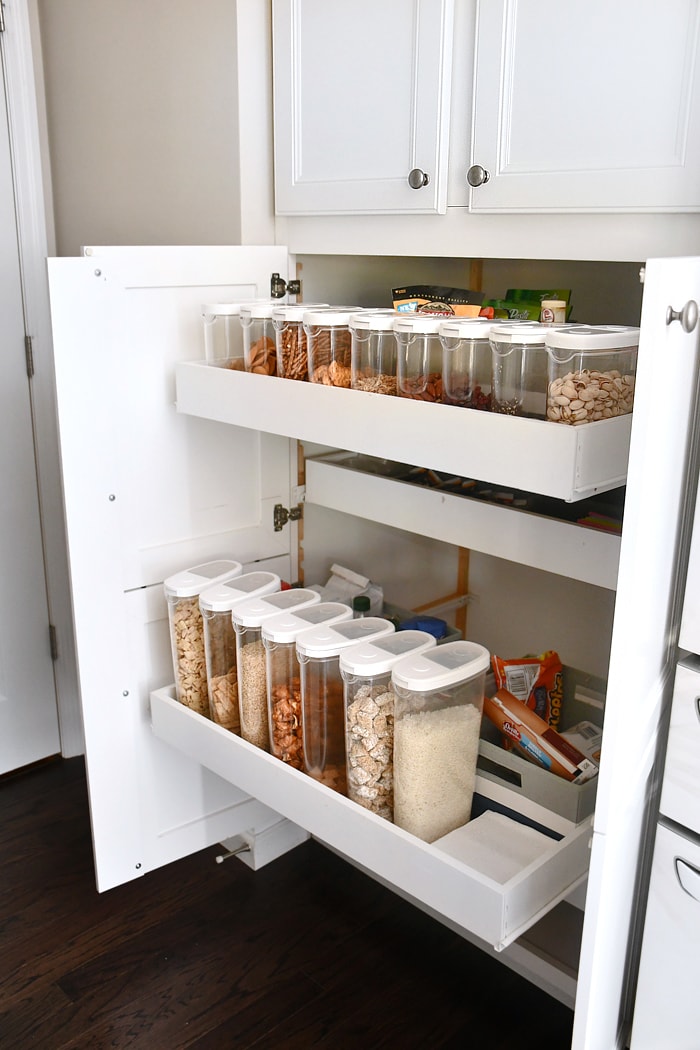 Oh, and apparently we draw the line at labeling these food containers with chalkboard labels or stickers. Ben said if we can see it's rice, we don't have to write "RICE" on the container. Touché.
Behind the IKEA dry food containers are some additional baskets and bins. They organize our dry goods like breads, chips, and quick & easy side dishes.
Second drawer is shorter so we keep smaller trays for our granola and breakfast bars, bagged snacks for lunches and easy treats on-the-go, and some cups and straws for morning smoothies. And of course you know we had to store candy somewhere… right now it's peppermints and candy corn. Normally we have better stuff but we're trying to be good since Halloween is just around the corner!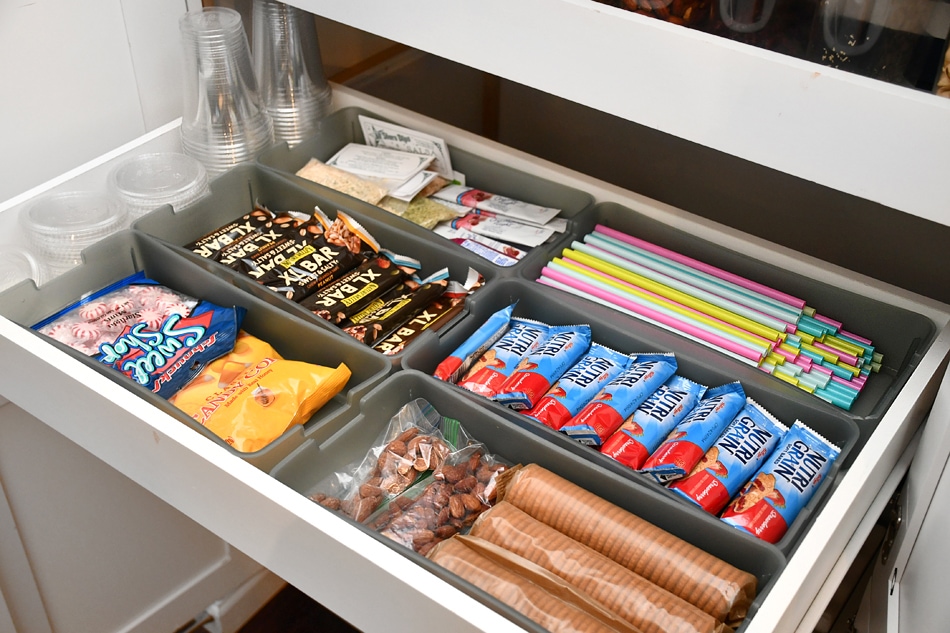 The very bottom drawer is where we keep our baking sheets and school lunch supplies. I've mentioned it before, but these bento box lunch containers and the silicone baking cups are the best ever for organizing school lunches. We also keep the kids cups down here so they're within an arm's reach, even for my little nieces and nephews.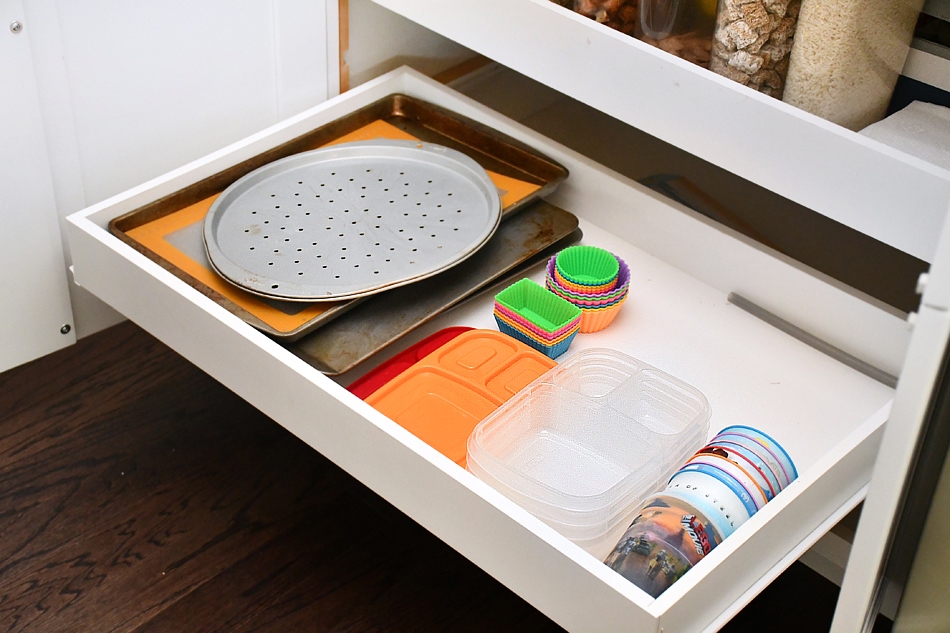 The top portion of our super pantry cabinet holds a lot of baking supplies, napkins, plastic silverware, lunch boxes & coolers, spices, and extra prep bowls.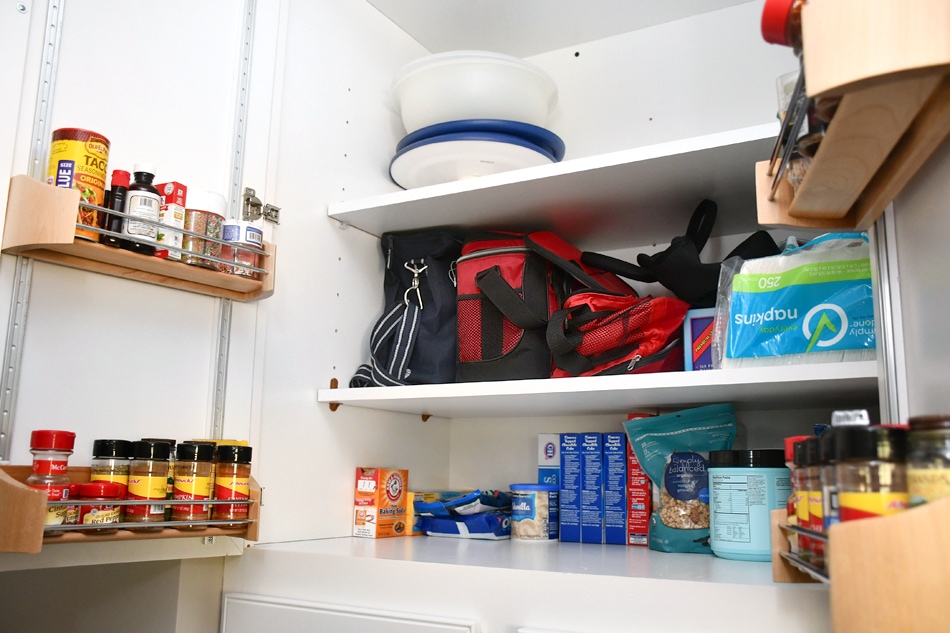 THE BREAKFAST ROOM
We have this beautiful buffet in our breakfast room. Since we don't have a china cabinet in our dining room, I keep most of my fancy dishes in here.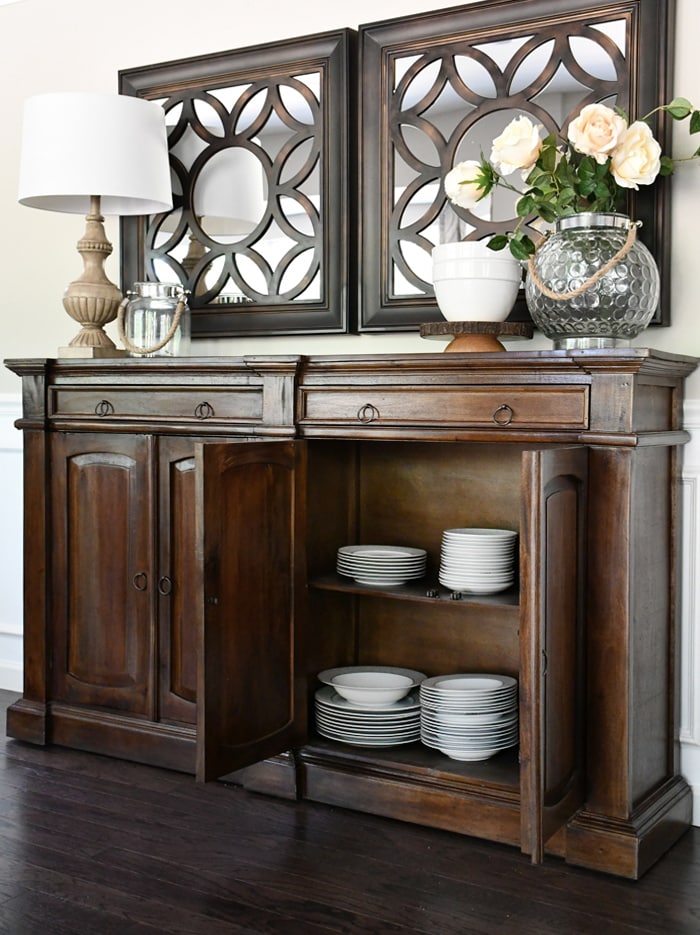 The drawers were quickly becoming filled with junk so I grabbed some more of the plastic tray organizers. You might also notice some ziplock bags. These are to organize smaller items that I often need to grab quickly on the go, but the bags make it so I can easily throw them in my purse and they won't get lost in the mix!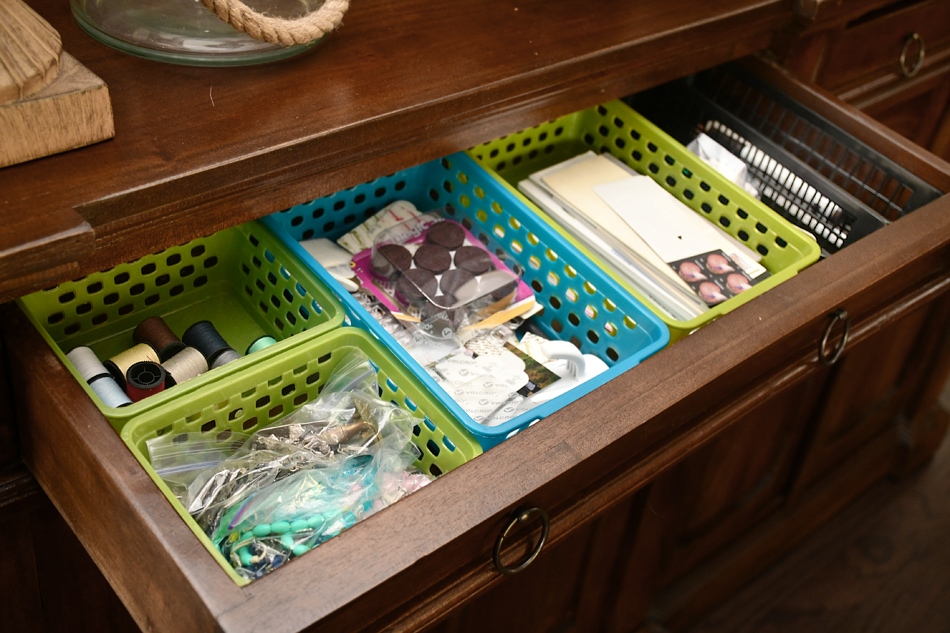 OUR MASTER SUITE
A couple weeks ago we showed you guys our new master bedroom. Now we don't go crazy in here, but I do have a couple home organization ideas for this corner of your home.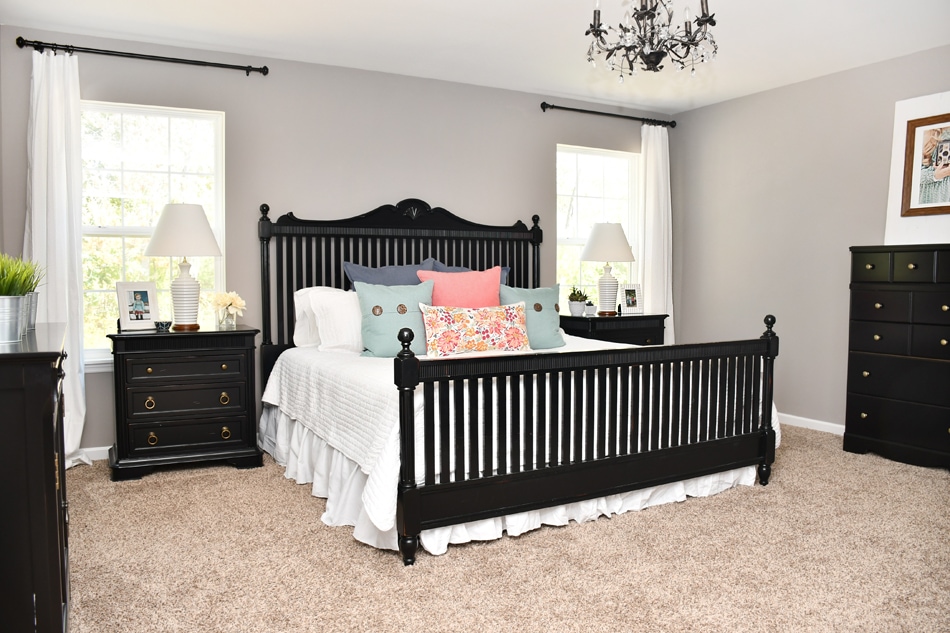 Again, I told you I was obsessed with drawer organizers. This time I used these little interlocking bins (8 pack for $10) in the top drawer of my nightstand. I keep them in place by putting a little Command Brand strip or Velcro square under each one.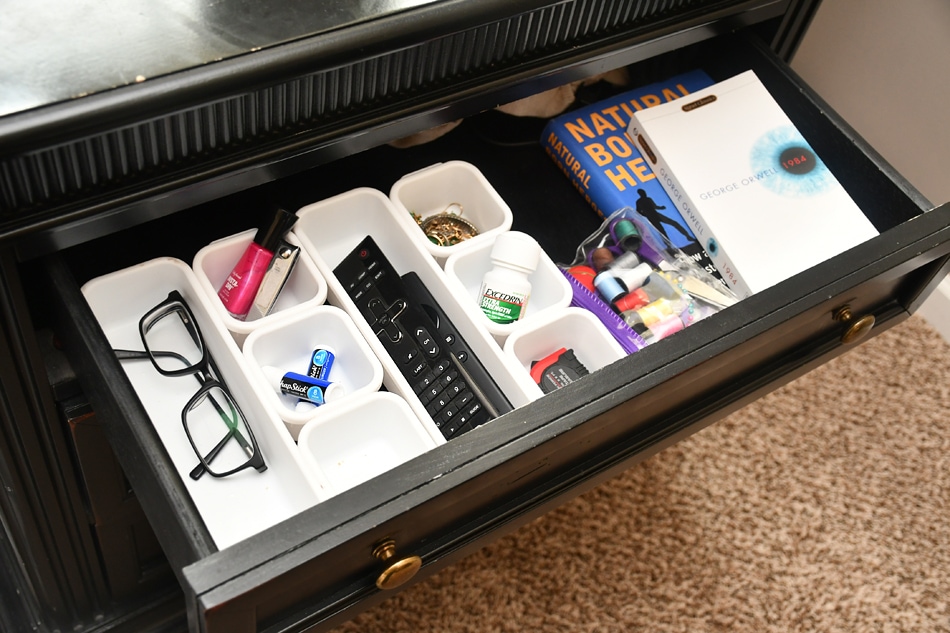 And in our master bathroom we have a bunch of these bins in our vanity drawer. Yes, it's always this organized… and I love it.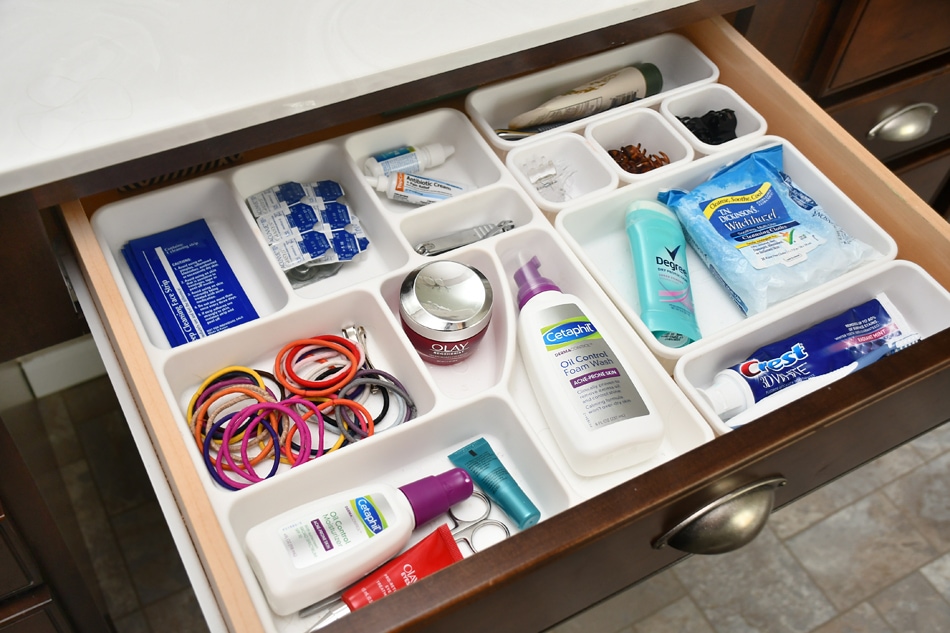 FAMILY ROOM
Now I understand that everyone can't have built ins in their family room or great room, but another way to stay organized is with baskets. I keep a bunch of them around my home, and the best part is you can't tell what's stuffed inside of them… like random DVD's, sticker books, two gold painted doves, and homemade slime.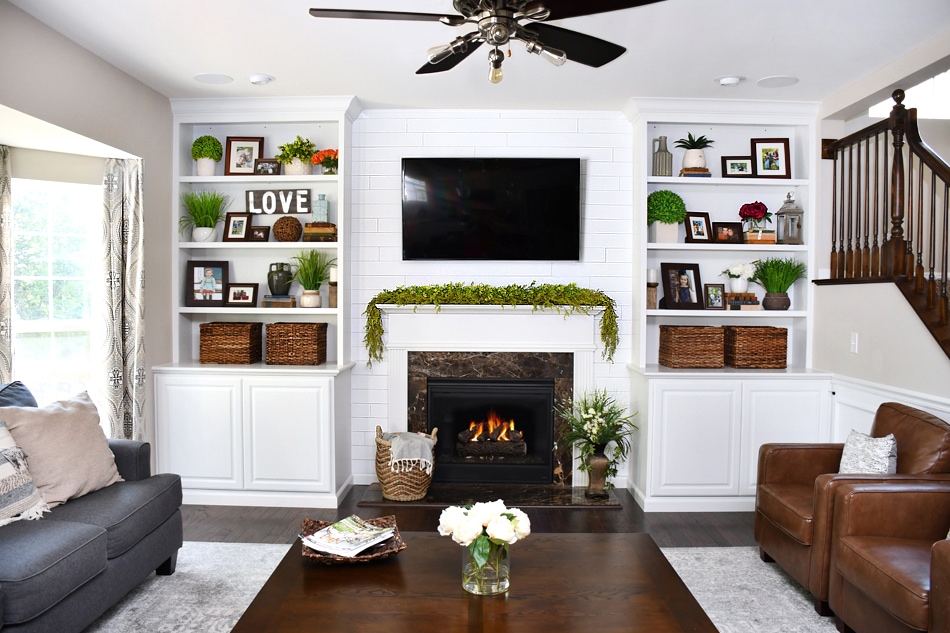 HOMEWORK ROOM
Our homework room is also our craft room, library, and home office. I love that we store most of Ellie's books in here, plus we still have room for some of those magical baskets. Love the hooks too for organizing her bags and backpack.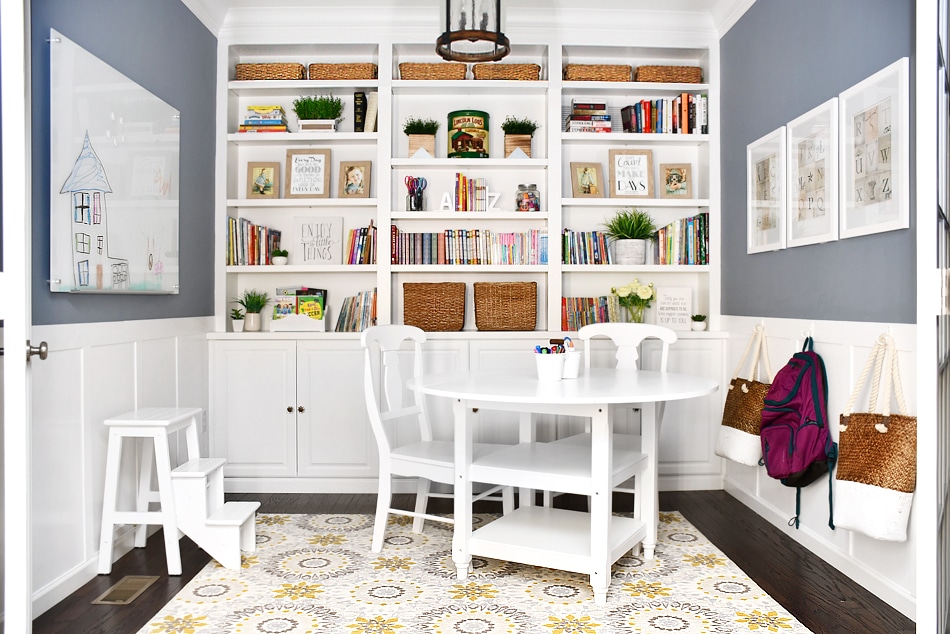 We store lots of things in the cabinets, too. This is mostly where I keep most of my craft supplies. I purchased some plastic storage containers with removable trays from Michael's ($7.50 each on sale).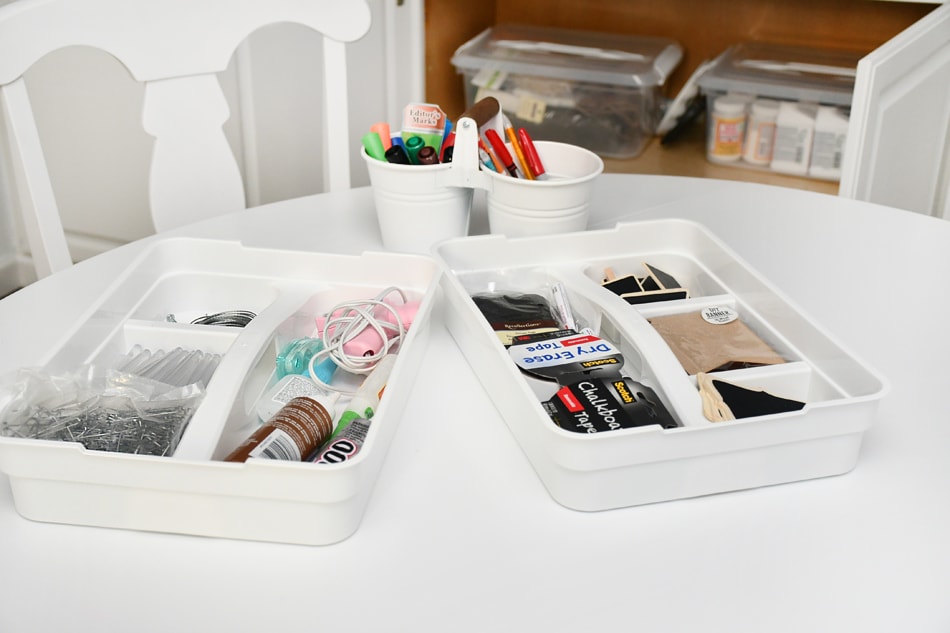 LAUNDRY ROOM
A recent DIY project that added a lot of home organization is our new laundry room shelving. These shelves give us a lot of storage above our washer and dryer, including more… you guessed it…. baskets!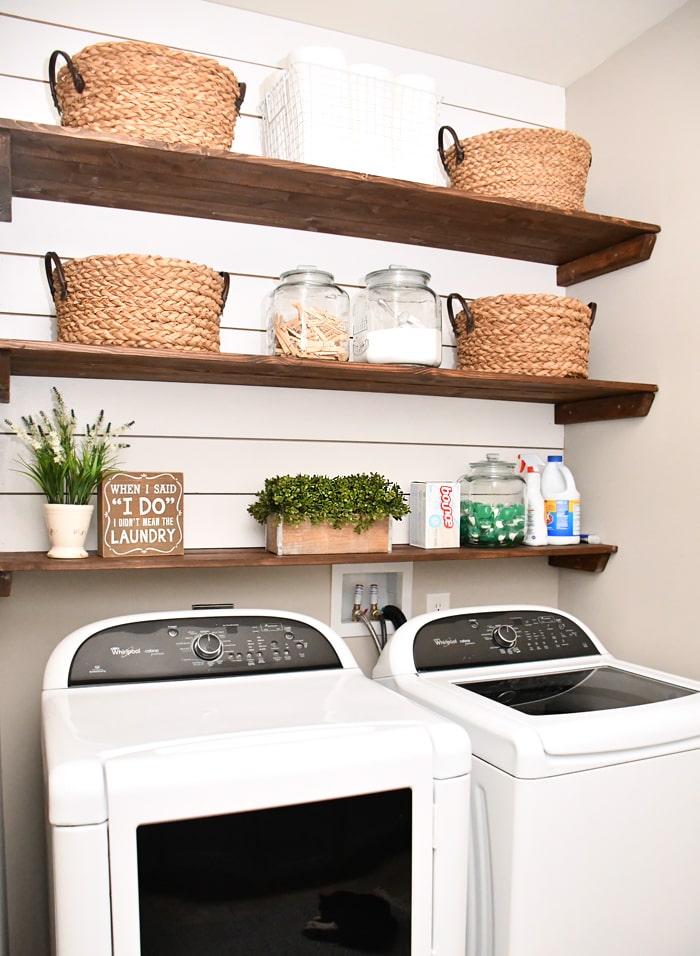 We have base and wall cabinets on the other side of the laundry room. Right now we're using that space to hold more of our fancy glassware and servingware, and some tools and cat stuff. Yeah, definitely variety of storage and organization in this room!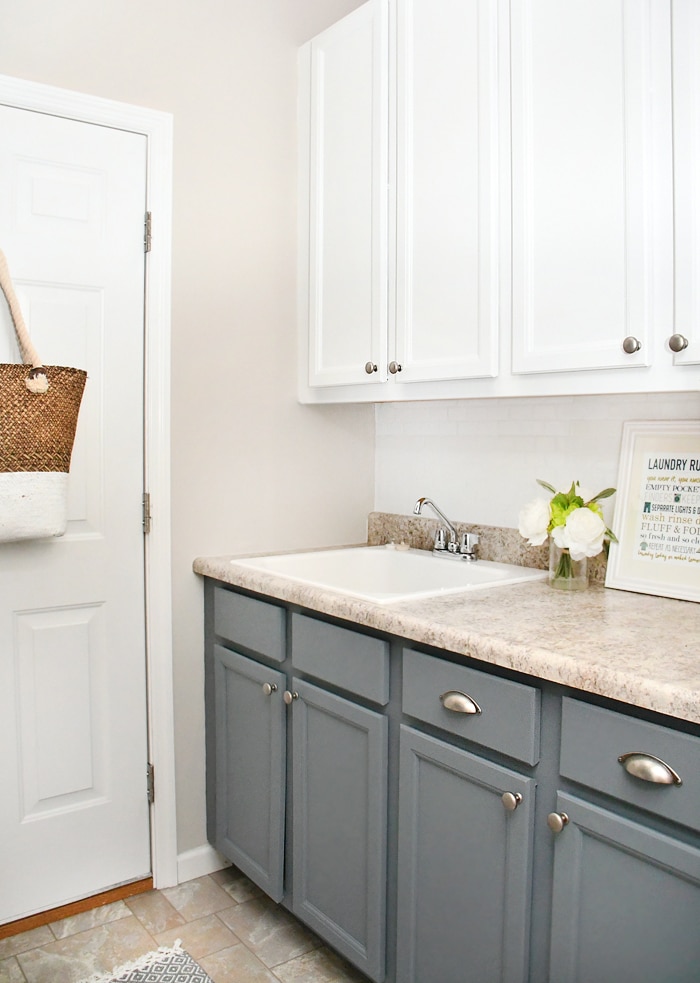 OK, we'll stop for there today with these home organization ideas. But soon I'll be showing you guys some more clutter-free spaces, including our closets, playroom, garage, and basement. Stay tuned!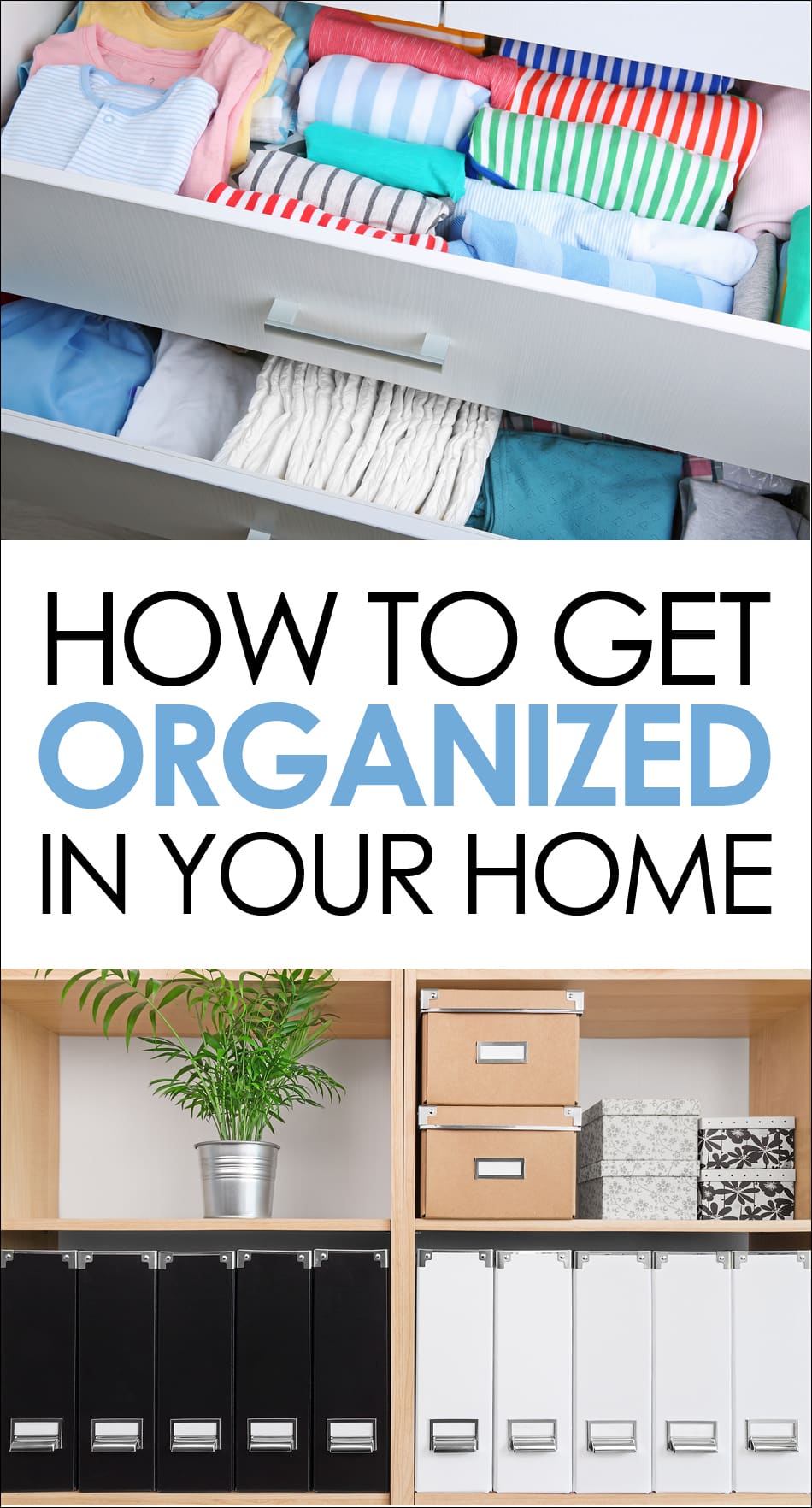 So, did you guys get some good home organization ideas from this post?
If you want to see even more home organization ideas, check out these posts as well: