This is a Sponsored post written by me on behalf of Moen, Incorporated for SocialSpark. All opinions are 100% mine.
So my BFF just recently moved into her new dream home and I must say, her kitchen is gorgeous! Dark staggered cabinets with crown molding, granite countertops… but she really wanted to upgrade her kitchen faucet. That's where I stepped in. Yep, best friend ever.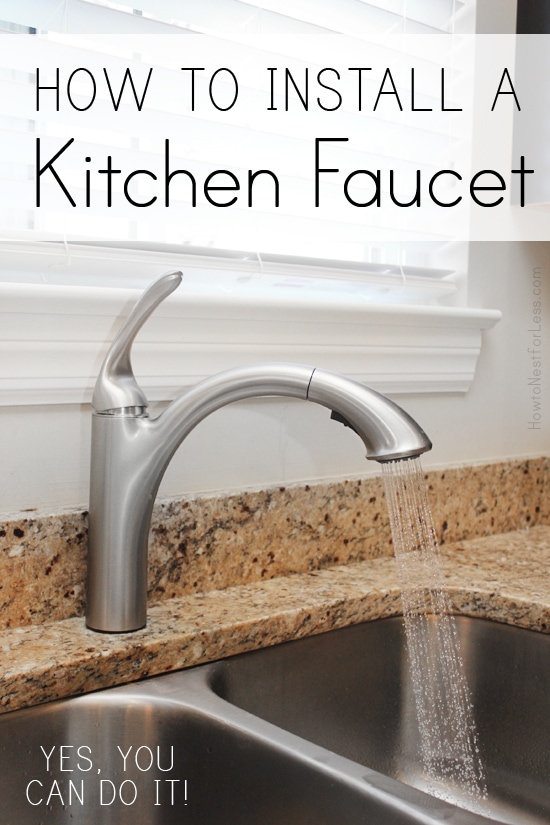 My friend picked out the Moen Kinzel Pullout Kitchen Faucet and last Saturday we got to work.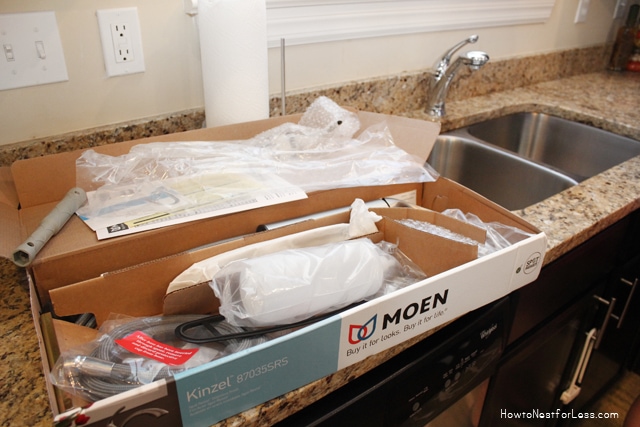 We opted for the single hole option with no deckplate since there was already a single hole in the granite from the old one. What's cool is that the new Moen Kinzel faucet came with a soap dispenser so we might go back and add that in the future.
First thing we did was turn off the water valves immediately under the old faucet. We allowed any extra water to drain into a drinking cup.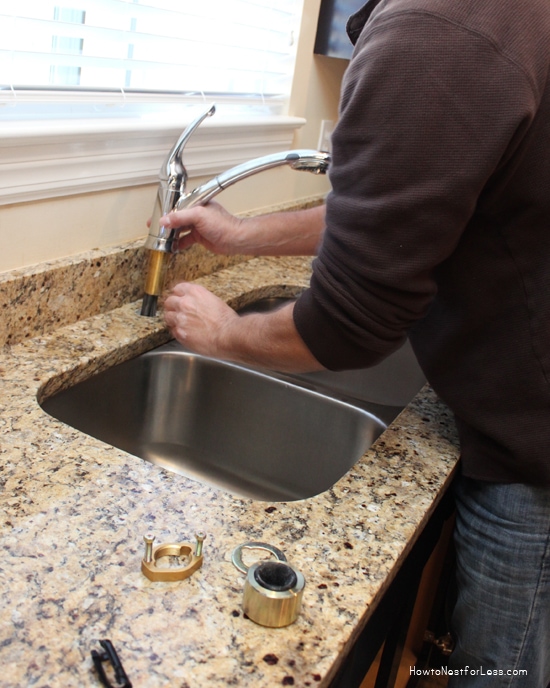 Next we removed the water lines and the old faucet completely (there's two little nuts holding the faucet underneath the sink that can be loosened with a wrench).
Next we fed the new faucet lines and tailpiece into the hole. The Moen Kinzel faucet came with a rubber gasket for the base. Make sure this is on, otherwise you'll need some plumber's putty.
Lower the faucet into place, pressing the gasket or putty firmly into the countertop or sink. You'll want a good seal, but also need to make sure that the faucet can pivot from side to side.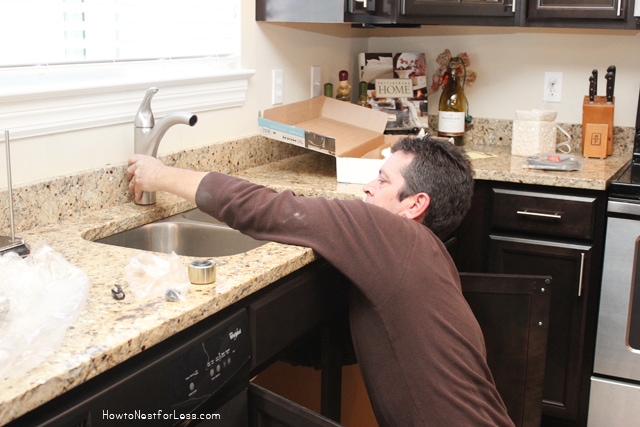 Under the sink screw the washers and mounting nuts onto the tailpiece and tighten with your wrench (or pliers). The Moen faucet also came with an installation tool so you can tighten the mounting nut.
Next feed the pullout hose through the faucet body. Attach the supply lines to the shut off valves (marked with red for hot and blue for cold) and tighten the nuts.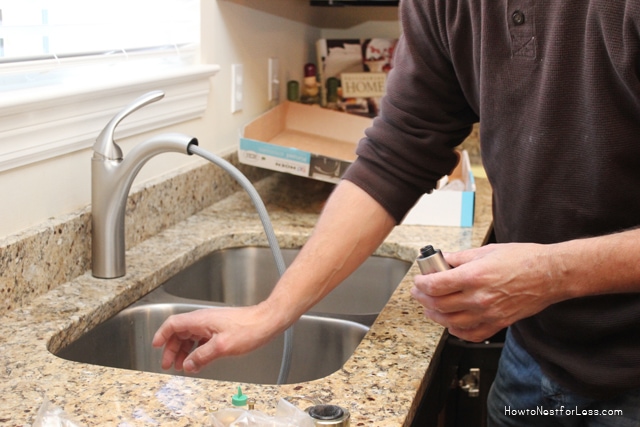 Remove and discard the protective cap from the Spray Wand and attach it to the hose.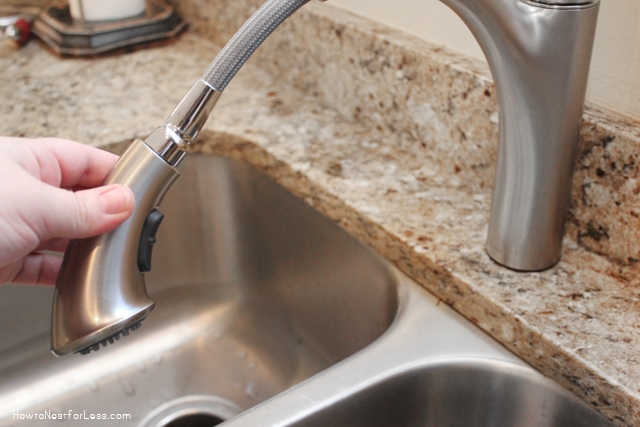 Turn the water on at the shut off valve and check that the faucet is properly working.
And that's it!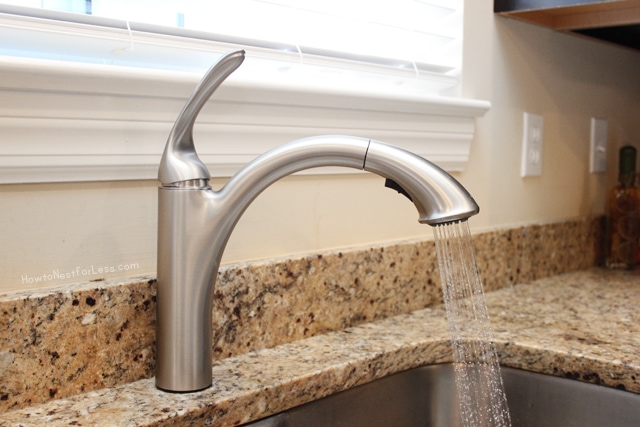 I'm loving the pullout hose on this faucet!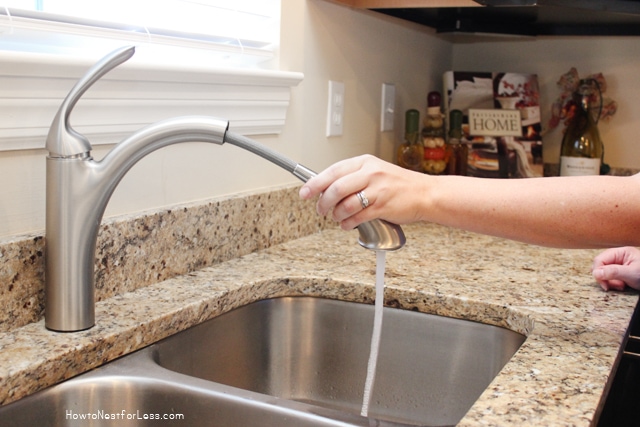 And my favorite part is that when you hit the stream to spray button and then turn off the faucet, it is automatically turned back to stream. Weird, but that was a big deal to me!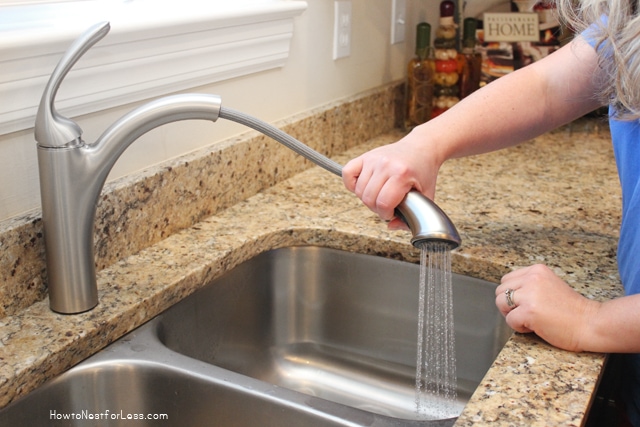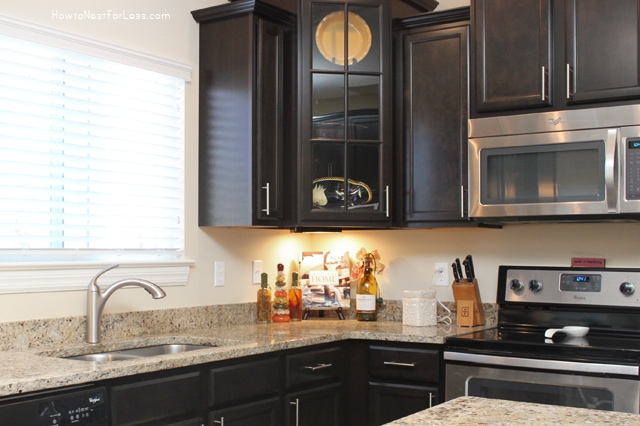 And it sure does look pretty in this dream kitchen!
Definitely loving the spot-resistant look and Reflex flexible hose system.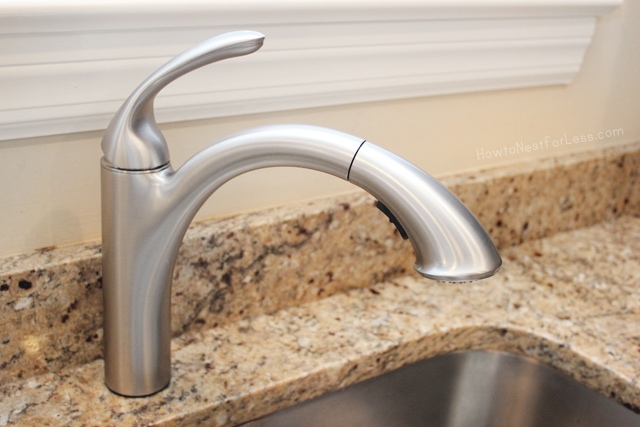 The overall kitchen faucet installation took us about an hour and we only needed a few tools (wrench and screwdriver was all we used!).
This Moen Kinzel Kitchen Faucet can be purchased at Lowe's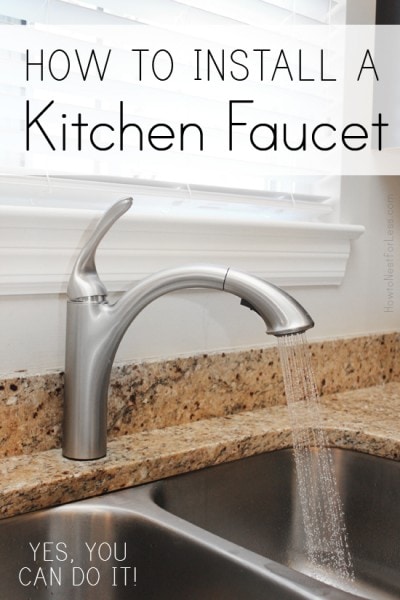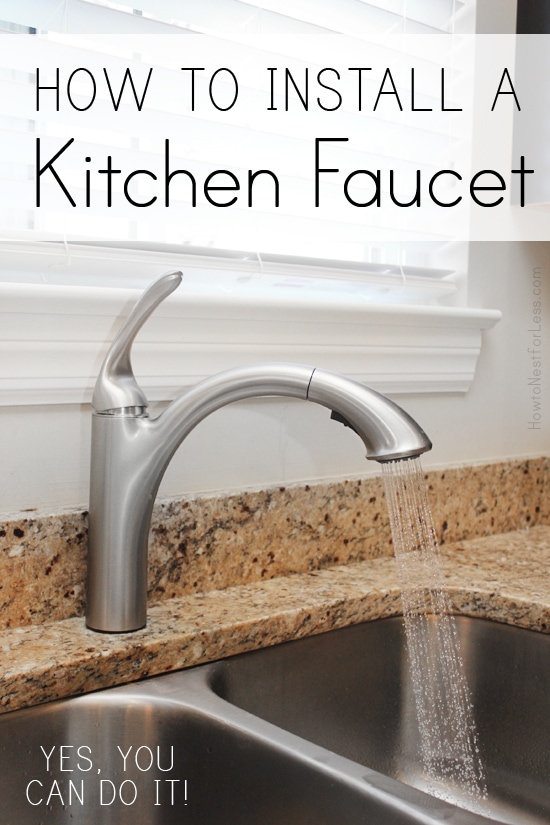 • Connect with Moen:
• Facebook: https://www.facebook.com/moen
• Twitter: http://twitter.com/moen
• Pinterest: http://pinterest.com/moen/
• Instagram: http://instagram.com/moeninc
• Google+: https://plus.google.com/+moenf…