I will show you an easy way to update your floor with Flor carpet tiles!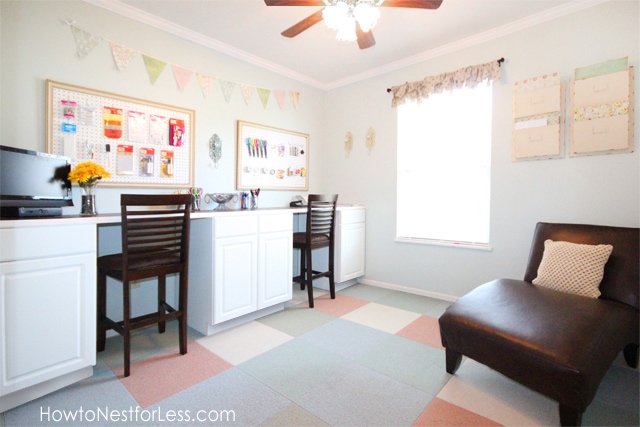 Yesterday, I revealed my craft room makeover and I'm so elated to have the room complete and ready to use! One of my favorite parts of the craft room makeover is the new Flor carpet tiles we installed ourselves!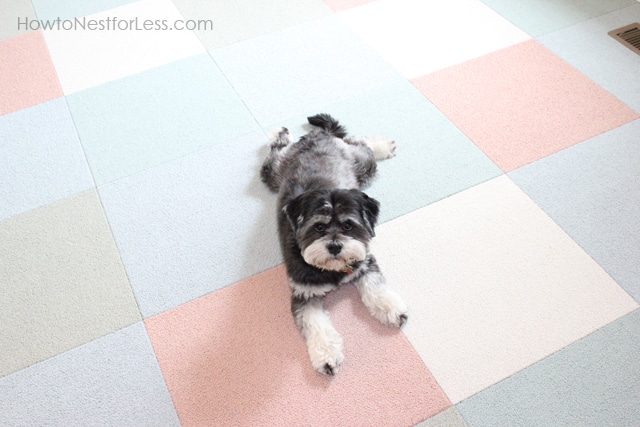 We used to have plain old carpeting in this extra bedroom, but through the years it's become worn out and stained (mostly from the exercise equipment that left oil marks everywhere).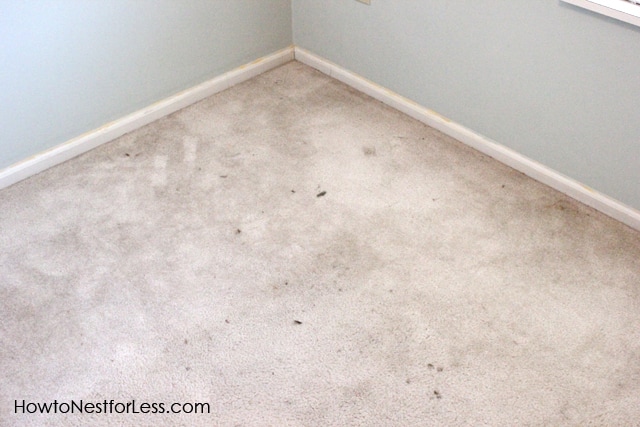 It was time to upgrade to something new, but I wanted something exciting and fun! Then I thought of Flor® carpet tiles. It would be a fun way to add a pattern and color to the craft room!
Each Flor tile is 19.7 x 19.7 inches square. They have tons of colors and plushness to choose from. I used their FLORbuilder Design Tool to layout the composition of the Flor tiles I selected.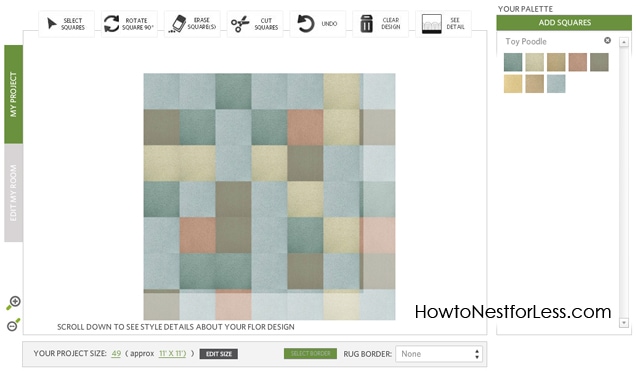 The Flor carpet tile boxes arrived in a few short days. They actually label which one to open first!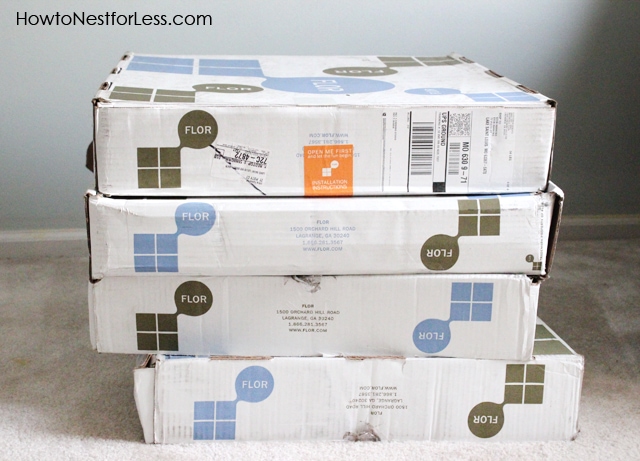 Inside I found some directions and Flor dots (I'll get to those in a bit!).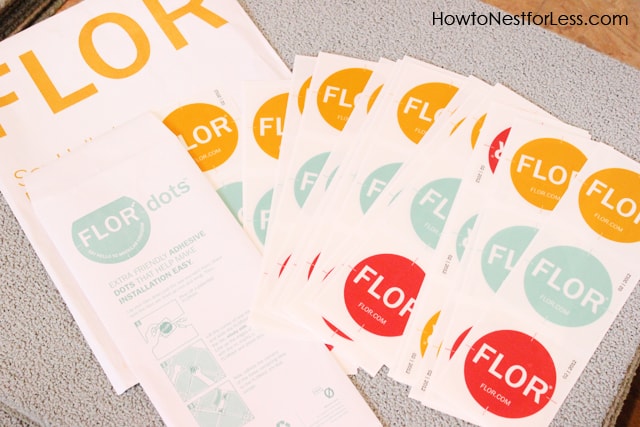 You need a hard smooth surface for your Flor tiles so my hubby and I started our installation by ripping up our old carpet and padding.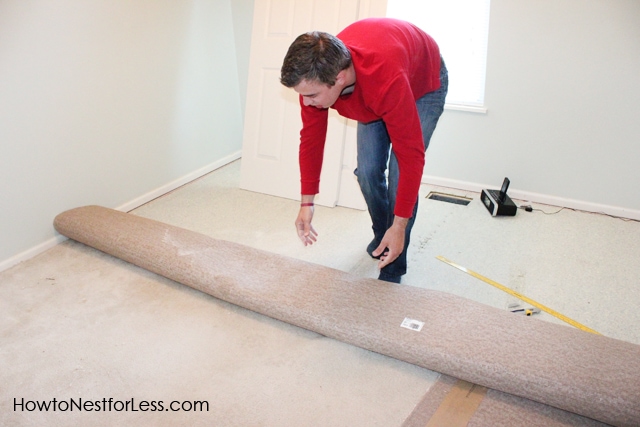 Make sure you cut an even line across the carpeting and padding at the doorway where your old carpet will meet your new Flor tiles.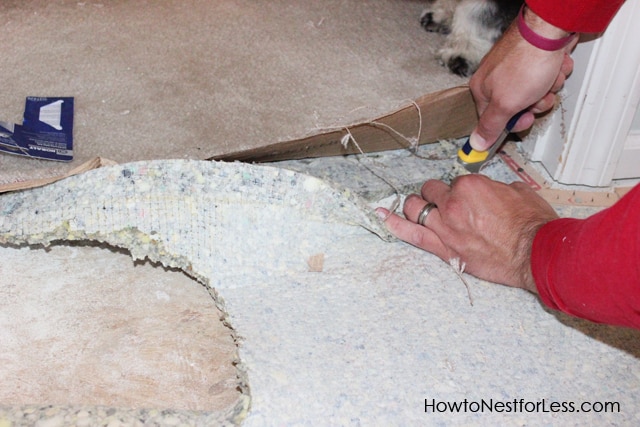 We also had to remove all staples and the nail strip around the perimeter of the room. Helpful tip: use a crowbar to easily pry up the tack strip.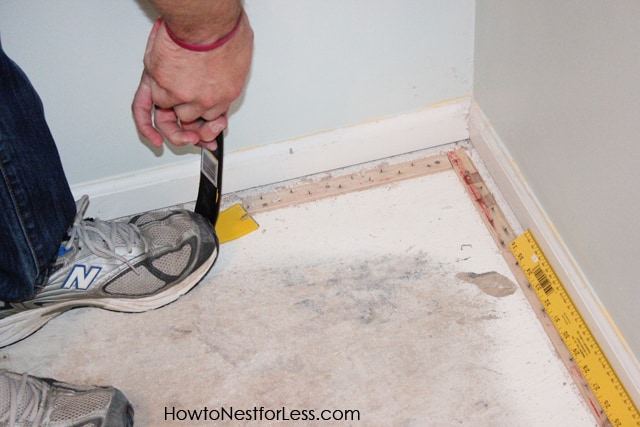 Sweep up any dust & dirt and you're ready to begin laying down your new carpet tiles. I laid out my pattern, but did not adhere anything to the floor yet. I just wanted to get everything measured and the Flor tiles cut to fit.
To cut any tiles, just flip the tile over and use a metal straight edge and utility knife. Just two or three swipes with the knife and it was trimmed. Super simple!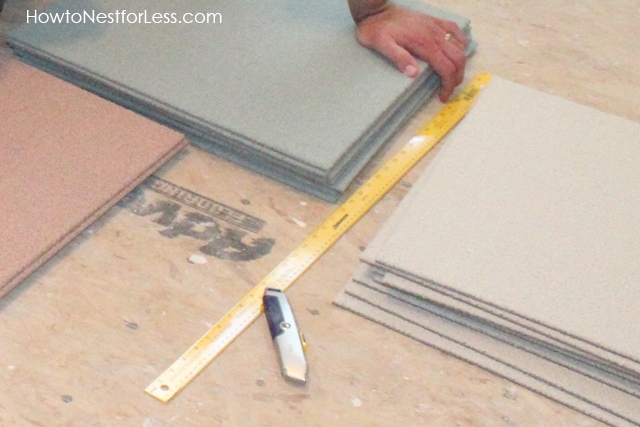 Once you have all of your Flor carpet tiles in your desired pattern, you can start adding your Flor dots. Just put the Flor dots sticky side up and the carpet goes right on top. Love this since the sticky stuff will be attached to the carpet, not to the floor below.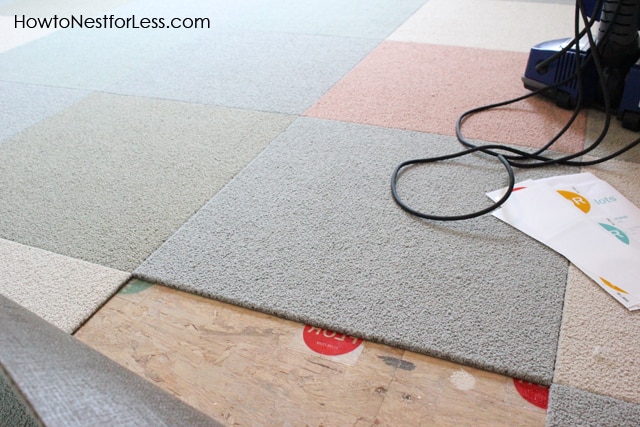 Place a Flor dot in the corner of 4 carpet tiles, or put halfway in the middle to connect 2 carpet tiles. No glue or nails needed; the carpet actually will not shift or budge… I promise!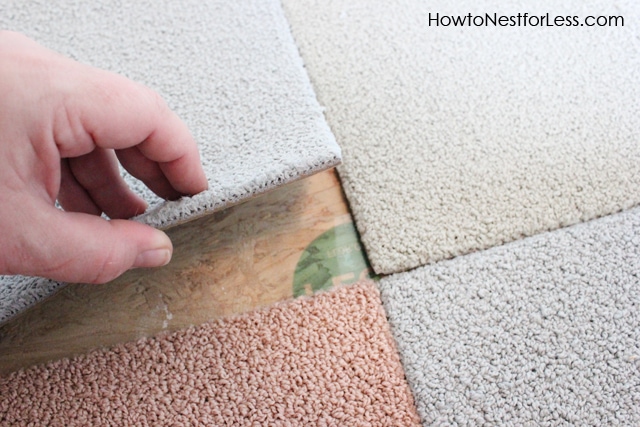 To fix the doorway where the carpet meets the new Flor tiles, I added a metal carpet plate. Just use a hacksaw to trim to size, nail it in place and you're good to go!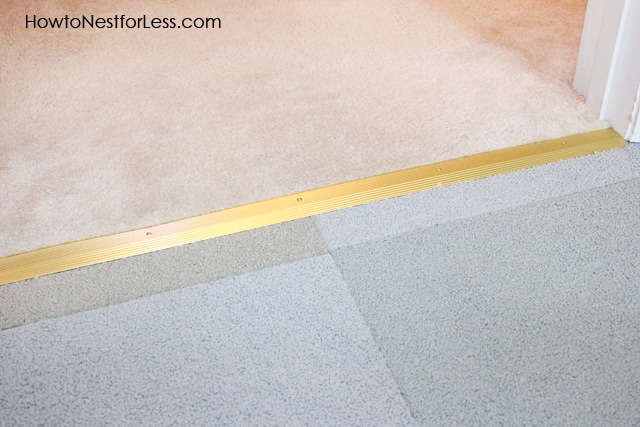 So here's before the furniture…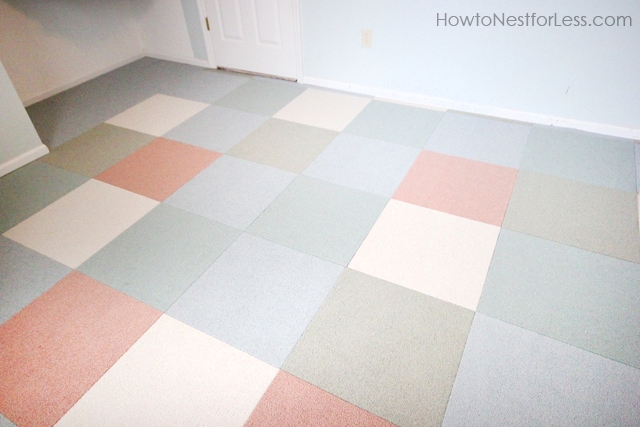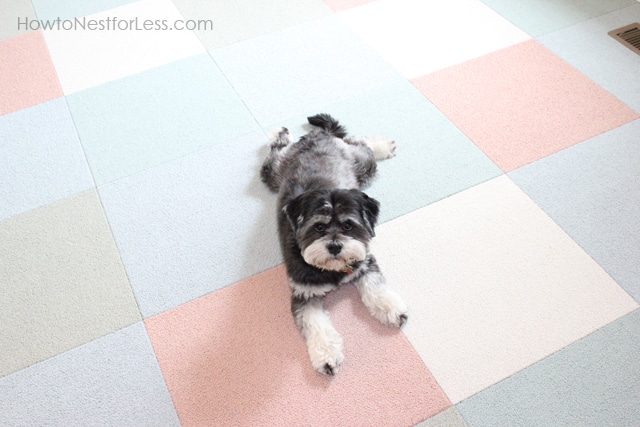 AND HERE'S AFTER!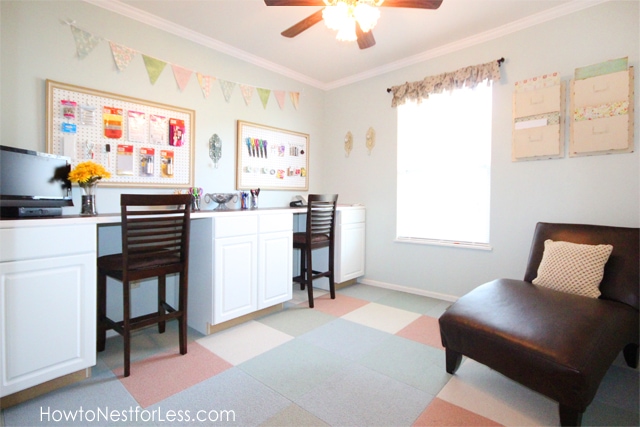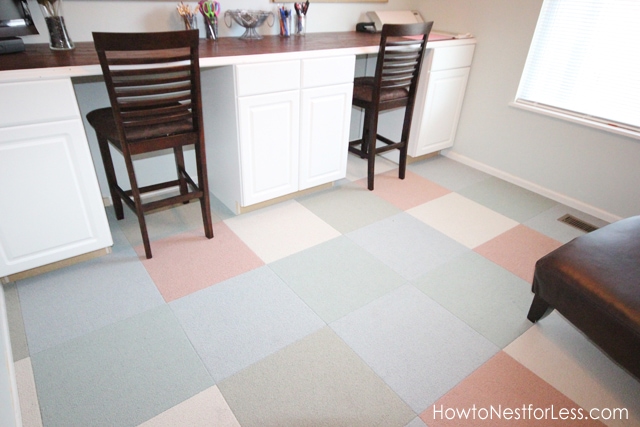 The entire process of tearing up our old carpet, removing all the staples & tacks plus installing the Flor carpet tiles was about 6 hours. Not bad at all! Plus once my hubby helped me rip up all the carpeting, I did the rest myself (cut the carpet tiles, laid the pattern and adhered with Flor dots).
I have to say I AM IN LOVE! I love the look, and if my 4 year old spills something, they're easy enough to peel up and clean (or replace entirely if necessary).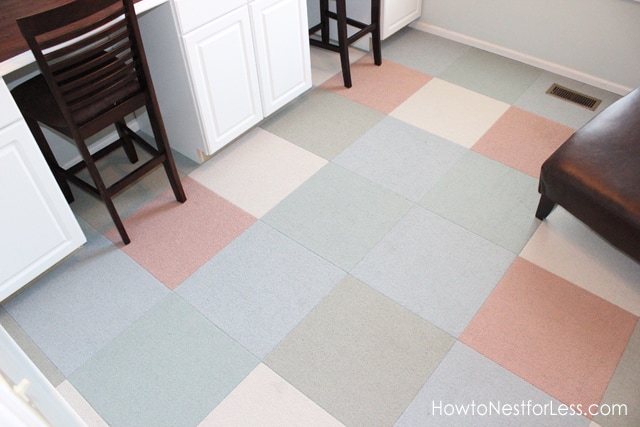 One last note: we did not have to remove our baseboards during this process. The Flor tiles fit perfectly underneath and did not leave a gap. If you try Flor tiles though, you might need to remove your baseboards and reinstall after the flooring is down!
 SO, WHAT DO YOU THINK?
Pretty cute, huh? And if you don't want to do an entire room in Flor carpet tiles, you can also create an area rug! There are tons of color selections and even patterns. I'm thinking I should create an area rug for my kitchen next!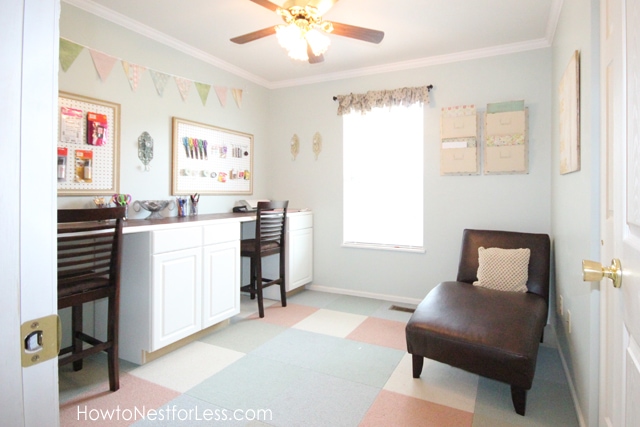 See the entire craft room makeover by clicking here.
How to Nest for Less received no payment or other compensation for the review of Flor® carpet tiles other than the actual product to review. All opinions are my own.