Who doesn't love the cheerful sight of sunflowers? If you're looking for some inspiration for your kitchen decor, look no further! In this blog post, we will showcase some beautiful sunflower kitchen decor ideas. From wall art to textiles to accessories, these items show how versatile the sunflower can be as a design motif. So if you're ready to add a little sunshine to your kitchen space, keep reading for some great ideas!
Sunflower Kitchen Countertop Decor Ideas
There are many sunflower-themed kitchen countertop decor ideas available. Tiered trays are a great option, as well as silk sunflowers in a pretty vase.
Tiered Trays
Add cheer to your kitchen countertop with a tiered tray filled vessel with sunflower goodness. This stylish look features tiered trays filled with different flowers and lots of bright colors.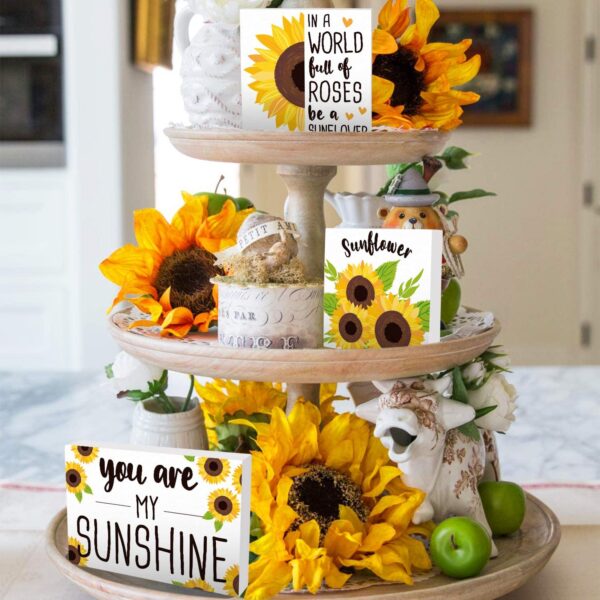 Sunflower Canisters
Add some fun to your kitchen with these sunflower canisters. They are perfect for storing baking ingredients while adding a touch of personality to your space.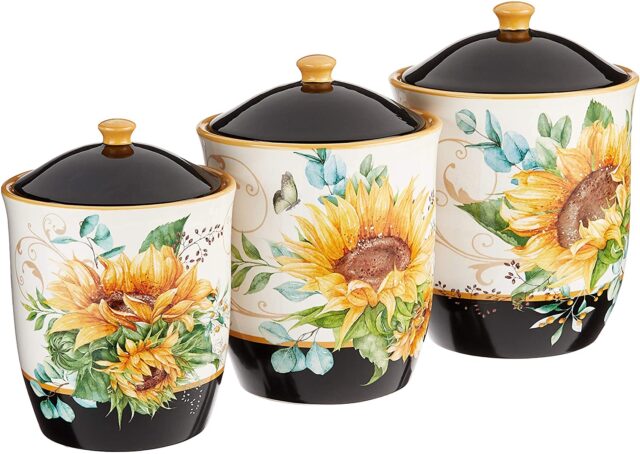 Silk Sunflowers
Artificial sunflowers are a great way to add beauty and color to any room in your home. When in season, swap out the silk for a fresh bouquet of sunflowers. Be careful though, your kitchen may start looking like a flower shop.
Sunflower Wall Decor Ideas
One of the easiest ways to add beautiful sunflowers to your kitchen is with wall decor. You can find sunflower-themed artwork at most home goods stores, or you can even create your own! For a DIY project, try painting sunflowers on a blank canvas or framing sunflower-patterned fabric.
Sunflower Wall Art
If you want to go all out with sunflower decor, why not try sunflower wall art? Wall art is a great decor option because it's typically inexpensive and easy to install. It's also great for renters! We recommend this picture hanging kit.
There are many sunflower art prints available in stores and online. For one-of-a-kind sunflower paintings for your kitchen walls, check out Etsy.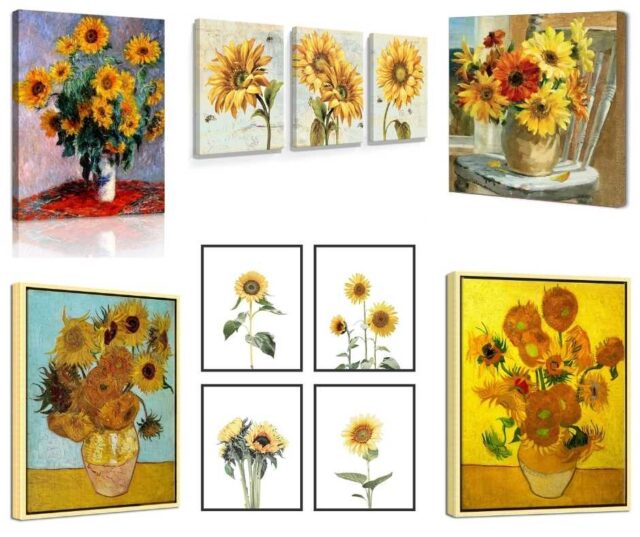 Sunflower Wall Clock
Another fun sunflower-themed wall decor idea is a sunflower wall clock. This is a great way to add a touch of sunflower style to your kitchen without going overboard.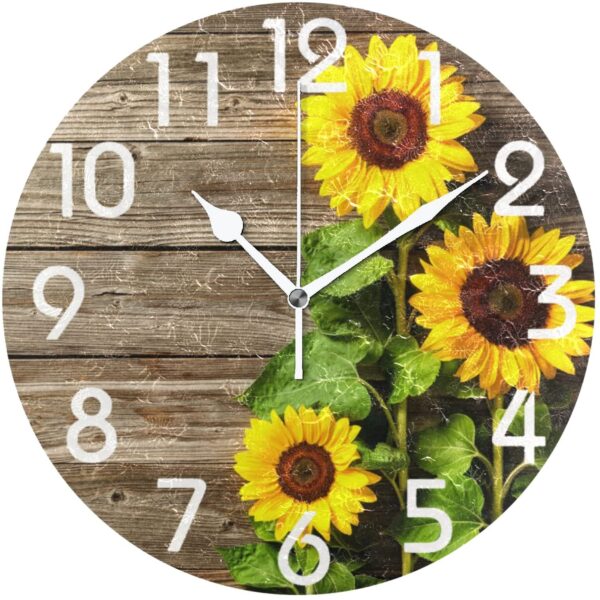 Sunflower Wallpaper
If you really want to make a statement, sunflower wallpaper is the way to go! This can be a great option if you're looking for temporary sunflower kitchen decor. Available in many sunflower patterns, you're sure to find a wallpaper you love.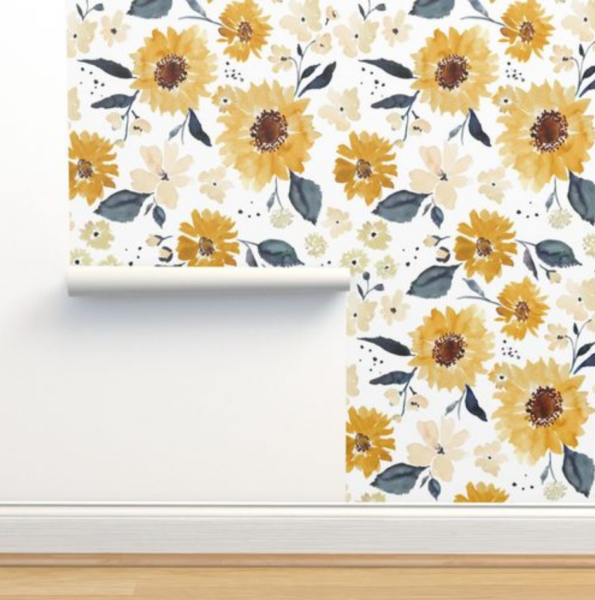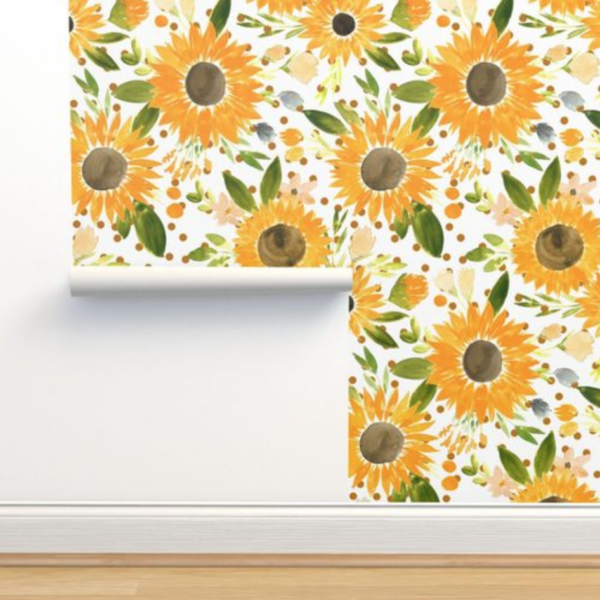 Sunflower Kitchen Accessories
In addition to sunflower wall decor, there are many sunflower-themed kitchen accessories available. From dish towels to salt and pepper shakers, there are plenty of ways to add sunflowers to your kitchen.
Cast Iron Trivets
This sunflower cast iron trivet is a great way to add sunflowers to your kitchen in a functional way. This trivet can be used to protect your countertops from hot pots and pans and dishes.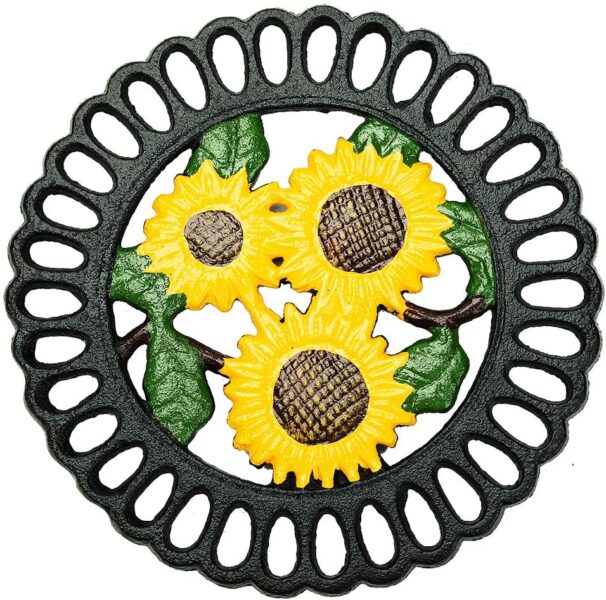 Silicone Trivets
If you're looking for sunflower trivets that are both functional and stylish, silicone sunflower trivets are great. And they can be easily cleaned by placing them in the dishwasher.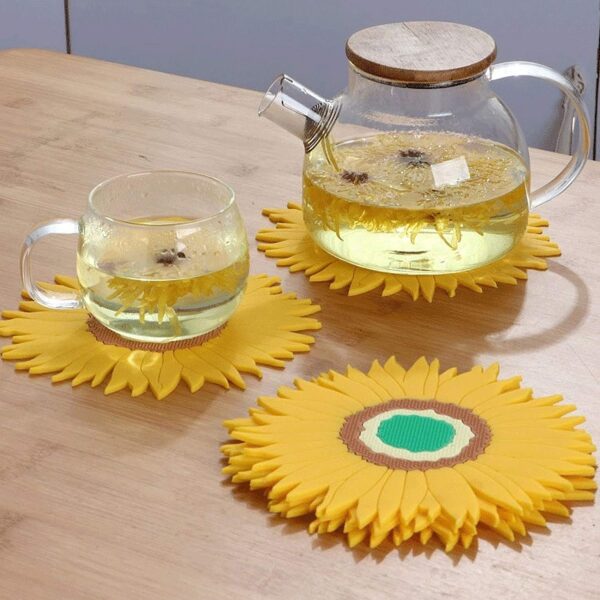 Wooden Trivet
If vibrant colors don't fit your aesthetic, a sunflower wooden trivet is a great option. This rustic trivet is made from solid cherry hardwood, so it has a unique and natural look.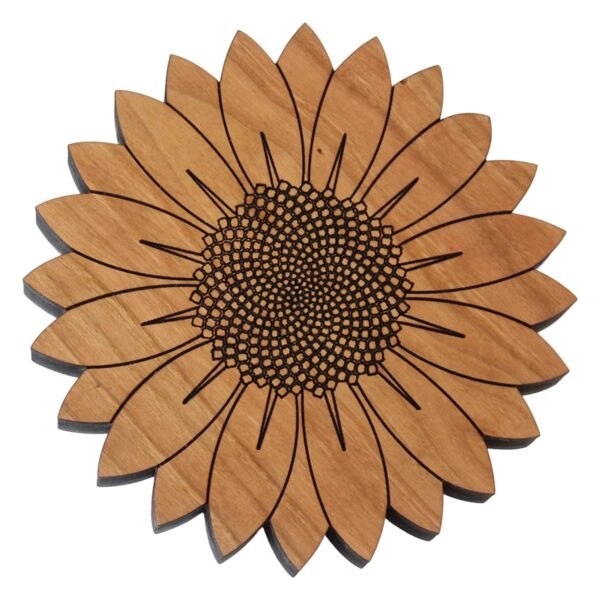 Sunflower Cutting Board
A sunflower cutting board is a great way to add sunflowers to your kitchen in a practical way. This cutting board is made of tempered glass, so it's sure to last. Or set it up against your backsplash for instant sunflower artwork.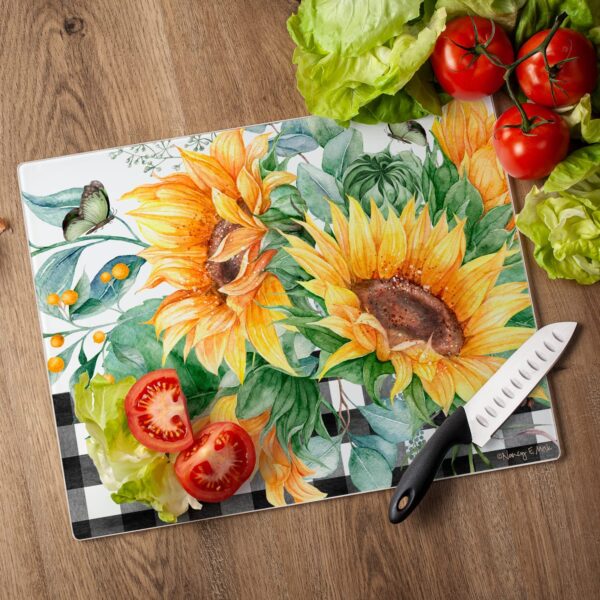 Wooden Spoons
Sunflower wooden spoons are a great way to add sunflowers to your kitchen in a functional way. These spoons are made of bamboo, so they're durable and long-lasting. Remember the oil wooden utensils and cutting boards often. We recommend this mineral oil.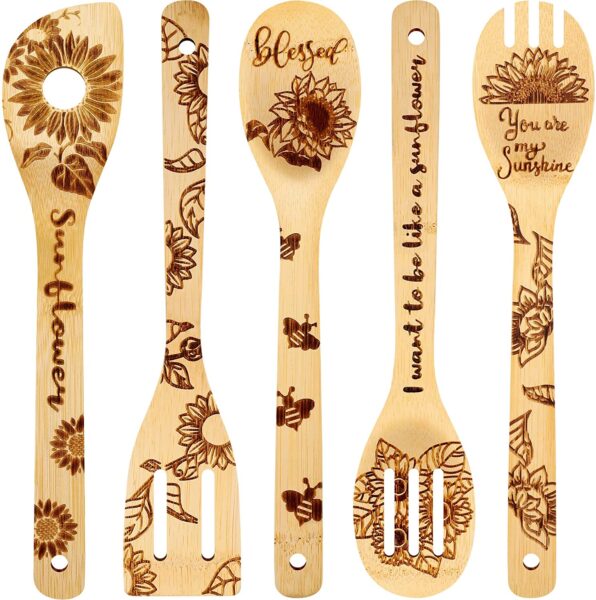 Salt & Pepper Shakers
Salt and pepper shakers with sunflowers painted on would look great in any kitchen!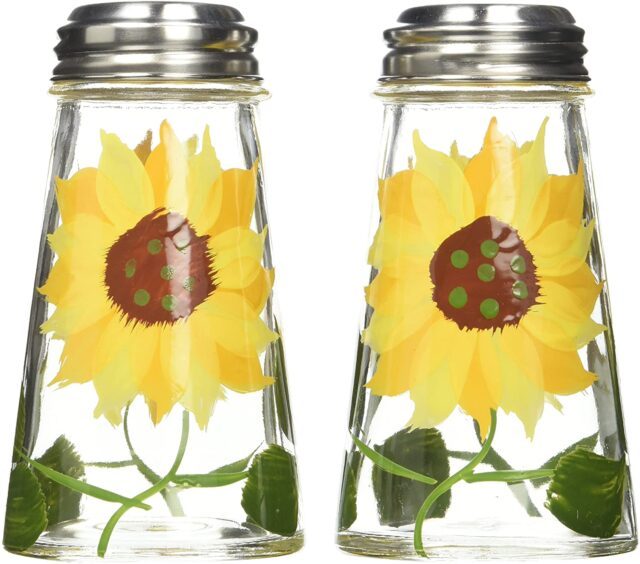 Napkin Holder
Add a pop of sunflower yellow with a napkin holder.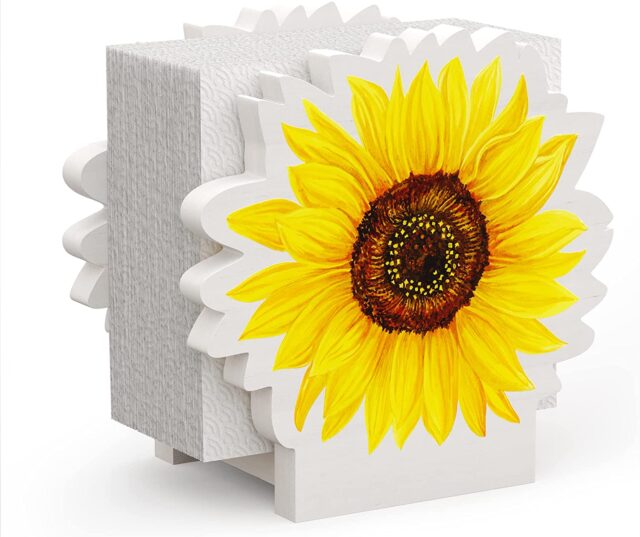 Oil & Vinegar Bottle
Pair the sunflower salt and pepper shakers with a sunflower oil and vinegar bottle.

Paper Towel Holder
Dress up your paper towels with a sunflower paper towel holder.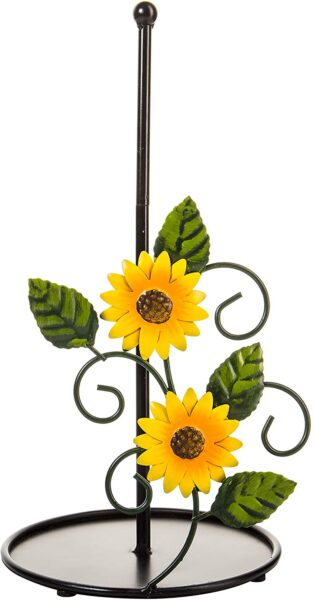 Floor Mats
Adding sunflower themed floor mats to your kitchen is a practical way to add pops of color. If you have a the space, try a rug.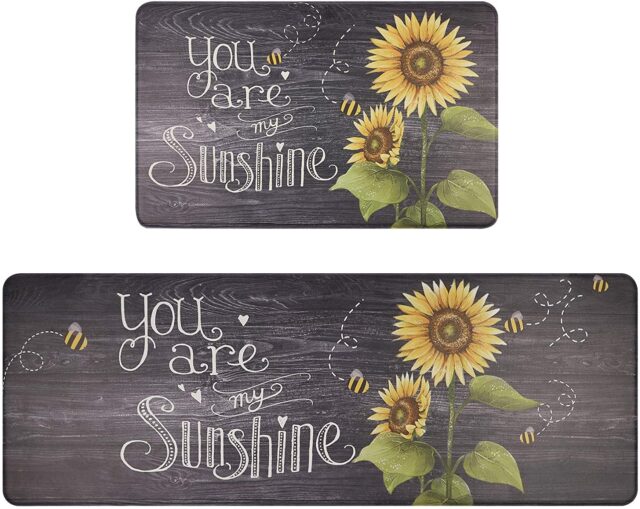 Sunflower Kitchen Textiles
There are many sunflower-themed kitchen textiles available, from dish towels to oven mitts. These sunflower tea towels would make a great addition to any sunflower kitchen decor theme.
Kitchen Towels
Sunflower kitchen towels add character to the kitchen and are made of 100% cotton, so they're absorbent and durable.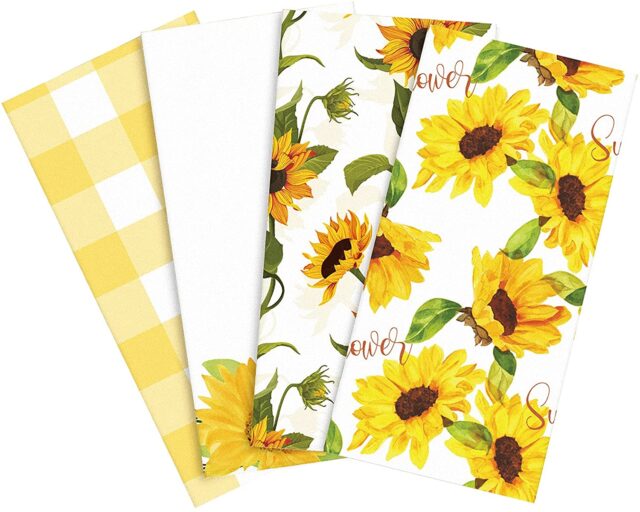 Apron
This sunflower apron is perfect for anyone who loves to cook! This apron is made of 100% cotton, so it's both durable and comfortable.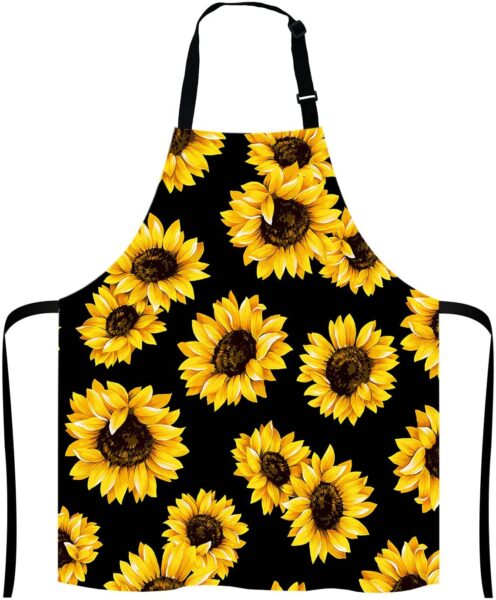 Sunflower Placemats
Add sunflowers to your kitchen table with this sunflower placemat. This placemat set is made of 100% cotton, so it's durable and easy to clean.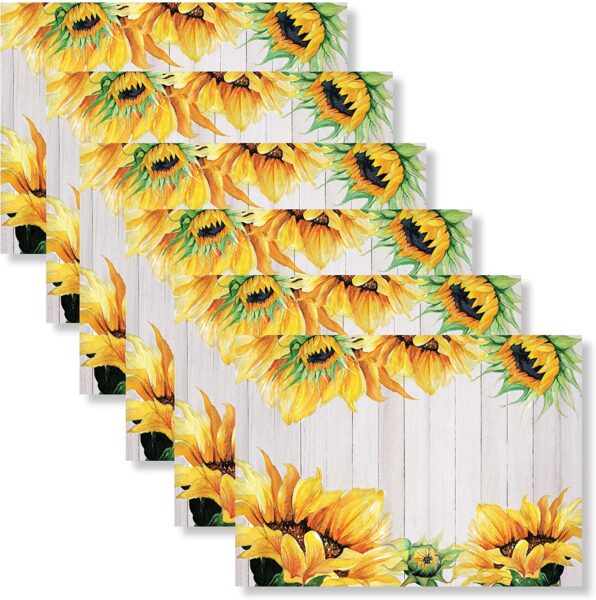 Table Runner
This sunflower table runner is perfect for adding a touch of sunflower style to your kitchen table.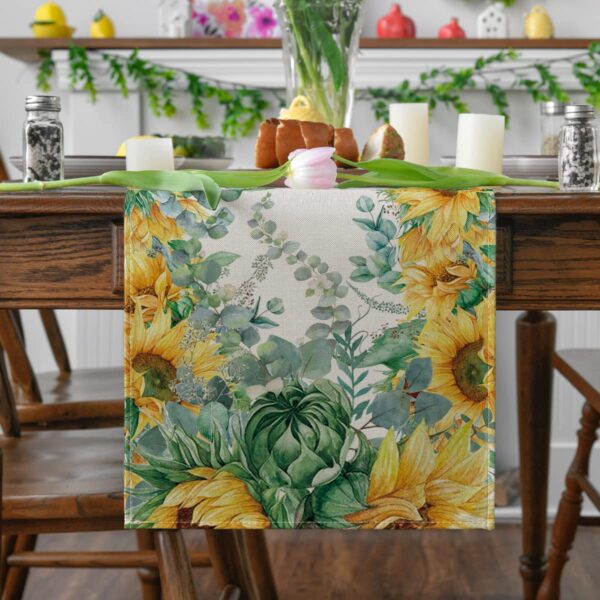 Sunflower Curtains
Do you have bare windows? Add some sunflower themed window treatments!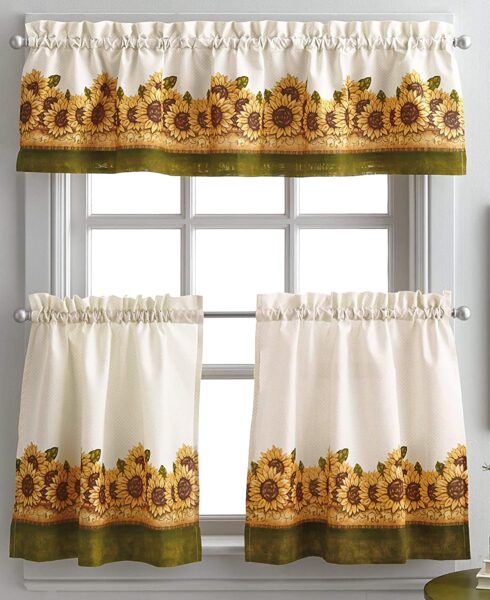 Sunflower Appliance Decorations
Ready for some unconventional ways to add sunflowers to your kitchen? Check out these appliance decorations! These ideas are especially great for renters as they can be easily removed without damaging appliances.
Mixer Decals
If you have a pretty mixer sitting on your countertop, why not add some sunflower decals? The decals will make your mixer look custom!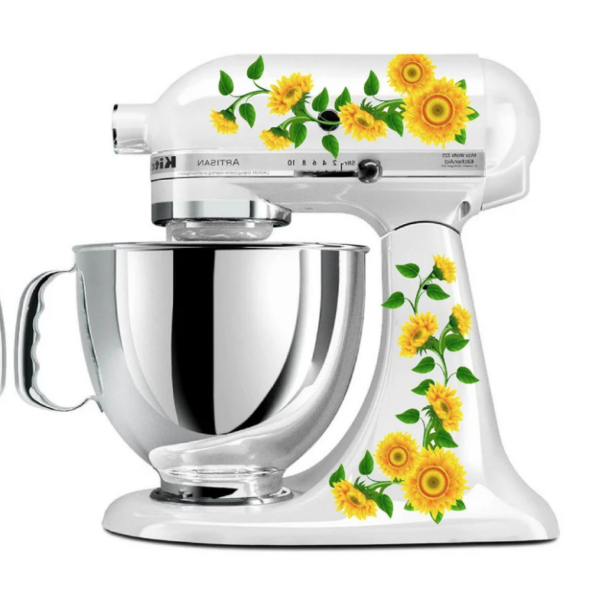 Dishwasher Decal
Another fun idea is to add a decal to the front of a dishwasher.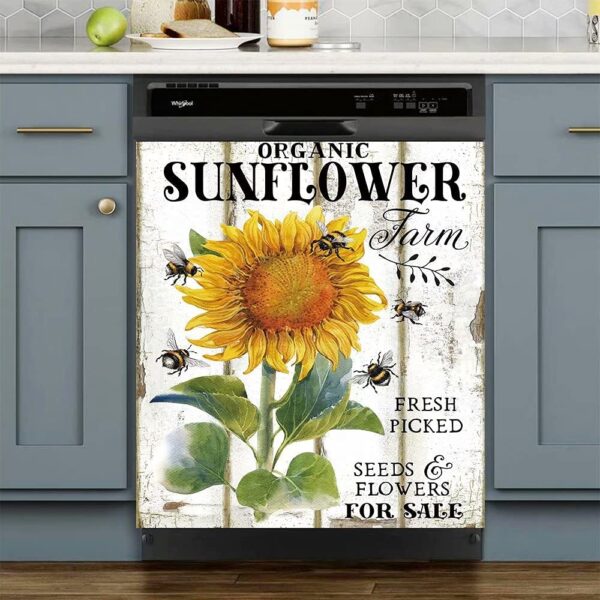 Dishwasher Clean/Dirty Magnet
Don't want an entire dishwasher decal? Add a sunflower dirty/clean magnet to your dishwasher. Cute and functional!