I know, I know… this craft room makeover has been taking forever. But that's real life for me. Other things kept getting put on the front burner like our kitchen backsplash and sun room makeover.
But now I'm putting the finishing touches on my craft room, starting with some picture frame moldings and chair rail on a budget.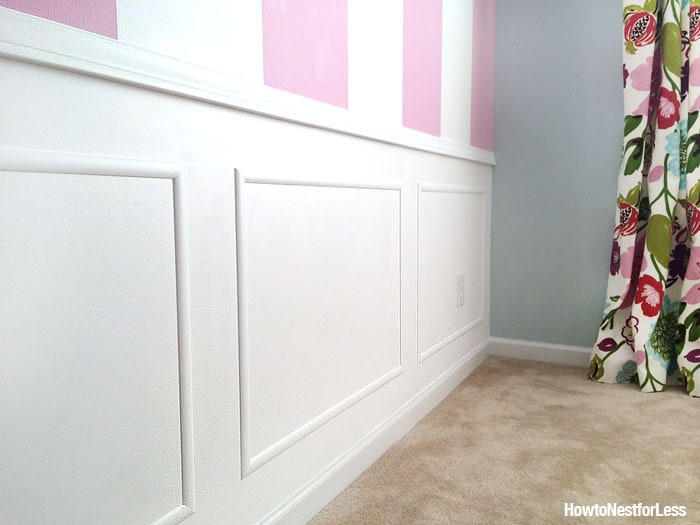 What You'll Need:
paper and pencil to sketch your plan
measuring tape
level
painter's tape
compound miter saw or miter box
batten molding
chair rail molding
glue for moldings (we used Elmer's ProBond Advanced)
brad nailer
hammer and nail set
wood filler
sandpaper
paint and primer
To save tons of money, I didn't use paneling behind my picture frame moldings. It's just plain white paint in a semi gloss finish. Also, I just used 15/16 inch white foam batten at only $2.47 for an 8ft section. This one wall cost me less than $30 to complete the chair rail and picture frame molding (and I bought an extra piece of batten just in case I screwed up!).
To start off my project I had to do lots of measuring and math to plan out the picture frame sizes. I decided to only do one wall with these moldings, the one with my painted stripes.  I measured the length of the wall (148 inches) and planned out 4 picture frames for the wall. It took some playing around with numbers, but I landed on 31 inches wide x 22.5 inches tall with about 5 inches between each picture frame.
31 inches wide x 4 picture frames = 124 inches
148 inch wall – 124 inches = 24 inches leftover for gaps
24 inches ÷ 5 gaps  = about 5 inches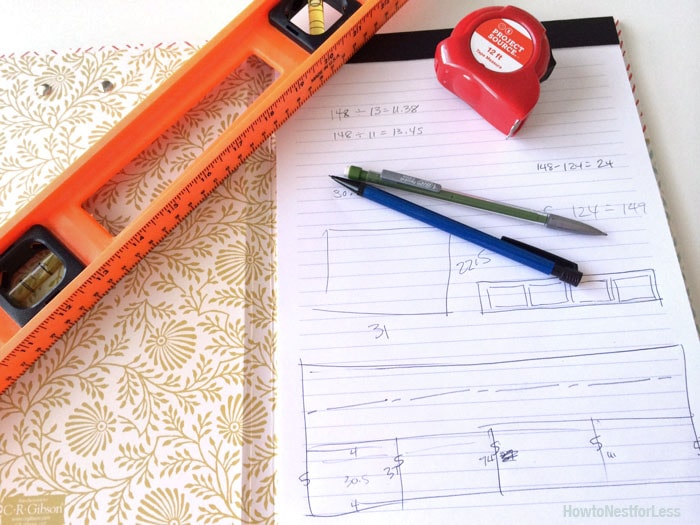 Now for the picture frame molding height… Chair rails are usually placed one-third of the ceiling height so if you have a 8-foot ceiling, they should be installed about 32 inches from the floor. I landed on 4 inches between the chair rail and top of the picture frame moldings, and 4 inches from the bottom of the picture frame moldings to the baseboards. This left my picture frame moldings to be 22.5 inches tall.
We bought all of the moldings and marked them with pencil for all of the pieces. For the 4 picture frame moldings, we needed (8) 22.5 inch pieces and (8) 31 inch pieces. Remember you are cutting these at 45 degree angles to miter together so the measurements are for the long ends of the angled cut.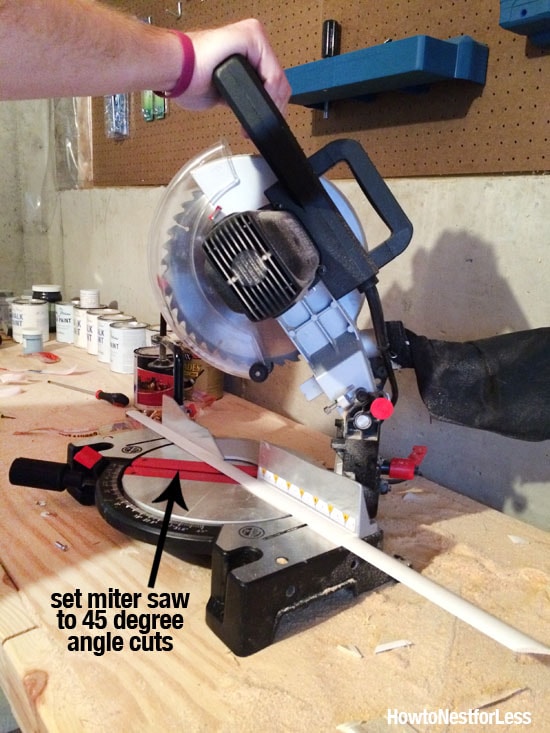 Once all of the pieces are cut, you're ready for installation. I went ahead and primed the wall before I started the moldings. Personal preference. Once the paint was dried I measured and penciled in the picture frame molding boxes onto the wall.
Then I got my supplies ready: my brad nailer, Elmer's ProBond glue, and painter's tape.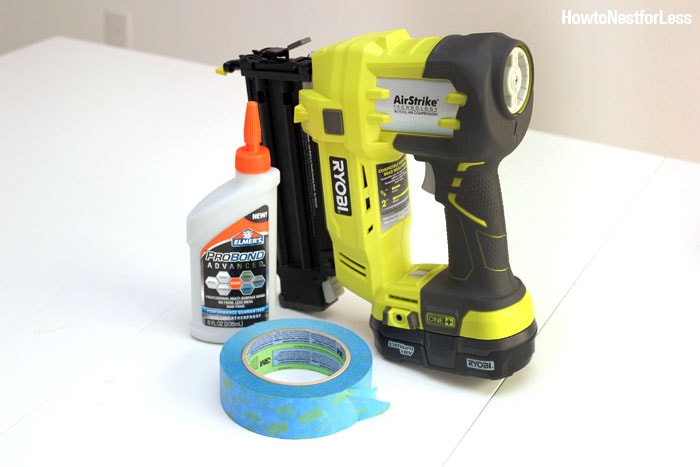 I put a little glue on the back of the chair rail molding and placed it just over the penciled line on the wall.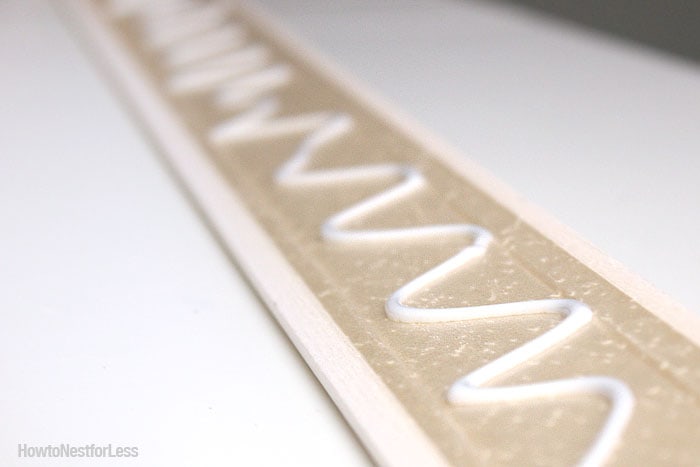 Then I used my stud finder before I nailed the boards into place.
Just to make sure, we checked our moldings with the level to make sure everything was straight. Then just for an extra precaution I used a little painters tape right over the moldings to keep in place and flush against the wall while the glue dried (you can see I stuck it to the wall below so I wasn't having to rip pieces in a hurry with my hands full).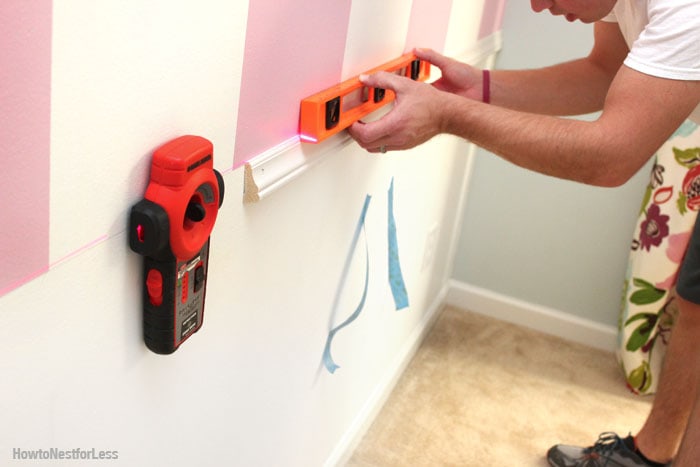 I should also mention that when you have to use more than one piece for a chair rail, you'll get the cleanest line if you miter the two pieces rather than using straight cuts. Plus it's easy to fill in that gap with wood filler.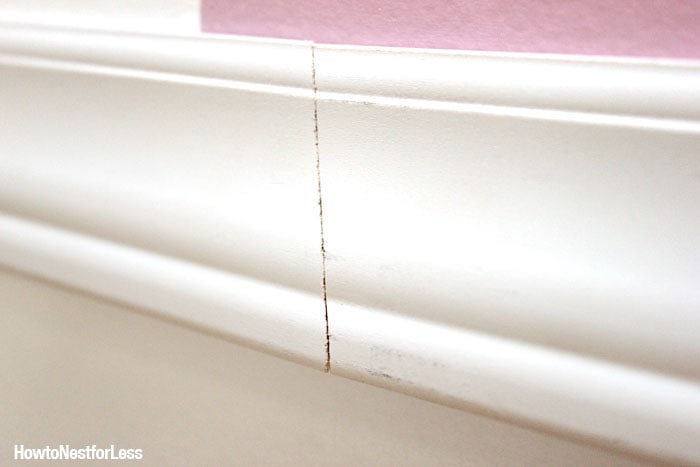 OK, now it's time for the picture frame moldings. Again, same strategy. First we started with a little glue…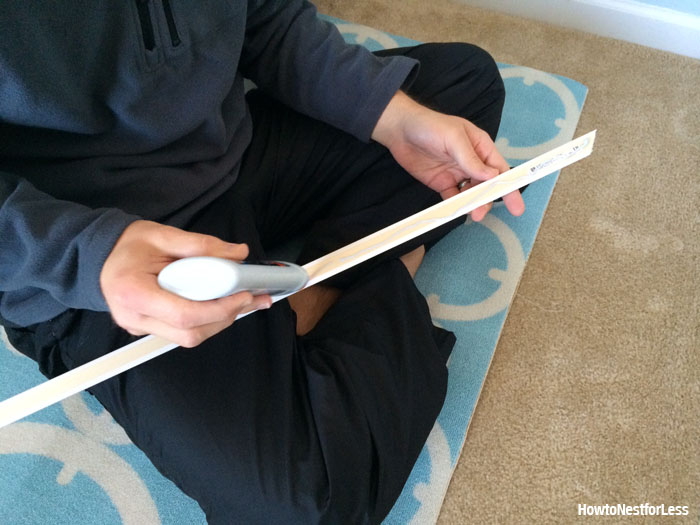 …then we placed on the wall just overlapping the pencil marks so they wouldn't show.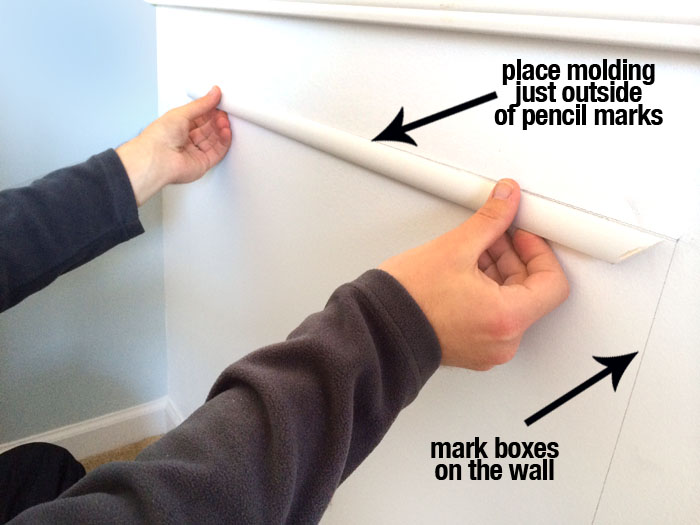 We used three nails in each piece of molding, one on each side and one in the center.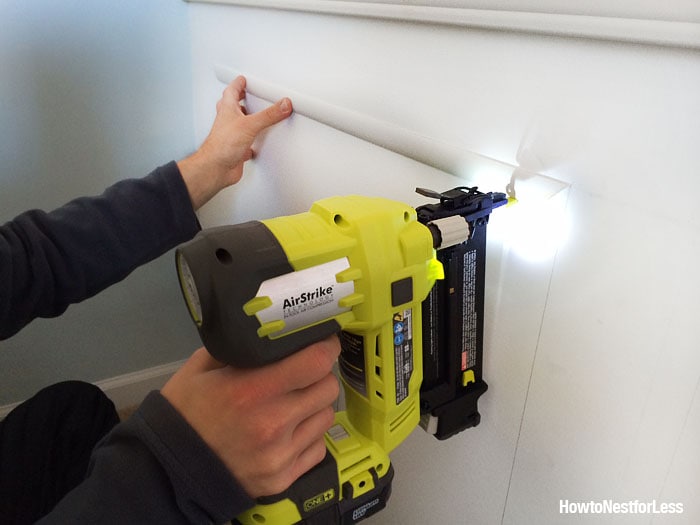 We also always started with the top piece, then added the two sides, then finished each picture frame molding with the bottom piece.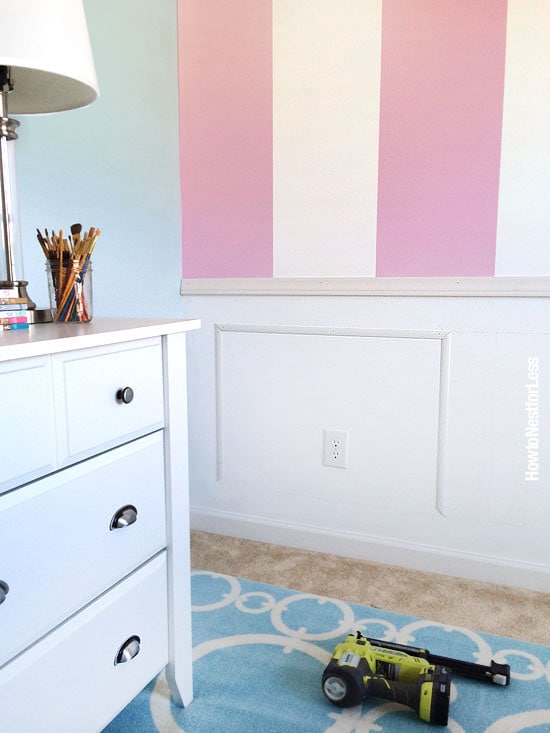 Once all of the moldings were in place, we used a nailset to tap the heads into the wood.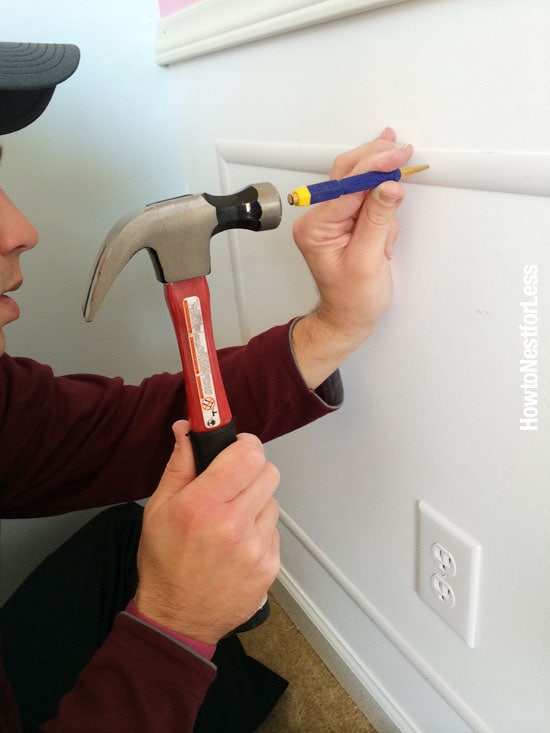 Then we filled in all of the holes and the mitered corners so everything looked seamless. Once it dried we sanded everything smooth and painted the chair rail, picture frame moldings, and the wall bright white.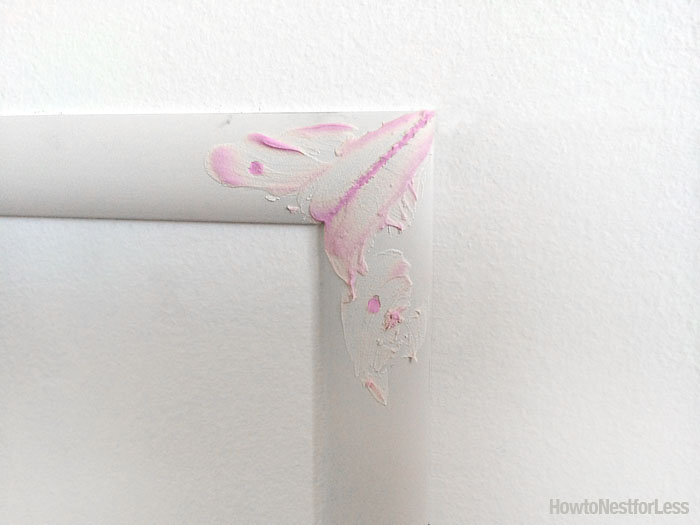 And here is the final look for under $30!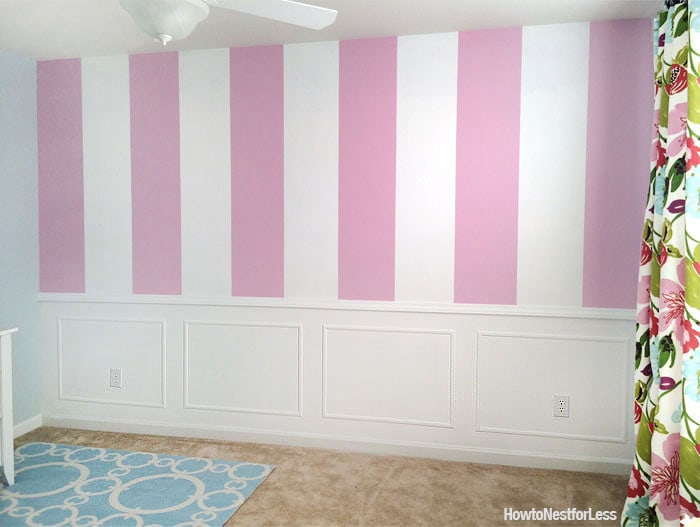 (2) pieces of white casing: $14.94
(6) pieces of 15/16 x 8ft white batten: $14.82
Luckily with a new house we had wood filler, sandpaper and white paint on hand.
And I bet I could have done all 4 walls for under $100. Crazy.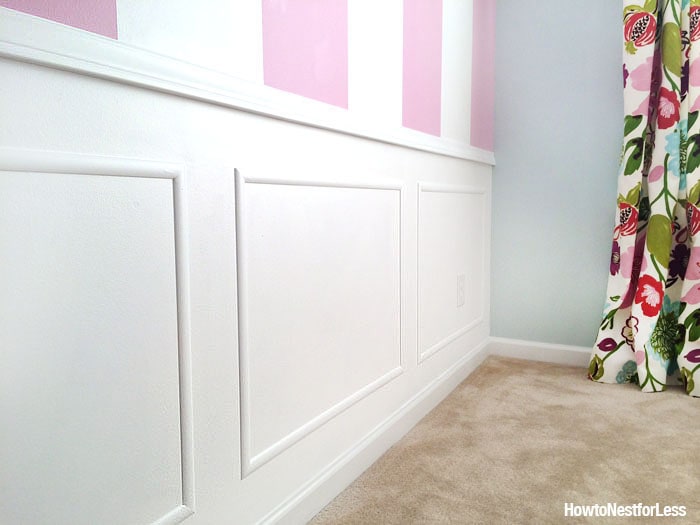 This whole project took us only one afternoon to install. The biggest pain was waiting for the coats of paint and wood filler to dry.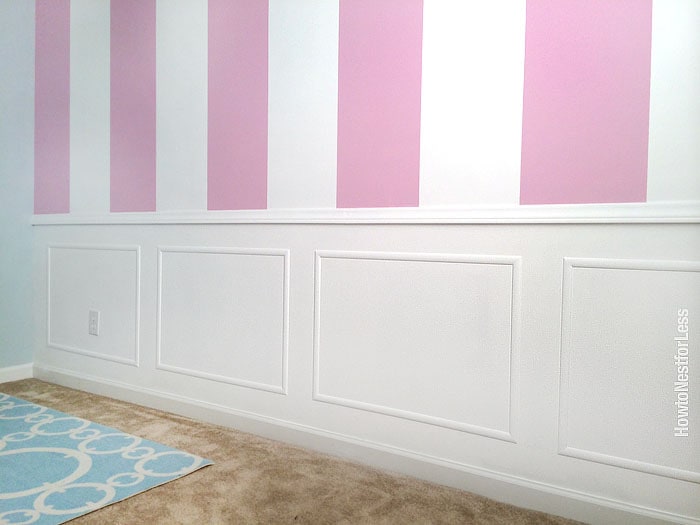 While it's not professional grade moldings, my craft room is quite happy with the $30 update. And now I have the confidence to do some other rooms in the house. I'm thinking master bedroom next?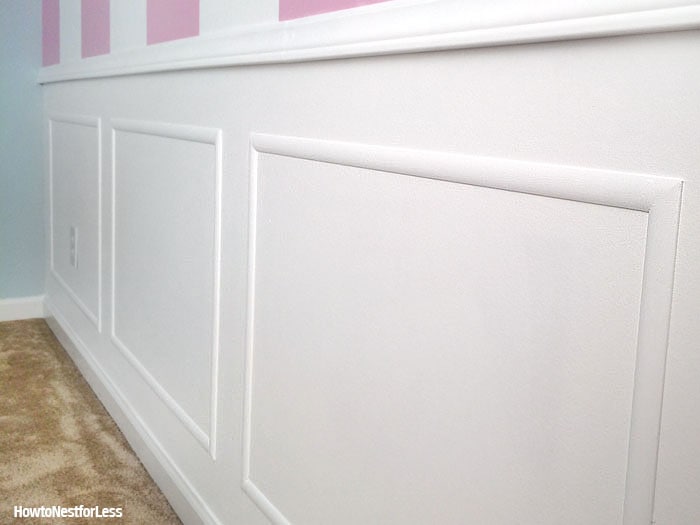 So, what do you think?
Not too shabby for moldings on a budget, right?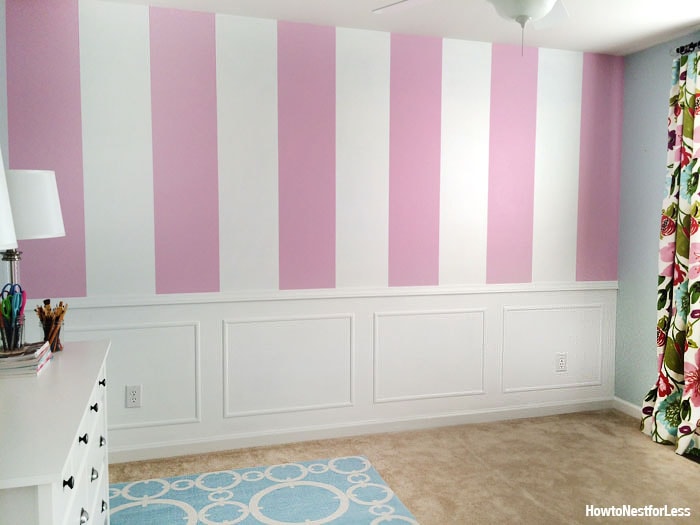 This weekend I'll spend putting some finishing touches on this space.
Get ready for the final reveal on Monday!
---