Happy Friday everyone. It's been awhile since we've updated you guys on Ben's epilepsy and the crazy year we've had thus far.
If you want to read back through all the craziness I would suggest you start at the beginning. It starts off with a bang, trust me. Read part 1 here | Read part 2 here | Read part 3 here | Read part 4 here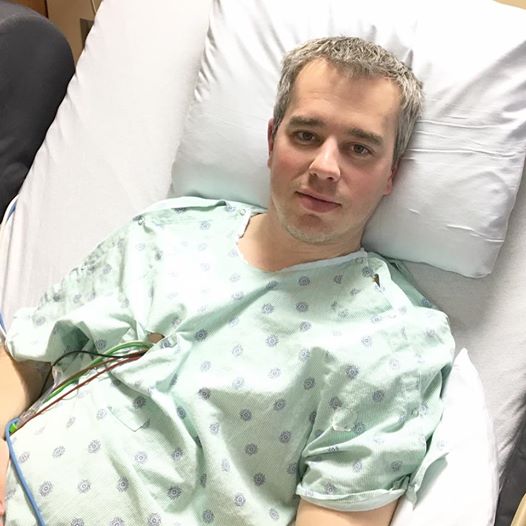 So the last update was on June 2nd after Ben's spinal cord surgery. Things went smoothly there for a short period until he had another grand mal seizure on June 17th.
Ben was kind of feeling "off" all day but my cousin's wedding shower was that afternoon. Since she lives in Oregon and was coming in town just for the event (and we were meeting her fiancé for the first time), we decided to stop by the party for a bit.
His auras (warning sensations to seizures) kept getting worse so we decided to head home. On the way Ben said he was hungry so we stopped off to get a quick bite to go. As he was reading the menu board, he just looked at me and said "I can't read anything, the words are all jumbled". Unfortunately this often happens to him when he's having bad auras.
We hopped in the car and headed home so he could rest.
Once we got home Ben said he wanted to just chill and watch a TV show. Ben was sitting on the loveseat while I was lounging on the couch. Since I was lying down and the way our family room furniture is set up he was kind of behind me and out of my sightline. All of a sudden I heard some weird gurgling noises and turned around… he was reclined a bit on the loveseat and had a pillow over his face. I first assumed he was just tired and was starting to take a nap but then I started hearing the weird noises again.
I took the pillow off his face and noticed his eyes were fluttering like crazy. I can't even replicate what I saw in that moment, just crazy fast blinking.
Then he started to move his jaw back and forth, side to side. It started to get to the point where it looked like he was chewing on something.
I was calling his name over and over again but I knew he was unconscious at this point.
Ellie walked into the room because she heard me calling his name louder and louder. I then grabbed my cell phone and started recording his seizure. At our last neurologist appointment Ben's doctor asked me if I had ever recorded one and I told her no, never even thought of it. She asked me to try and capture one on video next time and luckily I remembered.
So for about 3 full minutes Ben just kept doing the jaw thing and the fast blinking.
Then all of a sudden he STOPPED.
No more eye fluttering. No more jaw movement.
Then his eyes suddenly popped WIDE OPEN. Nothing else on his body moved. Then very slowly his head started to move over to the right…. very slowly. Seriously like a freaky doll out of a horror movie.
I knew at this time something big was about to happen so I stopped recording and yelled at Ellie to go get my sister (luckily she lives just 3 doors down and was already home from the wedding shower).
Just as Ellie closed the front door, Ben went into a full grand mal seizure. Arms locked close to his body, convulsing, making a weird snoring noise, eyes fluttering again.
I was scared Ben would fall off the couch so I quickly moved out the coffee table and threw the accent pillows on the floor below. I then called 911 with my phone and started recording again with his phone. Ben fell onto the floor but luckily the pillows broke his fall.
A few seconds later, my brother-in-law walked into our house to make sure everything was ok. Ben was still seizing on the floor. My brother-in-law had never seen a full grand mal seizure before so I think he was a little freaked out!
As a I was hanging up with the 911 operator, Ben stopped the grand mal part of his seizure but still was unconscious on the floor. At this time he was just making the weird snoring noise with his eyes closed, arms still locked close to his body, drool everywhere.
As I heard the sirens nearing the house Ben started to wake up. This was probably a full 7 minutes after the whole ordeal started… seemed much longer though.
Ben had no idea where he was or what happened. He was trying to stand up and I kept pushing him down, yelling at him to just sit still.
I kept asking him questions to see if he was with it… what's my name? what's your name? what year is it?
Ben couldn't answer any of the questions. Just stared at me.
The first responders finally made it to the door. They took some quick vitals, asked Ben some questions, and got him strapped on a gurney, and then put him in the ambulance. I followed behind them as we headed to the hospital.
Luckily when we got there Ben was starting to come around. He was able to answer questions and was in a good mood. Sore, but in a good mood.
We spent a couple hours at the hospital but Ben was released later that night since Ben was coincidentally scheduled to meet with his neurologist the next day.
At the appointment we talked about his latest auras and the seizure. His doctor basically said all of the auras Ben has been having are actually mini seizures, just a different kind of seizure than the grand mal one. This kind of made us sick to our stomachs because has been having these "auras" often.
The doctor reminded us that during his hospital stay Ben's EEG showed he was having 14-15 seizures a night. We learned that our main goal is to tweak Ben's medications so they stop the grand mal seizures. Unfortunately the doctor said we probably won't be able to stop the mini seizures from happening for his particular case of epilepsy. Oh joy.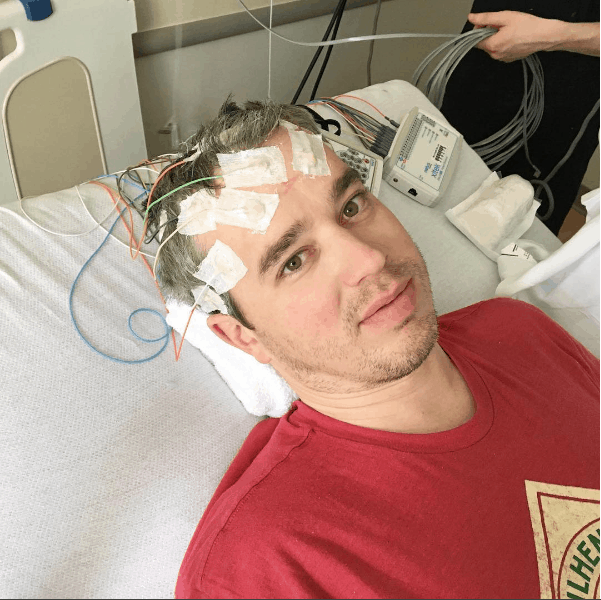 Right around this time Ben was supposed to return to work from his original hospital stay and spinal cord surgery. After this last bout though we decided as a family that Ben wouldn't (and really couldn't) return to work since his seizures (big or small) were just happening too frequently.
That's when Ben started helping out with the blog. You might have noticed that he's been contributing a lot more with DIY projects. He's also been a big help with social media and the boring backend part of blogging (SEO, answering emails, prepping posts, etc). We're so lucky that we have this little corner of the internet to keep him busy.
Well since we switched up his medications in June Ben has been feeling pretty good… up until last week. He started having the smaller seizures again. Two weeks ago he had one when I left for a business trip to Austin, TX. Then we went to Kansas City last weekend for Ellie's soccer tournament and he had a mini seizure on the sidelines during one of her games. It was crazy because all of a sudden he looked at me and said "I'm having a seizure" and then he blacked out and his eyes went crazy. This bout only lasted about 2 minutes. The crazy part is that I bet not one other parent noticed during the game that Ben actually had a seizure. We've gotten pretty good at being inconspicuous.
One bad thing about these mini seizures is that Ben seems like a complete dummy after an episode. He looks and acts like a normal human being 99% of the time but once he has a mini seizure his mind goes completely blank for a few minutes. After these episodes I often clue people in so they don't look at him all side-eyed like "umm…anyone home upstairs with this dude?". Yep, you could never tell just looking at him that he's battling epilepsy. He looks like a normal, happy, healthy guy on the outside.
So now we're back to getting more bloodwork and adjusting medications again. Unfortunately his doctor said this will just be an ongoing thing for us. We are coping and trying tons of new remedies and suggestions from people, but please bear with us if we all of a sudden go missing from here for a few days or weeks at a time. We will keep you guys updated if anything else pops up but as for now Ben is feeling better. Hopefully we can knock out the rest of 2017 without any incidents… fingers crossed!
Thanks as always for all of the thoughts and prayers. They are always appreciated! Ben was just telling me this week that he often goes back to the older epilepsy blog posts because he loves reading the stories and comments from you guys. You really are the best!!