It's January, so you know what that means– organize all the things! Which is why I wanted to share my Rae Dunn organization must haves. There are so many wonderful and useful items that can help get your home into tip top shape. And get this– many of the items are on sale!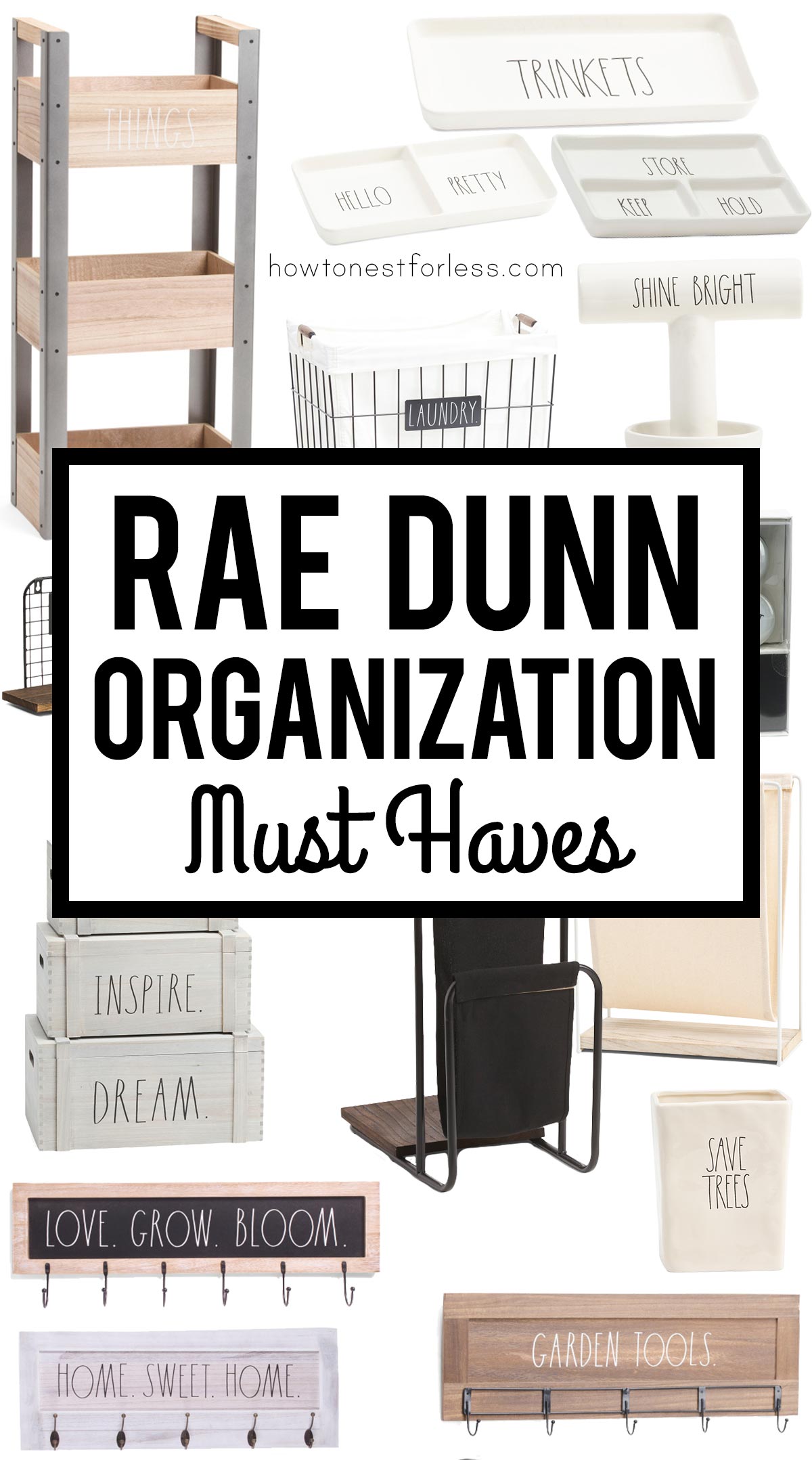 This post contains affiliate links.
Rae Dunn Organization Products
Whether you need some organizational help in your kitchen, living room, bathroom, laundry room, or wherever, these items are sure to bring Rae Dunn beauty to your space while organizing your things. To buy any item you like, simply click on the text.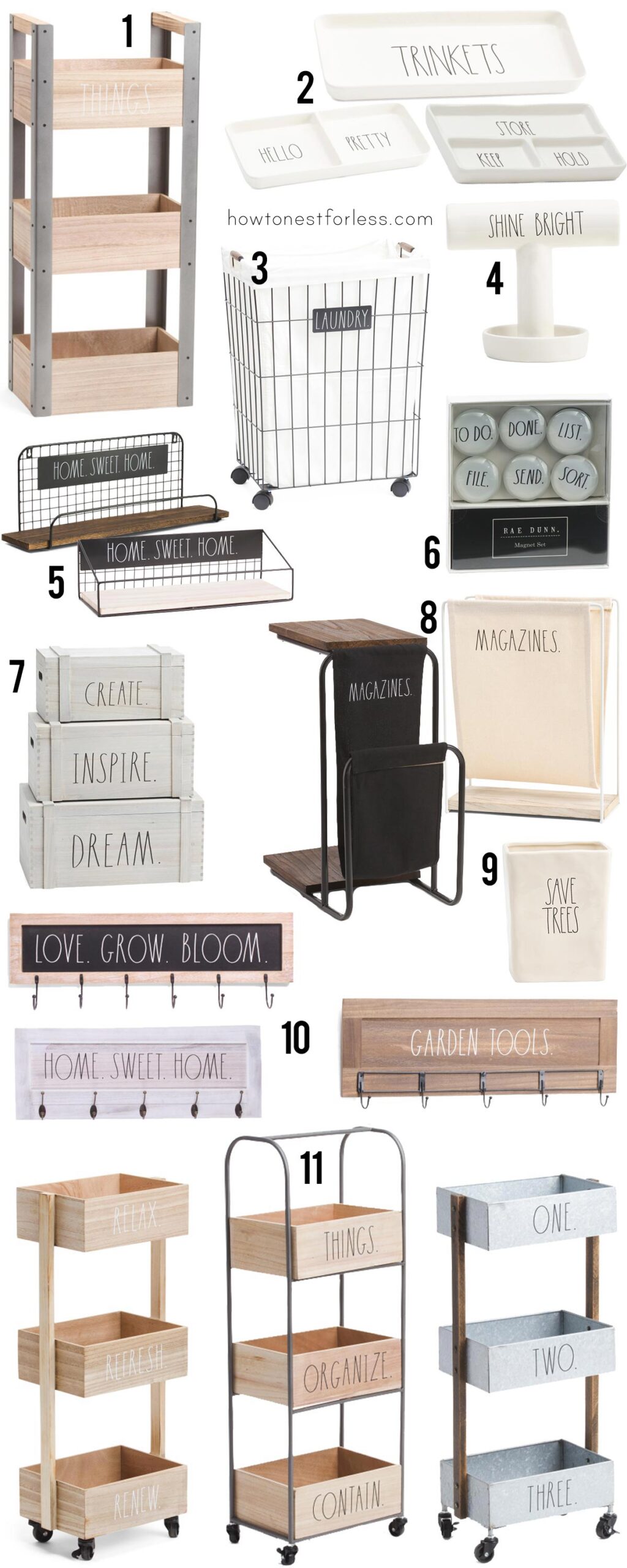 1. and 11. Caddies
wood & metal caddy / wood caddy on wheels / wood & metal caddy on wheels / galvanized metal & wood caddy on wheels
Whether it's stationary caddies or caddies on wheels, these are perfect for any room. Use in a bathroom to store extra toilet paper, hair utensils, and toiletries. A caddy would also work well in a laundry room to organize dryer sheets, dryer balls, clothespins, and other necessities. I think I might snag this wheeled one, while it's on sale, for my crocheting supplies. When I want to sit and crochet in our living room, I can roll the caddy out. And once I'm finished for the evening, I can roll it back into my craft room, out of sight.
2. Trays
trinkets tray / hello pretty tray / store, keep, hold tray
My favorite way to curtail random items on a surface is with a tray. Keys? Put them on a tray. Everyday jewelry? Tray. Pens and reading glasses? Tray.
3. Laundry Hamper
How adorable is this metal laundry hamper on wheels? Very Fixer Upper. I'm sure Joanna has the same one in her laundry room. It's not very large, but I could see myself using it for my delicate items that require the hand wash function on my washing machine. The hamper could also be used to store extra hangers.
4. Jewelry Organizer
Organize and display your jewelry with this pretty bangle bar dish. Hang bracelets and necklaces on the bar and store earrings and rings in the dish on the bottom. I can't believe this is only $10! What a great gift idea as well. I'd include a pair of my favorite everyday earrings when gifting to a friend.
5. Shelves
metal & dark wood shelf / metal & light wood shelf
While both of these are considered wall shelves, you could definitely use the metal and light wood one on a surface. I could see using one for important mail and other documents in our family command center.
6. Magnet Set
This magnet set makes organizing more cute!
7. Crates
The ideas are endless with these Rae Dunn organization crates! They come in three different sizes. Aren't the so pretty stacked up? I could see using them to store all sorts of things you don't want out in the open but would still like easy access to. Photos/photo albums, TV remotes, kids' toys, dog toys, blankets, craft supplies, etc.
8. Magazine Holders
C table black magazine holder / C table cream magazine holder / cream magazine holder
I already placed my order for the C table cream magazine holder, it's just like the pictured one in black, but it's cream. My plan is to put it next to my chair in the living room. I can store my favorite magazines and kindle in the bottom part and set my drink and readers on the table portion. Isn't the wood tabletop a pretty touch?
9. Waste Basket
The perfect waste basket for a bathroom! But I could also see myself using it to hold my gift wrapping accessories (scissors, tape, spools of ribbon).
10. Wall Plaques with Hooks
love. grow. bloom. plaque / home. sweet. home. plaque / garden tools plaque
These wall plaques can be used to organize so many things– from keys to totes to jackets to garden tools. The Rae Dun organization opportunities are endless!
Shop all 5 styles of plaques with hooks HERE!