Benjamin Moore Revere Pewter is one of the most sought after and popular greige paints on the market. If you want to see what greige paint looks like in real homes, this post is for you!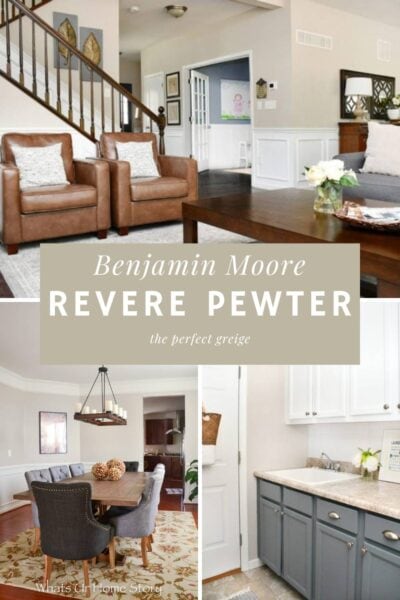 After having 3 houses and painting nearly every room, I've learned my way around a color swatch or two. Although I have listed the paint colors in our current house room by room, I've never gone in depth about them so I'm going to attempt to do that here. I thought I'd start with one of the most lived in spaces in our house – the living room!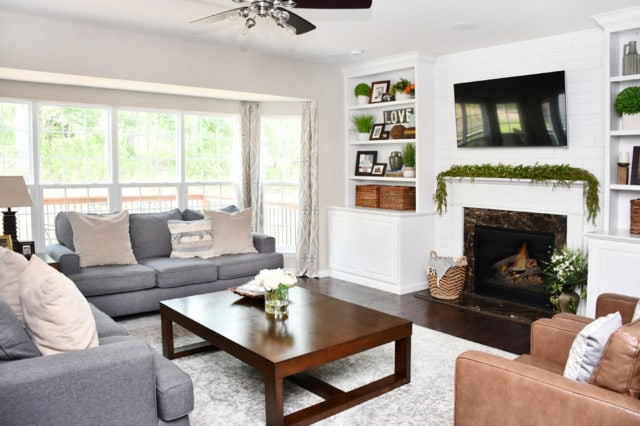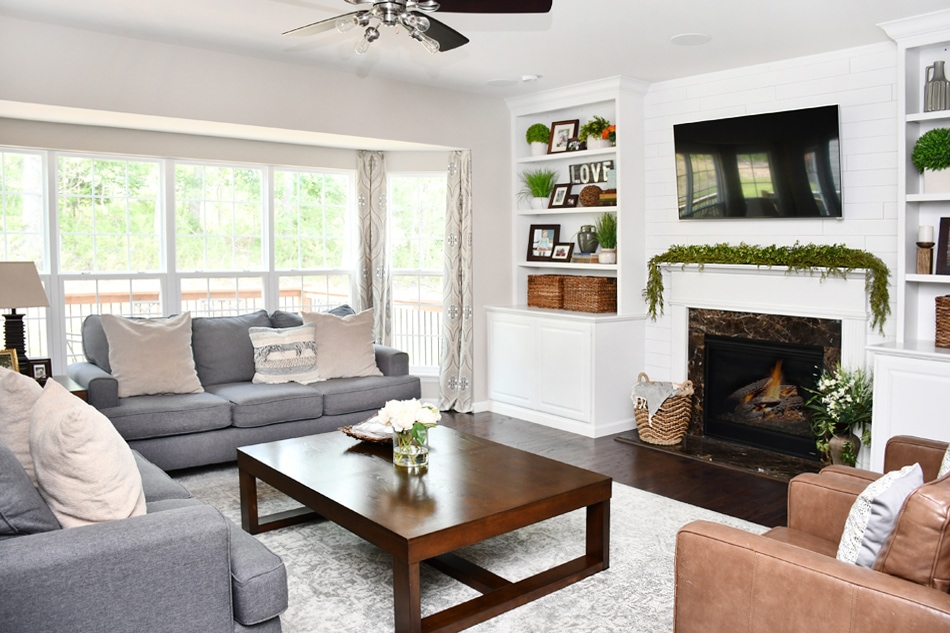 Benjamin Moore Revere Pewter
To be fair, this color is not just in our living room, but we chose it as the foundation for the color palette of this entire home. And I don't regret it a single second!
The undertones of Benjamin Moore Revere Pewter's popular shade of greige paint really does take on a different look in each room depending on your furniture and decor accents. It's cray cray! But also probably why it's so popular. Oh, and I guess before I keep talking let me address the elephant in the room:
What is greige paint?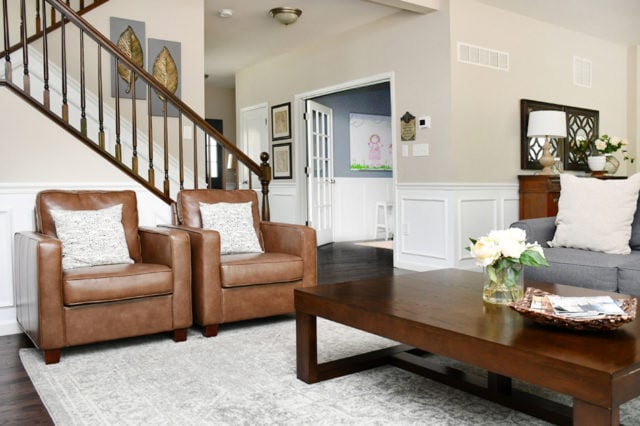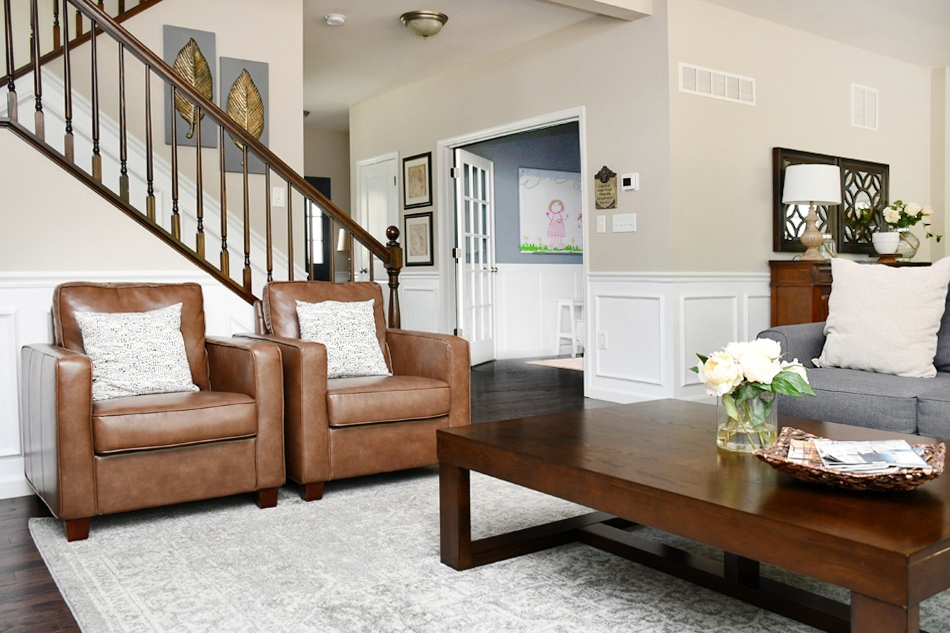 Greige is exactly what it sounds like – grey paint with beige undertones. It's one of those grey paint colors that depending on your lighting (natural vs. artificial) it can take on more of the grey or more of the beige. With its warm undertones, in our house Revere Pewter looks more beige but we can definitely see some of the grey which pulls out our grey sofa and the gray in our rug.
Revere Pewter In Our Home
Laundry Room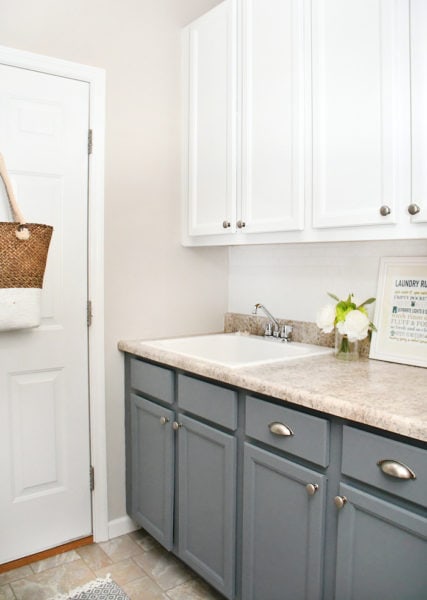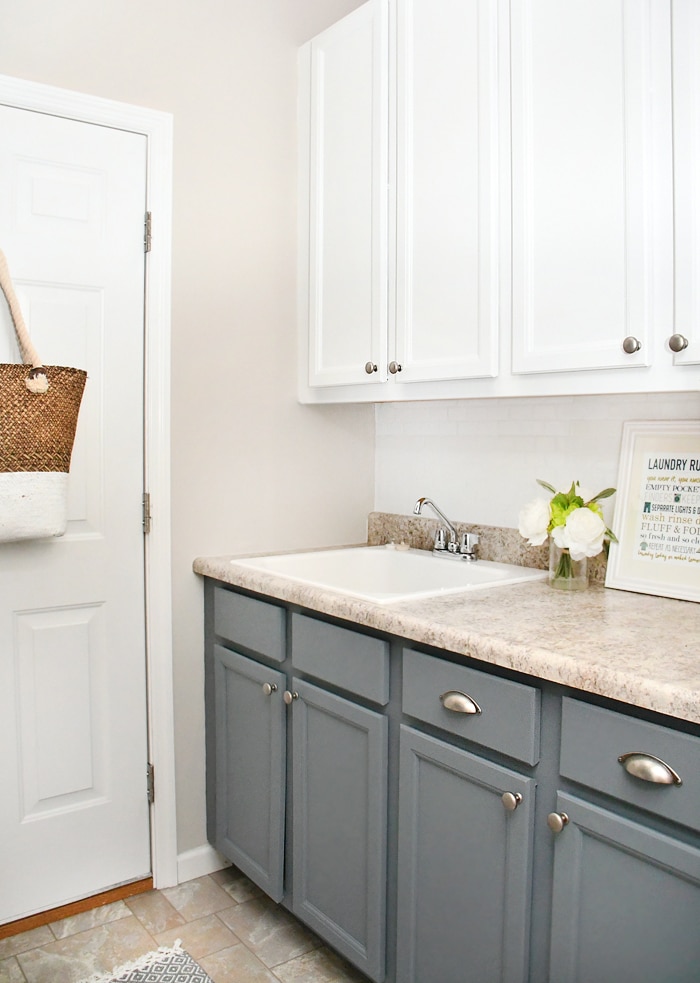 When we redid our laundry room, we spent a whopping $80 and I'm so pleased with it. This room has zero natural light and so having Revere Pewter in here looks pretty beige with a hint of gray.
When you have a room without a lot of natural light like our laundry room, you want to try to add in some color in either decor or painted furniture. We chose to paint our cabinets in here which helps the color from feeling drab or a weird brown.
Living Room/Family Room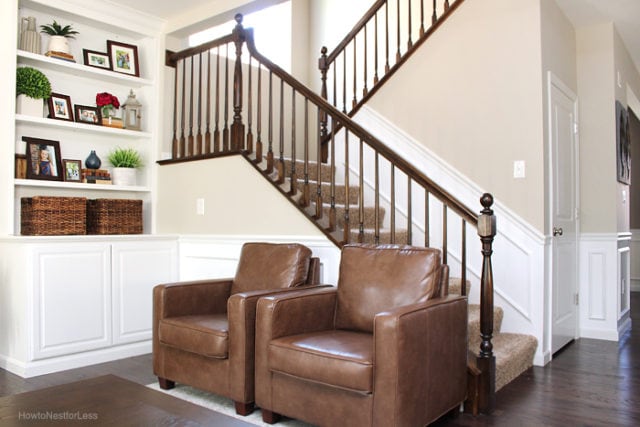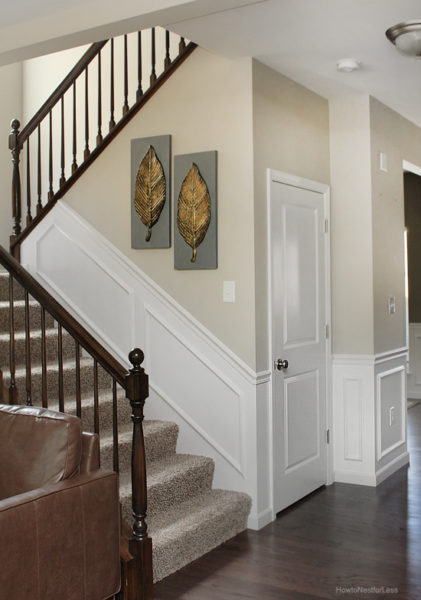 We painted the moldings in this room and did bright white chair rail and love it. Even though the pictures make this look really beige, the natural light pulls in the grey color for the majority of the day. This is why I always recommend painting swatches on your wall before you commit! 🙂
Revere Pewter in Other Homes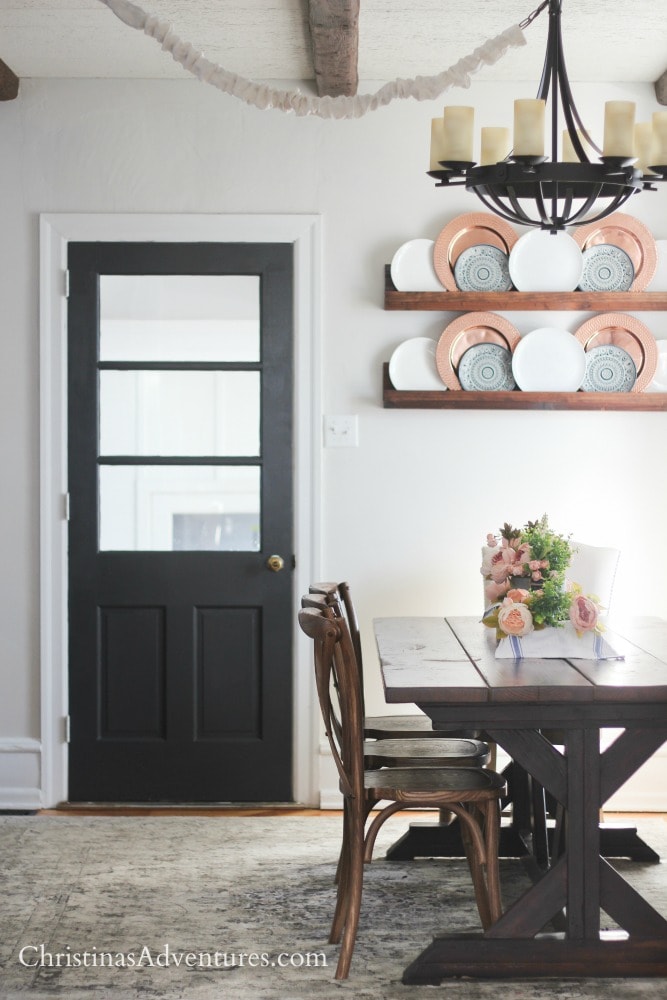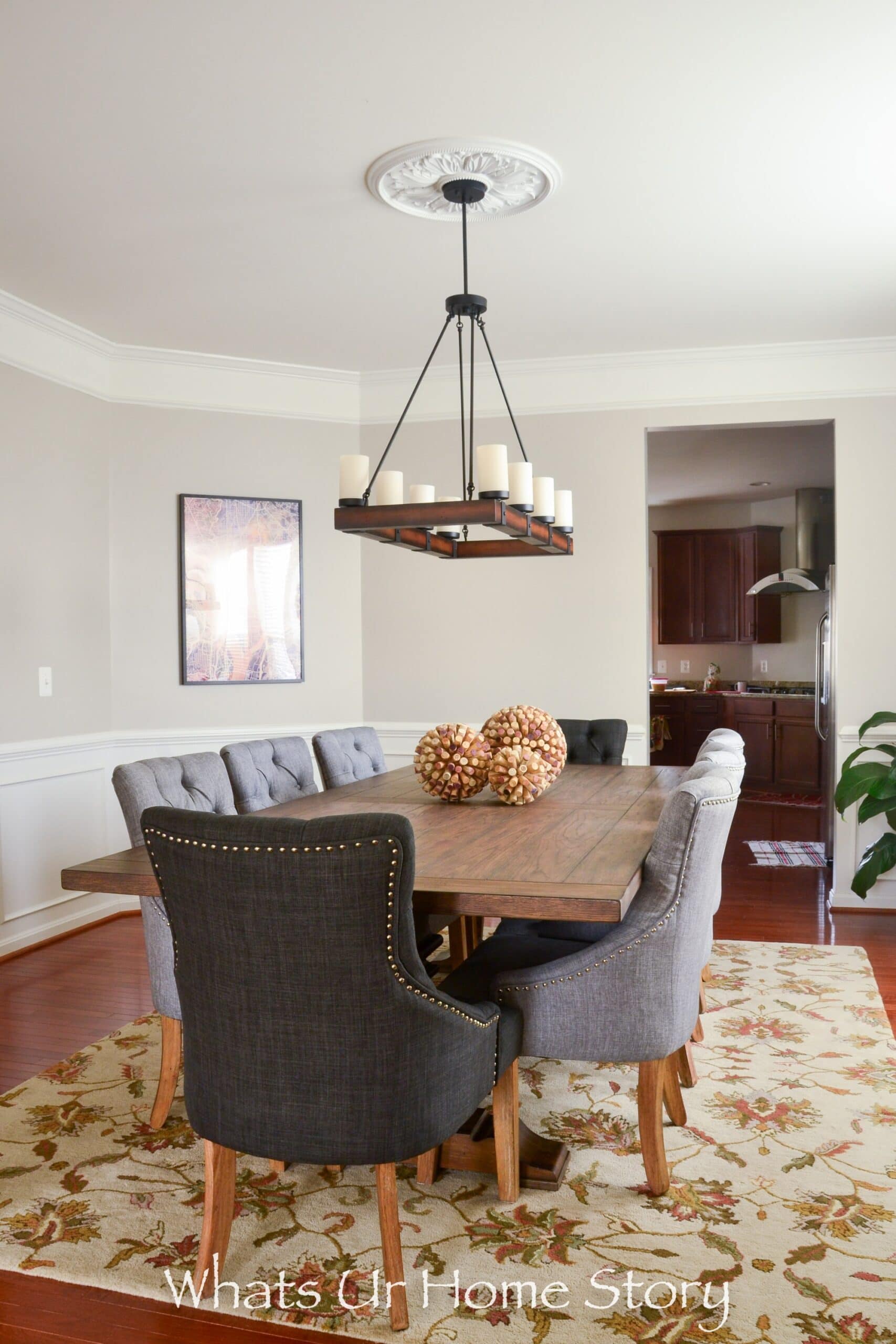 I hope it's not just me and you can see how different it looks with lighting. In Christina's home, it looks totally gray! In my house and in Vidya's place, it looks more beige with grey undertones.
Revere Pewter vs. Other Popular Greige Colors
Revere Pewter vs. Agreeable Gray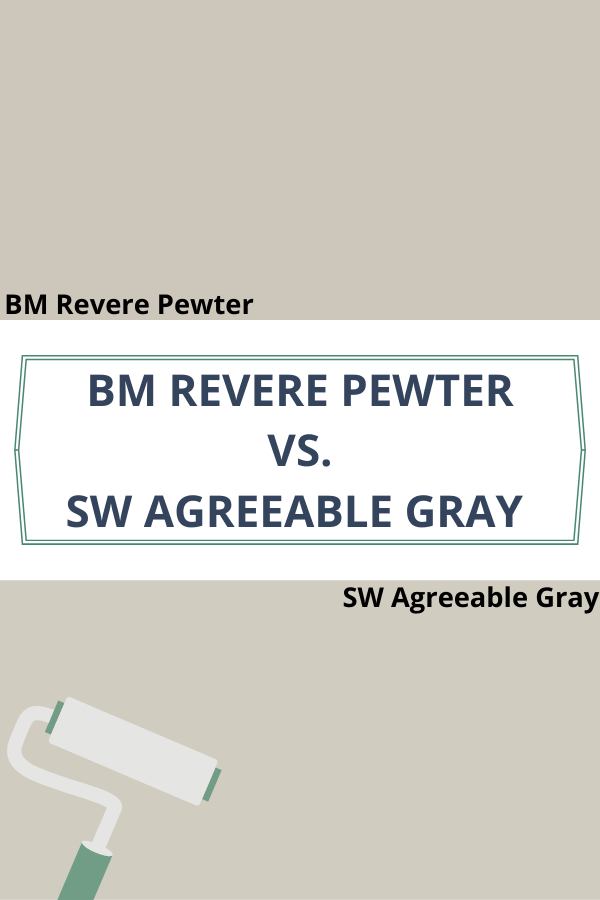 Sherwin Williams Agreeable Gray is a very comparable color that many people use in their homes as a neutral greige. I have to say that seeing these two colors in real rooms, Agreeable Gray is a bit warmer with a bit more taupe undertones than Benjamin Moore Revere Pewter. Revere Pewter can look gray in the right light; I don't know that I have seen Agreeable Gray look that way.
Revere Pewter vs. Chelsea Gray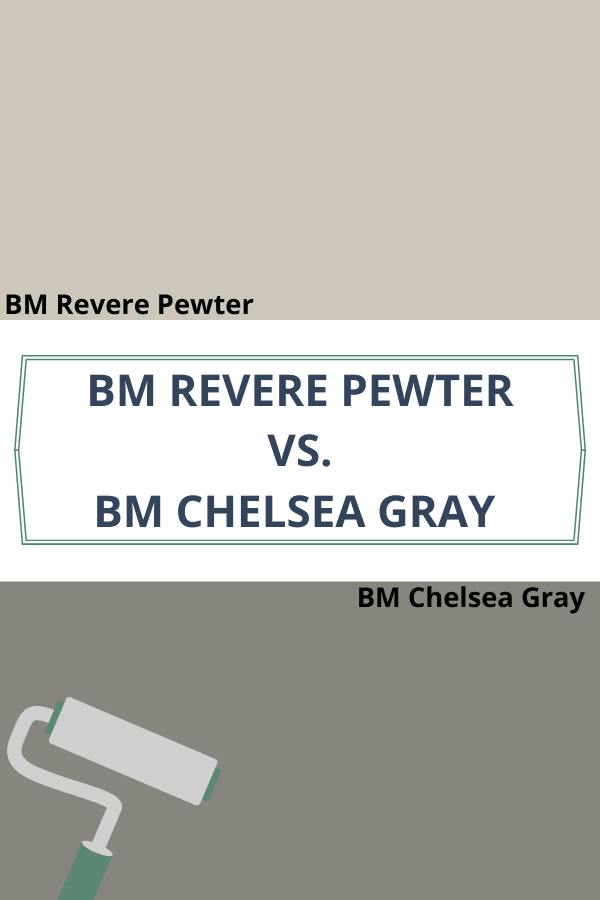 Chelsea Gray is another popular paint color, but as you can see from the above swatch, it is pretty dark. Benjamin Moore describes it as a "well dressed gentleman" which just made me chuckle out loud. While I do think that it has more gray undertones than BM Revere Pewter, I don't know that this is neutral. The color itself is, but the fact that Chelsea gray is so dark, I don't feel this as a wall color is as versatile. I do think it would be great as one of your accent colors in your own home.
Revere Pewter vs. Anew Gray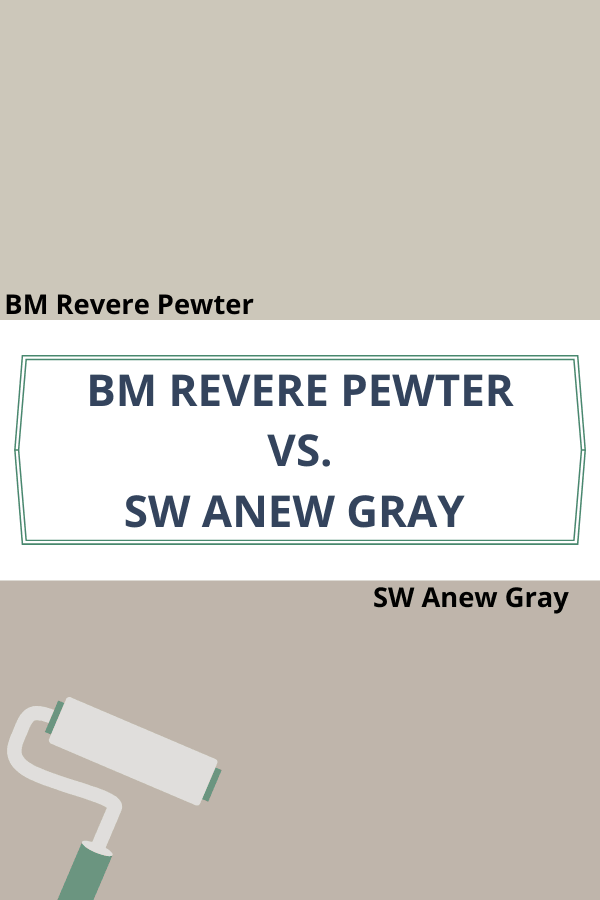 Another one in the list of popular gray paint colors is Anew Gray from Sherwin Williams. Again, I think this is a good shade, but I don't know that I would call this a perfect shade of greige. To me, it has a bit more taupe undertones and is darker than Revere Pewter. It's a great color, just don't consider this a light greige like Revere Pewter.
Revere Pewter vs. Repose Gray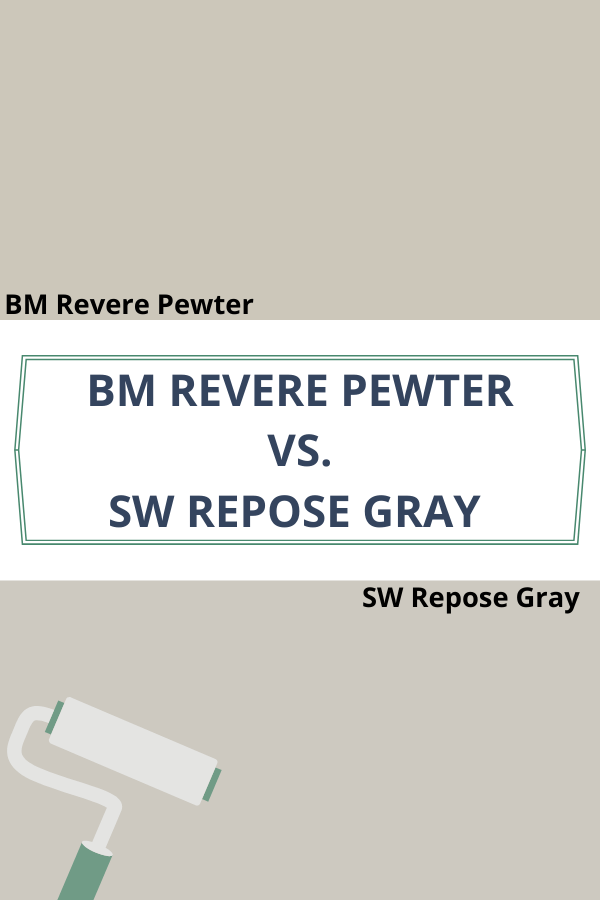 Sherwin Williams Repose Gray is one of the closest contenders to BM Revere Pewter. I love Repose Gray. I will say I think it's a great soft gray, that has a hint of purple undertones in real life. With a lot of the light grays from any brand, you're either going to have brown, blue, or purple undertones and it's all going to depend on your lighting situation. Even though we have BM Revere Pewter in our house, SW Repose Gray is a very tempting shade. I think if it weren't so close, I've got half a mind to redo our entire house with it.
But that requires picking up a paintbrush and that's not a party I want to be invited to at this current stage in life.
I think it's safe to say that since we chose Revere Pewter as our color throughout most of our house we really do love it!
What do you think? Is Benjamin Moore Revere Pewter the perfect greige color choice? Do you have one of your own favorite greige paint colors?