The perfect neutral gray without the super warm brown undertones, Sherwin Williams Light French Gray is one of our favorites for a neutral whole home paint palette.
When it came to picking colors for our first house, I felt kind of all over the place.
We were only in our second house for 16 months so when it came time to finally build and move in to our current house, my taste had "grown up" a bit.
We ended up going with Benjamin Moore Revere Pewter in the majority of our living spaces, but want to know a secret?
Sherwin Williams Light French Gray barely missed the cut.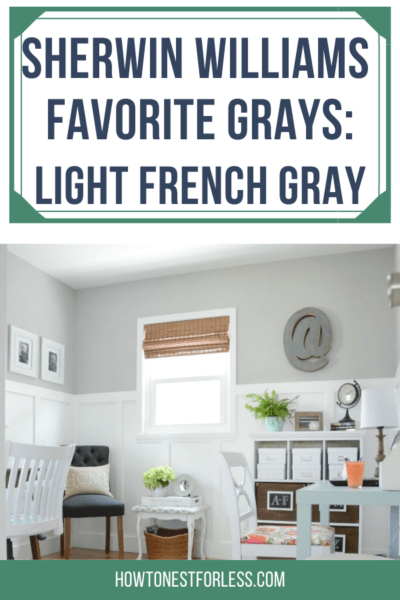 Let's talk about why Sherwin Williams is such a great gray for a whole home paint palette.
This color is in the Sherwin Williams Historic Line and there's just something special about a color that Sherwin Williams deems to be in their historic line. It means it's timeless.
What Undertones Does Sherwin Williams Light French Gray (SW 0055) Have?
That's the beauty of this color! Grays have 2 undertones – warm and cool. They will either have a hint of either brown or blue undertones, but what I love about Sherwin Williams Light French Gray is that it is very neutral.
I will say this paint color is on the cooler side of the color wheel, though.
Where to Use Light French Gray In Your Home
Since I don't have any from our house to show you, I'd love to show you some gorgeous spaces painted in this perfect color!
Light French Gray Dining Room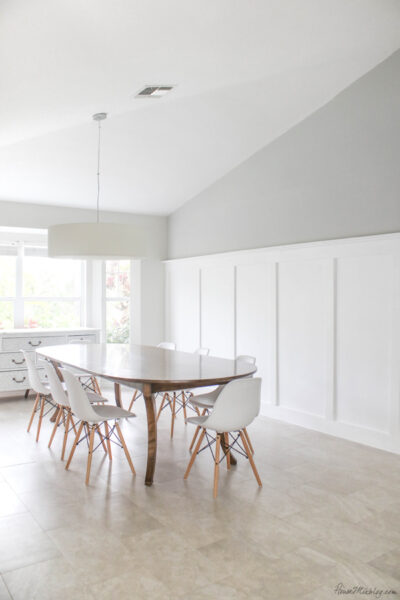 House Mix Blog used this in their entryway and hallway above their board and batten but this was stunning to see it used in the dining room. Don't you just love the way that this gray color looks against that white trim? It's stunning!
Light French Gray Bedroom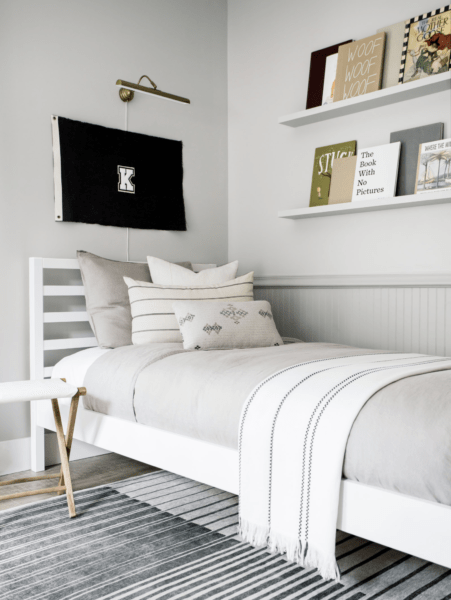 Justin and Chelsi from Laine and Layne did this color in their son's bedroom and I can't believe it. I love that they decided to not only do the gray paint on the walls, but the beadboard as well.
Light French Gray Office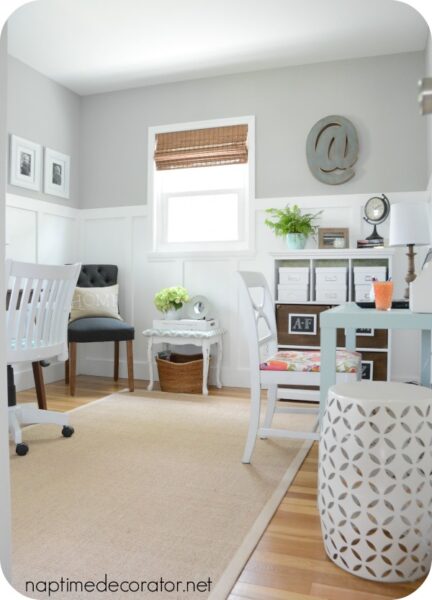 I think especially right now everyone is trying to breathe a little life into their existing home office space or create one – even if it's in a little corner.
This office from Naptime Decorator painted in SW Light French Gray is so refreshing and it makes the room feel brighter!
Light French Gray Bathroom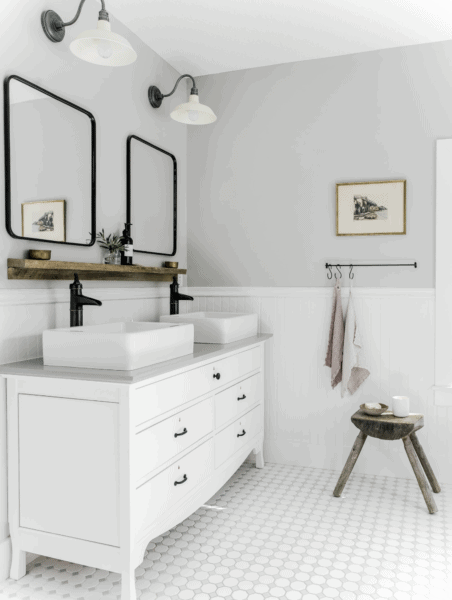 Umm, okay fine I'll admit it. This one from Laine and Layne (again) made me drool just a little bit. There's just something about the way Light French Gray looks against white trim or board and batten.
It's now making me second guess our entire decision to paint our house Benjamin Moore Revere Pewter. No big deal, right?
Light French Gray Painted Cabinets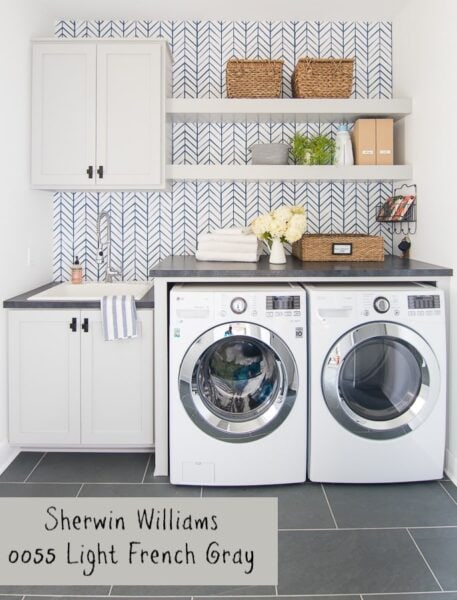 How about some laundry room cabinets painted in Sherwin Williams Light French Gray? I love the idea of painting cabinets a light gray instead of a white!
I think this could extend past a laundry room and work if you wanted to paint your kitchen cabinets this color!
Light French Gray Living Room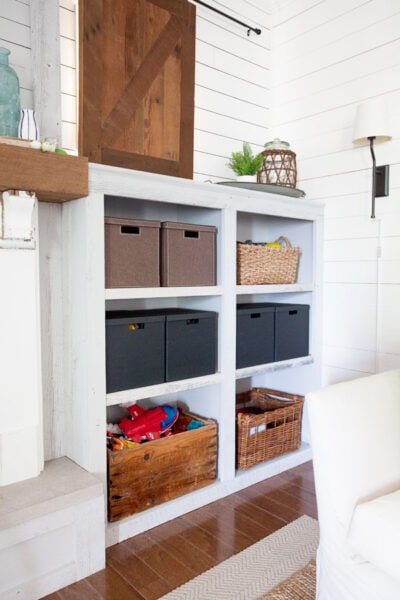 I love the way The Lettered Cottage painted her built ins in her living room this color, but because of her technique it looks totally different. Just goes to show you that lighting and the surface on which you paint something is everything!
How does Sherwin Williams Light French Gray stack up against other popular SW gray colors?
Light French Gray vs. Agreeable Gray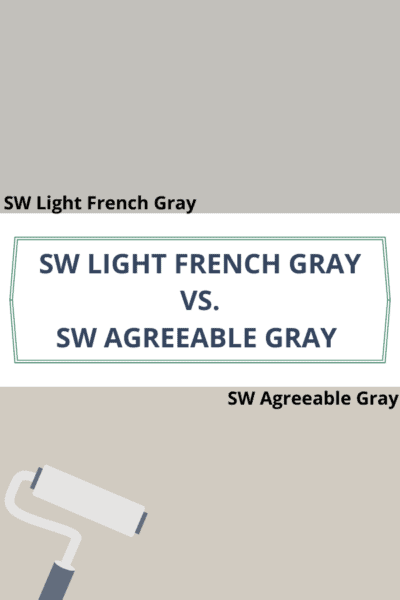 Agreeable gray is also a very neutral (and popular) Sherwin Williams gray paint color, but I feel like Light French Gray is even more of a neutral, with very little to no undertones.
This color is a bit cooler than its counterpart Agreeable Gray, but still both are great neutrals.
Light French Gray vs. Repose Gray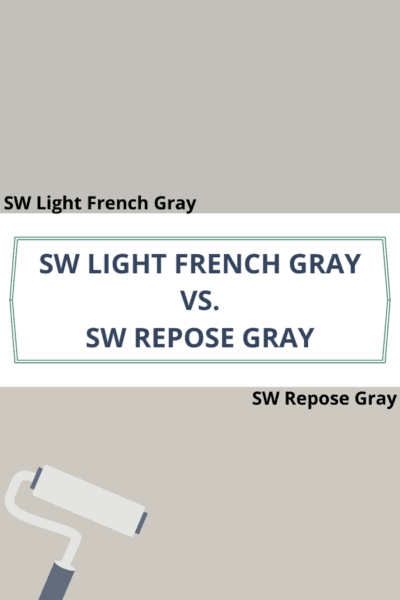 Sherwin Williams Repose gray has a deeper tint to it. Its undertones are more brown/greige, but overall the color is a bit darker. It seems that Light French Gray leans more true grey.
Is this like Behr's Light French Gray?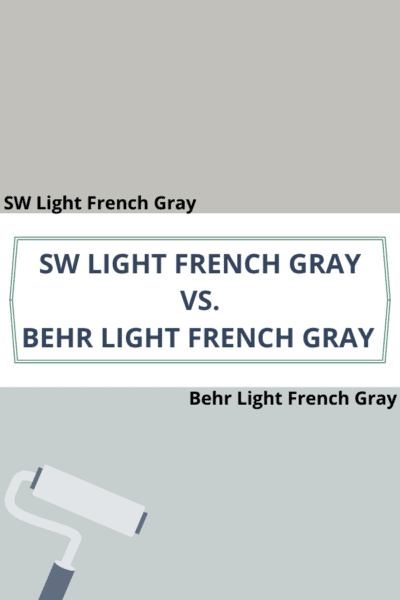 Not really. Contrary to its name, the Behr's version of Light French Gray has way more blue undertones to it. In certain lighting the Sherwin Williams Light French Gray may have a hint of blue undertones, but it definitely isn't tinted blue like Behr's version of this color.
Wrapping It Up
Okay, I'll admit I'm now rethinking our paint in our home, but I don't know if I'm rethinking it enough to actually take the plunge.
Regardless of what you see online, I'm always going to recommend that you get some paint samples to paint on your wall or at the very least a paint chip in your hand so you can lay your eyes on it.