Are you looking for a cool and calming color that you can use to transform your space? Sherwin Williams Storm Cloud might just be the color you need.
Storm Cloud is an attractive and versatile paint color that can instantly bring life to any home's color palette. It is a light gray hue with cool undertones that adds an airy atmosphere to any setting.
In this article, we will discuss why SW Storm Cloud is such an ideal choice when selecting paint colors as well as helpful tips on how to incorporate it into your interiors.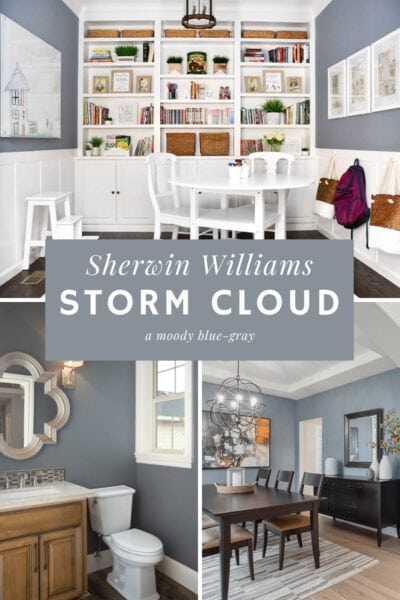 What Color is Sherwin Williams Storm Cloud SW 6249?
Storm Cloud is a neutral medium gray color. Versatile and calming, it works well with almost any other colors, making it a great choice for most spaces.
It also has a hint of blue for added depth, which can create a sense of serenity in any room.
The smoky shade exudes strength and sophistication which makes it perfect for accentuating more colorful pieces of décor or an office space that needs to be polished and modern.
What Undertones Does Storm Cloud Have?
Storm Cloud is a dark gray with blue undertones. Depending on lighting conditions, it can look more gray than blue or more blue than gray.
What is the LRV of Storm Cloud?
The LRV value (light reflective value) of Storm Cloud is 23.
The LRV scale is 0 to 100. 0 absorbs all light and 100 reflects all light. So Storm Cloud is a more absorbent color.
If having a light, bright living space is important to you, Storm Cloud is more suitable for a room with ample natural light. Due to its low reflectivity and saturation, it will make a room or hallways with the absence of natural light appear darker and smaller.
Storm Cloud in Real Spaces
Storm Cloud Painted Home Office
I'm impartial to Storm Cloud because it's the wall color I used in our homework room/home office. It gives the room more depth and dimension.
Storm Cloud Painted Dining Room
Storm Cloud is a great color for dining rooms and living rooms paired with lighter flooring and darker furniture.
Storm Cloud Painted Bathroom
Want a moodier bathroom? Try Storm Cloud on the walls. The color looks great with different shades of wood.
SW Storm Cloud looks crisp and clean in a bathroom with white board and batten, white subway tile, and marble countertops. Plus, it really pops against the white ceiling.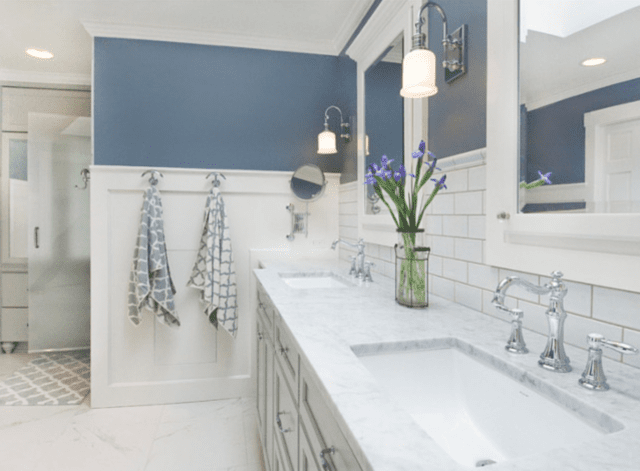 Storm Cloud Painted Laundry Room
Too nervous to try Storm Cloud in a larger room? Try it in smaller spaces like in a laundry room. It definitely gives a intimate, farmhouse vibe.
Storm Cloud Painted Cabinetry
Kick your kitchen, butler's pantry, or bathroom up a notch by painting the cabinetry with SW Storm Cloud. I bet it would also look great on a kitchen island and decorative moldings.
Storm Cloud Painted On House Exterior
Storm Cloud is an excellent exterior paint choice for home, shed, or barn color schemes.
You can see in the exterior photos below how the appearance of the color changes depending on the lighting.
House Receiving More Sunlight
With a less shaded house, Storm Cloud appears to be more of a lighter blue with gray undertones.
Shaded House
On a house with more shade, Storm Cloud looks darker in color and more of a blue-gray.
You can see how the color looks lighter on the fireplace chimney, which receives more sunlight.
Storm Cloud As An Accent Color
Whether on an accent wall or on the exterior of a house, Storm Cloud shines.
On the house below, the siding shakes close to the roof lines are painted with Storm Cloud. You can see how Storm pairs with bright white window frames and darker gray-blue siding when painted on the exterior of a house.
Trim Color Options for Storm Cloud
Storm Cloud and Extra White
Storm Cloud looks great paired with a crisp, cool whites like Extra White. I painted Sherwin Williams Extra White on the trim, board and batten, and built-ins in our homework room.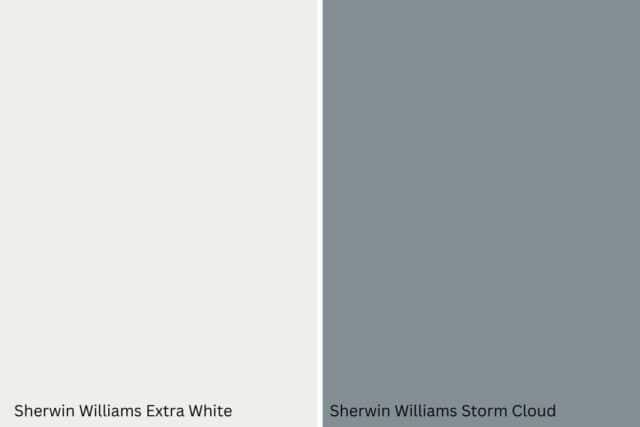 Because Storm Cloud is a darker color, Extra White helps brighten up the room.
Storm Cloud and Sherwin Williams Origami White
For a classic look, pair a warmer white like Sherwin Williams Origami with Storm Cloud. Origami really highlights the deep gray undertones in Storm Cloud.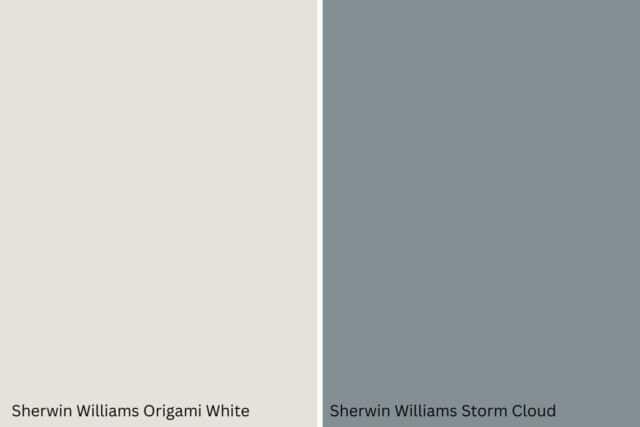 What Paint Colors Are Similar to Storm Cloud?
For those looking for additional hues similar to Storm Cloud, great options include Behr Dark Storm Cloud and Benjamin Moore Water's Edge.
All of these colors offer slightly different takes on the classic gray-blue blend associated with Storm Cloud. Each hue can work wonderfully as an anchor for a modern or coastal themed home.
Behr Dark Storm Cloud vs. SW Storm Cloud
Behr Dark Storm Cloud is very similar to Storm Cloud. The undertones of Dark Storm Cloud are more purple than SW Storm Cloud.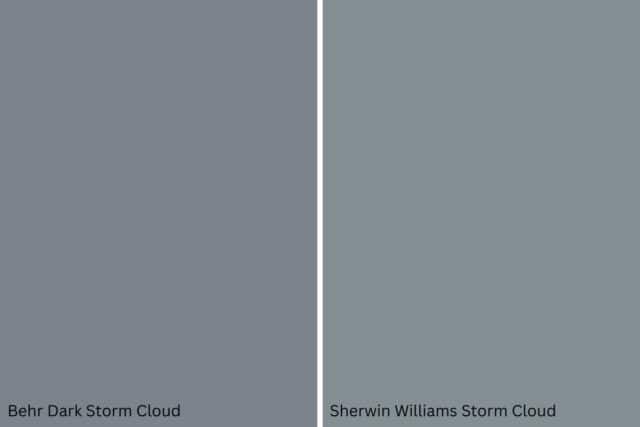 Benjamin Moore Water's Edge vs. Storm Cloud
Benjamin Moore Water's Edge is comparable to Storm Cloud. The main difference between the two colors is that Water's Edge has less of a gray slate hue to it. So if you're looking for a blue-gray paint color that's more gray than blue, go with Storm Cloud.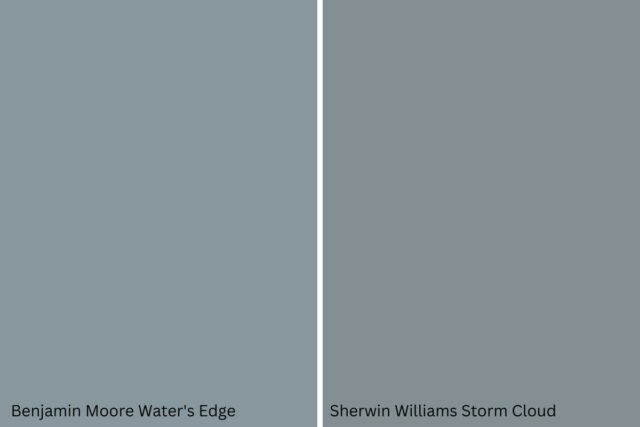 What Colors Go with Sherwin Williams Storm Cloud?
Sherwin Williams Quicksilver and Storm Cloud
Cool colors like soft green and blue can make the room look more tranquil. Sherwin Williams Quicksilver is a great light gray-green paint color that pairs very nicely with Storm Cloud.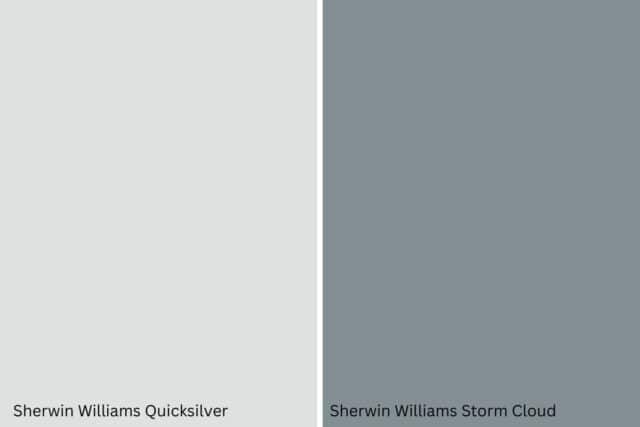 Sherwin Williams Butternut and Sherwin Williams Storm Cloud
A great way to bring out Sherwin Williams Storm Cloud is to use contrasting colors. Bright, warm colors such as yellow or orange can add a pop of color without being too overpowering. This makes Sherwin Williams Butternut and other golden browns great coordinating colors with Storm Cloud.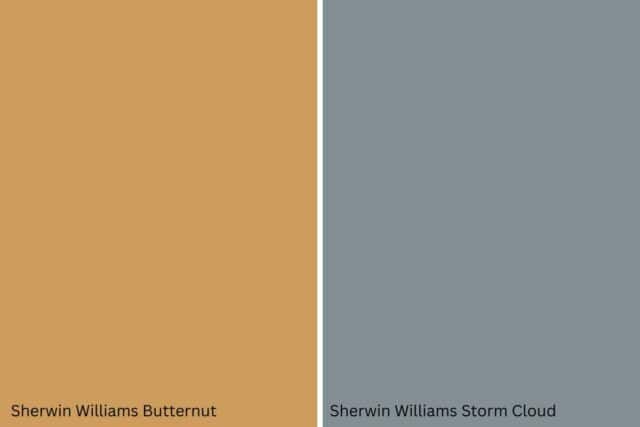 FAQ
What is the hex code for Storm Cloud?
The hex values for Storm Cloud is #7a848d.
What are the RGB values for Storm Cloud?
Red = 122
Green = 132
Blue = 141