An exiting, outdoor nature scavenger hunt for kids. This little treasure hunt is lots of fun and a great way to get your little ones excited to be outside!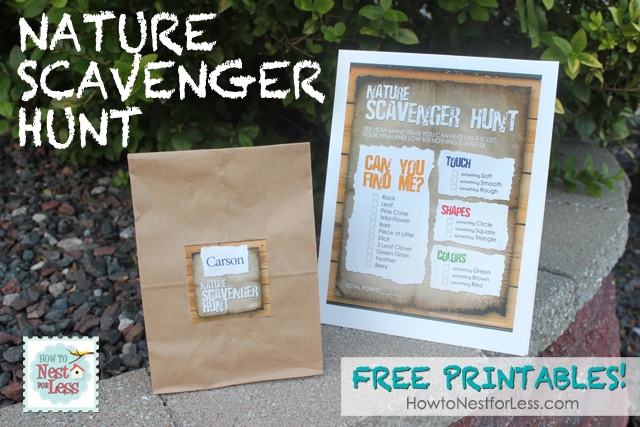 Need some more fun activities for kids or to do with kids? Check out these posts below:
Do any of your little ones like to play detective? It doesn't matter what the "mystery" is, but mine love just finding where one clue leads to the next.
Sometimes I like to hide things and give them clues and other times, they like to hide things from me, but somehow it's not quite as fun that way since they're terrible at giving clues.
I love them to death, but seriously. Terrible.
All that to say, one of my favorite kids activities to do with the little ones is a kids scavenger hunt! Have you ever tried one of these?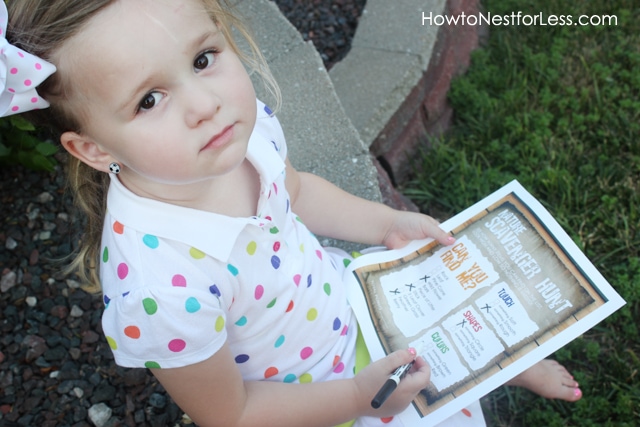 The reason I love these so much is because it doesn't matter where you live or how old your kids are, there are all kinds of scavenger hunts that you can make that will be age appropriate!
You could even make it super fun and do something like adding animal tracks, doing an indoor scavenger hunt when it's rainy, or even have an entire birthday party around your scavenger hunt! The scavenger hunt ideas are endless!
Yes, it might be a little hot this summer, but it doesn't mean you can't have fun exploring the great outdoors! Take the kids out early morning or mid evening to beat the heat and have a little fun with this Nature Scavenger Hunt.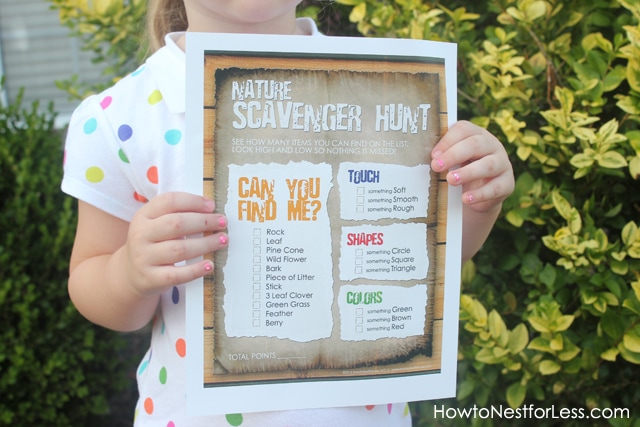 This game is great learning tool for the kids that helps them interact with their outdoor surroundings as they're walking around nature looking around for things on their scavenger hunt list! They'll have a ball searching high and low for all the goodies on their list! Plus it's fun for you as a parent to see them feel such a simple sense of accomplishment.
There's 20 items total to find on the list, including special items of a certain color, shape and texture. These will work with any elementary age school kids or younger. You can make it a little harder or easier depending on your child!
For example, for younger kids, maybe you pick up 2 rocks; one that is smooth and one that is rough and you take their hand and touch it and get them to repeat the words "smooth" or "rough".
In the case of you having older kids, maybe their nature scavenger hunt has a time limit on it. Or they can only find things in the front yard OR the back yard.
I'm not the smartest cookie in the box, but I know how to keep kids entertained sometimes.
Scavenger Hunt For Kids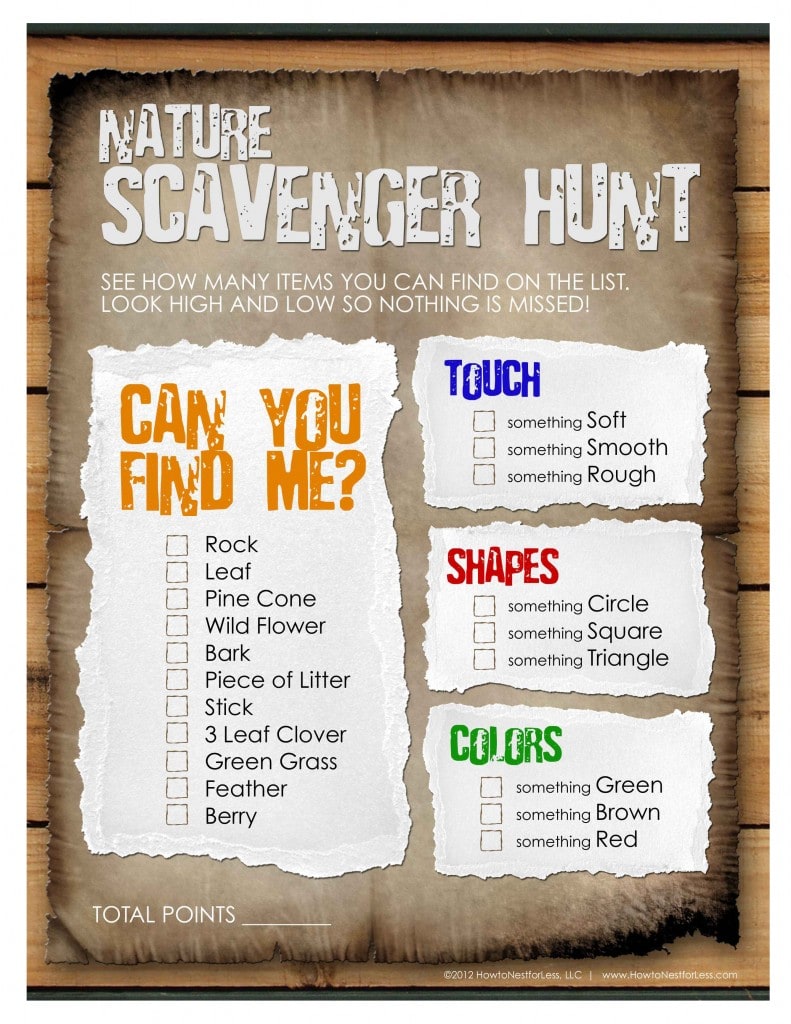 right click image to print
________________________________________________________________
I also included some name tags that you can adhere to brown paper bags. Below is a blank version that you can add your kids' names onto with PicMonkey, Photoshop or even Paint. Another option is just add the names in marker or stickers!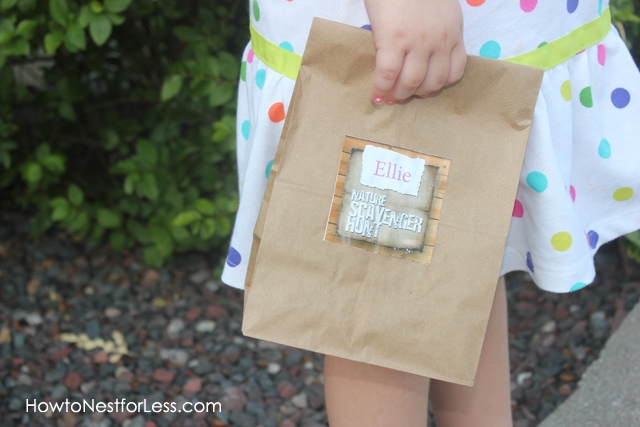 Trim out the name tags and attach to your paper bags. It's a great way to hold all the goodies the kids are collecting in the outdoor scavenger hunt!
If you're a paper-free or eco-friendly family, you can get a reusable bag and maybe just attach the name tag to the bag with a safety pin. They also make sticker paper that you could print on and so when you cut these stickers out, they're adhesive and you can stick them to a bag of your choice as well.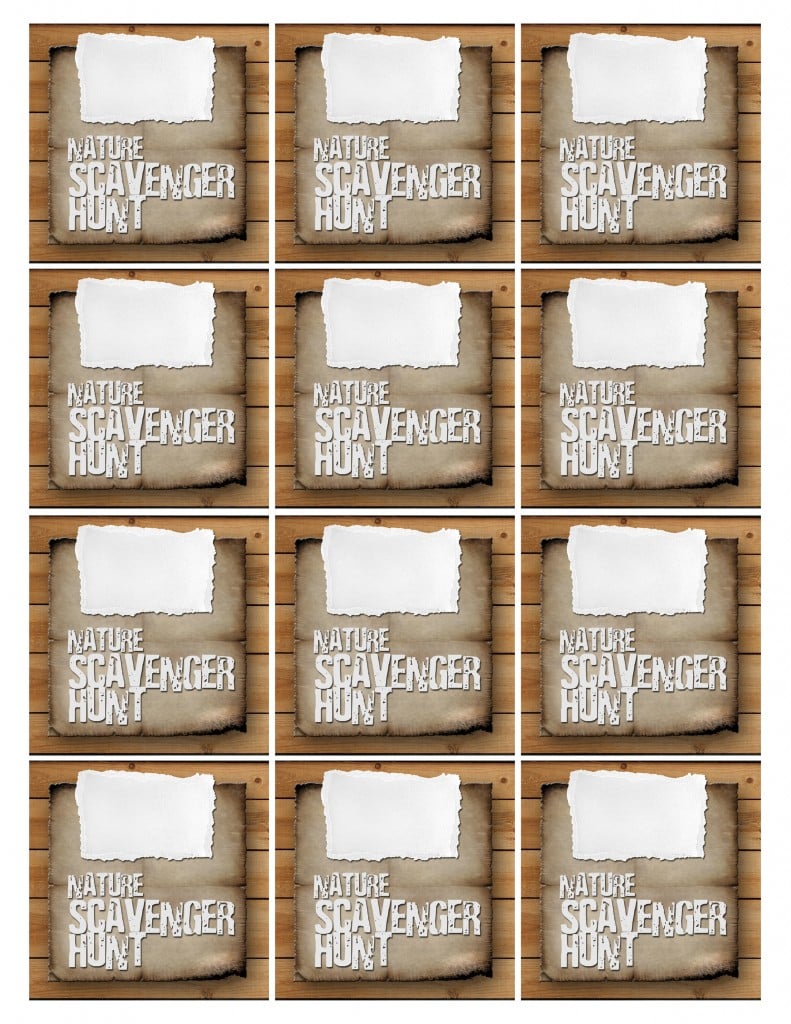 right click image to save to your computer
________________________________________________________________
After I made these, I realized that these might use a ton of ink and so I wanted to make an alternate version for you in case you don't want to waste all your ink on one printable! I know, I'm really kind 🙂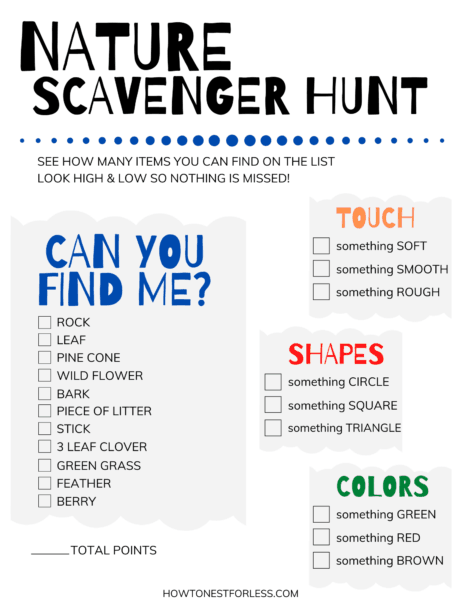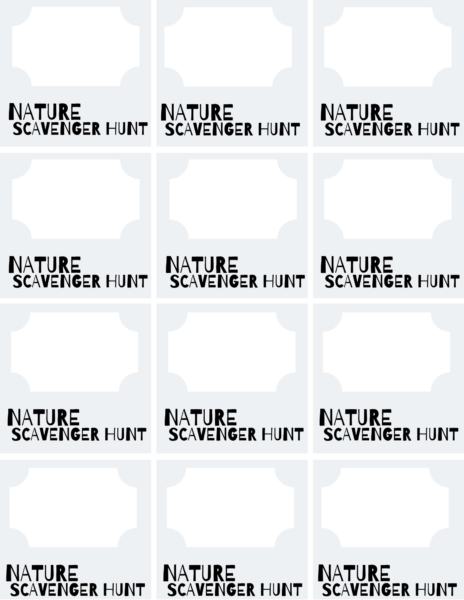 right click image to save to your computer
This Nature Scavenger Hunt is great for any time of year, but definitely a fun activity for your stay-at-home Summer Campers or when you may be on a little staycation for one reason or another!
I've actually taken these with us on a vacation so that when we are in a new place, they can get familiar with their surroundings and it could make an otherwise apprehensive child out of their surroundings more comfortable!
Have you ever done a nature scavenger hunt with your kids? What are some of your favorite ones to do?