An exiting, outdoor nature scavenger hunt for kids! This little treasure hunt is lots of fun and a great way to explore the outdoors!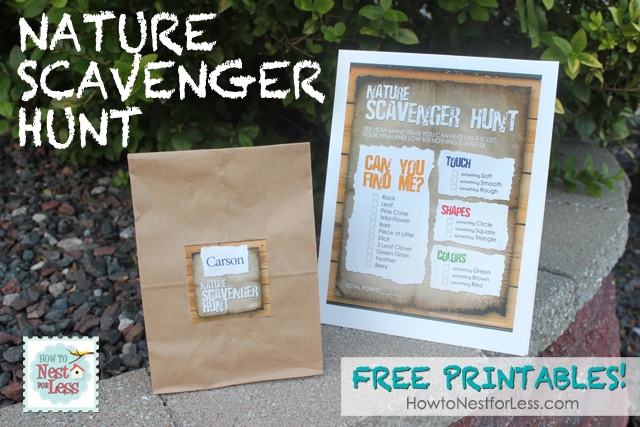 Do your little ones like playing detective? It doesn't matter what the "mystery" is, but mine love finding where one clue leads to the next.
All that to say, one of my favorite kids activities to do with the little ones is a kids scavenger hunt! Have you ever tried one of these?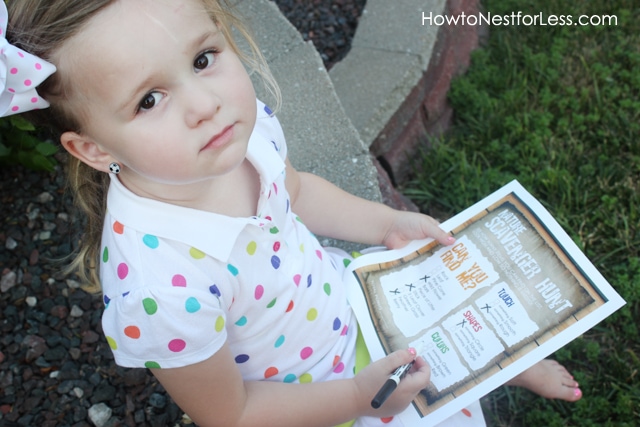 Benefits of Scavenger Hunts for Kids
Scavenger hunts are an entertaining and educational past time for young children.
They help children learn problem solving, decision making, and logic skills.
How to Plan a Scavenger Hunt for Kids
Here are some tips to get you started on your next family scavenger hunt.
Pick a Scavenger Hunt Theme
Think about what type of theme would interest your particular group or age range best and incorporate it into your scavenger hunt.
You could do something that ties in with an upcoming holiday or pick something like flowers and plants around the house or outdoors, shapes in nature, natural elements like rocks, seashells, leaves, etc., or even just pick random items from around the house you'd like the kids to find.
Create Clues
To create clues that lead children to each piece of the scavenger hunt, think of creative hints they will have fun trying to solve. Every correct answer can lead to another clue until they've completed their list of items or collected enough points to win.
If you decide on natural elements as part of your scavenger hunt theme then use rhymes, descriptions about the item's characteristics or provide coordinates where they need to go in order to search for the item.
Encourage Teamwork
Getting out there and searching for different items makes teamwork an essential part when participating in a scavenger hunt for young kids.
Teamwork will help them support each other overall goal as well as share ideas together which brings out their strengths as one cohesive unit. This helps build trust among peers while developing relationships through effective communication tools by working towards their common goal(s).
Scavenger Hunt Ideas
Indoor Scavenger Hunt
Rainy or cold outside? Have an indoor scavenger hunt!
Use Rhymes
Use rhymes about the item's characteristics.
Location
Provide the locations where they need to go in order to search for the items.
Birthday Party Scavenger Hunt
Work a scavenger hunt for kids into your next birthday party!
Clues
Integrate clues into your scavenger hunt like breadcrumbs or footprints!
Vacation
Have a scavenger hunt while on vacation!
Free Printable: Nature Scavenger Hunt For Kids
This game is great learning tool for the kids that helps them interact with their outdoor surroundings as they're walking around nature looking around for things on their scavenger hunt list!
They'll have a ball searching high and low for all the goodies on their list! Plus it's fun for you as a parent to see them feel such a simple sense of accomplishment.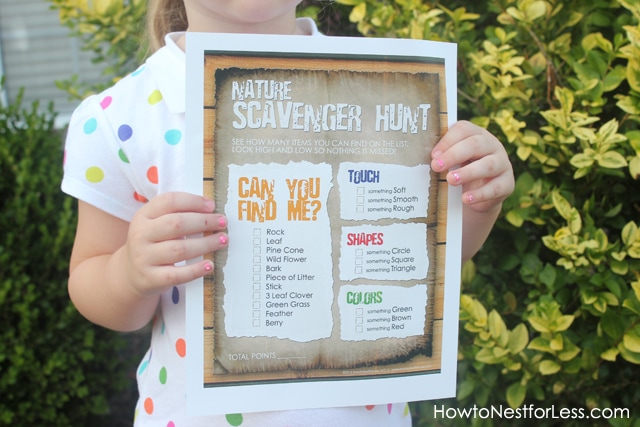 There's 20 items total to find on the list, including special items of a certain color, shape and texture. These will work with any elementary age school kids or younger. You can make it a little harder or easier depending on your child!
In the case of you having older kids, maybe their nature scavenger hunt has a time limit on it. Or they can only find things in the front yard OR the backyard.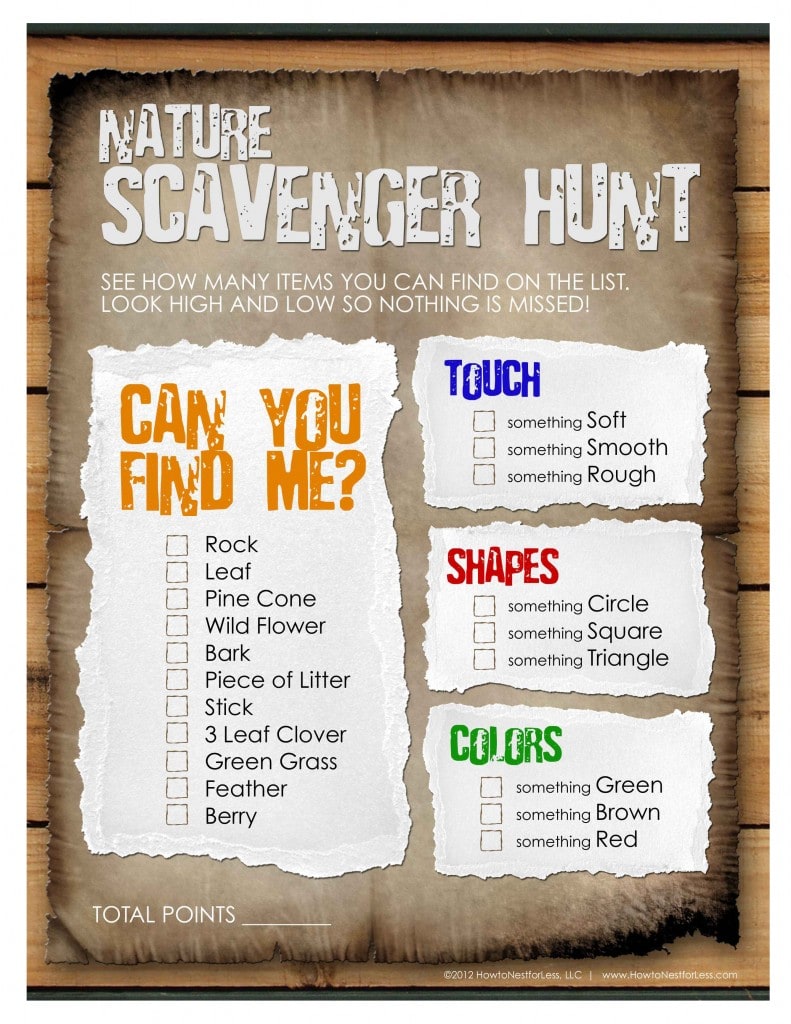 Free Printable: Nature Scavenger Hunt for Kids Bag Name Tags
I also included some name tags that you can adhere to brown paper bags. Below is a blank version that you can add your kids' names onto with PicMonkey, Photoshop or even Paint. Another option is just add the names in marker or stickers!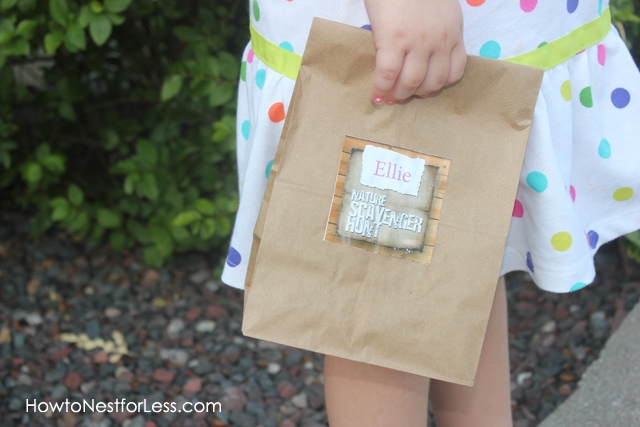 Trim out the name tags and attach to your paper bags. It's a great way to hold all the goodies the kids are collecting in the outdoor scavenger hunt!
If you're a paper-free or eco-friendly family, you can get a reusable bag and maybe just attach the name tag to the bag with a safety pin. They also make sticker paper that you could print on and so when you cut these stickers out, they're adhesive and you can stick them to a bag of your choice as well.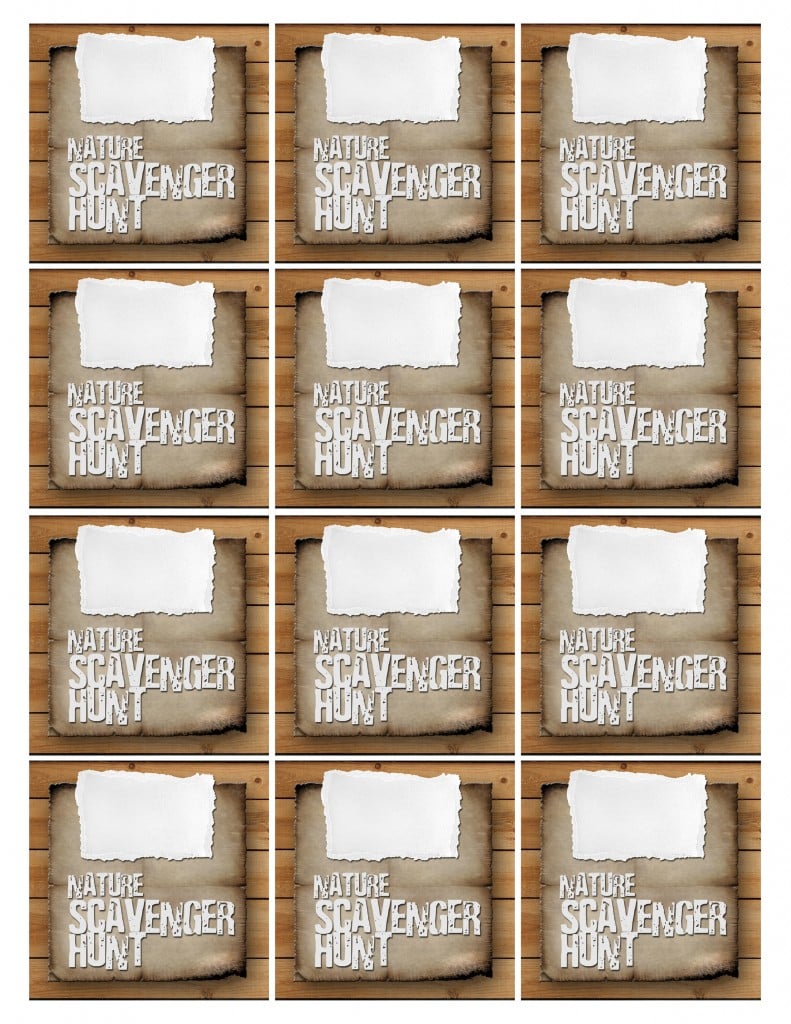 Free Printables: Print Ink-Friendly Versions
After I made these nature scavenger hunt printables, I realized that these might use a ton of ink.
So I made an alternate versions for you that will use less ink.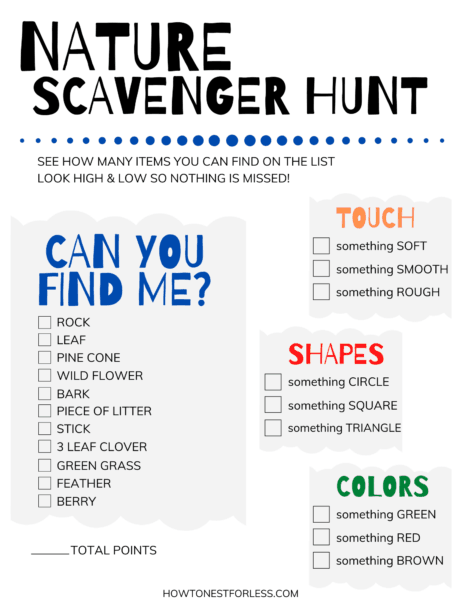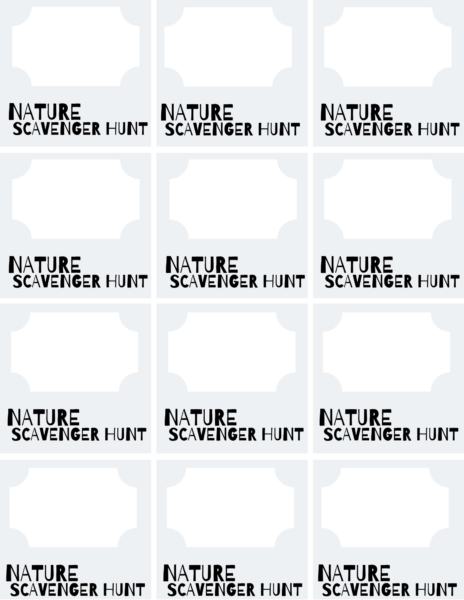 This Nature Scavenger Hunt is great for any time of year, but definitely a fun activity for your stay-at-home Summer Campers or when you may be on a little staycation for one reason or another!
More Fun Activities for Kids