If you were to peek into my home on a Saturday morning, you'd probably see me cuddled on the couch with a cup of coffee looking through home design and décor magazines searching for inspiration. Before Ben and Ellie awake, or before the start of our next DIY project, I look through these magazines and think "dang, I wish I had something like that in my house".
So about two or three weeks ago as I was flipping through the Better Homes and Gardens September issue, I spotted Brian Faherty's home, the mastermind behind Schoolhouse Electric Co. (pg 92-99). His house was covered in plank walls, and I mean like every single room.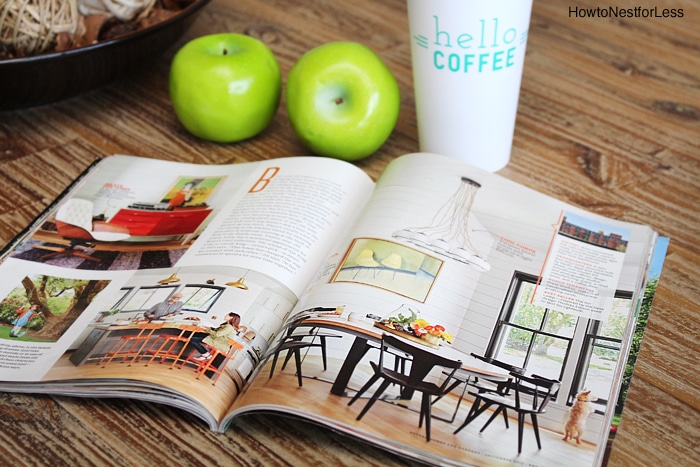 I decided to steal this element from his home as inspiration for Ellie's new bedroom: white plank walls.
SUPPLIES NEEDED:
1×4 or 1×6 boards
saw (we used a table saw & jig saw)
nail gun
stud finder
electrical spacers
level
white paint
caulk
DIRECTIONS:
We started the process by marking our studs along the wall. I just used a permanent marker and did about 4-5 markings from the floor to the ceiling for each stud (since you'll eventually be covering one by one with boards).
Now's where the math & layout come into play. Measure your walls, take a look at where your studs are placed, and map out the location of your boards. We wanted to make sure every board hit at least two studs so it would be tightly secured to the wall.
We actually ended up with doing a pattern of 4 rows (seen below) with 1×6 boards. My tip is to start with the top left corner of the room and work your way across row by row. Use your level every so often to stay in a straight line (not all walls are even and level!).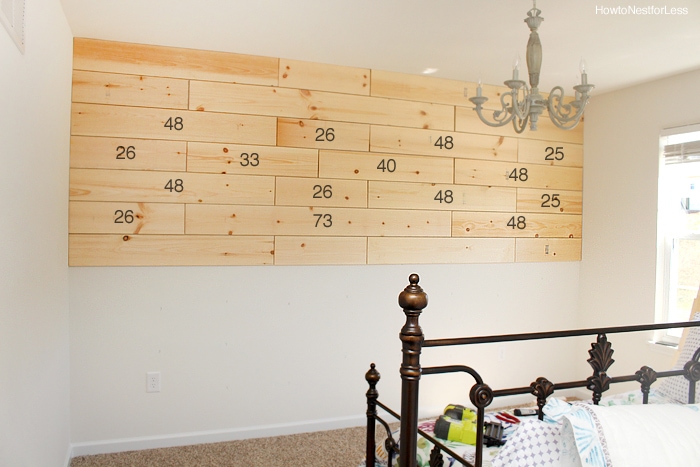 For spacing in between boards, we just eyed it. I actually did a bigger space on all sides of each board, probably about 1/2 inch. This was mainly to hide the imperfections of the board edges and helped keep my rows level.
When we got to the outlets we used a jig saw to make a cut out in the board. Then we used electrical spacers to bring out the outlets.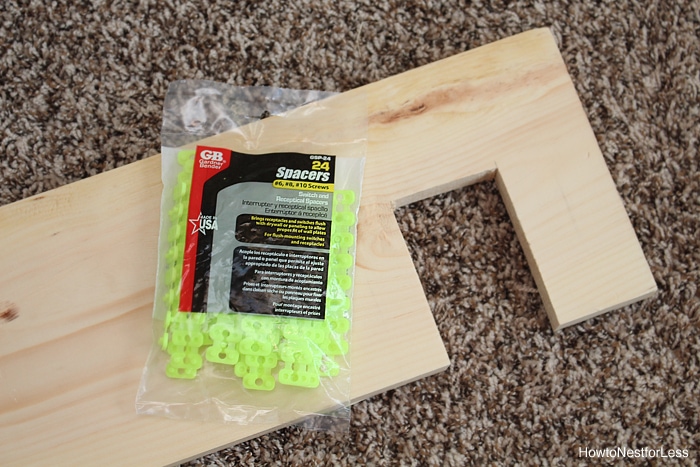 Make sure you buy longer screws if you're doing this step! We forgot that part and had to make a run out to the hardware store in the middle of this project, ugh.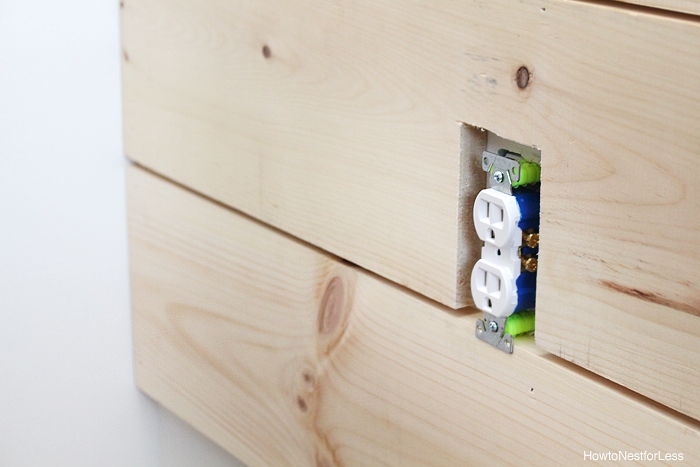 Then continue to the bottom of the wall with your boards. We opted not to take the baseboards off the wall and just carried the plank wall to the baseboard. Also, we ended up using 1×4 boards at the very bottom row so we didn't have to rip a 1×6.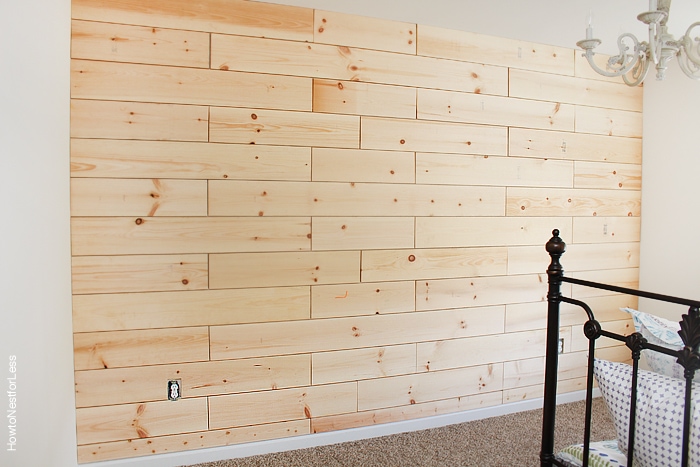 And then it's time to paint!
Getting into the crevices was a little annoying, but it went pretty fast.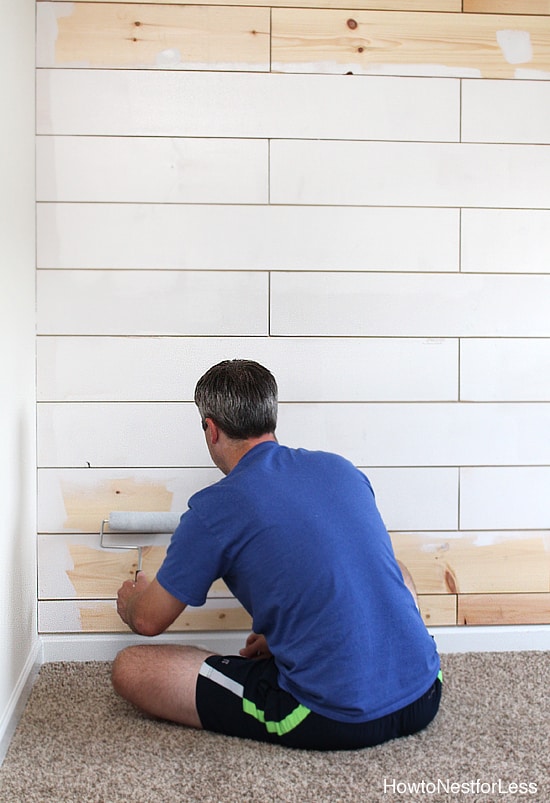 And after a day's work Ellie's bedroom has made a huge transformation. I'm loving the white plank walls against the iron frame beds. And that bedding… swoon!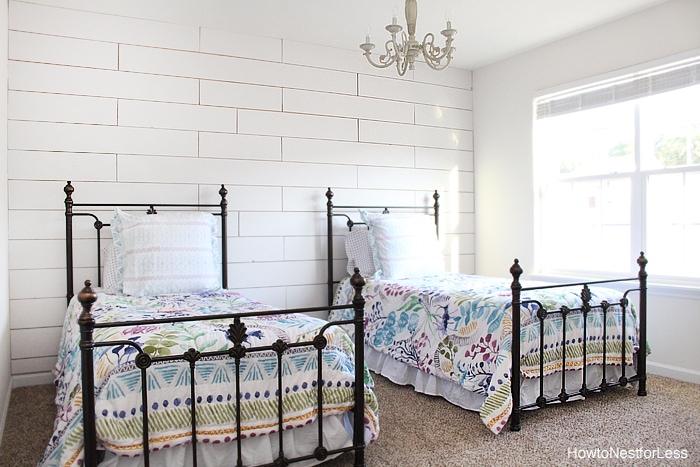 If you want you can caulk the edges, wait until you're ready to paint the other 3 walls. I'm thinking a pale teal for Ellie's bedroom? And I need some pops of color above the beds. Oh, and I'm looking for a new nightstand and dresser to paint. Yeah, still lots to do.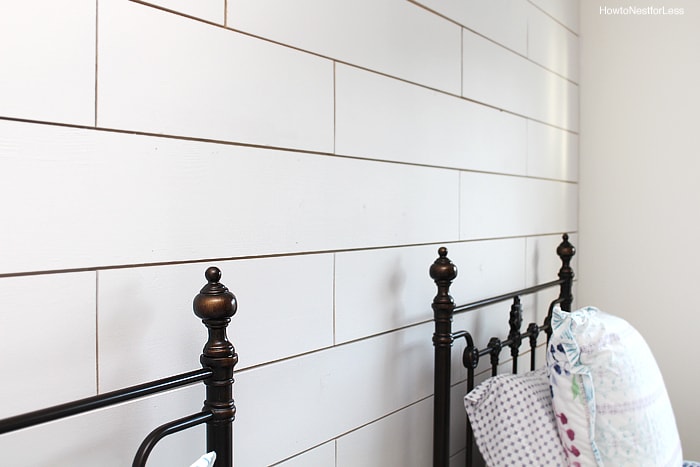 Love that I saw this idea in Better Homes and Gardens magazine and it came to life in my own home!
Now YOU can get the magazine for only $4.99 a year (yep, that's right!) when you use the code nestforless.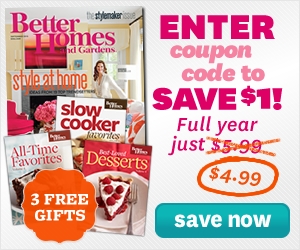 There's tons of inspirational imagery, articles and advice in BHG magazines each month… oh, and did I mention the yummy recipes? So go grab your 1 year subscription to Better Homes and Gardens for $4.99, $1.00 off the already low online price (use the code nestforless)!
Alright, guess I need to get back to finishing the rest of this bedroom.
Ellie is so excited to see what else we can do to this space!
Here's a little sneak peek…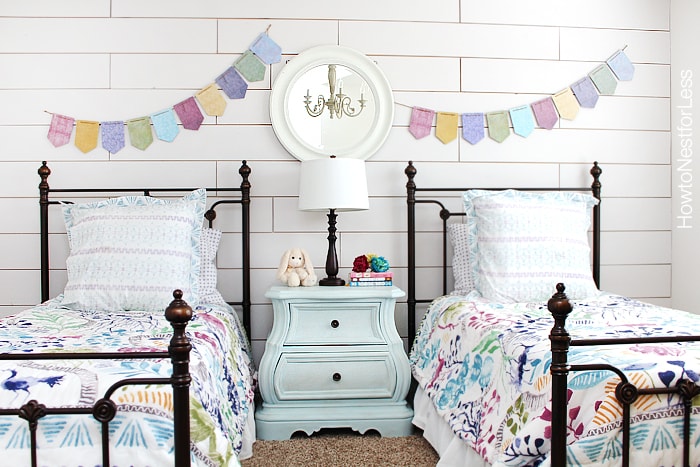 SEE THE ENTIRE BEDROOM MAKEOVER HERE!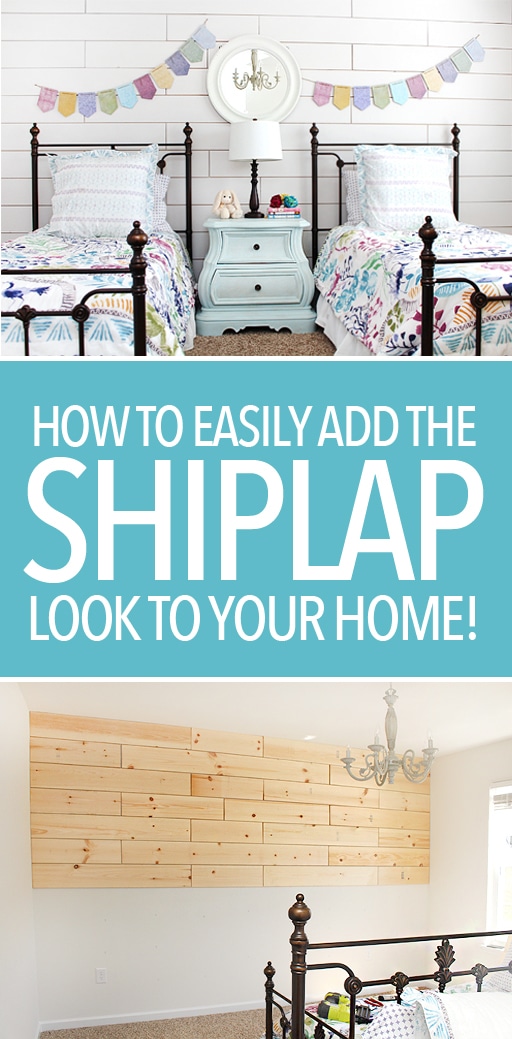 This is a sponsored post written by me on behalf of BHG. The opinions and text are all mine.