Sherwin Williams Oyster Bay is a serene light blue with a decent bit of pigment, but can create a spa-like feel. Come see this beautiful paint color in our home and in other homes as well!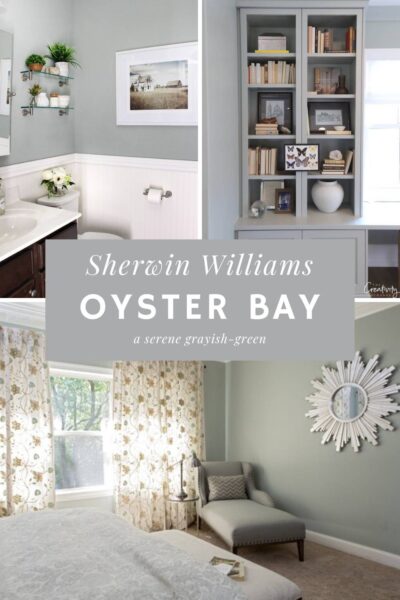 When we added this color in our powder room, I wasn't too sure about it at first.
In the new house, this particular bathroom doesn't have a window, so the natural light is lacking. When I first painted it, I wasn't sure I loved how pigmented it was, but after adding some white beadboard wallpaper, this wall color definitely grown on me.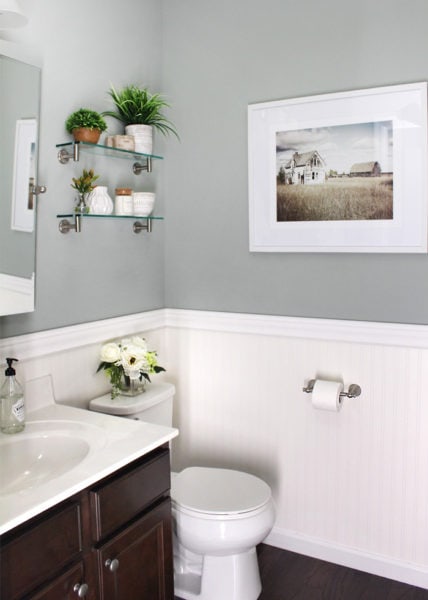 What Color is Sherwin Williams Oyster Bay?
Oyster Bay is very similar to Sherwin Williams Sea Salt but has more depth. If you like the feel of Sherwin Williams Sea Salt but want a little more color, Sherwin Williams Oyster Bay is a great choice.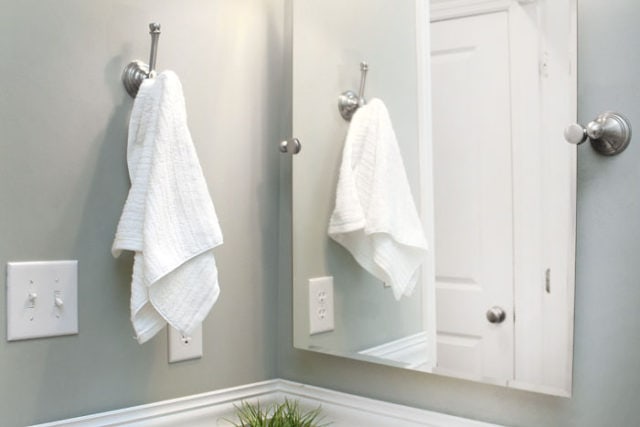 What is the LRV of Oyster Bay?
Oyster Bay is a grayish-green with a faint blue undertone. How confusing is that? Is it gray? Is it green? Wait, do I see greige in there somewhere? All the subtle undertones and nuances of this color are really what make it so beautiful and such a great paint color option to add to your home.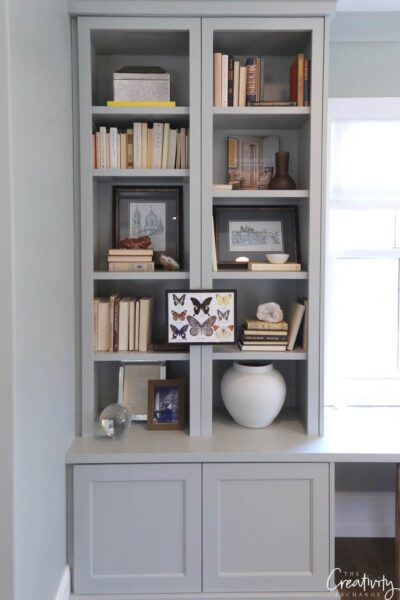 The LRV of this paint color is 44, which means it's more pigmented than its popular rival, Sherwin Williams Sea Salt. Sea Salt has an LRV of 63 and is going to be great for walls. Oyster Bay is ideal for maybe things like kitchen cabinets, built-ins like we have in our family room, or painted pieces of thrifted furniture.
Is Sherwin Williams Oyster Bay Warm or Cool?
Oyster Bay is a cool green color with blue undertones.
Even though this is considered a cool color, it would pair well with warm colors due to its earthy green tone. That's what I love about this color so much is that it's really a great neutral color. So many gray greens lean to the cool side, and although this one also does, somehow, it still feels warmer without leaning too tan or yellow.
What Colors Go with Oyster Bay?
Personally, I'm all about the greens these days, so if you're looking to expand your color palette this way – start with a fresh coat of Oyster Bay. Pair it with Sherwin Williams Spare White (SW 6203) in an eggshell finish, and you have a match made in heaven.
Oyster Bay is lovely, though. This paint color would also look great paired with greige colors like Agreeable Grey or blues like Sherwin Williams Blue Heron, but it also works well with greens.
I know most people are really drawn to Sherwin Williams Sea Salt, but I think Oyster Bay is worth checking out too!
The Sherwin Williams website recommends pairing Oyster Bay with Greek Villa (SW 7551) or Prairie Grass (SW 7546).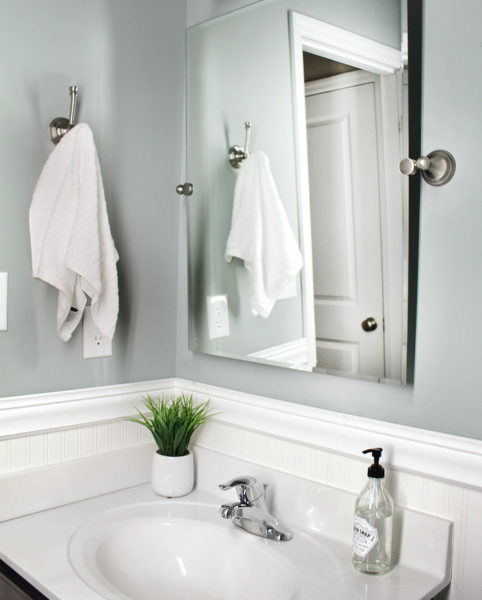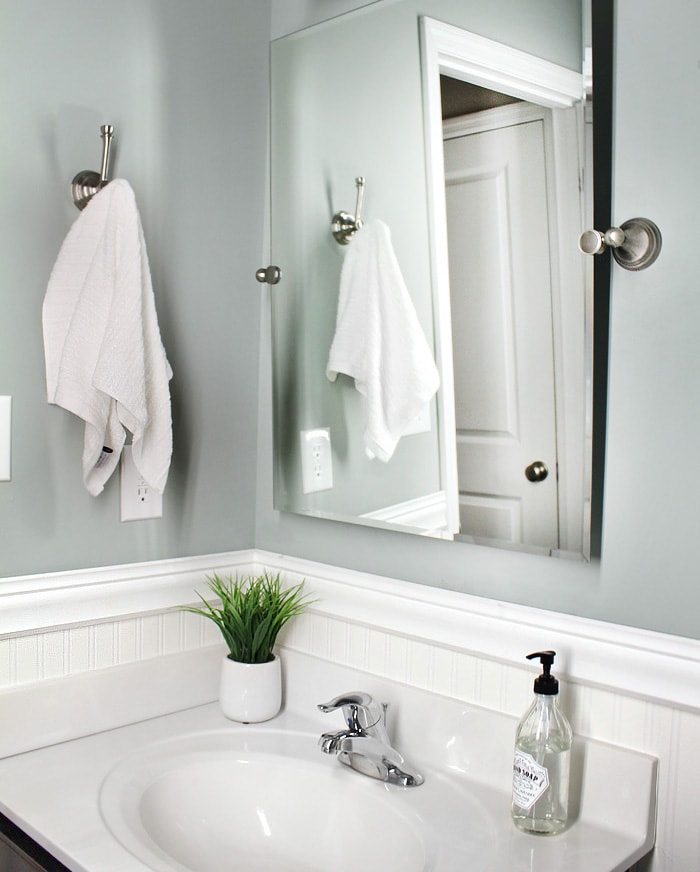 If you're considering using this paint color in your home, you'll want to make sure that you use a bright white trim. Because of its undertones that can lean cool, pairing this wall paint with a warmer white trim like Sherwin Williams Alabaster may not be the best color choice to give you the cleanest look.
Where Can I Use Sherwin Williams Oyster Bay?
This paint color is an excellent choice for spaces like living rooms, bedrooms, and bathrooms. Its grayish color gives it a more neutral feel and pairs well with many other colors.
To avoid second-guessing like I did when we first used this paint color in our home, aim to use this color in areas with a lot of natural light.
Sherwin Williams Oyster Bay Cabinets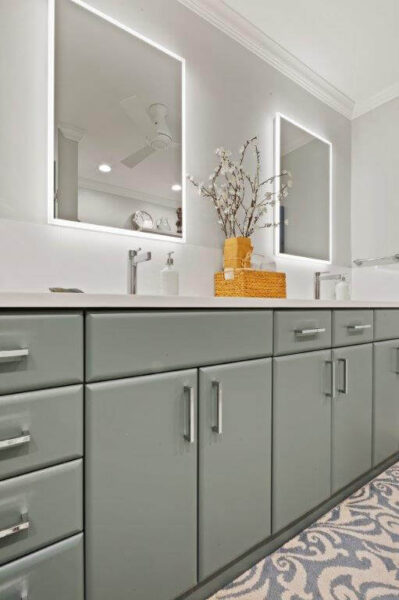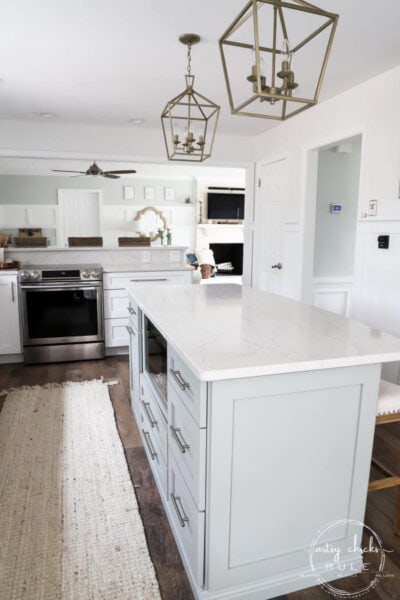 This is a good example of how this color looks in bright lighting. You can tell the sun is shining directly on this island and here you can see the light, cool undertones to this color.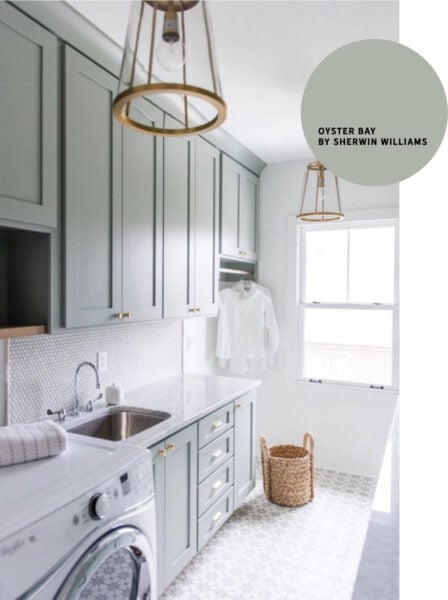 In these laundry cabinets that are painted in this stunning blue green paint color, you can tell that they're darker up top (where the sun isn't hitting them) but then look lighter towards the floor with the direct sunlight on them.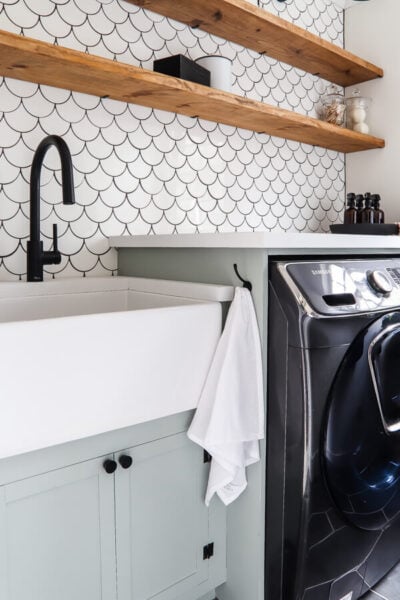 I feel like this is a very happy medium in this laundry room, but it also shows the true depth of this stunning Sherwin Williams color.
Sherwin Williams Oyster Bay Bathroom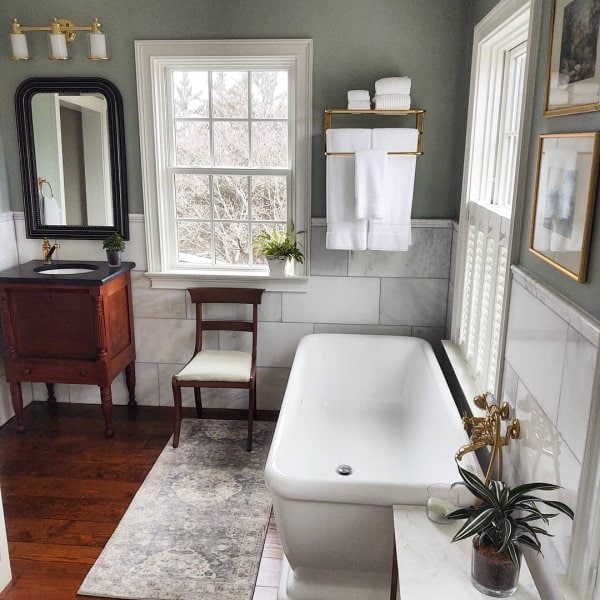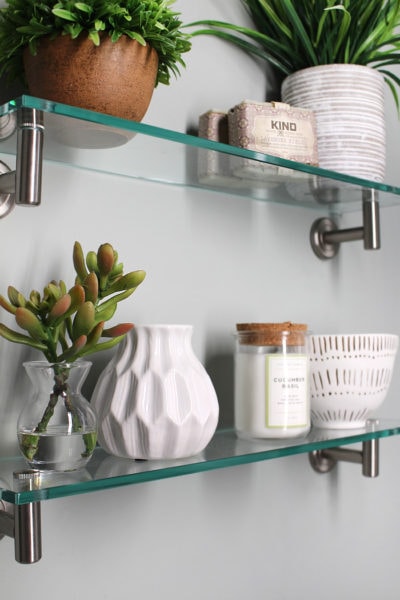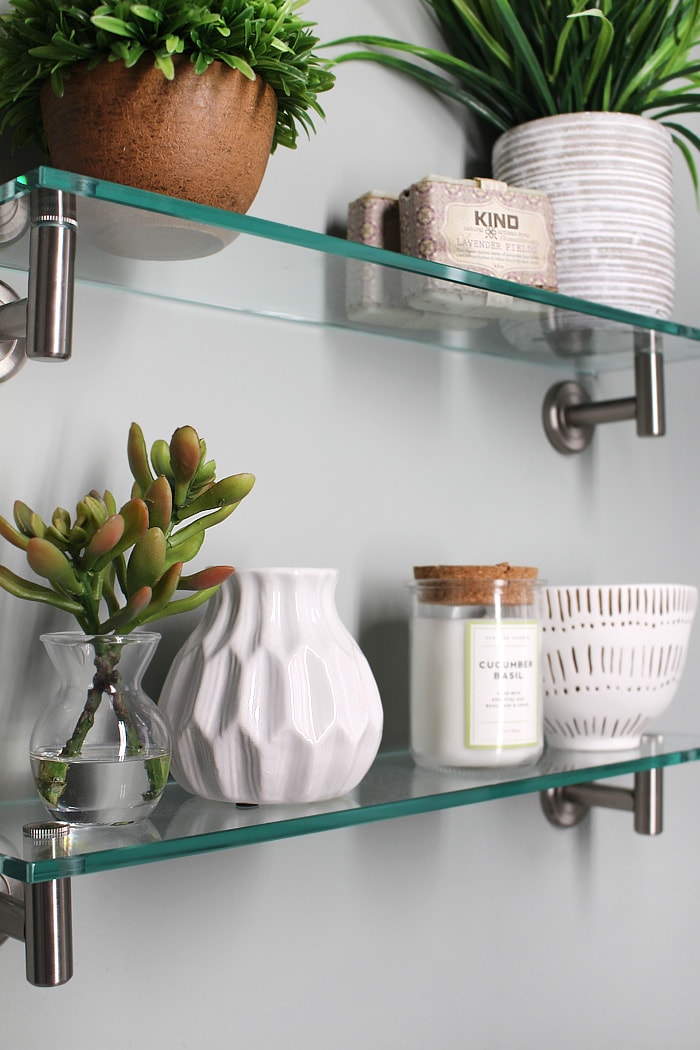 Sherwin Williams In Bedrooms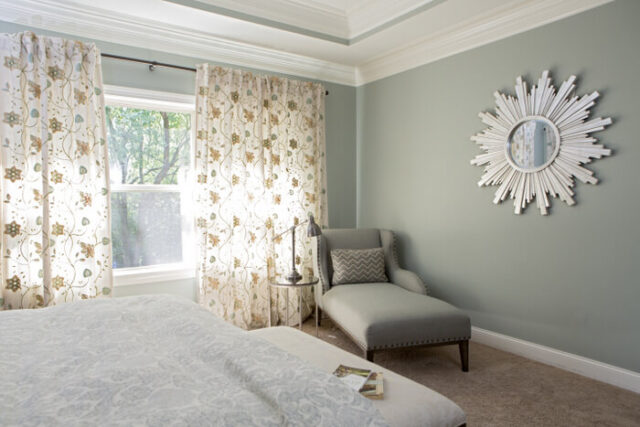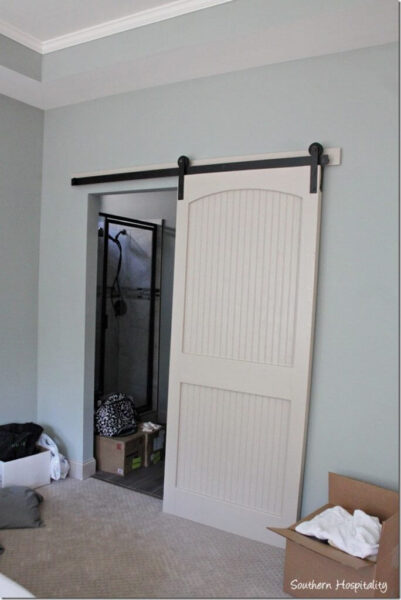 Sherwin Williams Oyster Bay Benjamin Moore Equivalent
I get it. Not everyone likes Sherwin Williams, and that's okay. But suppose you're looking for a similar Benjamin Moore color to Sherwin Williams Oyster Bay. In that case, I think your best option is going to be Sea Haze. It's a bit more pigmented, and I think leans a bit more green with its undertones, but if you're looking for something similar, I think that's going to be pretty close.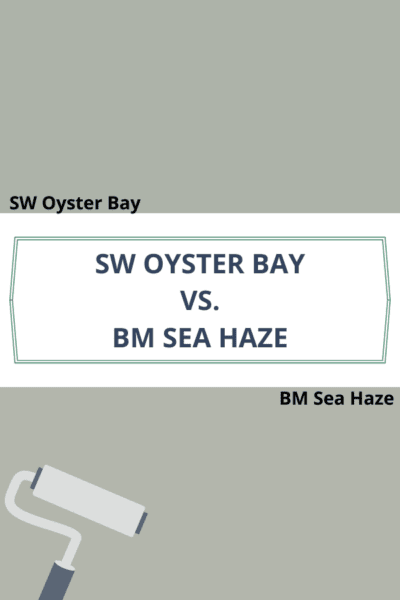 Of course, before you actually paint anything on your wall, you'll want to make sure that you get a sample of it first to paint and live with it within your home.
If you're not excited about painting a sample to eventually have to cover up once you've decided on a color, try Samplize! They'll get you a swatch of paint that's in "peel and stick" form and is 100% dry paint.
Pretty cool, right? You'll never agonize over paint colors again with Samplize!
All things considered, I'm delighted we have this paint color in our home. I think that it will always be one of our favorites because it's just so versatile.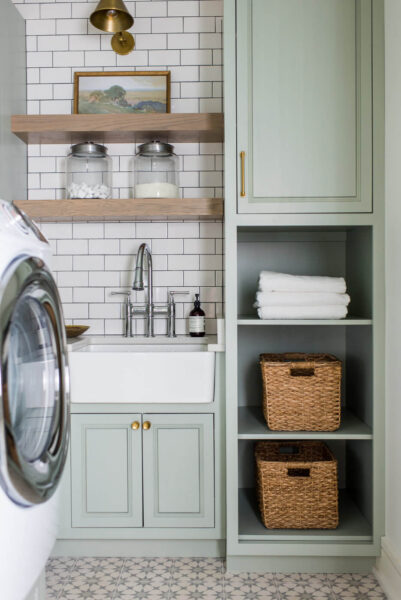 If you're still not sure about this color, that's okay! Hopefully, some of the photos above have helped you understand this color a bit better. Whether you choose to paint your bathroom like we did or take it somewhere else like a dining room, accent wall or even a front door, Oyster Bay is a Sherwin Williams paint color that is sure to work for you!